Real Madrid want Wenger to replace Mourinho, Chelsea to fight any Hazard ban extension & Carrick set for new United deal
Comment & analysis round-up
Quote of the day: "I have big-name players who believe they're better than they are, who bang on my door insisting that I should play them. Well, they had their chance and they blew it. I made nine changes from the team who drew at West Ham last week. This was a team that had gone five games unbeaten, that had won at Chelsea and drawn against Spurs and West Ham, but even though I made lots of changes I believed, absolutely, it was good enough to beat the MK Dons. I wanted to win, don't get me wrong. Look at the players I picked. We're talking about signings from Manchester United and Real Madrid in Park, Fabio and Granero. We're talking about experienced pros like Ferdinand, an England goalkeeper in Green. Surely they should have been too good for a team two divisions below them. I thought we weren't too bad up to half time, but conceded two dreadfully sloppy goals. When we conceded the third, which was offside, our confidence went completely. You can't give away two such sloppy goals as we did. We created a mountain to climb that only got higher. What it shows is that the result and the performance answer a lot of questions. Not to me. I already knew the answers, but to those who wanted to see certain players picked. They gave the answers. I'm going to need to shift some players out of this club this week and get a few in. If I can do that we'll stay in the Premier League. I'll have the right hump now. I'll be no use to anybody." – Harry Redknapp.
Runner-up: "Quality-wise, no. But number-wise we are maybe a bit short. It will not be easy, though, because you do not find strikers who are good enough to play for us on the street." – Arsene Wenger on whether Arsenal will sign a striker in the January transfer window.
Real Madrid want Arsene Wenger to replace Jose Mourinho
Special one: Real Madrid want Arsenal's Arsene Wenger to replace Jose Mourinho (Dave Kidd, People) Real Madrid president Florentino Perez is eyeing Arsene Wenger as his No.1 target to replace Jose Mourinho this summer, writes the Sunday People. Wenger has previously turned down two offers from Perez to manage Real but the Spanish ­giants believe they have a genuine chance of prising Wenger away from the Emirates this summer. Mourinho is almost certain to quit the Bernabeu this summer after falling out with senior stars Iker Casillas and Sergio Ramos, and having already conceded the La Liga title to arch rivals Barcelona. Now Perez, who is seeking re-election as Real president this summer, has told associates he wants to make another bid to lure Wenger from Arsenal. Wenger is under contract until the summer of 2014 and has always been steadfast in his insistence that he will honour that agreement.
Rafa tries to cling on at Chelsea
Rafa: Let me stay, Rom (Ben Hunt, Sun) Rafa Benitez has told owner Roman Abramovich that he wants to stay on as Chelsea manager. The Spaniard was appointed in November after Red Rom sacked Roberto di Matteo. Benitez came in as interim boss on a deal which runs until the end of the season. But now the Spaniard has finally admitted he wants the job permanently. Benitez, 52, said: "I want to be at a top side and Chelsea is a top side with great potential. It is a great opportunity. "I've had private conversations with the people in charge and the owner. They know my ideas, they listen to me, we talk and they have to decide. I came in mid-season, so I could not change too much and had to work with the squad I had. I gave my opinions, we signed a striker and we're trying to do what is best for the team and the club. This is a top side and if they continue to do things the right way they'll challenge for trophies."
Chelsea will fight any Hazard ban extension
Blues have Eden plan (Mike McGrath, Sunday Sun) Chelsea will launch an appeal if the FA slap more matches on to Eden Hazard's ballboy rap. Hazard is weighing up whether to contest the violent conduct charge for clashing with Charlie Morgan at Swansea. The forward, 22, has received backing from some managers who were shocked by Morgan's apparent time-wasting in the Capital One Cup semi-final. He will accept a three- match suspension but the Blues reckon anything more is too much and will appeal a longer ban.
All three Beckham boys set to join Chelsea
It's blues brothers Beckham (Richard White, Sunday Sun) David Beckham has notched up another hat-trick — with all three of his sons having now played at Chelsea. Romeo and Cruz started a six-week development programme with the Blues on Friday evening, watched on the touchline by their England hero dad. The lads were invited along after 13-year-old Brooklyn impressed coaches at a trial earlier in the week.
New deal for Michael Carrick
Carrick wins new Utd deal (Phil Thomas, Sunday Sun) Michael Carrick is in line for a fresh 12-month contract at Old Trafford when his £80,000 a week deal ends this year. There were suggestions boss Alex Ferguson might opt to cash in on the 31-year-old next summer, with former clubs Spurs and West Ham keeping tabs on his situation. But Carrick has been United's outstanding midfield performer this term.
Coutinho for Liverpool
Coutinho set for Liverpool medical after Inter accept £8.5m offer (Dominic King, Daily Mail) Liverpool have had an offer of just over £8.5million accepted by Inter Milan for midfielder Philippe Coutinho. The 20-year-old Brazilian is expected to arrive on Merseyside for a medical on Monday, although he needs to secure a work permit before sealing his move. Inter want to sell Coutinho to raise money for their pursuit of Corinthians' box-to-box player Paulinho.
AC Milan to bid for Balotelli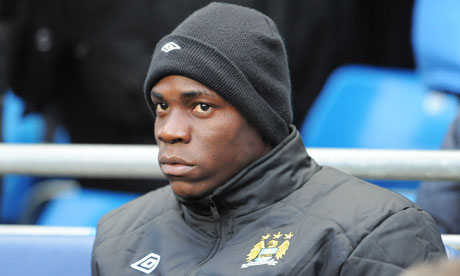 Milan set to make £17m offer for Manchester City's Mario Balotelli (Jamie Jackson, Observer) Milan will this week offer Manchester City €20m (£17m) for Mario Balotelli as the Italian club finally make concrete their desire to bring the striker to San Siro. The bid is less than City's £24m valuation though the English champions will note that Milan's intent to sign him is serious: the price is same amount Balotelli cost them from Internazionale in the summer of 2010. Milan may yet be able to increase their offer by around €4m, which would meet City in the middle.
Juventus sign Anelka
Anelka signs for Juventus to aid 'emergency' situation in attack (Rik Sharma, Daily Mail) Nicolas Anelka has signed for Juventus on a five-month loan deal from China's Shangai Shenhua. Harry Redknapp had been interested in bringing the former Chelsea, Arsenal and Real Madrid striker to Loftus Road.  Beppe Marotta, the Juventus general manager believes the 33-year-old striker will be useful in ending an 'emergency' situation in attack.
Stevie G for the MLS?
Bring us Steven Gerrard! MLS want Beckham to lure Liverpool captain and other English stars (Tom Hopkinson, People) David Beckham will try to convince at least four big-name England stars, including Steven Gerrard, to join the MLS – once he has sorted out his own future, writes the Sunday People. The former England captain, who has offers from around the globe, is not expected to make a decision on his next move until mid-February at the earliest. But once that is secured and he has settled into his new team, his role as an MLS recruitment officer will see him target his old Three Lions pals Peter Crouch, Ashley Cole, Gerrard and Michael Carrick in a bid to convince them to end their careers in the US. They are the four stars who MLS bigwigs want to see plying their trade Stateside and, while Yank bosses know they cannot realistically hope to recruit any of them while they're still at their peak, there is a hope they would want to finish their footballing days across the Pond.
Odemwingie takes a swipe at West Brom
West Brom striker Peter Odemwingie takes swipe at the club on Twitter (Sunday Telegraph) Unsettled West Brom striker Peter Odemwingie has used Twitter to take a swipe at the midlands club. Odemwingie has followed up the statement he issued last night by claiming he wants to leave because the Baggies had previously doubted his commitment. The Nigeria international is a target for QPR and yesterday had a transfer request rejected by Albion. Rangers have already had a £2 million bid turned down but sources close to West Brom expect them to make another offer before the transfer window closes on Thursday.
Raheem Sterling interview
Raheem Sterling: 'Rodgers warned me it is time to deliver on new deal' (Tim Rich, Independent) FA Cup romance is only supposed to attach itself to clubs such as Oldham, Liverpool's opponents tomorrow, the roofs of their rusting stands smeared with snow. Sterling, however, grew up almost literally in the shadow of Wembley Stadium, having moved with his mother at the age of five from Maverley, a tough area of Jamaica whose corrugated- iron roofs and breadfruit trees were stripped by Hurricane Sandy in October. "The school was literally two minutes away from the stadium," he said of his London upbringing. "When it was being built I used to ride around there on my BMX, just circling the area. At first there was nothing there, then one day there was an arch and then on it went until it was finished. I never tried to sneak in but there was a little market there on a Sunday. That was the closest I got to it. "For the first FA Cup final there between Chelsea and Manchester United they gave free tickets to the gifted and talented kids at the school. When I got to the stadium it was just beautiful. From that moment, I wanted to play there. It would be a dream come true."
How rubbish are Aston Villa?!
Randy Lerner's remote control of club a bit rich for Aston Villa fans (Daniel Taylor, Observer) Yet Lerner says nothing. The Birmingham Mail has already delivered a list of questions (No1: Are you still committed to Aston Villa?) and been ignored. Trying to explain another ghastly embarrassment on Friday, Lambert shunned every question from its correspondent. Four times he looked the other way and left the Millwall pressroom suspended in awkward silence. It was pathetic stuff. In his position, Lambert might be better advised trying to ingratiate himself with the local paper rather than masquerading as a junior Sir Alex Ferguson. In Lerner's case, he has no duty to be heard. There is nothing that says a football club's owner should be accessible to the media and public. Yet it might at least give him the chance to demonstrate he is still committed, determined to put it right and not planning to have his tattoo removed by laser. Turning up on Tuesday might be a start.
Aston Villa fans showing their quality by standing by Paul Lambert during difficult times (Henry Winter, Sunday Telegraph) After resting some of his key Aston Villa players and going out of the FA Cup at the New Den, manager Paul Lambert reflected late on Friday night that "the Premier League is the most important thing". It is the only thing now. Aston Villa have gone out of two cup competitions in three days. Lambert is a decent manager trying to negotiate his way out of a nightmare partly of his own making, partly of owner Randy Lerner's and partly of his nervous players. Lambert needs to drill his creaking defence better and omitting Christian Benteke and Gabby Agbonlahor from his forward line against Millwall inhibited Villa's chances of regaining some confidence. The only innocents in this Villa blame game are the supporters. They turned up at Villa Park in their tens of thousands to see the team slide out of the Capital One Cup against Bradford City, while more than 1,600 then travelled south to watch a changed, leaderless side slump out of the FA Cup at the hands of Millwall.
The terrible events in Egypt
Egypt death sentences over football riot spark lethal clashes in Port Said (Patrick Kingsley & Conal Urquhart, Observer) At least 30 people have been killed and 250 injured in Port Said during riots sparked by a court's sentencing of 21 people to death on charges related to violent clashes between rival football fans last year. The Egyptian army has deployed armoured personnel carriers in the coastal city after furious relatives and fans of the local Al Masry football team attacked a police station and a prison in an attempt to free some of those condemned. The death sentences, which were announced live on television, relate to clashes in Port Said on 1 February 2012 after Cairo's Al Ahly beat the local team. Al Masry supporters attacked Al Ahly fans, causing a stampede for the exits. The police did not intervene in the violence except to switch off the stadium lights, and in the confusion the Cairo fans were crushed as crowds pushed against a locked gate which gave way under the pressure. Seventy-four people were killed.
---
GAMBLING CAN BE ADDICTIVE, PLEASE PLAY RESPONSIBLY