Real Madrid v Manchester United: How to stop Ronaldo & where next for Mourinho??
Comment & analysis round-up
Quote of the day: "There will be goals. They are a great counter-attacking team, but we have to play our own game and attack, and that can cause some chaos and late drama in our games. It won't finish 0-0, I can assure you of that. But we have  to balance that with the responsibility not to leave  the door open. It's unfortunate to be meeting so early,' the Scot added. 'I would have preferred it at Wembley in the final, obviously. I am trying to guess what surprise Jose could pull, but I am thinking of something to annoy him." – Sir Alex Ferguson.
Runner-up: "After Real Madrid. I love everything about English football. When? We will see. Normally, it will be my next step… No, I don't believe so [succeed Fergie at United]. I think we have to end our career at the same time – him at 90 and me at 70!" – Jose Mourinho.
Real Madrid v Manchester United
Alex Ferguson promises Manchester United will cause chaos in Madrid (Ian Herbert, Independent) Sir Alex Ferguson has declared that his players are being judged against "foggy memories" of how strong his previous Manchester United teams actually were and that they have a better chance of brushing Real Madrid aside in the Champions League last-16 round than people think. Ferguson made it clear that there are no certainties and that the Bernabeu will be "the acid test" of the squad he has been assembling since Barcelona tore his aside apart in their last major European challenge nearly two years ago. His look of hungry anticipation – which contrasted with the gloom of a Jose Mourinho, who declared his next job would be in England – was evident when asked if United could win this competition: "Our team?" he laughed. "I think so, yeah. There's a great spirit about them."
United grow for it again (Shaun Custis, Sun) Alex Ferguson believes Manchester United are growing into Champions League winners again. Fergie, who has won two and lost two finals in the biggest club competition of them all, sees a maturity in his current team which was not there when United were beaten by Barcelona in 2011. And of course, Robin van Persie, with 23 goals since joining from Arsenal, has added that extra clinical edge in front of goal. The United boss calls the last-16 tie against Jose Mourinho's Real Madrid — the first leg of which takes place at the Bernabeu tonight — the acid test.
Real Madrid v Manchester United: European fixture with a history of beauty and brutality (Henry Winter, Daily Telegraph) It is the historic fixture of Alfredo Di Stéfano's backheeled passing to Raymond Kopa, of Bill Foulkes silencing the Bernabéu, of Fernando Redondo bemusing Henning Berg, of David Beckham's unstoppable free-kick past a frozen Iker Casillas and a hat-trick from the Brazilian Ronaldo. On Wednesday, it is the turn of the Portuguese Ronaldo to try to add to this fixture's rich tradition. "It is the match the world is waiting for,'' said Jose Mourinho with typical understatement. Real Madrid against Manchester United enjoys a global appeal partly for its relative rarity value. These two celebrated clubs have met only in four two-leg ties across nearly six decades. The fixture acquired additional lustre because of the significance: European Cup semi-finals in 1957 (Madrid winning 5-3 on aggregate) and 1968 (United 4-3 agg), Champions League quarter-finals in 2000 (Madrid 3-2 agg) and 2003 (Madrid 6-5 agg) and now the round of 16.
How can Manchester United stop Cristiano Ronaldo?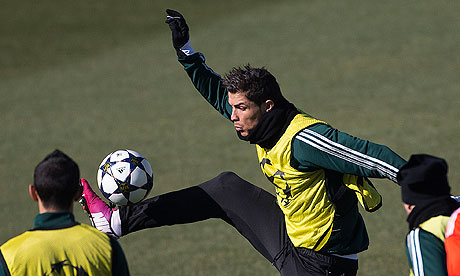 Famed for his no-nonsense approach, here Martin Keown shares his six-point plan for dealing with Real's £80m man Ronaldo (Martin Keown, Daily Mail) Would I man-mark Ronaldo if I was Manchester United? No. You need to work as a team to deny him. Rafael is a talented young man and facing Ronaldo puts a huge responsibility on his shoulders. But he needs help from those around him. United's right winger and their central midfield pairing also have to get round him so he doesn't have time to get into his stride. Once he does, it's hard to stop him. Ronaldo would give a lot of players sleepless nights. So half the battle is preventing him from getting the ball. Whoever plays in front of Rafael must offer protection, blocking balls down the line into him from the left back. Antonio Valencia has an impressive work ethic, so I would play him with Rafael. They have to become a tag team. Valencia also needs to tuck in when United don't have possession so that if Ronaldo drifts inside, he is running into  a sea of players.
Where next for Jose Mourinho?
The Mourinho maelstrom is too destructive for Manchester (Martin Samuel, Daily Mail) Every few years brings a Summer of Jose. 2004 was one, 2010 too. And Jose Mourinho has been working very hard to recreate the phenomenon in 2013. A Summer of Jose is when all eyes are on the Special One. Where is he going, what is he doing? There are Jose sightings, Jose statements, Jose ploys, plays and schemes and, finally, a great Jose festival held in a major European city, with him as headline act. It is like Glastonbury, minus the hippies. This Summer of Jose, however, risks being an unsatisfying affair, as doors close and options decrease.
Martyr of time: Jose Mourinho plays the victim before Real Madrid vs Man United as the end nears (Ollie Holt, Daily Mirror)  The third act of Jose Mourinho's managerial life is drawing to a close. After 'Mourinho, Magician' and 'Mourinho, Magnificent', ­'Mourinho, Martyred' is the story of a genius undermined by jealous pygmies in the Spanish media. If Manchester United prevail in the titanic Champions League clash with Real Madrid, it may only have a couple of weeks left to run. Real are 16 points behind ­Barcelona in La Liga and the pursuit of his side's 10th European Cup win is all that is separating ­Mourinho from the sack. So as the football world swivelled to watch the build-up to the tie with United, Mourinho played the victim for all he was worth. This was Mourinho at bay, a man who flickered with ­defiance but looked cornered and sullen.
Winning Real Madrid's 10th European Cup is José Mourinho's last goal (Sid Lowe, Guardian) He would not say so, at least not publicly, but José Mourinho probably agreed with his captain. This time, they surely saw eye to eye for once, not least because they had to. "If finishing 25 points behind Barcelona in the league means winning the Champions League, I would sign now," Iker Casillas said, exaggerating for effect. That was in December; two months later it could become a reality, simultaneously seductive and troubling. Real Madrid are third, 16 points behind Barcelona. This has been a tense, conflictive and unsuccessful season – so far. Mourinho long since declared the league "impossible". There remains a Copa del Rey semi-final, second leg but its importance is relative. What really matters is the Champions League.
Celtic 0 – Juventus 3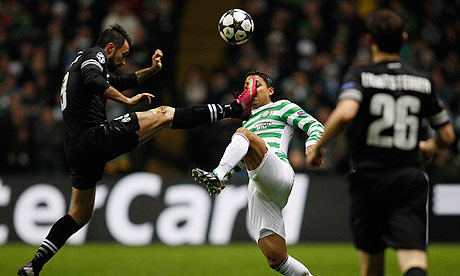 Streetwise Juventus leave Celtic to howl their outrage in defeat (Dominic Fifield, Guardian) Neil Lennon's team deserved so much more from this first leg than a comprehensive defeat and the grim prospect of being picked off again by canny opponents in the return. They snarled in defeat, their complaints centring on the grappling and blocking that flared at every one of Celtic's 10 corners. But while the Spanish referee booked Stephan Lichtsteiner and Simone Padoin, he still gave the impression of being bemused by the discontent that rained down from the stands, as if the locals had been naive to expect anything more severe. Andrea Barzagli and Leonardo Bonucci were never punished to leave Lennon a picture of fury on the sidelines. Juve may be restoring their own reputation at this level but they clearly boast all the streetwise qualities, and tactics, of previous years.
Celtic manager Neil Lennon admits his club need a 'miracle' to stay in the Champions League (Daily Telegraph) The Celtic manager, surveying the damage and what lies ahead in the return game in fortnight's time, said: "We need a miracle. We have to try to be competitive and try to work our way into the tie but last night was the harsh reality of football at this level. "We didn't get off to a good start but our reaction was fantastic. "For 70 or 80 minutes we played fantastic football and were on the front foot. "We needed a goal and Efe Ambrose had a great chance and that would have galvanised us.
Robbie Keane wants Frank Lampard to join LA Galaxy
Keane: Come and be our new Becks, Frank (Pat Sheehan, Sun) Robbie Keane wants Frank Lampard to fill David Beckham's boots at LA Galaxy. The former Tottenham striker is desperate for a quality signing to replace Becks, who quit the club in December. And with Chelsea refusing to give Lamps a new contract at the end of the season, Galaxy star Keane reckons the midfielder will be a perfect fit in the MLS. The Irishman, 32, said: "We want to get good players in. "It is good for the association here, as well as Galaxy, to be linked with big-name players — and that is what Frank is. "Hopefully we can get him."
Gazza fights back
Gazza fights back (Sun) Battling Paul Gascoigne has stunned doctors by staging a remarkable fightback from his intensive care nightmare, pals say. The alcoholic footie legend, 45, was rushed to hospital when his organs packed in just hours after he started tough rehabilitation in the US. That sparked fears former England hero Gazza might not pull through. But he has now left intensive care and The Sun can reveal he has at last begun a treatment programme aimed at beating his booze demons. A friend said: "He's doing really well. He's on the first stage of a long road."
---
GAMBLING CAN BE ADDICTIVE, PLEASE PLAY RESPONSIBLY