Real Madrid sign Mourinho for £40m & eye Steven Gerrard, Arsenal go shopping for goalies, Spurs target Cole & Dzeko, and Chelsea move for Modric & Mascherano
Comment & analysis round-up
Quote of the day: "My work here is done. I have made history with this club. I will find motivations in another big club. Playing against Barcelona in Spain? That would be a big challenge. I have been very happy at Inter, but not in the world of Italian football because I don't like all the comments from presidents, coaches and papers. But, I will always like Inter. I want to thank Italian football because I have become a better coach for it. Now it's time for me to take a day or two to think about a new challenge in another country. I have given everything for this team and I feel free to make a decision on my future. I want to become the first coach to win the Champions League with three different clubs. It's more probable that I'll go than stay. Everybody knows that English football is my passion and I'll go back to England once. But I think every player, every coach if you don't play for Real Madrid or if you don't coach Real Madrid you have always a little space in your career. So if I decide to come to Real Madrid I'll be a very proud man." – Jose Mourinho.
Runner-up: "Believe it or not, I believed we would get promotion the day I took the job. It's about getting each individual to believe in themselves and we've done that but to do it here at Wembley and under these circumstances has made me very proud. I'm not a clown, an idiot or madcap. I am just a human being who likes to encourage other people." – Ian Holloway.
Today's overview: All hail Mourinho. All hail Milito. All hail Inter Milan. (And it's a pretty good day for Blackpool fans too!)
Mourinho's Inter-Galacticos: The Special One is showered with praise this Sunday after winning the Champions League with Inter Milan to complete an incredible treble.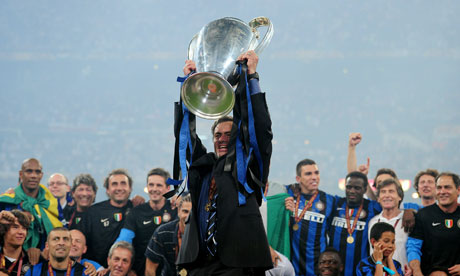 Summarising Mourinho's achievements was Paul Wilson. "He may not be everyone's cup of tea but Mourinho has just etched his name permanently on the biggest cup of all. Only two other coaches, Ernst Happel and Ottmar Hitzfeld, have won the European Cup with two different clubs, and Mourinho has just beaten his old mentor, Louis van Gaal (who won this competition with Ajax) to become the third. In addition to winning titles in Portugal, England and Italy, Mourinho has also joined the elite band of treble winners. Inter become the sixth team to complete a clean sweep of all three major honours – again, Van Gaal's Bayern Munich were in a similar position – and the first from Italy. You cannot possibly argue with success on that scale and Real Madrid will almost certainly be showing him the money instead. No one quite knows what will happen next, only that it is bound to be colourful."
Paul Hayward added his voice to the Mourinho love-in. "To have conquered Portuguese, English and Italian football in so short a time indicates a mighty talent, and now Spain beckons. Like him or not, for Mourinho to win six league titles and two Champions League crowns in the 10 years he has been a manager speaks of quite brilliant planning and orchestration, as well as an inspirational quality that makes people run through barbed wire to please him. Real Madrid will do the running now. Straight to his door."
Real Madrid will have to pay through the nose to capture Jose Mourinho as Duncan Castles lays out the financial details of the deal and the Special One's summer shopping list. "[Mourinho] has agreed to become the Spanish giants' new manager this week in a £40m four-year deal… According to the terms of Mourinho's contract at Inter, the Italian club are entitled to £14.5m in compensation… The first signing will be Inter right-back Maicon… and is expected to command a fee of between £18m and £23m. Mourinho also wants an elite central defender and a left-back. Aleksandar Kolarov, the Serbia international he tried to sign from Lazio last summer, is his preferred recruit… Mourinho has drawn up a midfield wish-list headed by Daniele de Rossi of AS Roma… Other players under consideration for the position include Liverpool's Steven Gerrard."
Henry Winter outlines some potential problems for Mourinho at the Bernabeu. "If Real do appoint Mourinho as coach this week, as everyone expects, it will still represent a major change in policy, recruiting a coach who sees himself as the star, his team as the star but never the players. Madrid fans love their Galacticos on the pitch, not in the dug-out. It is difficult to know who is in for the bigger shock – Mourinho or Real?"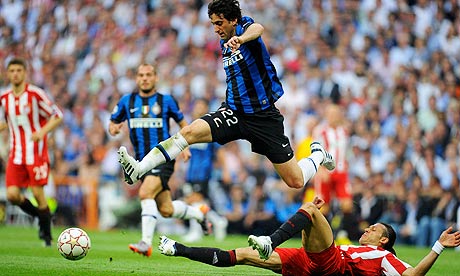 Away from Mourinho, praise was also showered on Diego Milito for his match-winning brace.
Duncan White scribbled "that Diego Milito was the hero of the night was fitting. He perfectly sums up this Mourinho team, assembled from cast-offs and veterans whose best was supposed to be behind them… Milito, at 30, lacks the glamour of his compatriot Lionel Messi, or even that of, say, Sergio Aguero or Carlos Tévez, but it is his brand of efficiency that has made Inter champions. His finishes for the two goals were extraordinary in their nerveless execution."
Staying with Milito's brilliant achievements, Pete Jenson breaks the bad news that the forward will be unlikely to feature as a starter for Argentina at the World Cup. "His 22 league goals have not been enough to persuade Diego Maradona to put him in the starting line-up. Real Madrid's Gonzalo Higuain is likely to partner Lionel Messi in attack and the fact Milito has won three more trophies this season than the Madrid man is unlikely to be enough to push him up the pecking order."
Losers Bayern: In assessing why Bayern lost the final, Kevin McCarra argued "too much rested with the Holland winger [Arjen Robben]. Bayern could point to the suspension of Franck Ribéry but he is far from being a constant inspiration… Throughout the final the sole risk to Mourinho was Robben. Late in the match the statistics showed that Bayern had enjoyed two-thirds of the possession. What did Inter care when finishing was poor and the response to Robben's service so feeble? Even the winger looked resigned to his fate as the match wore on."
The Premier League has been Tangoed: Blackpool are in the Premier League. Amazing.
Nick Harris took time out to explain the exact financial rewards for Blackpool. "Blackpool's victory guarantees them the biggest windfall in global sport from the outcome of a single event: £95m, and possibly more… Blackpool will make at least £40m from central Premier League funds next season, even if they finish bottom and are relegated… If Blackpool are immediately relegated, they will earn another £48m in parachute payments over the next four seasons… The additional £7m is the minimum Blackpool can expect to make in extra income from ticket sales, sponsorship deals and other commercial earnings during a one-year stay in the Premier League."
Jamie Jackson outlined the differing fortunes for Blackpool and Cardiff after the Championship playoff final. "For the club whose Bloomfield Road ground can house a maximum 12,555 spectators the spoils are the £90m golden ticket for breaking into the Premier League's cash-soaked arenas, and the chance to avoid becoming the 12th team to be relegated instantly of the 19 that have now won the right to play in the competition through the play-offs since the league began in 1992… For Cardiff defeat means a long drive back to the grind of the Championship, and the grim reality of a winding-up order from Her Majesty's Revenue and Customs due to an unpaid £1.9m tax bill."
More poetic was Andrew Longmore. "The colour palette of the Premier League is about to change. Bring on the Tangerine Dream. Bring on, too, Ian Holloway, one of football's great characters, and an historic club worthy of upholding a precious tradition… The real worth, as Holloway has already pointed out, will be found in the regeneration of a town which has endured more ups and downs than its rollercoasters."
Injecting a dose of reality of what life is like at Blackpool was Jeremy Wilson. "The club's annual wage-bill of £6 million would not even cover John Terry's salary, while an average home attendance this season of 8,611 would only just fill the away end at Old Trafford. The players still wash their own kit clean and Bloomfield Road, which currently has only three covered stands, has barely been modernised since the days of Stanley Matthews and Stan Mortensen."
Bring on the World Cup: Now that the curtain has officially fallen on the European 2009/10 club season, the 2010 World Cup is now in even sharper focus across the backpages.
Starting with a big picture article, Alex Duval Smith outlines how South Africa's tournament is likely to be a financial disappointment for the host nation. "The World Cup is set to be a major financial disappointment for the host nation South Africa, after it became clear that international fans have decided to stay away and their tickets are being sold cheaply to South Africans… Organisers have revised visitor estimates – and thus tourism income – down from an initial 750,000 to 200,000. Airlines, hotels and guesthouses are slashing their prices."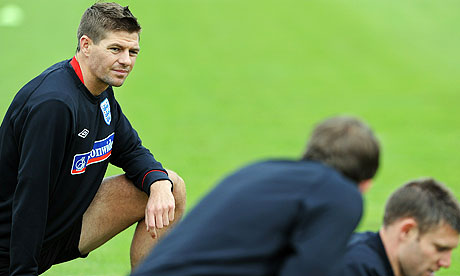 The Observer have an interview with Steven Gerrard that will no doubt trouble Liverpool fans. Gerrard: "I'm not really interested at the moment in what's going on at Liverpool… Hopefully things might happen while I'm away this summer. There might be players coming in to help strengthen the team, we'll have to wait and see, but I won't consider my future or think about what is going to happen to me until after the World Cup. My focus has got to be on England now."
Looking forward to England's friendly with Mexico on Monday, Jonathan Northcroft anticipated the likely selection talking-points. "Capello said he will field a strong side against Mexico, rather than use the friendly for experimentation, although it is likely Adam Johnson will be given an England debut and Jamie Carragher and Ledley King will play under the Italian for the first time."
In other World Cup news, the Telegraph report on how Nigeria's President has demanded his nation win the tournament, while in much more serious news the Telegraph detail how "France midfielder Lassana Diarra will miss the World Cup because of a stomach problem."
Refreshing the Arsenal: After a busy few days at the Emirates, Duncan Castles takes stock on the latest news in north London. "23-year-old [Fabregas] expressed his desire to join Barcelona at the opening of the transfer window intentionally to allow Arsenal the longest possible period to buy a replacement… Club officials suggested it would take a bid on the scale of the £80m Real Madrid paid Manchester United for Cristiano Ronaldo to change that attitude. If forced to, Fabregas is prepared to push harder at the exit door… A new goalkeeper is essential. Fulham's Mark Schwarzer has been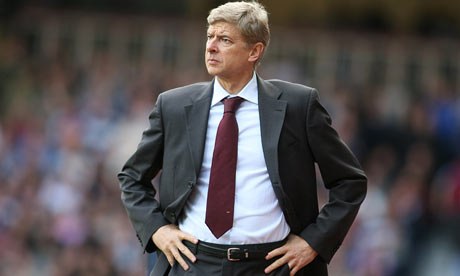 closely observed… Germany centre-back Per Mertesacker is considering exiting Werder Bremen, while Brazil's pivot, Felipe Melo, has suffered in Italy since Juventus outbid Arsenal for his services last close season and would welcome the chance to move."
Staying with possible summer recruits, Steve Stammers claims that goalies Joe Hart, Manuel Neuer, Pepe Riena and Julio Cesar have all ruled out switches to the Emirates.
Pompous twat Piers Morgan swoops in to support Cesc Fabregas's decision to quit Arsenal. "I continue to believe Wenger's a brilliant man — intelligent, charming, sophisticated and loyal. But sadly, I've stopped believing in his strategy for improving Arsenal's ability to win trophies. And the impending departure of Fabregas merely serves to cement that view. Thanks for the ride, Cesc, I'm just very, very sorry that our dismal lack of ambition forced you to quit."
Consolidation: Joe Bernstein prints "Everton teenager Jack Rodwell is set to ignore the example of Wayne Rooney by signing a five-year contract this week that will keep him at Goodison Park."
Lies, Lies & More Lies: We end with the transfer gossip which, as usual on a Sunday, overflows.
Opening with a classic NEVER-GONNA-HAPPEN story, Joe Bernstein wastes his time barking "Liverpool boss Rafa Benitez is being offered £5million to quit Anfield and manage the United Arab Emirates." Next, in what appears a bold-faced lie without any supporting evidence, Simon Mullock farts "Steven Gerrard is ready to quit Liverpool after the World Cup Finals… Jose Mourinho, who is expected to quit Inter Milan to become coach of Real Madrid this week, will once again move for Gerrard. Manchester City and Chelsea are also certain to be interested – although Gerrard is likely to prefer a move away from the Premier League."
Staying with the Merseysiders, James Brown announces "Chelsea boss Carlo Ancelotti wants Liverpool star Javier Mascherano to be his new midfield general – and is ready to open the bidding at £20million."
Bob Cass will irk Spurs fans chugging "Chelsea are about to launch a £26million bid for Tottenham midfielder Luka Modric," while staying with Spurs Steve Stammers claims "Robbie Keane is set to move from Tottenham to Aston Villa in a £15million deal." The Mirror on Sunday continue to churn Lilywhite lies, claiming "Tottenham are closing in on England midfield star Joe Cole… Spurs midfielder ­Jermaine Jenas is up for grabs and he is a potential target for promoted West Bromwich."
And there is more Spurs news as Paul Hetherington spews "Tottenham have stepped up their interest in striker Edin Dzeko… Both United and City are again eyeing the Bosnian target-man. His German club value him at £25million. Meanwhile, Lokomotiv Moscow are ready to make a fresh attempt to sign Spurs ­striker Roman Pavlyuchenko this summer." Dan King challenges the Dzeko story claiming "Liverpool are lining up Wolfsburg's Edin Dzeko to replace Fernando Torres… Sources suggest that they want Liverpool to give them Ryan Babel and Lucas Leiva plus cash for a player they value at about £30m."
In a second article Bob Cass reveals "Manchester City are looking to flex their spending muscles once again by offering £20million for Everton midfielder Mikel Arteta. City's interest in the 28-year-old former Barcelona trainee is in addition to their hopes of landing Aston Villa's James Milner."
From City to United, and Steve Morgan spins to weak story that Ajax forward Luis Suarez is pining for a move to Old Trafford this summer.
Paul Smith reports that Liverpool, Everton, Tottenham, Sunderland, Fulham and West Ham are all tracking Paraguay midfielder Eduardo Ledesma, while in another tug-of-war scenario Brian McNully hurls "a clutch of top Premier League clubs including Arsenal, Aston Villa and Chelsea are ready to test Newcastle's resolve to hang on to defender Steven Taylor."
Ignoring reports from Newcastle themselves which has ruled out any major summer signings, Soriebah Kajue has no trouble spinning the rumour that "Chris Hughton is planning an audacious swoop for Kieran Richardson after his contract negotiations stalled with Sunderland."
Staying with cash-strapped clubs that apparently now have money to burn, Aiden McGee lists West Ham's summer targets. "Their top target is Barcelona's former Arsenal ace Thierry Henry, who is set to be offered a two- year £75,000- a-week deal. Also on their hit list are the likes of Everton's Yakubu, Burnley's Steven Fletcher, Pompey's Kevin-Prince Boateng, Aston Villa's Nicky Shorey, and Christian Benitez, who is without a club after leaving Birmingham, along with a host of other cut-price overseas targets."
The News of the World spin a healthy splattering of shorts, beginning with news that Birmingham are fighting Spartak Moscow for the Aiden McGeady's signature. Next, Everton and Spurs both want Craig Bellamy, Sunderland are closing in on Nedum Onuoha and Chris Eagles, Chelsea are tracking Rennes' Sylvain Marveaux, Aston Villa want Valencia pair Nikola Zigic and Miguel, and Blackburn, Everton and Sunderland are all after Hoffenheim defender Issac Vorsah.
---
GAMBLING CAN BE ADDICTIVE, PLEASE PLAY RESPONSIBLY