Real Madrid pursue £40m Suarez (Liverpool) & £65m Bale (Spurs), brilliant Bayern praised & Crystal Palace v Watford is the £145m match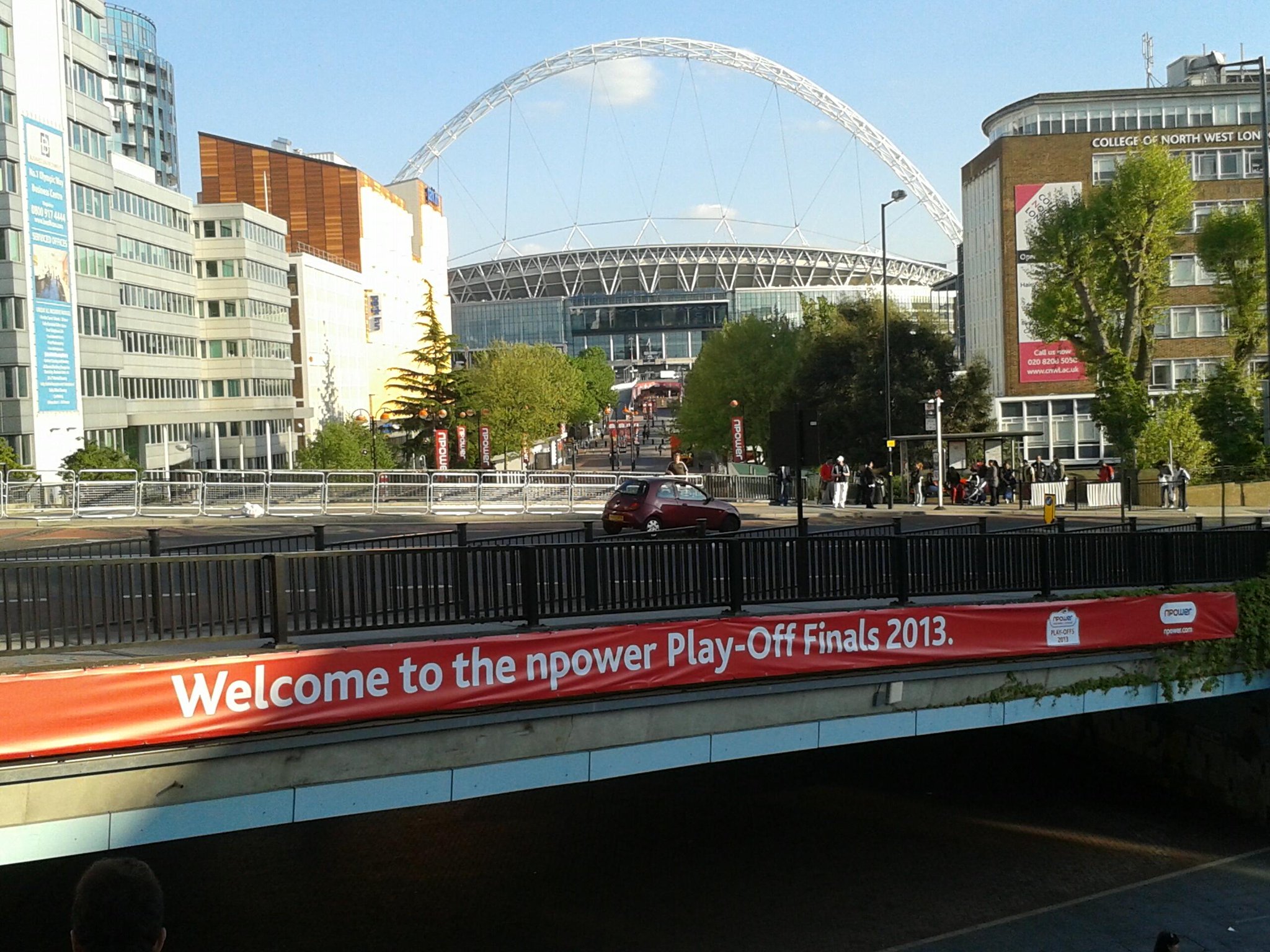 Comment & analysis round-up
Quote of the day: "There is almost too much at stake. It's almost like walking into a casino and putting the future of the club on red or black. It's a 50-50 bet with which you might be able to transform your football club. Watford are not in a dissimilar position with us and I'm sure we'll both be looking at the riches and thinking we could probably make that go quite a long way and make a big change to the club." – Crystal Palace  co-chairman, Steve Parish.
Runner-up: "I was thinking about all these bad moments I had in my career, with three defeats in big finals, and to finally win one is a dream. You don't want be labelled a loser, this puts all of that aside now." – Arjen Robben.
Real Madrid's Summer Shopping: Suarez & Bale
Real in £40m Suarez hunt (Anthony Kastrinakis, Sun) Liverpool are determined to fight off a £40million bid for Luis Suarez from Real Madrid. The Spanish giants have contacted the striker's agent Pere Guardiola, brother of new Bayern Munich boss Pep. Suarez tops Real's shortlist of strikers because he is cheaper than Napoli star Edinson Cavani, who has a £52m get-out clause.
Real dangle £65m carrot to lure Bale away from Spurs after rivals Barca land Neymar (Neil Ashton, Mail) Daniel Levy's determination to hold on to Gareth Bale will be tested by a staggering £65million bid from Real Madrid… Although Spurs are already in negotiations with Bale over an improved contract worth around £170,000 a week, Real are ready with the transfer fee.
Loving Bayern
Bayern can reign on for five years (Alan Shearer, Sun) I think Bayern are poised to rule Europe for at least five years. Their Champions League win over Dortmund in a pulsating final proved they are already easily the best team in Europe. And they are about to get even better with the signing of Mario Gotze, while you can probably add Robert Lewandowski and a few other big-name signings when Pep Guardiola takes over as manager.
Can Bayern Munich now forge an era of dominance? (Sam Wallace, Independent) There is no doubting that this Bayern team occupy the top perch in terms of elite European football and the decisions they have made, most of them taken well before the end of the season. Pep Guardiola in as coach, Mario Götze signed from their beaten opponents Borussia Dortmund and Robert Lewandowski on his way too, if Heynckes' post-match hint is to be taken at face value. No one, not even Barcelona, has won the Champions League title in two consecutive years since the competition was changed to the new format. That has to be the achievement that Bayern aspire to and they are capable of doing so in a way that recent winners like Internazionale and Chelsea were just not geared up to do. They were coming to the end of their cycle with a particular team, while Bayern are yet to peak.
Era of German dominance doubtful on evidence of Bayern Munich's Champions League triumph over Dortmund (Alan Hansen, Telegraph) A Premier League inferiority complex has become well developed thanks to the German dominance of this year's Champions League. A highly entertaining final at Wembley has done nothing to remedy those feelings of inadequacy when we assess how our clubs fared in comparison to Bayern Munich and Borussia Dortmund… Does this mean we are witnessing the start of an era of Bundesliga dominance? Not for me. The evidence to support this widely publicised prediction was not at all compelling. Bayern and Dortmund are good, but the victors have not joined the pantheon of the greats. Not yet. That's why we should be cautious about beating ourselves up too much because I do not believe the gulf that needs bridging is even remotely intimidating.
The Richest Match In World Football: Crystal Palace v Watford
Watford and Palace go head-to-head for £145million prize at Wembley (Neil Ashton, Mail) Watford and Palace estimate that the true worth of a place in the Barclays Premier League can top £145m. This season Watford's income was £11m while Palace's totalled £15m, chicken feed compared with the £63m in TV and prize-money the winners are guaranteed next season, even if they go straight back down. To put the huge increase in prize/TV money into context, Manchester United have just earned £61.4m for winning the title. Add extra gate receipts and sponsorship deals, throw in £59million worth of parachute payments over four years, and the figures add up.
Ian Holloway targets jackpot in £110m scrap (Mike Giles, Star) Ian Holloway insists the £110m at stake makes today's Championship play-off final the biggest game in the world.
Watford and Crystal Palace tantalised by Premier League fortunes (Dominic Fifield, Guardian) Delirium will overcome the owners of either Watford or Crystal Palace at Wembley on Monday although, even as emotion erupts all around, the victorious could be forgiven for skulking to the back of the royal box to pinch themselves over what is to come. The spreadsheet projections scream mind-boggling numbers, figures to transform. It has become cliched to refer to the Championship play-off final as the richest game in world football, but the reality is both these sides are one calm finish amid the excruciating tension from an influx of at least £140m.
Ian Holloway fears sack could be reward even if Crystal Palace win £135m game (Jack Pitts-Brooke, Independent) "Of course you are [at risk]," Holloway conceded before tomorrow's final. "You go up, you get the sack." Holloway, who did also mention the counter-example of the rise of Brendan Rodgers, pointed to the season when he had taken Blackpool into the Premier League via the play-offs, after winning the play-off final in May 2010. The teams promoted ahead of Blackpool, namely Newcastle United and West Bromwich Albion, dismissed their managers during the following season.
The Monaco Revolution
Now Monaco target Chelsea's Euro hero Ivanovic after failing to land Kompany… but Jose says 'No way' to any deal (Simon Jones, Mail) Branislav Ivanovic is wanted by Monaco after they were rebuffed in a bid to lure Vincent Kompany from Manchester City. The 29-year-old Chelsea defender has been recommended by coach Claudio Ranieri to Russian owner Dmitry Rybolovlev as the newly-promoted French side undertake an ambitious summer recruiting programme. They have had a £51.3m offer accepted for Atletico Madrid striker Radamel Falcao who is set for a medical today, and that follows Friday's £60m deal for Porto's Joao Moutinho and James Rodriguez. Monaco are ready to offer around £25m for Ivanovic, who scored the winning goal in the Europa League final, but the Serbian is also wanted by incoming Chelsea boss Jose Mourinho.
Falcao set for Monaco for £51m (James Dobson, Star) Chelsea and Manchester City were last night blown out of the water as Monaco tied up a staggering £51m deal for Radamel Falcao… Monaco assistant coach Jean Petit said: "Yes, we are expecting Falcao and four or five other players of his quality."
England Suck
Forget the Golden Generation, it's the Next Generation that's a worry (Sam Wallace, Independent) It has long been a personal view that the biggest immediate problem facing Hodgson is that his reign has coincided with the fading of the powers of one generation and the arrival of another. The problem being, while the likes of Steven Gerrard, Frank Lampard and Ashley Cole play out the last seasons of their career, are their putative successors ready for the task?… Hodgson has promised to promote the best from Stuart Pearce's Under-21s squad that plays at the European Championship next month. Before naming the squad for this week he name-checked, at different times, Theo Walcott, Jack Wilshere, Alex Oxlade-Chamberlain, Tom Cleverley, Danny Welbeck, Phil Jones, Chris Smalling, Jordan Henderson, Wilfried Zaha, Raheem Sterling, Luke Shaw, Nathaniel Chalobah and Thomas Ince. It was a wide range, from Walcott with his 31 caps to the likes of Ince and Chalobah, who have never played in the Premier League. It is a list full of talent and potential with the general proviso that the law of averages dictates that not all of them can hope to develop into international footballers.
The Transfer Lies
Wenger ready to bid £8m for the 'new Nasri' after admitting interest in Grenier (Simon Jones, Mail) The 22-year-old has been likened to Samir Nasri in his style, and is rated at around £8million by his club.
Everton could have to pay Wigan £5million for Roberto Martinez (Alan Nixon, Mirror) Everton will have to pay a big transfer fee for Roberto Martinez – as the Wigan boss heads for the exit door. Supremo Bill Kenwright is preparing for a cash wrangle with Latics chief Dave Whelan as the Spanish coach has no fixed compensation figure in his contract. Martinez will tell Whelan early this week that he wants to move but the veteran chairman won't allow him to go without a fight – or a pay-off.
Toon track Braga's £16m man Eder as they weigh up Euro star strikers to replace Ba (Simon Jones, Mail) Newcastle have made enquiries about signing Portugal striker Eder. The 25-year-old is valued at £16million by his club Sporting Braga, though Mike Ashley would hope to come to an agreement whereby £8m was paid, plus add-ons. Alan Pardew is desperate for a striker to fill the hole left by Demba Ba's departure in January and are working through a list of targets.
Hammers weigh up value of short-term deal of Nuhiu after top target Carroll's injury woe (Simon Jones, Mail) West Ham are considering a short term deal for free agent Atdhe Nuhiu. The 6ft 6ins striker is seen as someone who can provide cover for Andy Carroll who, should he agree to join from Liverpool, will likely miss the start of the season with a heel injury.
---