Real Madrid plan raid for Wayne Rooney & Fabio Capello & Barcelona want Clichy not Fabregas
Comment & analysis round-up
Quote of the day: ""If you want my opinion, I'm not sure he would even get in their team. Do they need him? I'm not sure they do." – Peter Hill-Wood on Cesc Fabregas and Barcelona.
Runner-up: "Carlos [Tevez] will be extra motivated against United, without a doubt, I think if you asked him, he'd take all his goals away to score the winner on Saturday." – Adam Johnson.
Today's overview: The lack of football in England last night sees the papers go transfer crazy with The Sun leading the way. Aside from the transfer tosh, the fallout from the London derby continues, there are previews of the Manchester derby and Simon Barnes' piece on Wembley is a must read.
Real Madrid, Wayne Rooney and Fabio Capello: The big transfer gossip of the day comes in The Sun who sensationally claim Wayne Rooney and Fabio Capello have been targeted as the new Galacticos: "Real Madrid are plotting a spectacular double swoop for England's crown jewels, Wayne Rooney AND Fabio Capello. The Spanish giants will make a staggering £150MILLION raid for Rooney, offering Manchester United £90m for their prize asset and the player £250,000 a week for five years. And they are determined to go back for highly-regarded ex-boss Capello after the World Cup."
In a supplementary article Antony Kastrinakis explains why Rooney may end up at the Bernabeu. "Wayne Rooney and Fabio Capello are seemingly untouchable for United and the FA. But then so were Luis Figo at Barcelona, Zinedine Zidane at Juventus, Ronaldo at Inter and Michael Owen at Liverpool. And that was just in his first stint as Real president. Perez's pulling power is such that it was almost inevitable when he pulled off the Beckham deal back in 2003."
Other transfer gossip: The Times chirp in with their own transfer rumour, Manchester United for James Milner. James Ducker: "Sir Alex Ferguson is weighing up a summer move for James Milner, the Aston Villa midfield player. Villa want to tie Milner, 24, to a new long-term contract but Ferguson, the Manchester United manager, is monitoring the situation and may look to take advantage."
The Times also report what feels like old news already, that Barcelona have not ruled out a move for Cesc Fabregas. But the Mail suggest Barca don't want Fabregas from Arsenal, they want Gael Clichy. Spewing a whole lot more gossip, the Mail add that Inter are chasing Branislav Ivanovic,
Liverpool takeover: The Daily Mirror report that "A former Syrian international claims to be close to buying Liverpool. Talks between businessman Yahya Kirdi and Anfield owners George Gillett and Tom Hicks are alleged to be at an 'advanced stage'. Former Celtic captain Andy Lynch, a one-time team-mate of Anfield legend Kenny Dalglish, says he has been brought on board by the Gulf-based millionaire, who is fronting up the bid, which has the backing of one of the UAE's ruling families. Kirdi knows Gillett and his son Foster and attended Liverpool's match at Stoke in January, but the Americans say they are not in takeover talks with any group."
Also on Liverpool, the Daily Mail add that "Rafa Benitez has been offered a four-year deal worth £16million and a £70m transfer fund in the latest attempt by Juventus to lure him away from Liverpool. Details of the Italian club's determination to install him in the summer emerged in the wake of a six-hour meeting between the Liverpool manager's agent and two Juve board members in Milan last weekend."
North London derby fallout – Spurs: Harry Redknapp feels his Spurs side need another "miracle" tomorrow against Chelsea. "Don't get me wrong, Arsenal are a terrific side, and if Robin van Persie had been fit all season they'd have gone very close. But Chelsea are another level – so big, strong and quick and the side I think will win the Premier League now. So if beating our North London rivals was miraculous, it's nothing to what's needed now. The problem we have against the top sides is they tend to play with only one up front, which gives us a real headache controlling the midfield. Matt Barlow describes how 'Arry has transformed Tottenham.
What now for Danny Rose? Tom Dart sums up Harry Redknapp's dilemma. "Few would argue after such an astonishing Barclays Premier League debut that Rose has not done enough to merit a second start tomorrow when Tottenham host Chelsea, the leaders, in another game that could enhance their top-four prospects at the expense of a team chasing the title. Rose must wait and see — he came off at half-time feeling tired and with a knee injury." Rose's chances of playing seem slim after Aaron Lennon declared himself fit.
North London derby fallout – Arsenal: Kevin McCarra surveys the wreckage of another trophy less season for Arsenal. "Wenger has his plans and the expected signing of the Bordeaux forward Marouane Chamakh will enhance the squad, but an opportunity to bolster the club was squandered at White Hart Lane. Victory might not have led to the title, but it could have bestowed a legitimate sense of anticipation over the years to come."
Steven Howard urges Arsene Wenger to splash the cash. "For too many years, Arsenal optimists have been regurgitating the same old mantra – next season, keep the players fit, get the rub of the green and we will be champions. Well, we have heard it for too long. Wenger HAS to buy – and now. He needs a new goalkeeper, a new centre-half, a ballsy midfield player in the Ray Parlour mode and a striker who gets in the box and can take – and give – a knock from someone like Nemanja Vidic that doesn't require the need of four weeks relaxation on the treatment table (at £75,000 a week)."
Former Arsenal striker Alan Smith joins the chorus calling for Wenger to buy in the summer. "As for Wenger, he still very much holds the place together. There is no one really to challenge his thoughts and that seems to be how he likes it. It is difficult to criticise too much because it has worked so well. He is still revered by most of the crowd and the board. He is stubborn in his ways and in how he wants the team to play. They do play some wonderful stuff and, with the improvement this season, you have to accept it and just hope they can win that trophy next season."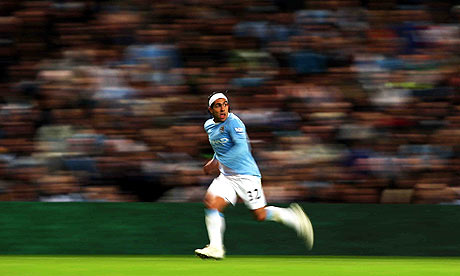 The Manchester derby: Daniel Taylor gets the ball rolling ahead of the crucial match at Eastlands tomorrow. "On Saturday, United are at Eastlands and, on current form, it is tempting to regard the home team as favourites. There will always be something distasteful about the deceptions surrounding Hughes's sacking but Mancini, slowly but surely, appears to be showing himself to be a man of class and achievement. Manchester City, once again, is a happy place to be – without having to delve into the archives." A number of papers add how G Nev and C Tev have been warned about their behaviour by the police.
Ryan Giggs is interviewed in The Independent and the Welsh wizard describes what City have to do: "Money can buy you success, but for long-term success you need a lot more. We've broken the transfer record quite a few times, Blackburn did it with [Alan] Shearer and won the league, and Chelsea spent big when [Roman] Abramovich arrived – but you need young players, continuity and a lot more to sustain that success."
Also in The Independent, Andy Cole urges us not to write off United. "Could Chelsea win 12 points from 12? Yes. Do I think they will? No. Six minimum, maybe 10, probably eight or nine. One would have to think eight points would land the title; even if United won 12, they would have 85 in total, and Chelsea with eight more points would have 85 points and possibly a better goal difference. But you never know. Could Spurs or Liverpool beat Chelsea while the other of that pair draw? Yes. These permutations and possibilities are all part of a thrilling run-in that still has twists left."
Premier League crackdown on owners: James Ducker & George Caulkin report in The Times:"The Premier League has moved to introduce tough new measures to flush out potentially 'unfit' club investors in the wake of growing criticism over poor ownership and spiralling debt. Chairmen and chief executives from the 20 Premier League clubs held a four-hour meeting in London yesterday during which a series of proposals were put forward in the hope of achieving greater financial stability and ensuring there is no repeat of the Portsmouth debacle."
Owen Gibson provides some more details: "Under the new rule, the Premier League will also demand a face-to-face meeting with any prospective owner, in an attempt to avoid a repeat of the farcical situation whereby Faraj was never seen in the UK and was never questioned about the state of Portsmouth's books. The measures, which would become part of the due-diligence process for prospective owners, will require such individuals to prove they have the necessary funds to take a club through the next season and meet all outgoings."
Wembley: The excellent Simon Barnes surveys the problem of the Wembley pitch. "Last week even the most jaded of us fell in love with football all over again as Lionel Messi scored four goals for Barcelona against Arsenal and confirmed himself as the finest footballer on the planet. Alas, the FA has failed to create a stadium that would show Messi at his best. Its priority was Lady Gaga."
And finally: Darren Bent has got engaged, to Sir Alex Ferguson's former daughter-in-law. Whilst in similar WAG news, Wayne Bridge has lost out again to a fellow footballer over a woman, this time to CR9.
---