"Rafael Benitez will be lucky if the next email sent by a Liverpool director in Dallas is simply abusive" – Andy Hunter
Comment & analysis round-up
Quote of the day: "How do I cope with the talking and the pressure? I try to do the best I can. From the pre-season we have been a little bit frustrated, but we have to carry on. We have to move as quickly as possible. The players are very disappointed. We are all disappointed. It's not the best season. Sometimes you have bad moments and sometimes better moments. At this time we have to carry on and be ready for the next game. We have to be focused on football… I have a big job to repair spirits before the Stoke game on Saturday. It will be difficult, we have to see what the doctor says about Gerrard and Torres. We have to wait until tomorrow when both will have a scan. Gerrard has some problems with his hamstring and Torres has twisted his knee." – Rafa Benitez.
Runner-up: "It is very difficult because our press officer, who was my personal press officer, died in my hands. Until now that is the worst image I have had in my life. I always hear people say [you think] somebody is going to die in your hands and at the end that person survives. But I had the press officer in my hands to his last respiration and he passed away in my hands, so you can imagine it is very difficult. I will not be able to be on the pitch. Me standing on the pitch at the moment would be the worst thing I could do because I am not 100% yet. I have to start training first and recover first from what happened and play football. At the moment my head is not on football because you are talking about human beings' lives… At the moment I'm just weak and, as you can see, I am sweating every day and every day that God makes at the moment I can't even eat, I am losing weight. It is very difficult for everyone." – Emmanuel Adebayor.
Today's overview: You know what's coming this Thursday. It's Liverpool bashing time again as the Merseysiders were humiliated by Reading at Anfield, being dumped out the FA Cup and further limiting the Reds' chances to claim any silverware this season. And the big question is asked by all – can Benitez hang onto his job?
Andy Hunter was first up, summerising the case against the Spanish waiter. "Anfield officials have repeatedly insisted the Spaniard has a long-term future at the club, and much depends on whether he can revive the club's season and qualify for the Champions League. But the Liverpool manager himself accepted speculation on his position was inevitable following a dreadful performance and deserved defeat to a Reading team languishing fourth from bottom of the Championship."
Next, Tony Barrett was quick to make sure that fingers are pointed squarely at Benitez. "The shenanigans in Liverpool's boardroom have given Benitez a ready-made excuse for the shortcomings of his team for most of a season in which they have stumbled from one setback to another, but that fig leaf has been yanked away by this result."
Portraying Benitez as ineffectual, Ian Ladyman also turned on the manager. "The sad thing about Benitez circa 2010 is that he does seem to care about it. Just as he cares about the other competitions Liverpool are so useless in. He cares alright, but he still doesn't know how to stop his team bleeding. As Liverpool creaked and groaned last night, their manager stood on the touchline in his jacket, blue shirt and tie. Maybe he was trying to masquerade as a Reading fan. Whatever the case, he looked as helpless as his players."
Quickly offering a defence against firing Benitez, Kevin McCarra argues how the financial cost of sacking Rafa makes that option highly unappealing. "A lucrative five-year contract was agreed with him last summer. Dismissing him would be costly indeed and that would further restrict the sums available to his successor. This week the owners have hinted at re-entering the transfer market more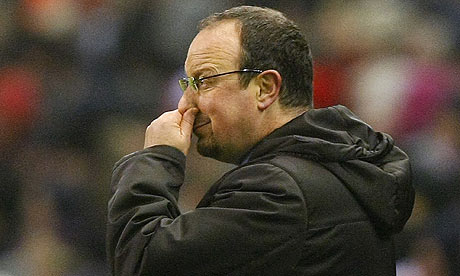 purposefully in the summer, but if such means truly are at their disposal there must be misgivings about pressing them into Benitez's hands… On the other hand, no manager survives for long simply because it is awkward to appoint a replacement."
Scribes have worked tirelessly at finding killer one-liners with which to berate Liverpool.
Andy Hunter wrote "Rafael Benitez will be lucky if the next email sent by a Liverpool director in Dallas is simply abusive," Ian Herbert coughed "Liverpool's dire season drifted into the realms of the apocalyptic," while Rory Smith trumpeted "every embarrassment after every false dawn feels like rock bottom and yet somehow, Rafael Benitez's side keep on falling."
Sadly The Sun's Phil Thomas was slightly less creative in his writing, shouting "OUT of the Champions League, OUT of the title race, OUT of the FA Cup – and for the Anfield chief, now almost certainly OUT of time."
Aside from the immediate problems facing Liverpool on the pitch, off it the Telegraph delivers a wishy-washy piece that details how "Christian Purslow, the Liverpool managing director, is hopeful that the club can secure £100 million of investment in the 'foreseeable future.' However, he admits there are "no guarantees" the club will be able to find the cash necessary for work on a new stadium to resume and fulfil co-owner Tom Hicks's promise of a "big summer" in the transfer market."
Manchester United's precarious financial position is further expose by Ian Herbert today, with the Independent scribe announcing that "the Glazer family have raised the prospect of selling Old Trafford in the prospectus circulated to potential investors from whom they are seeking £500m to refinance Manchester United… Joel Glazer pledged after the purchase of the club in May 2005 [this] would never happen and which would leave United supporters in a state of open revolt."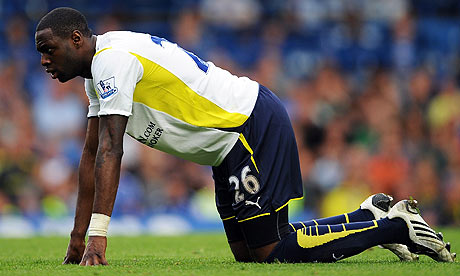 Moving onto Spurs, Harry Redknapp uses his weekly column in The Sun to write a cock-eyed opinion of why Sol Campbell can't make an England return. "Sol is still a great player and, in terms of cover for Arsenal's two central defenders, is a great choice. Yet now there are suggestions he could make a late bid for an England call-up for the World Cup finals this summer. No chance… If England do need cover in defence for the World Cup, Ledley King is a better answer. Ledley is a fantastic footballer and versatile enough to play as a holding midfielder at a pinch."
Will the last person at Fratton Park please turn out the lights.
The surprise transfer news of the day, as reported by John Ashdown, is that Portsmouth goalkeeper David James is set to join Stoke City on loan until the end of the season. Peter Lansley helps explain why the South Coasters are happy for this deal to go through. "The Times understands that if James plays a set number of Barclays Premier League matches, thought to be 20, Portsmouth would have to offer him a 12-month extension to a deal due to expire this summer. That would amount to another £2.5 million on their wage bill, which the club can ill afford given their financial crisis and the looming threat of relegation."
Moving the conversation along regarding Portsmouth, Patrick Barclay urges the fans to buy the club. "[Portsmouth] fit the profile of a single-club community with a passionate populace… Some people in boardrooms consider supporters a nuisance, but the time has come to tap into their energy, the beauty of which is its renewability. Sustainable fan-power. What could be more right for the age? So, all together now: green army!" Fellow Times scribe Nick Szczepanik goes on to detail how the Pompey fans are moving to take over their club in practice.

Onto the rest of the transfer news, where Jason Burt gives the skinny on Steve McClaren's FC Twente moving a shrewd move to take Arsenal's Jack Wilshere on loan. "Twente play the kind of attractive, technical football that could speed Wilshere's development, especially as they are also involved in challenging for honours rather than fighting a relegation battle." The talented Young Gun also has other admirers, the Independent noting that "new Bolton manager Owen Coyle is attempting to bring Arsenal youngster Jack Wilshere to the Reebok on loan."
Some deals have already been reportedly wrapped up.
The Times report "Gary Caldwell became Wigan Athletic's third acquisition of the month yesterday, after the centre half left Celtic for an undisclosed fee and signed a 4½-year contract at the DW Stadium." Slightly less conclusive, the Daily Mail chime "Galatasaray this morning claimed they had signed full-back Lucas Neill from Everton. Everton were understood to be considering a £1million bid from the Turkish club for the Australia international." And it's a similar story in The Sun, were we learn "Amr Zaki is joining Stoke for £1million from Egypt's Zamalek."
The ironic transfer story of the day sees Darren Lewis claim that "Reading keeper Adam Federici is agonising over a move to Liverpool. The 24-year-old Australian stopper is first choice at the Madejski Stadium but dad Tony has revealed his son's agent has been approached about a dream move to Anfield where he would be understudy Pepe Reina."
In a we've heard it all before piece of transfer nonsense, the Daily Mail barf that Birmingham are tracking £6.5m rated Salzburg striker Marc Janko, while the pseudo-tabloid also announce that Manchester City's young winger Vladimir Weiss is a target for Cologne on loan, as well as "Belarus striker Sergey Kornilenko will fly to London on Friday for a trial with West Ham United."
In the rest of the shorts, Derby County's Kris Commons is linked with a £1.25m move to Hull, Fiorentina are reported to be closing in on Serbian wonderkid Adem Ljajic after he was dumped by Manchester United,
Lastly, in an article alluding to the supreme confidence (or arrogance) of Chelsea, Martin Lipman claims that "Chelsea boss Carlo Ancelotti is prepared to do nothing in the January transfer window – after being told by the club board they will win their appeal against the FIFA transfer ban… The club's lawyers are increasingly bullish about the appeal being successful, to the extent that Ancelotti has been told to expect the punishment will be reduced to a fine and no embargo."
---