Rafa says he has the backing of Chelsea's players, Real Madrid crush Barcelona & are Spurs a 1 man team?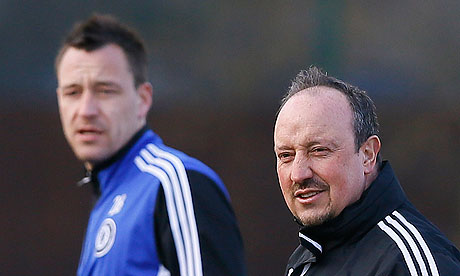 Comment & analysis round-up
Quote of the day:"I can guarantee the players know what we're trying to do and believe in what we're trying to do, 100%. The players are fully behind our ideas. I can guarantee that. I and my staff have been working really hard to get the right balance and right team on the pitch. The players know how hard we are working. That's the main thing. I talk with them every day and they're really pleased with what we are doing and know what we're trying to do, every game. Today I was talking with three or four [before training], and two or three after, and they were all convinced we would finish in the top three. They are clever enough and realise they will be here beyond the summer, with long contracts, so they have to perform and be ready if they want to stay at the maximum level. By which I mean in the Champions League. But my relationship [with the senior players] is fantastic. I don't have any problems. Fantastic. The atmosphere is really good inside the club." – Rafa Benitez.
Runner-up: "As much as Gareth is outstanding at the moment we are helping him. Ask any of the lads and they will tell you they are doing everything they can to get on the scoresheet." – Scott Parker.
Real Madrid humiliate Barcelona in the Nou Camp
Cristiano Ronaldo scores twice as Real Madrid crush Barcelona (Sid Lowe, Guardian) When it comes to head to head matches against Barça, Mourinho's Madrid have become the better side: the past six meetings have seen Madrid effectively clinch the league, win the Spanish Super Cup and now claim a place in the Copa del Rey final, as well as drawing 2-2 here in October. Ronaldo too has become more dominant than Leo Messi. Trailing by 16 points, the league is Barcelona's but that did not feel like it mattered much here: this was humiliating for the home side, worrying too. The sheer speed of Mourinho's team was breathtaking. A place in the final brings with it confidence that they can win at Old Trafford in the Champions League. Barcelona, by contrast, know that on this form they have no chance against Milan. They were impotent again.
Clinical Ronaldo outshines Lionel Messi to fire United warning (Ed Aarons, Independent) An inspired display from Cristiano Ronaldo helped Real Madrid book their place in the Copa del Rey final as Barcelona's uncertain form continued. Less than a week after losing 2-0 to Milan in the first leg of their Champions League last-16 tie, stand-in coach Jordi Roura saw his side outclassed again on a frustrating night for Lionel Messi. By contrast, his arch-rival for the mantle of world's greatest player scored either side of half-time as Jose Mourinho's team warmed up for next week's trip to face Manchester United at Old Trafford. Sir Alex Ferguson, the United manager, who was at the Nou Camp, will have heeded the warning.
The pressure is on Rafa Benitez
Players are 100% behind me (Mark Irwin, Sun) Rafa Benitez says Chelsea's stars are 100 per cent behind him — despite an angry bust-up with John Terry. And the interim boss insists he does not fear being knifed in the back by his players. Benitez last night confirmed SunSport's exclusive report of a training ground row with Blues skipper Terry following Sunday's 2-0 loss at Manchester City. He said: "It was a very brief exchange of ideas and that was it. "It was a meeting between players and technical staff to exchange opinions and disappointment is normal after a defeat.
Di Matteo airbrushed from Chelsea history as club remove Champions League picture featuring former boss (Neil Ashton, Daily Mail) Roberto di Matteo has been airbrushed out of Chelsea's Champions League history after the club replaced his image on an iconic wall at Stamford Bridge. Chelsea's history-making manager, sacked last November by owner Roman Abramovich, was pictured on the West Stand wall with the rest of the squad and their trophies at the start of the season. Di Matteo has now been replaced by a huge image of Chelsea's players and coaching staff — minus the manager — celebrating the club's first European Cup triumph in the Allianz Arena. And Chelsea supporters, who often take souvenir pictures next to the giant poster, have been left stunned by the decision.
Are Tottenham are 1 man team?
Gareth Bale the sensation who owes it all to Tottenham's compact style (Jonathan Wilson, Guardian) o why are Tottenham more compact than they were five months ago? Why does the defence feel able to push higher? In part that is down to confidence and to Villas-Boas's training. But it is also down to the change of goalkeeper. Brad Friedel remains a very fine keeper but he is part of the reactive school of US keeping that tends to stay deep. There is nothing wrong with that – it is a perfectly legitimate way to play – but it does have ramifications elsewhere on the pitch. If a team want to play with a high line they need a keeper who is comfortable coming off his line, sweeping up behind the defence, making sure the space behind an advanced back four is not a yawning void into which opponents can play through balls. Hugo Lloris is much more adept than Friedel at that and, since he has become the regular No1, Spurs have played much higher and been much more compact. That has got the best out of Bale. (It has also worked defensively; no team in the Premier League concede as few shots on goal as Tottenham.)
Tottenham forward Gareth Bale isn't carrying his Spurs team-mates, they help lift him to greatness (John Percy, Daily Telegraph) And while the likes of Scott Parker and Lewis Holtby's qualities are without question, they perform the similar role that allows Bale such freedom to wreak havoc on the Premier League. The performances of Moussa Dembele cannot be ignored either, for he has provided crucial protection for Bale in the absence of the injured Sandro. Villas-Boas also deserves credit for constructing a game plan that allows Bale the platform and free role to terrorise at will.
No contest: Gareth Bale 'better than Theo Walcott' just like when they were kids (Neil McLeman, Daily Mirror) "I always thought Gareth was the better prospect," he said. "Theo had different attributes. Gareth was more the package in terms of that quality on the ball. "Theo left Southampton when he was 16. That was in the very early stages of his career and he didn't have that many games under his belt, while Gareth had two seasons. "I think that has shown as Gareth has developed into a better player. I think in those early years, any player is building up. "If you can get those two seasons under your belt at least, then when you move to a big club, you have certainly got a much better chance. "I look back at Richard Wright and Darren Ambrose who maybe left Ipswich a bit early. It is like any other job – you have to serve your apprenticeship. "There are not many players like Wayne Rooney who are Premier League regulars at the age of 16 or 17. "If you can get that good upbringing in terms of regular games in the Championship and league football, it puts you in great stead when you move into the Premier League."
Can Spurs hold on to Bale?
Real Madrid are ready to make summer move for Tottenham Hotspur's 'fantastic' midfielder Gareth Bale (Jeremy Wilson & Mark Ogden, Daily Telegraph) Bale's starring performance in the 3-2 win against West Ham on Monday night has further cemented his status among Europe's very best players, with Real, Paris St-Germain, Bayern Munich, Barcelona and Manchester City all now closely monitoring his future. Ramón Calderón, the former president of Real Madrid who retains links with the club, said on Tuesday that the vast resources available at the Bernabéu will enable them to agree a deal. "It's true we have spent a lot of money in the last three or four years but I think we are in a position to pay the money they are going to ask for," Calderón said. "There is always a limit but Real Madrid is in a very healthy situation, economically speaking, so it would be in the position to sign him."
I don't know if you can play jinxed Bale… what Fergie told Spurs (but now the United boss must see potential for a deadly trio with RVP and Rooney) (Martin Samuel, Daily Mail) What Tottenham and Bale are to do next is the key. If Bale's head is turned by interest from the traditional strongmen of the Champions League, nobody will be surprised. Financial fair play is about to create an elite within the elite, an exclusive cabal of financial super-powers: Manchester United in England, Barcelona and Real Madrid in Spain, Bayern Munich of Germany. Having fought so hard to get into the exclusive Champions League club, Tottenham are about to  discover that they are outside a small roped area reserved for the real VIP guests. Bale will now be subject to the same pressure as a thousand before him. It is all well and good getting into the competition, he will be told, but don't you want to have a chance of winning it? The problem is made more complex by nationality. If the biggest honour in football is a World Cup winner's medal, then Bale's career must be defined by his club achievements.
Defoe back for north London derby
Defoe set for shock Gun bid (Paul Jiggins, Sun) Jermain Defoe could make a shock return in Sunday's north London derby with Arsenal. Spurs ace Defoe has been out since injuring an ankle on February 3 at West Brom. But he resumed training this week and could make the bench for the White Hart Lane showdown. Defoe's return would be a huge boost for Spurs as they bid to finish above bitter rivals Arsenal in the Premier League for the first time since 1995.
PSG want Wayne Rooney
Sacre Roo! PSG's summer move for Wayne Rooney as Real plot £40m Gareth Bale bid (Daily Mirror) The Times newspaper reckons that Manchester United's bionic bulldog Wayne Rooney is on the very-wanted list of oil-rich Paris St Germain. Not for the first time, of course, but apparently Wazza's status has been downgraded at Old Trafford after the arrival of Robin van Persie, and the French club are now ready to test Fergie's resolve with a monster punt this summer – possibly cuing a tearful reunion with David Beckham!
Liverpool want Stefan de Vrij
Bren is after an £8m Vrij (Rob Beasley, Sun) Brendan Rodgers has stepped up his interest in Holland star Stefan de Vrij. The Liverpool boss was in Rotterdam on Sunday to see the £8million-rated centre-back help Feyenoord beat Eredivisie leaders PSV. Rodgers has been quick to zero in on De Vrij, who is earning rave reviews for his stylish defending in the mould of former Kop star Alan Hansen. And although De Vrij, 21, is under contract until 2014, he has a gentleman's agreement that he can move if a top club comes in.
Super Mario orders statue of himself
Mario Balotelli orders life-sized statue of himself for his house (Marcus Christenson, Guardian) Mario Balotelli has ordered a life-sized statue of himself to keep in his Brescia home. The Milan striker, who was on Tuesday fined €10,000 (£8,600) for making an "insulting gesture" towards Internazionale supporters at the end of the derby on Sunday, has contacted a local artist to make the statue, in order to "immortalise" himself. "I have received the commission, but I've never met Balotelli so I am working from photos," Livio Scarpella told Il Giornale di Brescia. "I presented several drawings but Mario wanted to be immortalised in a pose that shows him having scored a goal, highlighting his muscles and with an expression of defiance. "I have imagined him as an athlete from ancient times and the statue will be a mix of classical and pop style in platinum and coloured bronze with the eyes made of stones."
---