Rafa says Chelsea can still win the league, AVB fears Bale out & Man United linked with Ozil
Comment & analysis round-up
Quote of the day: "There's still a long way to go and we will have chances. Remember last season when City were ahead and it was easy. Then they needed to win their last game. It's a long, long competition. Can we still win it? Why not?" – Rafa Benitez.
Runner-up: "Tonight's results have drawn us away from Chelsea a little bit further. We're still ahead in the league but City are on our tails and it's going to be a long season. The importance of winning 1-0 in certain games is that your opponents know the resilience is there. If you look at some of the really important 1-0s we've had… go back to beating Newcastle when they were nine points clear of us in 1996 — our 1-0 that night won us the league. There are important 1-0 victories. We've had many of them." – Sir Alex Ferguson.
The mutiny continues at the Bridge
Rafa's men fire blanks again as Benitez can't inspire Torres and co (Neil Ashton, Daily Mail) Rafa Benitez addresses the English-speaking players in their native tongue in the dressing room and communicates in Spanish with the rest of Chelsea's team. Last night Chelsea's players created a language all of their own and no-one inside the home of the European champions can understand a word of it. They are speaking gibberish and so is Chelsea's interim manager after his opening two fixtures, both at home, ended in depressing goalless draws.
From zero to zero: More boos for Benitez after another goalless draw (Victoria Lee, Daily Mirror) Rafa Benitez claimed Chelsea can still win the title. But the jeers of the Blues fans after this utterly dismal display suggested the Spaniard is in a world of his own. Benitez may have been spared a repeat of the pre-match booing that marked his introduction to the Stamford Bridge faithful. Two games without a goal, barely a shot, and even less entertainment add up to four points out of 18 and a seven point gap from the top. Hopes that Benitez could wave a magic wand and turn Fernando Torres back into a striker had already evaporated long before the frustrated fans gave vent to their feelings.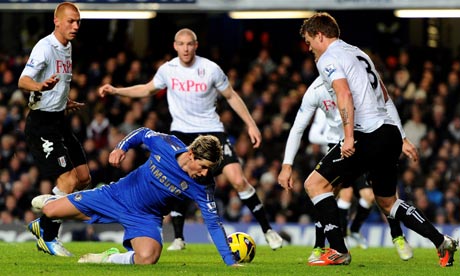 Chelsea toil against Fulham on another blank night for Rafael Benítez (Dom Fifield, Guardian) There was no thunderous booing for Rafael Benítez to endure prior to kick-off here, and his adopted side have actually clambered back into third in the Premier League, but there any suggestion progress has been made has to end. All that swashbuckling attacking football that had carried Chelsea through the opening weeks of the campaign has fizzled out, doused by a run that has cast them adrift of the title race. The jeers were delayed until the final whistle. The interim first-team manager was pursued down the tunnel by the boomed expression of frustration, Roman Abramovich darting for the door at the back of his executive box high up in the West Stand without glancing back at those in blue with shoulders slumped as they trudged from the turf. This is uncharted territory for the oligarch who had never previously seen his team fail to score in three successive matches. The last time their league form had spluttered even with back-to-back goalless draws was back in September 2004. Benítez might have hoped to emulate José Mourinho at this club, though presumably not quite like this.
Hailing Gareth Bale, but AVB admits the Welshman will leave WHL
AVB Bale out fear (Sun) Andre Villas-Boas watched a Gareth Bale masterclass then admitted he may not be able to keep him at Spurs. Boss AVB said: "We understand players like him have propositions and a market, which is the nature of the game. But as a club we want to keep him here as long as we can."
Brace yourselves! Bale brilliance will bring the sharks to Spurs' door admits AVB (Darren Lewis, Daily Mirror) Andre Villas-Boas hailed 'amazing' Gareth Bale after Spurs' hard-fought win over Liverpool – then admitted they could struggle to keep him. The Welsh wing wizard saw off Liverpool with an outstanding display to help his side to a 2-1 victory that leapfrogs them past Arsenal and Everton into fifth. Villas Boas gushed afterwards: "We are absolutely amazed with what he can do for us. "Tottenham as a club want to keep him here as long as we can, but we understand players like this have propositions, have a market which is the nature of the game."
Glory game tries to raise its voice after brutal and malevolent week (Paul Hayward, Daily Telegraph) Villas-Boas must be loving the thought of winter's depths. His team will not face any of the big dogs until Manchester United on Jan 20. Between now and then they will meet Fulham, Everton, Swansea, Stoke, Aston Villa, Sunderland, Reading and Queens Park Rangers. This string of opportunities could be the making of the AVB reign or it could get the fans on his back and extend doubts about his suitability as Harry Redknapp's successor. On the evidence of this first half, Spurs are still capable of ripping teams apart. The first 15 minutes was a typical White Hart Lane blur of flashing white and thrilling downfield runs, with Gareth Bale to the fore.
Super Mario not going anywhere
Birthday presence: Balotelli staying put at Man City after giving the boss a happy 48th (David Anderson, Daily Mirror) Roberto Mancini insists he does not want to sell Mario Balotelli after watching him inspire Manchester City to victory. Balotelli made the breakthrough for City in Wednesday night's 2-0 win at Wigan with his first Premier League goal since March – a lean spell that has lead to his future at the Etihad being questioned. "No, no, we are not looking to sell Mario," said the Blues manager. "I'm very happy for him because he scored his first goal this season, and I hope he can improve on this. "He's one of the four strikers, and it's clear they have had some difficulty to score lots of goals like last year, but if we keep working hard we can change that. "We knew this game was going to be difficult. But in the end we deserved to win because we showed good patience in the game."
United beat West Ham thanks to early RVP goal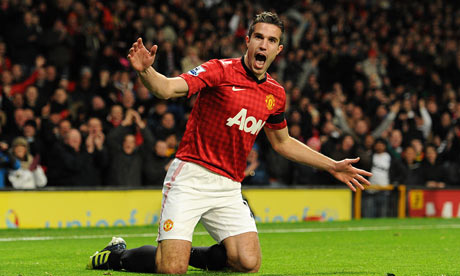 Manchester United's Robin van Persie strikes early to hurt West Ham(Jamie Jackson, Guardian) Manchester United managed to avoid their season-long habit of conceding first by opening the scoring here, but the performance still stuttered enough to concern Sir Alex Ferguson. The Scot's side maintain their status as Premier League leaders by a point from Manchester City, who also won, but this was a low gear display that allowed West Ham United to keep on hoping right to the end.
Manchester United's Sir Alex Ferguson warns fans of long season ahead in title race with rivals City and Chelsea (Daily Telegraph) Table-toppers United ground out a 1-0 victory over West Ham at Old Trafford thanks to Robin van Persie scoring the fastest goal of the Premier League season to date, after only 33 seconds. It was only the third clean sheet United have kept this season and ended a worrying trend of the team having conceded first in nine of their opening 13 league games. And while it was a far from vintage performance, it was a vital one given that City's victory at Wigan kept the defending champions just one point behind.
Manchester United eye Ozil
Fergie's fine Mes (Phil Thomas, Sun) Mesut Ozil is back on Manchester United's radar after reports the playmaker is considering his future at Real Madrid. The German international, 24, joined Real from Werder Bremen in a blaze of glory two years ago. But he is no longer a first choice under Jose Mourinho following the arrival of Luka Modric and sources insist he is growing increasingly unhappy. United chief Alex Ferguson has asked to be kept informed of any developments and would be at the front of the queue if Real decide to sell.
Arsenal and United in race against time to sign Dortmund's £30m Gotze (Simon Jones, Daily Mail) Arsenal and Manchester United have been alerted after it was revealed that Borussia Dortmund midfielder Mario Gotze has a release clause of £30million. The Germany international, 20, has excelled in the Champions League this season. The clause is set to expire in July and a written offer needs to be submitted to the Bundesliga champions by April.
Chelsea after Brazilian wonderkid
Bernard planning (Sun) Chelsea are keeping tabs on Brazilian midfield star Bernard. The 20-year-old, dubbed the new Oscar, is valued at £6million by Atletico Mineiro. Bernard — who made his Brazil debut last week — was recommended to the European champions by former Blues striker Deco after a series of eye-catching performances.
Mark Clatteburg's return
Clattenburg jeered on difficult return to action (Nick Szczepanik, Independent) They say that the best refereeing performances are the ones you don't notice, but Mark Clattenburg was never going to be that lucky on his return to Premier League action. The St Mary's crowd were all too aware that it was Clattenburg's first match back in the middle since being accused of making a racist remark to John Obi Mikel during the Chelsea versus Manchester United match on 28 October, and he spent most of the game with their jeers ringing in his ears, while both managers felt that a refereeing error had played a part in the goal their team had conceded.
David Beckham
No MVP for DB… but Beckham has put MLS on the map in a way America fails to grasp(so ignore the phoney facts and figures) (Laura Williamson, Daily Mail) When Major League Soccer (MLS) announced their 'best XI' this week, there was one name notably absent: David Beckham. This list is not merely an arbitrary line-up scribbled down in a bar on the back of a beer mat. In a sporting culture obsessed with numbers and statistics, it is supposed to 'recognise the League's top 11 players at each position on the field'. It is an honour to be included and Beckham was not, yet again. The former England captain has only made the cut once in his six seasons in the USA. Beckham has never been shortlisted for the MLS' Most Valuable Player, either. He has never even been LA Galaxy's footballer of the year. Being an 'MVP' might sound like some sort of four-wheel drive to British ears, but awards and titles such as this really do matter in the States; try as they might to bring a quantitative appraisal to the whimsical, wonderful world of sport.
Tactics
The Question: is Cristiano Ronaldo a strength or a weakness to a team? (Jonathan Wilson, Guardian) Real Madrid stand 11 points behind Barcelona in the league only 13 games into the season. They looked distinctly second best in taking just one point from two games in the Champions League against Borussia Dortmund. Pressure is mounting, it seems, on José Mourinho: six previous Real Madrid managers have found themselves more than six points off the lead at this stage of the season; none have made it until May. Yet it may be that the criticism is being directed at the wrong Portuguese. Cristiano Ronaldo's goal stats are preposterous: 165 in 164 games since he joined Real Madrid in 2009. Physically he is monstrous: he has an explosive pace but also balance and deftness; he is strong enough that many opponents simply bounce off him and he is good in the air. He is exceptionally gifted with both feet. He is an extraordinary footballer, by many measures one of the greatest handful the world has known. He may also be the reason this Real Madrid team never wins the Champions League.
West Ham to get Olympic Stadium
West Ham take step closer to making Olympic Stadium new home (Paul Kelso, Daily Telegraph) West Ham are on the brink of being named preferred bidders for the Olympic Stadium, with final negotiations over who will fund the conversion of the arena ongoing before a decisive meeting next week. The London Legacy Development Corporation board will meet next Wednesday and is increasingly likely to make a final decision on the stadium, with West Ham expected to be named as the primary tenants. A final deal depends on a successful conclusion to negotiations over a funding gap of between £20million and £40million, but there are rising expectations that an agreement will be reached between London mayor Boris Johnson, West Ham and central government to bring the stadium saga to a close.
---
GAMBLING CAN BE ADDICTIVE, PLEASE PLAY RESPONSIBLY