Rafa on the brink: "Who in their right mind would take the Liverpool job?" (Tony Barrett)
Comment & analysis round-up
Quote of the day: "The challenge is a big one but that is what keeps you alive… Together with my staff we will do everything we can to achieve our goal. The players are excited and determined to play their part.  The fans of England are the best in the world and we will be doing all we can do reward their loyalty.  I understand the pressure, the confidence of the country in this team and I am very focused.  We have the players together as a group and it is like a club environment. I have taken teams into important finals but, even with the likes of AC Milan and Real Madrid, we were representing just one city. With a country, you carry the expectation of an entire nation. I hope to play Italy in the final or semi-final but my shirt at that moment will be an England shirt. I would not swap with the Italian coach Marcello Lippi. I prefer to be England coach." – Fabio Capello.
Runner-up: "I don't want to come back with any regrets this time. That's happened to me too many times in the past. This is my fourth World Cup and there has been an element of regret in all of the previous three. And I don't want to finish my England career – if this is going to be my last chance like people are saying – on that note. That's why I say we are going to do our utmost to try and bring this cup back. We are not going there to finish second. We are not there to get to the semi-finals and think 'Oh we did a good job, we got past the quarter-finals'. We are there to go out and win it." – Rio Ferdinand.
Jabulani quote of the day: "The ball that we will use in South Africa will be one of the worst that I have played with. It moves a lot." – Uruguay keeper Fernando Muslera.
Today's overview: With Rafa Benitez set for the Anfield exit the English media try to work out why the Spaniard will be leaving Liverpool and who are the likely candidates to take over. Elsewhere there is still reaction to England's squad announcement and the Cesc Fabregas to Barcelona transfer story rumbles on. Stand out articles today come from Giles Smith on watching Sky Sports News announce the Three Lions 23 and Jonathan Wilson on Serbia's chances in South Africa.
Rafa to leave Liverpool: Tony Barrett broke the news in The Times: "Liverpool have attempted to pave the way for Rafael Benítez's departure by offering their manager a compromise deal to quit the club. In what amounts to a vote of no confidence in the man who guided them to Champions League victory in 2005 on that unforgettable night in Istanbul, the Liverpool board approved a proposal to the Spaniard that would allow him to leave Anfield with a payoff worth about £3 million up front."
In a seperate article Barrett argues "now Anfield must fight for its soul." "The first conundrum is: who in their right mind would take the Liverpool job? It used to be one of the greatest positions in English football, but now a manager would have to be prepared to take on the running of a club riddled with debt, that are for sale, that have no significant transfer budget, a squad in need of an overhaul, and where the only certainty is endemic uncertainty. Then there is the playing staff. It has long been mooted that the only way to guarantee that the likes of Fernando Torres and Steven Gerrard will remain at the club would be if Benítez goes. The coming weeks and months will prove or disprove such theories. But one thing is certain — should Benítez's replacement not live up to the kind of exacting standards laid down by the world's best players, they will find a club that does boast such a manager. And, with José Mourinho's Real Madrid pursuing Gerrard and Carlo Ancelotti's Chelsea keen on Torres, Liverpool will have a big job on their hands convincing their crown jewels to stick around regardless of who is eventually appointed."
The Sun reveal that Benitez is heading to Inter Milan and list their candidates to take over at Liverpool. "Candidates for the job are Croatia boss Slaven Bilic, Turkey chief Guus Hiddink, Benfica's Jorge Jesus and Fulham's Roy Hodgson." The Daily Mail list the main contenders as Mark Hughes, Roy Hodgson, Guus Hiddink and Martin O'Neill.
Phil Thomas tries to decipher where it all went wrong for the Spanish waiter. "Rafa Benitez's failing relationship with his players is no secret to anyone. But to Liverpool's power-brokers, the situation had become so bogged down that they simply could not risk carrying on as before. Some of Anfield's most powerful playing figures, while publicly silent in their feelings about Benitez, just do not enjoy the sort of manager-player relationship vital to any successful club. Men like Steven Gerrard, Fernando Torres, Javier Mascherano, Yossi Benayoun, Jamie Carragher… the list of those with shrinking faith in the manager seemed to grow by the game."
David Maddock also cites player power in the Mirror. " When it came to it, some of the biggest stars in world football had decided they could simply no longer play for their coach. So Liverpool had a tricky ­decision to make. Keep the manager who had steered them to two Champions League finals but risk losing three or four world class players. Or make a move now to bring desperately needed stability to the playing side of the club, and allow the likes of Gerrard, Torres, Javier Mascherano and Jamie Carragher to head off the World Cup in the knowledge that the positive moves they had demanded were being ­implemented. In the end, it was a no contest."
Paul Kelso in the Daily Telegraph blames Liverpool's American owners for Benitez's sacking. "Anfield has been afforded a glimpse of the obscurity which awaits England's most decorated club in any future in which Hicks and Gillett remain. Whatever his faults, whatever his mistakes, whatever his spend, Benítez's exit should not be seen as proof that he is the man to blame. Liverpool's imperfect perfectionist is simply the first victim."
The England World Cup squad: Sam Wallace leads in The Independent with Peter Crouch being handed the number nine shirt. "Peter Crouch has been handed the No 9 squad number for the World Cup finals by Fabio Capello in the biggest hint yet that the prolific Tottenham striker has supplanted Emile Heskey in England's first XI. Glen Johnson was given the No 2 shirt, which suggests he will be ahead of Jamie Carragher (No 18) for right-back. Gareth Barry, still recovering from an ankle ligament injury, has nonetheless been given the No 11 shirt. David James has the No 1 jersey, although Capello, who yesterday finally signed his new FA contract to remove the post-World Cup break clause, is still insistent that he will not make his mind up about his first-choice goalkeeper until he has seen his players train in South Africa."
David Hytner conducts a Big Interview with David James: "I don't look at this World Cup as a personal mission. I look at it as a team mission. Yes, you want to be No1, you want to play every game and lift the World Cup, but if that doesn't happen it will be a case of: 'If I'm there, my contribution will have aided whatever success we have.' Within training, you are preparing yourself each time to play and with Fabio's selection process, until the team is announced, you are never actually sure, which is good."
Paul Kelso argues that Fabio Capello's honeymoon period is over. "The Italian has of course earned the right to do as he pleases having steered England through the first stress-free qualification in 20 years, and if he guides England to the semi-finals and beyond in South Africa we will happily renew our vows. Should the team be eliminated earlier though the events of the last month will make the post-mortem far less comfortable for Capello."
The rejects: Darren Bent talked to George Caulkin about missing the World Cup. "This would be a story with a sad plot if it did not have such a happy hero, a man who has twice in succession been omitted at the last moment from World Cup squads, but who bounces back and smiles regardless. Whatever you think about Fabio Capello's choices, the tactical theories, the debates about form, there is a human element and Bent, Shirley, his mother, and their family embody it. They warrant empathy and respect. At least the Sunderland striker had experience to draw upon (unlike another member of the England party, who was so nervous he could not bring himself to answer Capello's call, delaying Tuesday's messy process of trimming the squad from 30 to 23)."
Harry Redknapp expresses his surprise that Theo Walcott isn't going to the World Cup. "Let's face it, if you're going to win the World Cup you need that something special in there and I think he provides it. He's a real threat, a match-winner who can turn things your way out of nothing. And, most importantly of all, he genuinely scares people. I'd have taken him and all the bookies thought so too as he was 33-1 to miss out."
The announcement: Giles Smith brings his humour to describe what it was like watching the squad unfold on TV. "That Capello could turn waving goodbye to a surplus winger and some defensive deadwood into something like six hours of finger-drumming torture for the viewer winds back the clock on everything we know about primetime showbusiness."
The World Cup: A number of papers feature England's referee in South Africa, Howard Webb. "Howard Webb drops his broad Yorkshire tones to momentarily adopt those of the stereotypical Bond villain. It is Euro 2008 and the referee, hard on the heels of awarding a 93rd-minute penalty to Austria against Poland, has arrived in Salzburg for his next match. 'I was met by the head of police,' Webb recalls. 'He said: 'Meester Vebb, you will not be killed in Salzburg.'"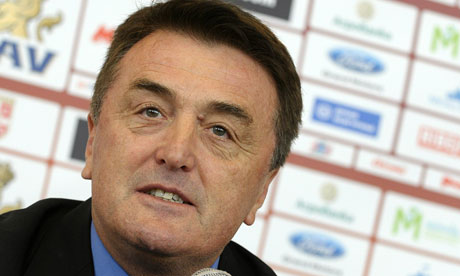 The always excellent Jonathan Wilson analyses what chance Serbia have in South Africa. "Given a qualifying campaign in which they finished above France, and responded to suggestions they didn't always make the most of dominant positions by thrashing Romania 5-0 to secure qualification with a game to go, Serbia should go into the World Cup as one of the more fancied dark horses. As it is, the ghosts of past collapses hang around the squad and any assessment of them – quite reasonably – comes with the seemingly compulsory caveat, 'if they can hold it together mentally'."
Cesc Fabregas: Oliver Kay reports in The Times: "Barcelona plan to antagonise Arsenal further with a second bid to sign Cesc Fà bregas after having an opening offer of £29 million rejected yesterday. Arsenal issued a strongly worded statement to say that they had "immediately and resolutely" rejected the approach for their captain and that they expect Barcelona to respect their stance. But the Spanish champions are planning a fresh offer as they try to conclude a deal before the start of the World Cup finals."
The Sun bring some enticing evidence as to why the Spanish playmaker won't be at the Emirates next season. "Gunners fans will still be worried as the midfielder has been left off a photo including seven players for the club's membership renewal form. Andrey Arshavin, Robin van Persie, Eduardo, Denilson, Kieran Gibbs, Emmanuel Eboue and Thomas Vermaelen feature on the email – but there is no sign of the skipper."
Transfer gossip: Pete Jenson in The Independent brings more worrying news for Liverpool fans. "Jose Mourinho has been praising the virtues of the British box-to-box midfielder leaving Madrid press to speculate that despite his prediction of a quiet summer at the Bernabeu, a move for Liverpool's Steven Gerrard could yet come to pass."
Manchester City expect to sign Jerome Boateng before the World Cup and the free spending Eastlands side also hope to sign Edin Dzeko and David Silva. The Scottish Sun reveal Sol Campbell will give Neil Lennon every chance to sign him for Celtic.
The Daily Mail bring a bunch of transfer stories including Fulham eye David James, Birmingham and Stoke chase Newcastle striker Andy Carroll and Avram Grant will be named new West Ham boss today. The Mirror chirp in with Fulham close in on Frederic Piquionne ("French strike ace") and Wolves set to sign Steven Fletcher ("strike star").
El Mundo Deportivo claim Chelsea are in talks with Zlatan Ibrahimovic, Maicon has told AS he doesn't want to play for Manchester City and the same paper reports Real Madrid are closing in on Angel Di Maria.  
And Finally: The Daily Mail reveal what the England squad are taking with them to South Africa.
---
GAMBLING CAN BE ADDICTIVE, PLEASE PLAY RESPONSIBLY