Rafa Benitez the front runner for Real Madrid job as "faith & hope have disappeared from Anfield" (Rory Smith) & "Beckham is a junkie for love" (Simon Barnes)
Comment & analysis round-up
Quote of the day: [Real Madrid ought to] "leave me alone… I am always going to the end of my contract and I am going to 2011. There is no way… At the moment I focus on Hull City. Maybe it's less glamorous than Real Madrid but they are much more important in my life at the moment… £240m doesn't buy you the Champions League necessarily. If you can spend it every year, you will get there but it is the first year of Pérez back and you have to give him time. He only has to invest again next year, so I think they will be a force again. But at the moment it's difficult to take for them." – Arsene Wenger.
Runner-up: "I am optimistic about the second leg but a lot will depend on the first minutes. If we have the same mentality as today, we can beat anyone. When it is not a good season you know every game is important, but I am confident we can beat anyone on a good day at Anfield with our fans behind us." – Rafa Benitez.
Today's overview: Liverpool's defeat at Lille is put into some perspective by The Sun who link Rafa Benitez to Manuel Pellegrini's job at Real Madrid. The Spanish giants are the centre of much attention following their Champions League exit as is David Beckham (and the Glazers/Red Knights) and Wayne Rooney.
Tony Barrett in The Times chews over yet another defeat for Liverpool at Lille. "Such has been Liverpool's fall from grace this season — last night's was their fifteenth defeat in all competitions — that the much-derided Europa League has come to offer them a salvation of sorts. It does, after all, fit in with another Liverpool adage that the club exist to win trophies and, having not lived up to this exacting philosophy since 2006, the Anfield side can ill afford to cock a snook at silverware of any kind, regardless of how devalued or low on their priorities the competition may be."
Ian Herbert also sticks the knife in. "There was a dreadful sense of déjà  vu about the way they were sent packing out of northern France; yet another late goal to go with those conceded in both Champions League ties with Lyons, which had landed Benitez's team in front of an 18,000 crowd on a pitch resembling Formby beach in the first place. But the memorably named 19-year-old Belgian Eden Hazard, who leaves them fretting about next Thursday's second leg at Anfield – and how hazardous he was, also provided a reminder of what the even smallest quantity of energy and verve can do for a team." Rory Smith adds in the Telegraph: "It just shows what confidence – or rather, a complete lack of it – can do. Faith and hope have disappeared from Anfield. In their absence, there is only doubt."
Despite an apalling season, The Sun suggest Rafa Benitez is the man Real Madrid want to replace Pellegrini with. "Rafa Benitez is favourite to become Real Madrid boss next season. The Spanish giants will sack Manuel Pellegrini in the summer, after their Champions League defeat by Lyon. Real president Florentino Perez has under-fire Liverpool chief Benitez as the front-runner on a shortlist that also includes Jose Mourinho and Carlo Ancelotti."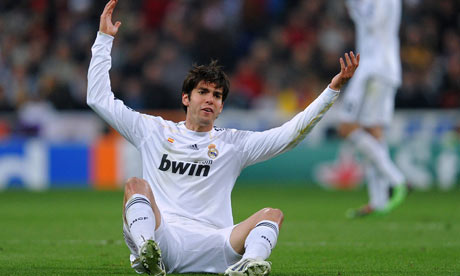 Elsewhere in the Champions League. Sid Lowe surveys the damage in Madrid. "The dream has become a nightmare. The Real Madrid president, Florentino Pérez, will preside over the European Cup final at the Bernabéu on 22 May but his team, the most expensively assembled in history, will not be there. As if to make matters worse, Barcelona still might be. Talk about rubbing it in. Someone else's success would become the image of Madrid's season, Pérez's first since returning unopposed as the saviour. Not that he will be the one who pays for it – heads will roll but his will not be among them. Others stand in the way with the coach, Manuel Pellegrini, the first under scrutiny."
Gabriele Marcotti urges Real Madrid to stick with Pellegrini. "If anything, he has made lemons out of lemonade, winning 20 of 25 matches in La Liga and staying neck and neck with Barcelona, whom some not so long ago were hailing as the greatest side in history. Pellegrini's side are on course to gain more points and score more goals than any Real side since 1960-61. The solidity of a team and the work of a coach are best measured by their performance in leagues, in which they are assessed over time, not by cup competitions, in which luck, happenstance and individual errors can have a disproportionate impact."
Pete Jenson also adds his two penneth on Los Blancos. "Real Madrid are now trying to pick up the pieces after once again failing to match their monetary muscle with any footballing credibility on Europe's big stage. This time, as hosts of the final, the feeling is even worse – they will be responsible for providing the beer and sandwiches on May 22 but not for the players on the pitch. The immediate cost of failure stands at £18million in lost prize money but could run up to £55m taking into account lost advertising revenues."
James Lawton bundles Real Madrid and AC Milan together, arguing the fallen giants were given a lesson in team building this week. "At least no one can say that the art of winning, in the best possible style, has been forgotten. As the man with the flaming computer in Madrid said, a little belatedly, it's not splashing around inordinate amounts of money and then throwing a celebrity party. It's remembering how to make a team, a real one with a precious capacity to grow."
Kevin McCarra adds on AC Milan, "Serie A is very far from extinction, but it does have a range of difficulties. Some are found on a highly individual level. Now that he is prime minister of the country Silvio Berlusconi seems like a man who can always find a moment to interfere in team selection, but is far too busy actually to lead Milan. A group left to grow old together personifies perfectly the lack of strategy."
Amy Lawrence backs Lyon to stun more teams this season. "But it is what happened at half-time in Madrid that really showed the mettle of Claude Puel's squad. They knew they had been through a storm in the first-half but when they surveyed the damage and saw that there was nothing worse than Cristiano Ronaldo's goal, they were ready to grip the steering wheel and power through the gears. They made two half-time changes – forced by knocks but risky business all the same – pushed 10 yards up the pitch and pressed as boldly as they have ever pressed before. They were tigerish in the tackle and audacious in the attack and put in what L'Equipe could not resist describing as a 'galactic' performance."
Ex-Manchester United striker Andy Cole also lays into AC Milan. "Milan were pants, and that's being generous. It happens sometimes that a team is inexplicably poor, and of course United did a job to their manager's orders. But my goodness Milan were bad. Aside from a couple of sniffs from Ronaldinho and Huntelaar, there was nothing. When United scored the early goal that would have been part of Sir Alex Ferguson's ideal game plan, it looked like Milan gave up."
David Beckham's decision to wear a green and yellow scarf down the tunnel at Old Trafford has provoked plenty of repercussions and comment. The Times report that "David Beckham will be formally approached about the prospect of becoming a Red Knight, with antiGlazer campaigners eager to adopt the former Manchester United player as their poster boy." And the Mail add that Eric Cantona and Peter Schmeichel will also be asked to follow Goldenballs.
Daniel Taylor in The Guardian reports that "Manchester United are so concerned about the increasing success of the green-and-gold protests that the club have effectively forbidden Sir Alex Ferguson's players from speaking about it publicly and imposed a series of other measures aimed at counteracting the kind of publicity generated by David Beckham's endorsement of the campaign. Beckham's parting statement after United's 4-0 defeat of Milan on Wednesday, leaving the pitch with a protest scarf around his neck, is being described as 'an iconic moment' by the Manchester United Supporters' Trust (Must), and senior figures at Old Trafford are worried about the significance of the most famous sportsman on the planet attaching himself to a movement aimed at deposing the ruling Glazer family."
The excellent Simon Barnes puts the whole episode into perspective. "Beckham is a junkie for love. He was high as a kite on love after all his cheers and knew the scarf would only add to that love. Whether the move was premeditated or spontaneous, he couldn't help himself. The gesture won't harm Beckham, because he doesn't depend on the Glazers for anything. It will simply raise his stock in certain quarters that matter to him. He hasn't spoken out against the owners, he has simply, as ever, lined himself up with the fans. He doesn't want the Glazers out; he wants the love of United fans. It won't worry the Glazers. The fashion of Glazer-hating is running rife at Old Trafford, but I haven't noticed the Americans going broke as a result. They can make money no matter what colour the scarves of the paying supporters. United are the brand of choice for fans across the face of the world — there are said to be 333 million of them."
Owen Gibson feels Beckham knew exactly what he was doing. "Image-conscious to the last, more than perhaps anyone else on the planet, David Beckham knows that pictures speak louder than words. A man covered in tattoos, and with a keen sense of the way in which his every action will be interpreted by the media, is hardly likely to have been ignorant of the symbolism of draping a green and gold scarf around his neck before disappearing down the tunnel at Old Trafford last night – no matter what he said post-match about it being a gesture of support for the team rather than the Red Knights."
J
ames Ducker features the man of the moment at Manchester United, Wayne Rooney who says: "I felt more was expected of me when Ronaldo left. I knew I could do more. I have done it. I hope in the future I can do even better." Harry Redknapp also adds to the Rooney love-in. "Cristiano Ronaldo quit Manchester United for Real Madrid for that eye-watering, record-busting transfer fee of £80million. But I don't think there is enough money in the football world to prise Rooney away from Old Trafford, where he is now everybody's main man."
Simon Cass in the Daily Mail also reports how Rooney did finally miss a big chance yesterday, playing video games. At the Coca Cola event, Rooney gave his thoughts on the World Cup: "Of course I'm thinking about the World Cup. You try not to think about it too much because you need to do your job for your club first. But it's always in my mind that it is a World Cup year. It's a dream to play for your country in any competition but to play in the World Cup is an unbelievable feeling."
Geoff Sweet in The Sun brings the exclusive that "Hull stars Jimmy Bullard and Nick Barmby were involved in an explosive bust-up in front of astonished pensioners in a public park. An onlooker said: 'It was all quite nasty. A number of old people, some being walked by nurses, thought yobs were fighting and one screamed: 'Call the police'." A number of papers also report how David James "is organising the Portsmouth players to pay the wages of up to eight training ground staff out of their own pockets after the club's administrator sacked them as part of major job cuts this week."
Harry Pearson laments that the English manager is becoming an "endangered species." "In continental Europe they used to love British football managers too. That's why in Spain the coach is always called ;Mister'. But that was back when British managers were undeniably British. Maybe it's too late to turn back the clock, but if Mark Hughes is serious about his career I'd drop the Armani suits and start wearing a trilby hat and a monkey-shit brown mac over my tracksuit from now on."
The Guardian conduct Small Talk with Alan Shearer with predictable consequences: "Alan, can you tell us a joke? Yeah, your questions."
In the transfer gossip, the Daily Mail reveal Arsenal are determined to hang on to William Gallas and Manchester City and Manchester United are set to battle it out for Nigerian Under-17 midfielder Ramon Azeez. Also in the Mail, CSKA Moscow are trying to prevent Igor Akinfeev join Manchester United for free and Portuguese midfielder Danny hopes to reignite a move to Chelsea. The Daily Mirror add that Stoke are after Jermaine Pennant.
Click here for more Premier League betting tips
---