Rafa Benitez is a tactical genius (or did Chelsea's interim boss get it wrong at kick off?)
Comment & analysis round-up
Quote of the day: "Yes. I was waiting. I was waiting for him. I was waiting at the beginning. Ask him. I was waiting, there was nothing wrong. You have to ask him [why he didn't shake hands]. Ask him. You are brave enough, ask him. I was waiting, I have some education. I was waiting, I have education because I know a lot of people are watching, so I know what you have to do." – Rafa Benitez.
Runner-up: "We're lucky to still be in the competition. We ran out of legs. Our two full backs, Rafael and Patrice Evra, were just knackered. The two centre midfield players tired badly and we just kept giving the ball away. It made it a long day for us because we had to go from one penalty box and back to our own. Chelsea were by far the better team in the second half. We could have been four up in the first 25 minutes but I detected there were some signs of tiredness in the way we gave the ball away. We have plenty of time now. We have no European games, although I don't know when the replay will be played – probably May! I don't know where it will be played and the only thing we can say is that we're still in the competition." – Sir Alex Ferguson.
Rafa Benitez tactical genius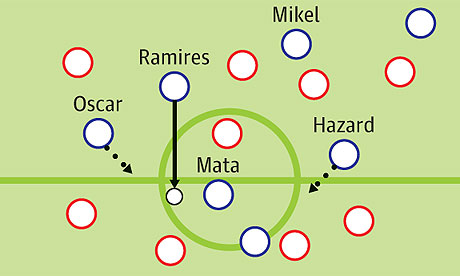 Eden better for Benitez – lonely Rafa changes game as substitute Hazard forces replay (Martin Samuel, Daily Mail) Rafael Benitez approached Manchester United goalkeeper David de Gea at the end, and  congratulated him on the save of the match. A sporting gesture? A show of national solidarity? He probably just needs the friends. Mocked by the home supporters, vilified by the travellers, Old Trafford must have felt a very lonely place for Benitez on Sunday. A goal behind after five minutes and two down six minutes later, his substitutions attracted only derision, particularly the replacement of this season's cause celebre Frank Lampard. That these introductions ended up changing the game, and should have led to a Chelsea victory, will give Benitez quiet satisfaction. It hardly matters now.
Rafael Benítez's Chelsea game changers leave Manchester United swamped (Michael Cox, Guardian) It was not quite Istanbul 2005 but for the first time as Chelsea's interim manager Rafael Benítez changed the course of a game via the bench. The Spaniard has frequently been criticised for his poor use of substitutions – a right-back for a right-back when chasing matches was a particular source of frustration – but here Chelsea dominated the second half after Benítez's double switch. The inevitable question is whether he should have got things right from the outset, and his starting selection was surprising, even taking into account the need for rotation. In particular, a mobile central midfield duo of Ramires and Frank Lampard was peculiar against a United side that uses a dangerous attacker – on Sunday, a reinstated Wayne Rooney – behind their main striker.
Rafa DOES know what he's doing (Steven Howard, Sun) Chelsea last night launched a top-level investigation into events at Old Trafford. Confused top brass want to know exactly how Rafa Benitez actually succeeded in getting something RIGHT for a change. The under-fire Blues interim boss made a match-changing double substitution after 52 minutes that saw his side come back from 2-0 down to go within the width of David De Gea's boot from pulling off one of the results of the season. Had the United keeper not got his right foot in the way of Juan Mata's shot in the last minute of normal time, the 5,000 travelling fans might have found themselves in the invidious position of having to give Benitez an unlikely pat on the back. Compare that to the derisive scorn that rained down on him when he hauled off Frank Lampard and Victor Moses just seven minutes into the second-half and sent on Eden Hazard and John Obi Mikel.  
How did United let a 2-goal lead slip?
Comfort zone proves too cosy for United as Chelsea ride wave of belief (Michael Walker, Daily Mail) That was the second of five FA Cups for Fergie but the real thing has not sat in his office since 2004 and a sixth does not look as likely as it did around 4.45pm yesterday. That is because Chelsea's second-half display demonstrated that even young, foreign men such as Hazard have some understanding of its significance in English football. Such a comeback will only strengthen the Chelsea attachment. The Londoners have won the Cup six times since 1997, four times in the last six seasons. They may well possess a sense of ownership. They will also feel it is advantage Blues for the replay. But as Benitez may point out, that depends on the atmosphere inside Stamford Bridge.
Manchester United 2-2 Chelsea: five talking points from the FA Cup tie (Jamie Jackson, Guardian) The manner of Chelsea's second-half comeback through strikes from Eden Hazard and Ramires spoke of how the Reds had fallen asleep first and become rattled second as their ideas and play became pedestrian. Beforehand, Sir Alex Ferguson said: "A league and cup double is now our target and if we can pull that off it won't be such a bad season. We will pick ourselves up and give it our best today against Chelsea. It's football and happily we still have plenty to fight for." They do. But he will want a win when Reading visit on Saturday.
England should call up Rio Ferdinand again
Why Hodgson must make call to Ferdinand ahead of England's World Cup qualifiers (Neil Ashton, Daily Mail) Ferdinand, incredibly, is in with a shout. Hodgson's meeting with Gary Neville, a former team-mate of Ferdinand's, and assistant manager Ray Lewington could reshape the centre back's international career. Forget the 'football reasons' Hodgson has always put forward for Ferdinand's continued omission from the national team – Rio, watched again by Hodgson in Manchester United's 2-2 draw with Chelsea in the FA Cup quarter-final, has played his way back into contention. He was at his best against Chelsea, just as he was when he played in both legs of the Champions League knockout tie against Real Madrid. If he can get a game against Europe's biggest club, he should be under consideration for World Cup qualifiers against San Marino (world ranking 207th) and Montenegro (29th).
How did Wazza fare?
Wayne Rooney returns against Chelsea with a reminder of his qualities (Barney Ronay, Guardian) If Manchester United and Chelsea emerged with their fates in this season's FA Cup undecided at Old Trafford, for the travelling caravan of Wayne Rooney revisionists, Rooney-apologists and the many associated elements attached to the Rooney celebrity-sporting persona, this was an equally mixed afternoon. There will have been a temptation here at the end of the first half – with United 2-0 up, Rooney the scorer of a slightly fortunate second goal – to find a dramatic counterpoint to the extremes of personal decline detected in Rooney's absence from the team against Real Madrid. Instead United, as they had on Tuesday night, faded noticeably in the final 25 minutes as Chelsea's own withdrawn attackers, Eden Hazard and Juan Mata, took control with a deftness that provided a more precise counterpart to Rooney's bustling, first-half energy, playing the major part in Chelsea emerging with the better half of a 2-2 draw.
Wayne Rooney blows big chance to impress on return to starting line-up (Mark Ogden, Daily Telegraph) If Wayne Rooney's performance against Chelsea proved anything, it was that Sir Alex Ferguson was right to omit the Manchester United forward from his starting line-up against Real Madrid last Tuesday. Just when he needed an eight out of 10 performance, Rooney could do no better than a six. It was a missed opportunity to remind us all why he is United's highest-paid player and the one who, despite his failings on the international stage, remains England's talisman going into this month's World Cup qualifiers against San Marino and Montenegro. Rooney will not be expected to fulfil more media obligations than his team-mates, the Football Association insisted in response to Ferguson's claims that the player does too much commercial activity when he is on England duty.
Bayern want Rooney, according to The Sun
I'd love Roo to join Bayern (Vikki Orvice, Sun) Franz Beckenbauer last night admitted Bayern Munich would be keen to sign Wayne Rooney. Manchester United boss Alex Ferguson made the controversial decision to leave Rooney on the bench for their Champions League exit against Real Madrid last week. Fergie was forced to deny it signalled the end of Rooney's time at Old Trafford. But German legend Beckenbauer, who is honorary president of Bayern, said: "I would be very happy for Wayne Roney to come to Bayern."
Luis Suarez 3 – Gareth Bale 2
Liverpool's Luis wins shootout to give Rodgers biggest win (David Anderson, Daily Mirror) Luis Suarez won his shoot-out with Spurs superstar Gareth Bale to give Brendan Rodgers the best win of his ­Liverpool reign, the 3-2 defeat of Tottenham. Suarez scored Liverpool's opener at Anfield before winning the penalty for their late clincher. Rodgers was delighted to record his first victory over a top-four side to climb to sixth spot – just two points off landing a place in Europe.
The Glory game
The game is about glory – credit to Andre Villas-Boas for remembering that (Sam Wallace, Independent) In most quarters, the game is still as much about glory as when Danny Blanchflower, the captain of the 1961 Tottenham Hotspur team, first conceived of that elegant five-word sentence, part of a wider point about how the game should be played. But these days the game is about other stuff too, whether you like it or not. The game is about money. The game is about growing your commercial income streams. The game is about keeping your wages-to-revenue ratio down. The game is about finishing in the Champions League places. The game is, in Spurs' case, about getting Haringey Council, Sainsbury's and the Mayor's office on board, along with the finance, to build a new stadium, in one of the most deprived parts of a city that is home to some of the richest people in the world. Yes, the game is about glory but if you want glory these days, you have to plan for it, budget for it, obtain planning permission for it, build for it and even then you might still find yourselves 10 years behind Arsenal. Dragging Spurs into the 21st century has been no easy task but, while they are getting there, someone has been keeping his eye on at least one crucial aspect of that old five-word motto.
Bayern tried to sign Wenger
We tried to sign Wenger (Antony Kastrinakis, Sun) Bayern Munich president Uli Hoeness has confirmed the German giants have tried to snatch Arsene Wenger from Arsenal a few times over the years. The Gunners will fly to Munich tomorrow to face Bayern as huge outsiders on the back of their 3-1 home loss three weeks ago. In an exclusive interview, Bayern legend Hoeness admitted they have repeatedly held talks with Wenger in the past — both before and after he took charge of Arsenal. But the Frenchman, currently under pressure as he heads for an eighth successive season without a trophy, has always stayed loyal to the Gunners.
Where now for Moyes?
Everton manager David Moyes at a career crossroads following lily-livered surrender to Wigan in the FA Cup (Chris Bascombe, Daily Telegraph) Each Everton trauma means the rival Goodison blocs are mobilised. With Moyes contract up in the summer, the restless suggest a natural parting of the ways at the end of the season is mutually beneficial, tempted by the romance and revolution of a change of manager, chairman, boardroom and entire infrastructure. This is met with the familiar retort about being careful what you wish for. While there are those who perceive a club too complacent in their position of Premier League comfort, plenty of others are as ferocious in the belief not enough credit is given for the establishment of this security. The debate is held for a few months until eventually manager and chairman announce the continuation of their 'good' relationship. Moyes will never find a more supportive club than Everton and where will Everton find a better manager than Moyes?
Gazza thanks Sir Alex
Sir Alex Ferguson saved my life with DVD message of support, says Gazza (Stephen Moyes & Tom Wells, Sun) Paul Gascoigne told last night how a DVD message from family and friends including Sir Alex Ferguson helped save his life. Gazza, 45, was played the Man United boss's words as he battled his drink demons in a US rehab clinic. He said: "He told me everyone at United was rooting for me."
---
GAMBLING CAN BE ADDICTIVE, PLEASE PLAY RESPONSIBLY