QPR snap up Remy & M'Vila, Mourinho wants England return & Sepp Blatter wants to be a pundit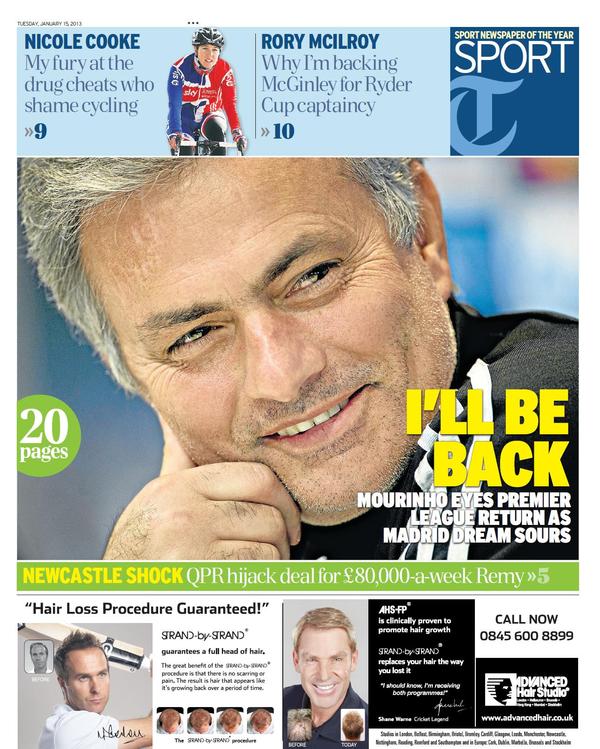 Comment & analysis round-up
Quote of the day: "There couldn't be a better place to go. In England, you feel the real passion for the game. In England, it's not just about passion for clubs, it's mainly about passion for football – and you feel it." – Jose Mourinho.
Runner-up: "The difference between last year and this is we've been more focused on Manchester United. I remember last year some players and a lot of people at the club were talking about who City were playing in the next game and what City were going to do in this or that game. We had a lot of respect for them and just didn't focus on our job. We are Manchester United and it's not normal when you're focused on another team. I've played at United for seven years and it's always been like this. Last year we were the team looking at another club and that is no good — this isn't Manchester United. But this year we're just focusing on ourselves." – Patrice Evra.
Remy & M'Vila heading to QPR
Harry's £15m French double (Andrew Dillon, Sun) Harry Redknapp last night sealed a shock £15million swoop for France stars Loic Remy and Yann M'Vila. QPR's boss pounced for £8m Remy within hours of the Marseille striker rejecting Newcastle. And Redknapp then sealed a £7m deal for Rennes' bad-boy midfielder M'Vila after watching him in action at the weekend. Both players will go straight into the struggling Rangers team to face West Ham at Upton Park on Saturday. Remy, 26, is a major coup for Redknapp as the hitman looked to be heading to Newcastle.
Toon blow as QPR hijack £8m Remy switch with M'Vila also set to join Redknapp revolution (Colin Young & Sami Mokbel, Daily Mail) Queens Park Rangers have hijacked Loic Remy's move to the Barclays Premier League and swooped to steal the France international from under Newcastle United's noses in an £8million move. And Hoops boss Harry Redknapp is hoping to secure another £8million deal for Rennes' midfielder Yann M'Vila who is also believed to be on his way to Loftus Road in the next 24 hours. The Premier League's bottom club were given permission to talk to 26-year-old French striker Remy after matching the fee Newcastle agreed to pay on Sunday night.
Frank Lampard's mega offer
Chinese take away Lamps' £20m offer (Sun) The Chinese club who wanted to spend more than £20million on Frank Lampard have told him: You missed out on a great adventure. Guizhou Renhe went all-out to land the Chelsea star and their president even flew to London to try and get Lamps on board. The club were prepared to break the bank for England midfielder Lamps, 34, offering him a whopping £250,000-a-week, two-year deal starting in March. Two months ago the club website said Lampard had agreed to the switch and would be team captain. But Lamps, who has been told he will not be getting a new contract at Stamford Bridge, refused to commit to the project.
Mourinho wants Premier League return
Mourinho hints at Premier League return in FA tribute (Sam Wallace, Independent) Jose Mourinho has recorded a special tribute for the Football Association's 150th anniversary traditions, pledging again that he will come back to the Premier League one day to manage an English team. Mourinho, 49, is in England for a League Managers' Association seminar at St George's Park but is unable to attend the FA's celebrations at Wembley on Wednesday because he is back in Spain for Real Madrid's Copa del Rey quarter-final against Valencia tonight. In his tribute, he pays a glowing compliment to English football.
Jose Mourinho targets return to Premier League as he praises English football to the hilt (Henry Winter, Daily Telegraph) "I know that one day I will come back because English football means a lot to myself,'' said the former Chelsea manager. Mourinho guided Real Madrid to the La Liga title last year but has encountered problems this season, including disagreements with senior players such as Iker Casillas, and he is now expected to leave the Bernabeu in the summer. Paris St-Germain may offer a new challenge or Mourinho could consider what is available in the Premier League. His love affair with English football is well known. He was back in England on Sunday, checking on Real's Champions League opponents, Manchester United, and being surrounded by autograph-hunters. Mourinho attended a League Managers Association coaching conference at St George's Park. He has also delivered an impassioned tribute to English football in a message of congratulations to the Football Association on its 150th anniversary.
Ian Wright on Pep Guardiola 
I know just why Pep would go to City, not Arsenal (Ian Wright, Sun) Every top manager in the world is now looking over his shoulder. Having announced he will return to management this summer, Pep Guardiola has his pick of the world's top clubs. The only major side who would ignore the former Barcelona coach is Real Madrid — and I don't have to explain why. Yet I can see exactly why he would lean towards Manchester City. As for him joining Arsenal, forget it. Guardiola has been linked with Manchester United, Chelsea and City — but not Arsenal. The only people talking about Guardiola ending up at the Emirates are Arsenal fans but there is no chance of this happening. It is something that, one day, I would love to see — but it is fanciful.
The title race
Manchester gears up for another title race as City try to catch United (Jamie Jackson, Guardian) 1 Can City ensure the gap does not grow? With 16 games remaining Manchester City are seven points behind Manchester United. Sunday suggested Roberto Mancini's team can maintain the pursuit. After United beat Liverpool 2-1 at Old Trafford in the early game, City defeated Arsenal 2-0 for a first win at the north London club since 1975. A loss would have widened the margin to a yawning 10 points. Instead, on Saturday, City have a chance to turn the tables: beat Fulham at 3pm at the Etihad Stadium and United have 24 hours to contemplate their advantage being down to four points before kicking off at fourth-placed Tottenham Hotspur on Sunday afternoon.
David Silva admits Manchester City cannot afford to lose another game in title run-in with Manchester United (Paul Kelso, Daily Telegraph) Asked if there was a sense at Manchester City that they could not afford to lose, he agreed, adding that they would need help from United to turn a seven-point deficit into a lead come May. "The important thing is the next game. We talk about the game that we have coming up and we hope that they blow it, because it will let us be closer. If we lose, then suddenly the gap is 10 points, and that is when it gets really difficult. But if we keep fighting, we hope that they will falter. "All we can do, whatever the gap is, is keep going, every game, and put them under the pressure of knowing that if they lose a game or drop any points, we will get closer to them.
The battle for 2 Champions League spots
London clubs again on track to take remaining Champions League places (Amy Lawrence, Guardian) It is Wenger's team who, again, look under the most strain at this stage. This month presents them with a daunting set of fixtures – their schedule is bloated by extra midweek business with an FA Cup replay against Swansea on Wednesday night and a re-organised Premier League fixture against West Ham a week later. Sandwiched in between is that trip to Stamford Bridge. Last season that was a fixture that brought them hope, as they won a helter skelter contest 5-3. Robin van Persie scored a hat-trick that day. Wenger remains bullish about Arsenal's prospects of another of those top-four finishes he values as a trophy. "We are in there. Of course we are," he said in the aftermath of the wounds that were partly self-inflicted against Manchester City. Arsenal need a lift, but Wenger remains reluctant to look to the transfer market to provide it. He is adamant that he can find all the answers from within. Perhaps he can, but it looks like a substantial gamble. After all, banking on his team to re-qualify by winning the Champions League would be an even longer shot than Chelsea's last season.
Strachan for Scotland
Strachan set to lead Scotland in bid to revive struggling national team (Mark Wilson, Daily Mail) Gordon Strachan will be confirmed as the new Scotland manager within the next 48 hours. Sportsmail understands the former Celtic boss has won the race to succeed Craig Levein and the SFA are preparing to unveil him as the man to take the national team forward. Strachan had been the bookmakers' favourite ever since Levein was axed last November, with Scotland sitting bottom of their World Cup qualifying section.
Vincent Kompany's red card at Arsenal
Kompany's tackling policy is bound to get him into trouble… he's a big guy and goes in at speed (Martin Keown, Daily Mail) I am a huge fan of Vincent Kompany – he is one of the best defenders in the Premier League – but his tackling technique is leaving him wide open to trouble. A few times now we have seen the Manchester City captain booked or sent off for launching himself forward with both feet. He propels himself at speed and he is a big man so it is quite a force coming at the opposition player, in Sunday's case Arsenal's Jack Wilshere.
I had my leg broken but I still feel Fifa has gone soft over tackling (Jim Beglin, Daily Telegraph) I have a lot of sympathy for Vincent Kompany and really hope his red card against Arsenal is overturned by the Football Association because the referee's reaction to his challenge on Jack Wilshere shows just how Fifa has got the balance wrong when it comes to tackling. My playing career was badly affected by a broken leg I suffered while playing for Liverpool against Everton in 1987, so I am not complaining about the efforts being made to protect players from serious injury as a result of reckless challenges. But I really believe that those efforts have gone too far and that defenders are now unable to display the art of tackling or use controlled aggression to win the ball. That has led to the issue of players on the receiving end of challenges making a meal of them to get their opponents booked or sent off. I do not want to label anybody as a cheat, but I certainly feel that too many players are now cheating each other off the pitch.
Sepp Blatter wants to be a pundit
Sepp Blatter reveals retirement ambition to work as TV football pundit (Owen Gibson, Guardian) Stand aside Gary Neville, move over Alan Hansen. Despite his sometimes garbled grammar and controversial opinions, the Fifa president, Sepp Blatter, has revealed that when he finally steps down from his post in 2015 he would like to become a match analyst on TV and radio. Given his longstanding aversion to technology, it is also unclear how Blatter would fare with Sky's studio gadgetry but the 76-year-old said he planned to "live a dream he had when he was a young boy" and work in the media as a "radio commentator or reporter". When it was suggested he could become a Sky Sports pundit, he replied: "I would comment on the games but I would not say 'now he passes right or left' because everybody can see that on TV, but I would make my comments on tactics or techniques."
---
GAMBLING CAN BE ADDICTIVE, PLEASE PLAY RESPONSIBLY