"Put a consortium from the Middle East and Eriksson's name in the same sentence and you start to believe that anything is possible" – Stuart James
Comment & analysis round-up
Quote of the day: "I am particularly attracted to this role and the unique opportunity to help build a club over the longer term. I will be responsible for all aspects of the football side of the club and in line with the aspirations of the new owners, wish to build the club at the heart of the community. I started my football management career at a small lower division Swedish club and we managed to get them into the top flight. I can think of no better challenge than to attempt to do that again but this time with the world's oldest football club, where we can add to a proud tradition and hopefully bring some richly deserved success. We hope to leave a long lasting football legacy for Notts County FC and its fans." – Sven-Goran Eriksson.
Runner-up: "Based on the information provided, the League has found no reason why [Sulaiman al-Fahim] would be liable to be disqualified as a director of a Premier League club. As with all changes in club ownership, the Premier League will continue to monitor any material changes in circumstance." – A statement from the Premier League.
Today's overview: Forget the Big Four. Forget the Premier League. This Wednesday the most famous club in England are Notts County as Sven, and his trusted sidekick Tord Grip, have incredibly returned in English football. And the Swedes appear to be sticking to their modus operandi of creaming as much money out of the game as is humanly possibly.
The tabloids have a field-day reporting the story, kicking off with the Express' John Wragg hyperventilating that "Eriksson will return to England today in one of the most bizarre appointments in British football history after being offered the post of Notts County's director of football." Chugging behind is The Sun's Ian McGarry who lauds "one of the most extraordinary appointments in the history of the English game.. [in which] Notts County may believe they have pulled of the biggest coup in their history by attracting Eriksson to join them. But keeping him could actually be their greatest achievement."
Focusing on the financiers of the Sven-Notts County deal is Kevin Eason. "As usual with these things, Munto [Finance] is a mystery wrapped inside a financial enigma. Seems that Munto was incorporated in the British Virgin Islands, a well-known tax haven, as a business specifically designed for the County takeover… Basically, they have oodles of cash." Fleshing out the rumours surrounding Notts County's owners, Janine Self adds "Abdullah Bin Saeed Al Thani is worth £1.5billion – give or take a few bob. The Dubai tycoon is the man behind the amazing takeover of Notts County."
A couple of hacks were queuing up to reel-off their most cynical one-liners over Sven's appointment.
For Stuart James, "it would be naive to believe that there is not a hefty basic wage… and there were suggestions last night, albeit unconfirmed, that he might pick up as much as £40,000 a week at Meadow Lane."
In a separate article Stuart James continues by firing that "anyone predicting such a return before these remarkable developments would have risked being carted off to the nearest psychiatric ward but put a consortium from the Middle East and Eriksson's name in the same sentence and you start to believe that anything is possible." Ian Herbert piped up with the observation that "Eriksson's languid style and famed refusal to be apologetic for appreciating the finer things – and the finer women – in life have become an anachronism."
So what's in it for Notts County?
Peter Lansley offers a potential answer scribbling "the world's oldest professional league club will attempt to revive their fortunes by combining one of the most cosmopolitan figures in world football with the oxygen of publicity that the former England head coach will bring." A similar line is forwarded by Neil Moxley asking "so why have an internationally-renowned group of well-heeled Middle Eastern businessmen chosen Eriksson to be the director of football at a club about which he knows either nothing or very little? First, he's available. Secondly, it is believed no time commitments are required. And what better way to get publicity for your club?"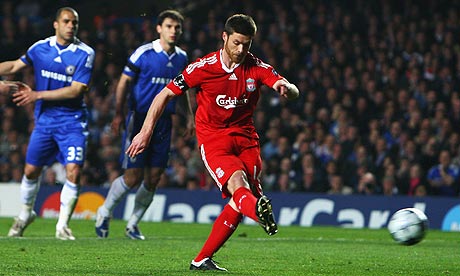 Chelsea are mooted to be making plans for an outlandish move for Liverpool's Xabi Alonso.
Matt Hughes claims that Ancelotti "has spoken to the club's hierarchy about attempting to hijack Real Madrid's move for Xabi Alonso… John Obi Mikel would have to be sold to make room for Alonso." The Daily Mail widen the field of those chasing Alonso barking "Chelsea and Manchester City are in the hunt again for Liverpool midfielder Xabi Alonso, whose proposed move to Real Madrid has stalled."
However it appears that the Spanish midfielder is still determined to move back home with James Ducker tooting "[Alonso] is determined to join Real… and has ruled himself out of Liverpool's match against a Thailand XI in Bangkok later today while the stalemate over the prospective move continues. Liverpool want about £32million for him." And there is more bad news for Liverpool as The Sun is found shouting that "Javier Mascherano is fed up with life in England and wants a switch to Barcelona – according to his agent."
On the new recruits targeted by the Anfield giants, David Anderson talks up the links with Roma midfielder Alberto Aquilani as well as announcing that "Liverpool have signed Borussia Dortmund's Stephen Sama on a two-year deal."
On Chelsea, one of the greatest flops in Premier League history is said to be moving as Dominic Fifield trumpets "[Andriy Shevchenko] is expected to move on ahead of the new campaign. Dynamo Kiev and Fenerbahce have expressed interest in securing the Ukrainian, who has a year to run on his £130,000-a-week contract."
After the Jakarta bombings Manchester United's Far East tour has been turned upside down and Mark Ogden claims that cabin fever is starting to set in with the players. "It is a tale of DVD's, iPods and sheer mind-numbing boredom for the majority of the players once they have done their training for the day… when boredom sets in, even the most expensive gadgets lose their appeal after a while." Elsewhere, Tim Rich questions Ben Foster's ability to become a mainstay for both Manchester United and England between the sticks.
Portsmouth fans must be tearing their hair out after learning that, despite passing the fit and proper takeover test, the club's takeover is still not rubber-stamped by the Premier League. Matt Scott reveals how the "league's caution is understandable since it must be satisfied [that Sulaiman al-Fahim] is not acting as a representative for Thaksin Shinawatra."
Poor Arsenal have been set back by the news that Samir Nasri broke a leg in training yesterday, leaving Stuart James to assume that as "the Arsenal manager was already in the market for a midfielder… his search is likely to intensify with the loss of another player from that department."
Nick Szczepanik is less certain that The Professor is set to splash the cash suggesting that "Andrey Arshavin, who was being considered for a more central role, could find himself playing wide once again, at least until Rosicky is ready to perform every week." Simon Cass concurs that Wenger is likely to keep his cash in his pocket writing "Arsene Wenger has plenty of options down the left with Diaby, Andrey Arshavin and fit-again Tomas Rosicky all able to fill in."
A fresh set of transfer speculation surrounding Manchester City is touted this Wednesday. Ian Herbert publicises that "a loan deal is under discussion that would take Caicedo to Sporting Lisbon and a move to Racing Santander is possible for Garrido."
Spurs are linked with an outlay of £34million on new talent this Wednesday.
The beanpole is finally set to make his move, Sam Wallace jotting how £12million rated "Peter Crouch last night looked set to join Tottenham Hotspur after the club finally agreed to match the terms offered to him by Sunderland and Fulham." The Lillywhites also have a left-winger in their sights, the Daily Mail printing that "Tottenham are weighing up a [£5million] move for winger Martin Petrov." And the sensationalist story is found in the Mirror, who splash with news that Tottenham have offered Real Madrid £17million for Alvaro Negredo.
On the suggested outgoings at White Hart Lane, Charlie Wyett contests that "Redknapp is determined to fend off a £10m bid from Aston Villa for England midfielder Jermaine Jenas, 26."
Lastly, the race is heating up for Hull's centre-half Michael Turner. According to The Sun, "Everton are leading the £8million chase… [although] Liverpool and Portsmouth also want Turner, 26." Not to be outsplashed, Alan Nixon storms in from left-field in the Mirror to fire "Fulham boss Roy Hodgson is making a stunning £9million move to sign Hull City giant Michael Turner – and beat Everton to his signature."
---