PSG set to bring in Arsene Wenger as coach & fight Manchester United for Cristiano Ronaldo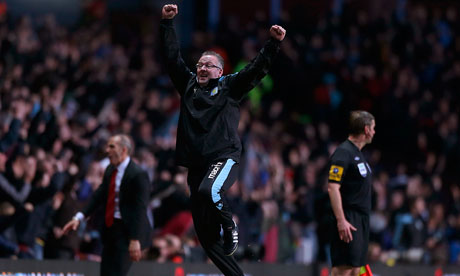 Comment & analysis round-up
Quote of the day: "It is obvious I didn't read them, but always there are signs, otherwise it is not possible to have this kind of performance. This week we have to make sure we work so hard to get the points that we need to stay up. For this performance we have to apologise to our club, to the fans that travelled in numbers.  It is not fair to them.  You can lose every time, but not in this manner against Aston Villa. There was one team with a real desire to play like it was the last chance for their lives, and our team that probably was a bit full in the stomach because of the last two wins in a row. Probably we thought the main job was done. It is obvious that when this team performs in this way the person responsible is the manager but also the players. There were signs that we didn't read in the week. If this is a medicine in some way that can let us know that we have to play with desire and commitment because otherwise we will have a culture of defeat. It is obvious this humiliation can help the players, the manager. We have to understand we need a minimum of another three points. We can do it but we have to understand it is not acceptable the performance we made tonight.' Di Canio also confirmed Sunderland will appeal against Stephane Sessegnon's red card." – Paolo Di Canio.
Runner-up: "Its an alien concept to me that someone takes someone's salary, doesn't put in 100percent and thinks: 'Oh, we lost. No big deal. What club are we going to tonight.' It has shocked me because it is something that is alien to me. Whatever I have done as a job, for whoever has hired me, I put in 150 per-cent. It's in my character. I haven't said it throughout the season because it wasn't right to be said. But it hurt me when I saw some of the players who didn't feel the way I felt. And in fact, in their case, it should be worse because this is their job, it's their life. It wasn't a good feeling. It was probably the low point for me when I saw the reaction of some of the players. If I am taking someone else's money, then I am going to work bloody hard for that person. It wasn't right to say anything during the season, but I noticed everything and I am a little bit wiser for it now." – QPR owner Tony Fernandes.
Aston Villa score 6!
Onward Christian as Paul Lambert's young soldiers reward high principles (Barney Ronay, Guardian) Paul Lambert took a huge gamble here, fielding an Aston Villa team that on paper looked alarmingly youthful and on the Villa Park pitch almost touchingly puppyish. He was rewarded in scarcely believable style, with a thrillingly unbound and penetrative second-half performance as Villa overran a Sunderland team who are once again menaced distantly by relegation. Christian Benteke's hat-trick will rightly take the headlines. The Belgian was uncontainable here: physically immense – on several occasions defenders simply bounced off him – and deft with his feet. But a 6-1 victory was also a wonderful moment of vindication for a manager who, for all the occasional oddities of team selection, has stuck to what must perhaps – as Villa Park remained on its feet throughout a boisterous second half – now be called his principles.
Manchester United face PSG battle to re-sign Ronaldo
Utd hit back after PSG join Ron race (Neil Custis, Sun) Manchester United will have to battle Paris Saint-Germain to recapture Cristiano Ronaldo. The French Ligue 1 leaders have contacted Real Madrid with a 'substantial offer' for the former Old Trafford idol. That has prompted United to speak with Ronaldo's agent in a bid to see off a potential move to the French capital and get the 28-year-old back. SunSport revealed last month that United have held high-level talks with their main sponsors Nike to put a package together to land the Portuguese superstar. United — who sold Ron to Real for £80million in 2009 — are willing to offer £65m plus a player — most likely Nani — if they get the green light from Ronaldo's people that the player wants a move.
Is Arsene Wenger heading to PSG?
Arsenal manager Arsène Wenger could end 17-year reign in north London with Paris St-Germain to make move (Paul Hayward, Daily Telegraph) Paris St-Germain's Qatari owners are confident that they can prise Arsène Wenger from the last year of his contract at Arsenal to become their new manager when Carlo Ancelotti leaves the French capital at the end of the season. PSG's most senior figures have been telling members of their circle that Wenger has been persuaded to leave north London after 17 years in charge of Arsenal. Their least optimistic scenario is that he will move to Paris in the summer of 2014 when his current deal at Arsenal expires. But PSG's owners have sounded adamant in recent days that they can tempt him to cross the channel 12 months early. The club's proprietors, who have spent heavily on the likes of Zlatan Ibrahimovic, Javier Pastore and Ezequiel Lavezzi, and who signed David Beckham on a six-month deal in January, have told friends that Wenger is on his way to Paris.
Arsenal chase Morgan Schneiderlin
Mor-Gun is hot (Mark Irwin, Sun) Arsenal want Southampton midfielder Morgan Schneiderlin to replace the injury-prone Abou Diaby. The Gunners are preparing a £10million bid for the Frenchman who signed a new Saints contract in February. Manager Arsene Wenger has been monitoring Schneiderlin, 23, since the player moved to England for £1.2million from Strasbourg five years ago.
Walcott wore a Manchester United shirt
Walcott swapped shirts with Van Persie in the tunnel to avoid the wrath of Wenger and Gunners fans (Sami Mokbel, Daily Mail) Theo Walcott has avoided an Andre Santos-style backlash from Arsenal fans despite swapping shirts with Robin van Persie on Sunday. The Gunners forward was seen giving a post-match interview wearing a United shirt after the 1-1 draw.  It belonged to his former Arsenal team-mate Van Persie, with the pair exchanging jerseys in the Emirates Stadium tunnel moments after the final whistle. Santos was the subject of a furious backlash from supporters after making a beeline to Van Persie at half-time of the Gunners defeat at Old Trafford earlier in the season. He made the approach in full view of TV cameras and Arsenal supporters.
City owner to buy new MLS side
New York CITY! Sheik Mansour close to $100m deal to start new MLS side… with link to Premier League giants (Ian Ladyman, Daily Mail) Manchester City owner Sheik Mansour of Abu Dhabi is close to sealing an astonishing $100million deal to establish a new Major League Soccer team in New York. The billionaire owner of the deposed Barclays Premier League champions has been in top-secret discussions with MLS for months about establishing a lucrative franchise in the USA. Sportsmail understands that a deal is close and the Sheik is hopeful he, and MLS officials, will be in a position to announce its completion when Roberto Mancini's side play an exhibition game against Chelsea in New York at the end of next month. Nobody at City will comment and it is understood that there are some crucial details to be ironed out before the deal can go through. Sources close to the situation suggested last night there is still an outside chance the move may fall at the final hurdle.
Tottenham hope to beat Liverpool to Thomas Ince
Get In there: Tottenham plan on beating Liverpool to £6.5m signing of Thomas Ince (Alan Nixon, Daily Mirror) Tottenham are ready to splash out £6.5 million for Blackpool's young attacker Thomas Ince – as they start planning for next season. Spurs supremo Daniel Levy wants to agree a fee with the Seasiders as soon as possible and tie up a move for the England under-21 wide man who can play down either wing. Ince junior – picked in the Championship team of the year – has been a revelation this season and would fit snugly into Andre Villas-Boas's squad because of his versatility. Liverpool tried to take Ince back to Anfield in the last window but could not agree a price, but Spurs hope they can come up with an offer that hard-bargaining Blackpool chief Karl Oyston cannot refuse.
West Ham sign Rat
West Ham to sign Razvan Rat, Romania's captain, on free transfer (Dom Fifield, Guardian) West Ham United's squad strengthening ahead of a second campaign in the Premier League is to begin with the free transfer arrival of the experienced Romania defender Razvan Rat when his contract at Shakhtar Donetsk expires in June. The left-back, who captains his national side and has 88 caps, is to sign a three-year contract at Upton Park worth around £35,000 a week as Sam Allardyce, who intends to sign a new deal at the club himself, seeks to upgrade the playing staff in order to establish West Ham firmly in the top flight.
Jose Mourinho's future hangs in the balance
Jose Mourinho's future hangs in balance as Spaniards face European exit (Jason Burt, Daily Telegraph) Chelsea remain among the clubs who could make an offer for Mourinho, whose representatives, led by agent Jorge Mendes, have already held talks with Paris Saint-Germain as they gauge the interest in their high-profile client. Another former Chelsea manager, Carlo Ancelotti, is expected to leave PSG at the end of this season and could take over at Real Madrid who have also considered Tottenham Hotspur head coach Andre Villas-Boas. It is understood that Mourinho would still prefer a return to Stamford Bridge despite having been given little encouragement since he first registered his interest. His initial demands were rejected by Chelsea owner Roman Abramovich, who sacked him in 2007.
Gareth Bale on PFA awards success
Tottenham Hotspur's Gareth Bale reveals secrets behind the techniques that led to 'double' honours from PFA (Henry Winter, Daily Telegraph) Bale: "After the ['Taxi for Maicon'] Champions League season, when I was playing on the left, the following season it became a lot more difficult. They used to double-mark me and even treble-mark me sometimes and it became quite difficult to get involved in the game. Sometimes I wouldn't even get the ball. It was a challenge ahead of me and I probably had to move into the middle to create more space to develop my game. I've managed now to learn to come inside. I've worked on it all season in training and hopefully improved as the season has gone on. I'm still trying to improve. It was massively important that I was able to learn to do that, otherwise I would still probably be stuck out on the left, just hugging the touchline."
What now for QPR?
Force relegated stars to stay (Ian Wright, Sun) Joey Barton. Guilty once again of making comments in bad taste. To ridicule fellow pros as 'w*****s' and 'maggots' is absolutely staggering, especially when you consider he IS a QPR player. Barton, on loan at Marseille, is a law unto himself and needs to use Twitter to let off steam. However, having read his comments following Rangers' relegation, some of his rant was tinged with truth. I just did not like the way he said it. It's certainly embarrassing QPR — and Reading — have both been relegated with three games left. I thought Harry Redknapp would sort Rangers out. People will say he had the team for a good deal of time. But he could not get them to gel. I wonder if QPR would be in this plight had they stuck with Neil Warnock. He was sacked 16 months ago despite the club not being in the drop zone.
Sid Lowe on Real Sociedad
A mix of Barça and Real Madrid, Real Sociedad put the fun in football (Sid Lowe, Guardian) It was the perfect end to the perfect performance; class and cool in equal measure. It was fitting, the embodiment of Real Sociedad: a player questioned, doubted, unexpected, lifting the ball into the net. A player from Zubieta, the Real Sociedad academy, who had struggled through the second division and now virtually clinched a Champions League place with a goal that made this his best season in the first division. And he had done so in style, a touch of fun. When the ball nestled in the net, la Real climbed five points clear of Valencia but it's effectively six: they have a 9-2 advantage when it comes to head-to-head goal difference. Their lead over Málaga is also five points, plus a head-to-head goal difference of 6-3. "It's a good advantage to have but we know that it is not yet decisive," Philippe Montanier, their coach, said.
---
GAMBLING CAN BE ADDICTIVE, PLEASE PLAY RESPONSIBLY