"Probably, surely, the greatest night in Fulham's history" – Jason Burt
Comment & analysis round-up
Quote of the day: "We should just do a Rocky Marciano and retire now because it's not going to get any better than this. This must come close to the greatest night of the club's history. On a personal note, I am not sure I can recall such a recovery. I am on top of the world." – Roy Hodgson.
Runner-up: "If we work like we did today, we can win against anyone. Fernando is almost back to his best but he still needs more games. I would like to tell you he is still only 50% fit but I think he is closer than that. It will be tough for him at United because Nemanja Vidic is a good player. I don't know if what happened last season will come into it or whether Fernando has a psychologial edge. I will tell you on Sunday evening." – Rafa Benitez.
Today's overview: Fulham, Roy Hodgson and Bobby Zamora are the talk of the town this morning following their incredible win over Juventus. Also in the Europa League, Liverpool's performance and the Benitez-Riera spat is dissected. This afternoon's Champions League draw is also previewed and there is comment on David Beckham and Hull.
Fulham: Craven Cottage is the only place to start this morning. Tom Dart lauds Fulham: "The Europa League is more used to receiving derision than hyperbole, but this merits superlatives: a famous outcome and a performance from Fulham to recall the dizzying turnarounds that thrust Middlesbrough into the 2006 Uefa Cup final. A madness descended on Craven Cottage, logic, reputation and probability overturned as Fulham recovered from a 4-1 aggregate deficit to humiliate one of the most successful clubs in Italian football history."
Laura Williamson adds: "In truth Fulham could have beaten Juve's veteran goalkeeper Antonio Chimenti six or seven times with Dickson Etuhu and Simon Davies hitting the woodwork in the second half. But it was Clint Dempsey who will go down in Fulham folklore as the man who put the Cottagers through. The substitute sealed the victory with a spectacular chip that eluded Chimenti in the 83rd minute to send the capacity crowd at Craven Cottage wild."
Glenn Moore and Ian Herbert praise the Cottagers for being the star performer on the "night the Europa League came to life." "Hodgson is forever being asked, as Fulham go from one unexpected peak to another, whether this is the best performance of his career. Piqued at the English disregard for his long and successful time on the continent he usually demurs. This time he had to admit he had never been involved in a match like it as his side fought back from conceding an early David Trezeguet goal which made it 4-1 on aggregate."
Jason Burt describes the victory as "This was, probably, surely, the greatest night in Fulham's history and everyone who was here, except for the shell-shocked, silenced Juve supporters, will recall it time and time again. They will recall the way in which Zamora, the much-maligned, much-criticised, and, at times, lumbering striker out-muscled the canny Cannavaro — using some of the defender's own dark arts to create space — to chest down and volley past 39-year-old, third-choice goalkeeper Antonio Chimenti who went on to have an horrific evening."
Liverpool: Paul Wilson lauds Fernando Torres for his contribution in Liverpool's 3-0 win over Lille. "Though this was by no means a vintage Liverpool performance or a particularly memorable European night, while he is around it would be premature to write off Anfield's season."
Tony Barrett casts his eye over the Riera-Benitez spat. "If the criticism of Benitez had come from, say, Steven Gerrard, Fernando Torres or Javier Mascherano, then perhaps it would have had a bit more credibility. But Riera is not exactly speaking from a position of strength seeing as his form this season has not demanded that he be included in the Liverpool team." John Edwards reveals in the Daily Mail that "Albert Riera fell out of favour with Rafa Benitez after turning on a young reserve player in a training ground flashpoint at Melwood. The Liverpool manager was shocked by the Spain winger's outburst at the unnamed youngster which was quickly defused by other senior players. Riera was immediately excluded from Liverpool's squad and is unlikely to force his way back in with Benitez suspending his £6million signing until Monday and hammering him with a fine of around £70,000."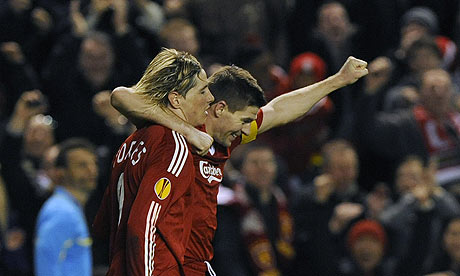 Ian Ladyman hails the recent form of Steven Gerrard. "Against Portsmouth on Monday, he was terrific at times, persistently effective in his leggy, rangy way. At Old Trafford, against Manchester United on Sunday, we can expect him to be at the forefront."
Ahead of the Manchester United-Liverpool clash on Sunday, David McDonell reports in the Daily Mirror: "Sir Alex Ferguson has tried to make his peace with Rafa Benitez before Sunday's Premier League showdown between Manchester United and Liverpool."
Champions League draw: This afternoon's Champions League draw also focuses attention. Paul Wilson describes the draw as the most diverse since 1999. "There seems no reason to dread another final between teams from the same country, and while Barcelona certainly look capable of becoming the first side to retain the trophy in the Champions League era, there are still teams from England, Italy and France who could give them a game. That is exactly how it should be. The Champions League is alive and well, and this season's tournament is shaping up to go down as one of the best of any era." Gabriele Marcotti analyses all the teams, as do The Sun.
Glenn Moore focuses on the player everyone in Europe wants to avoid: Lionel Messi. "Barcelona are the side no one wants to face. The Spanish champions, after a dip, are back to form, no one more so than Lionel Messi who followed his weekend hat-trick against Valencia with two goals in Wednesday's demolition of Stuttgart. According to Josep Guardiola, Barça's coach, the Argentine has recovered his 'mojo'."
The fallout from Chelsea's Champions League exit to Jose Mourinho continues. Steven Howard calls for Roman Abramovich to give more freedom to his managers. "Now, it's said, Abramovich is ready to spend another fortune in the transfer market. Well, if he does (and I have my doubts), he will have to let Carlo Ancelotti buy the players HE wants. Not the players Abramovich wants. Or those whispered in his ear by Guus Hiddink or any of the other "advisors" keen to stay on the firm by suggesting names they know will go down well with the owner. He has to allow his manager to manage. The problem is that having got through six in six years, it is not a position that encourages any long-term planning."
Andy Cole calls for Manchester United to appoint Jose Mourinho as successor to Sir Alex Ferguson. "Like him or loathe him (I like him), Mourinho is a character. He's won titles in Portugal, England and Italy. He's a serial winner and that's the type of person that suits United. Personally, I think the Premier League has missed Mourinho and will be enhanced when he comes back as a Premier League manager, as I'm certain he will one day."
The excellent Simon Barnes compares the fading careers of Jonny Wilkinson and David Beckham in The Times. "There is a strange link between Beckham and Wilkinson. They both had one kick to save the world. Each man's career can be summed up in a single strike, one instant of contact between boot and ball, one single moment of perfection; perfect connection, perfect strike and perfect result bringing an overwhelming emotional response from the nation they represented." Harry Pearson also bemoans the loss of David Beckham in The Guardian.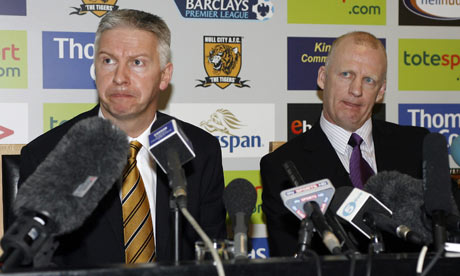 Proper journalist David Conn analyses the decisions made at Hull over the past week. "What did become certain, and was reinforced this week, is that Hull have financial challenges, having made a £13m loss under Bartlett and Duffen to gain promotion from the Championship. The club's accounts for the 14 months to 31 July 2008, filed several months late, carried the warning that Hull had to repay all their £22m bank loans by July this year and so would need £23m extra if they found themselves relegated, £16m even if they stayed in the Premier League."
A number of papers highlight quotes from Avram Grant about playing a weakened team in the Premier League. Grant: "We don't have a duty to the other Premier League teams. The Premier League has a duty to the other teams. We have a duty to Portsmouth, and I have a duty to football.We've tried everything in the last months to keep the spirit of football and what I think football is about and I don't see any reason to do it when we haven't got a target. Of course our target now is the semi-final."
Transfer guff: David Hytner casts an eye over Russian striker Roman Pavlyuchenko's future at Tottenham: "The irony that Pavlyuchenko, the apparent outsider, might be the central figure as Tottenham enter the business end of the season is lost on no one. Could he yet beat a retreat from the shop window, as well?" Also on Spurs strikers, Harry Redknapp has warned Celtic he wants to keep Robbie Keane. The Guardian also report that William Gallas' injury has cast a shadow over his contract talks and Celtic are interested in Nadir Belhadj.
The Sun bring the news that Robinho is worried he may have to return to Manchester City, Everton and Sevilla are after FC Twente striker Bryan Ruiz and that the IPL are planning to revolutionise football as they have done with cricket. The Mirror add that Sunderland are hopeful of signing Alan Hutton and Yaya Toure won't be heading to the Premier League (old news?).
---