Pressure mounts on England to win a game, Holland & Sweden's infighting & Redknapp to get Spurs axe
Comment & analysis round-up
Quote of the day: "It is time we let these pathetic egos go. If somebody is creating a mess, I will stand up against them now. We don't need a psychologist with the Dutch team, we are grown-up men. The ones who have a problem with other players or the manager should tell them face-to-face. That is the only psychology we need. We have to stop living on little islands. We must all go for the same goal, be united or face the consequences." – Wesley Sneijder.
Runner-up: "You don't let players run into the last year of their contract if you think they're any good and you don't let managers run into the last year of their contract if you think they're any good." – Harry Redknapp.
England Have To Start Winning
If we don't beat Sweden and Ukraine now we deserve to go out (Alan Shearer, Sun) I fear I may be becoming like a broken record banging the drum for Andy Carroll but let us have a look at the facts. Poland, England, Ireland, Germany, Ukraine and Croatia twice all scored headed goals. All bar one, were from very good deliveries too. Big men getting on the end of good crosses.
Keep The Ox but let him make a splash this time (Martin Samuel, Mail) England must beat Sweden in Kiev, or face a far greater challenge in their final game. England cannot afford to play off the back foot this time. On Monday, Hodgson picked Alex Oxlade-Chamberlain. Now he must find a way to unleash him.
No va-voom in England's engine room: Roy hoping Parker and Gerrard can step on the gas (Matt Lawton, Mail)
Roy Hodgson's conservative methods will labour for reward (Richard Williams, Guardian) It is Roy Hodgson's task to find a way of deploying his resources in order to create a more cohesive England, one who go forward with as much strength and confidence as it masses in defence.
England seem simply to be waiting for Wayne – but should he walk back into the team? (James Lawton, Independent) Is Rooney really the ace in the hole – or maybe a dog in a manger?
Solid at the back, but can England find forward spark? (Independent)
Capello's England
Fabio Capello exclusive: This is my England team, they are still in my heart (Mail) He [Capello] said: 'This is my squad, they qualified under me and I know many of them so well. It is difficult to accept, but it has happened.'
Roy Hodgson closes cultural gap left by former manager Fabio Capello to unite England (Paul Hayward, Telegraph)
Euro 2012, Day 6
Dutch in disarray (Sun) The troubled Dutch are in chaos as a series of explosive rows tears their camp apart.
Holland still roused by prospect of facing rivals Germany (Amy Lawrence, Guardian) Relations between Holland and Germany may have eased but the fixture still bears a unique resonance for both sides.
Oranje feeling the squeeze (Tim Rich, Independent) The Netherlands dare not lose to their old rivals Germany tonight but are torn again by infighting, selection disputes and pressure from home.
Misfiring Portugal in urgent need of Ronaldo's fireworks (Independent)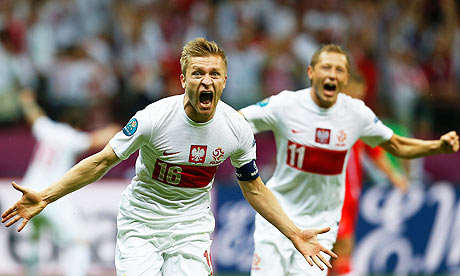 What Happened Yesterday At Euro 2012
Blaszczykowski blasts back to grab lifeline for co-hosts (Mail) Against a backdrop of festering hatred and violent clashes in the streets around Warsaw's National Stadium, bitter rivals Poland and Russia fought out an entertaining draw that showed Euro 2012 in a considerably better light.
Captain rescues Poland's honour against old rivals (Jonathan Wilson, Independent)  In the circumstances a draw was probably for the best. Both sides could retreat from the field with honour intact and a realistic chance of progress to the quarter-final and, hopefully, both sets of fans could go home without any sense of grievance to reignite the violence that had flared before kick-off.
Rosicky injury hits Czechs' pace against the Greek slow-starters (Independent)
Euro 2012: Fights Break Out In The Streets + Sweden Squad
Warsaw turns into a war zone with more than 100 arrested before Poland v Russia (Mail) Riot police fired plastic bullets and tear gas to quell violent scenes here as the Euro 2012 venue became a battleground for football hooligans.
More than 100 arrested as old hatreds erupt at Euro 2012 (Independent)
Take Zlat! Ibra blasts 'cowards' (Sun) Swedish captain Zlatan Ibrahimovic has had a furious bust-up with his team-mates ahead of Friday's Euro clash with England.
Swede 'n' sour: England's next opponents are unravelling at Euros (Mirror) Loss to Ukraine sees coach call his men "cowards", skipper label team-mates unprofessional and lazy and one player admit they have no chance if they don't buck up
Managerial Gossip: Swans Go Danish, Axe For 'Arry
Michael Laudrup will be unveiled as Swansea City's new boss by the end of the week (Sun) The Dane has held talks with Swans chairman Huw Jenkins and will succeed Brendan Rodgers in a matter of days. And that will finally trigger Gylfi Sigurdsson's transfer from Hoffenheim to Liverpool.
Redknapp: I've not quit Tottenham (Sun) Chairman Daniel Levy is negotiating a deal to keep Redknapp beyond his contract for next season.
Harry's had it! No new deal for Spurs boss Redknapp as Levy attempts to force him out (Mail) Harry Redknapp's reign as Tottenham manager is likely to come to an end on Tuesday, with the club refusing to offer him a new contract in a tactic to try to force him out.
Tottenham's Daniel Levy deliberates over sacking Harry Redknapp (Guardian)
Transfer Lies
Juventus are in a battle with Inter Milan to sign Manchester City's Aleksandar Kolarov (Sun)
Arsenal lead Giroud chase (Sun) Arsene Wenger wants to sign France striker Olivier Giroud from Montpellier. The Arsenal boss will have to cough up £13million but he is in pole position according to the French club's manager.
Sigurdsson has decided to follow Rodgers to Anfield. Swansea's Icelandic loan-star will join Liverpool for around £7m (Mirror)
Chelsea scouts watched Malaga striker Jose Salomon Rondon play for Venezuela against Chile at the weekend (Mail)
Hammers offer Jarvis a lifeline (Sun)
'Dream come true' for Powell as Man United snap-up £4m Crewe youngster (Mail)
Chinese side Guizho Renhe are ready to make Tim Cahill a lucrative offer to leave Everton (Mail)
---
GAMBLING CAN BE ADDICTIVE, PLEASE PLAY RESPONSIBLY