Praying for Rooney, is Ribery an "under-achiever" or "superb," Arsenal need grit against Barca, O'Neill to quit Villa, Chelsea & Spurs eye Pienaar & Liverpool want Raul
Comment & analysis round-up
Quote of the day: "It is a simple situation, I am happy at Inter but unhappy with Italian football… because I do not like it and because it doesn't like me. I miss English football and English football misses me, there's no doubt about that, but right now I'm thinking only about Inter… There's something grey about CSKA's progress in the Champions League. If two players go to an anti-doping control and a substance is found that's not allowed in the Champions League, there's something grey." – Jose Mourinho.
Runner-up: "He has got a kick to the ankle, we will just have to wait and see tomorrow (Wednesday). Hopefully it's not too serious. He may be doubtful for Saturday but we don't know, it's too early to say… We didn't start the game that well. We gave the ball away too easily from minute one. Our possession wasn't our standard and that's something we pride ourselves on. I just felt that our possession wasn't good enough and that was a big disappointment for us. It's an advantage to score away from home and we had outstanding chances to kill the tie, twice with Rooney, once in the first half and once in the second half. That said, [goalkeeper] Edwin van der Sar kept us in the game. They pressed us really hard and we cracked a bit. The last goal was a terrible one to give away. However, the game at Old Trafford will be a different one and we will be much better. No doubt about that." – Sir Alex Ferguson.

Today's overview: So Bayern, without star player Arjen Robben, weren't supposed to beat Manchester United while Wayne Rooney left Germany on crutches. All in all, it was a difficult Tuesday night for the Red Devils.
Rooney's injury & Bayern's victory: On Rooney's injury, Daniel Taylor delivers the worrying prognosis. "Rooney left the Allianz Arena on crutches, with his right foot in a protective boot, and will have a hospital scan today amid concerns that he could be facing a possible six-week lay-off, beginning with Saturday's crucial league match with fellow title contenders Chelsea. His manager, Sir Alex Ferguson, said he did not think the injury was 'terribly serious' and allayed fears that it could be the fourth time Rooney had broken a metatarsal in six years."
Also on England's leading footballer, Paul Hayward was left pondering "surely not another vigil outside a physio's room? The lord spare us from another rushed recovery and an umpteenth listless talisman not being quite himself in a big World Cup tie. But there are domestic implications first. Unless Rooney was in some kind of physical shock that will have passed by morning, the eye says he will miss Saturday's Premier League smash-up with Chelsea at Old Trafford, a loss which could influence the direction of the title."
Revealing much about Blighty's negative outlook, James Ducker describes Rooney's injury as "England's worst nightmare." "There are fears that the 24-year-old may have even have damaged ankle ligaments, which could rule him out for months… Last night several bookmakers lengthened England's odds of winning in South Africa from 5-1 to 6-1 in the wake of Rooney's injury."
Matt Dickinson is found looking to the heavens for help. "Get out the prayer mats. Clasp those lucky charms. Even the England manager, normally so pragmatic, might be tempted to say a few Hail Marys… Rooney belongs to England, too, and while Sir Alex Ferguson was predictably unforthcoming with information last night (if he knew the extent of the injury, he was not going to say), the country has good reason to be fearful until we have more to go on."
According to Martin Samuel, "not since Cinderella has so much golden hope rested on a foot. And when Wayne Rooney left the field, we limped along behind him. Manchester United supporters, who will not look beyond Saturday's match with Chelsea, but the rest of the country, too. We pay a man £6million to look after the England team and a mighty fine job of it he does, too, but without Rooney we may as well reimburse chimpanzees in washers."
Fearing a long-term injury to Rooney, The Sun's Steven Howard lays into Dimitar Berbatov. "Those in the camp that believe United are a one-man team – or too heavily dependent on Rooney – point to the fact that until Dimitar Berbatov took his tally to 12 against Bolton, United's second top scorer was the opposition. Jlloyd Samuel's goal that sent United on their way at the Reebok was the 11th own goal chalked up for them this season. So the time has arrived for Berbatov to cast off the cloak of indifference that has generally shrouded his time since his £32million move from Tottenham. No one can deny the Bulgarian's overall form and goal tally has been a very poor return on United's vast investment. Is he a big-match player? The statistics suggest otherwise."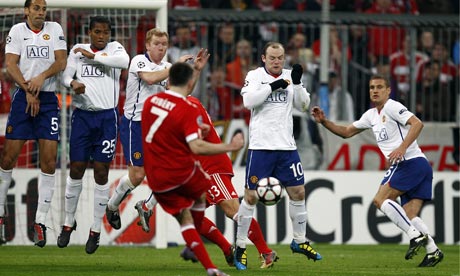 Sinking his teeth into analyising the match at the Allianz Arena, Kevin McCarra felt compelled to give Bayern the due credit. "It would be more responsible to admit that Bayern deserved their joy by achieving dominance from the latter phase of the first half onwards… For all Ferguson's adroit juggling of his resources, the evidence of fatigue was on show in this defeat… Ferguson knows simply that there is a serious struggle to be won if his team are not to fall out of the Champions League. It will tax him to restore the consistency of form that has been such a feature of United of late."
Clutching his cliches tightly, Henry Winter dredged up the past in his commentary of Tuesday night's match. "Amazingly, this time it was the Germans partying like it was 1999. Alarmingly, it was Wayne Rooney limping like it was 2006. Fussball, bloody hell.  Agonisingly, this was a night that dissolved into a nightmare for the English champions, who naively threw away the lead late on just as Bayern had done in that unforgettable Champions League final at the Nou Camp 11 years ago."
While accepting that "questions must be asked about how and why United's performance fell away so badly," Oliver Kay couldn't help but flag up the awful performance of Bayern's Martin Demichelis. "Where there was Demichelis, there was hope for United. Looking like the type of centre half Kevin Keegan liked to sign for Newcastle United — big, rugged, prone to rushes of blood and devoid of all positional sense."
Demichelis wasn't the only player to be called out, with Kevin Gardside picking on United's Nani. "Nani had one of those Ronaldo nights when every tackle led to an appeal for the death sentence against the perpetrator. The result was a strangled display in which United struggled to escape the negative blanket they wrapped around themselves."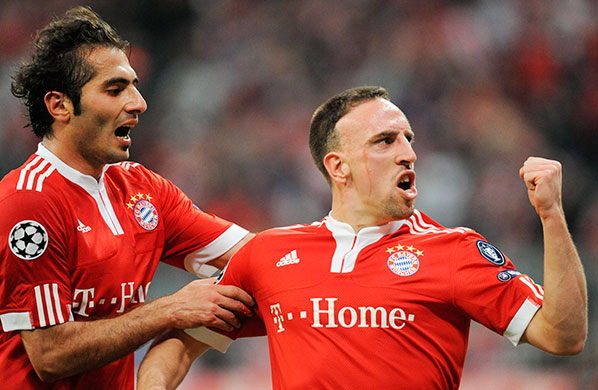 How well did Franck Ribery play? Perhaps the strangest critique of all came from Mark Ogden, who chose to dig away at Franck Ribery. "Ribery's name ended on the scoresheet, but for a player with such a lofty reputation, it was a poor return. There is an inescapable sense of the Emperor's new clothes with Ribery… By this stage of his career, Ribery should really have joined the big fish in Europe's big ponds, but it hasn't happened. While the likes of Lionel Messi, Wayne Rooney and Cristiano Ronaldo can point to Champions League fixtures that they have pretty much won single-handedly, Ribery is an under-achiever in this competition."
Contrasting Ogden's position, Glenn Moore sung the praises of Ribery. "While the goal may have made by Nani, the selection can be questioned as Park played on the left, not the right. This curtailed the attacking advances of Philipp Lahm, but left Ribéry more or less free to give Gary Neville the most difficult game he has experienced since returning to the team. Ribéry has not played particularly well this season, but last night, against a club which has tried to buy him in the past, he was superb."
Also dishing out praise on the Frenchman was James Lawton who lauded how "Franck Ribéry began to play. Not, United captain Gary Neville learned quickly, as someone groping back from injury but as a player of the toughest instincts and most insistent ambition who could also go past a full back as though he didn't exist."
Arsenal vs Barcelona: Wednesday night though is all about Arsenal versus Barcelona, and there is encouraging injury news for the Gunners.
According to David Hytner, "[Wenger] will give Cesc Fábregas right up until tonight's warm-up to prove his fitness following a knee injury… William Gallas, who has carried a troublesome calf injury, took part in training yesterday to raise hopes that he could play his first game since 10 February and line up with Thomas Vermaelen in central defence, at the same time as Paris St-Germain made their latest attempt to persuade the Frenchman to join them as a free agent at the end of the season."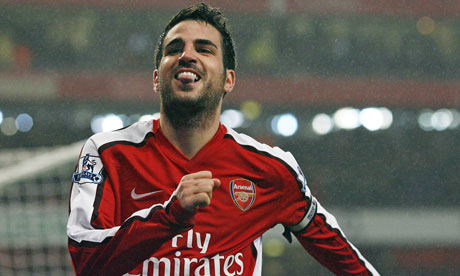 Taking an interesting angle, Kevin McCarra contends that grit, rather than beauty, could determine the tie. "Arsenal share some of the smoothness of these visitors, but it may be the grit that counts. There are five clubs in the Premier League at present with a better defensive record than Wenger's side… Alex Song has been a leading performer and he will need to make himself an obstacle when Barcelona have the ball if he is in action as a defensive midfielder. Wenger's team cannot afford to be too expansive against rivals who are an upgraded version of themselves."
Contrasting McCarra's position, Matt Hughes believes that Arsenal will persist with their pass-pass-pass brand of football against the Catalans. "Wenger will not attempt to frustrate the visiting team tonight. He believes that his players lack the discipline and experience to smother Barcelona and will instead seek to surpass their passing and movement. Pragmatism, rather than principle, has informed his approach."
Walking the middle ground, Martin Samuel struggles to guess at which tactics Arsenal will employ. "This is Wenger's dilemma. If he wants a cagey game of keep ball, Barcelona have what Ferguson described as the passing carousel, the one that made Michael Carrick so dizzy in Rome last year. If he wants to gamble on the best attacking side winning, Barcelona have the trump card in Lionel Messi. A counter-attacking game needs a resilient defence and Arsenal could not even last the distance against Birmingham City on Saturday, while Chelsea's power play is beyond Arsenal, as was demonstrated when the teams met in the Premier League. It means Arsenal's best option is to spoil, yet this would leave Wenger compromised ideologically, and is he prepared for that?"
Sid Lowe focuses on the relevance of Cesc Fabregas facing Barcelona. "When players face their former clubs, the cliche has them 'returning home.' This time, it's true. Tonight, Fábregas will come up against his boyhood idols, two on the pitch, one on the bench; his first real coach; his best friend and the tiny "mute" kid who turned out to be the world's best player. When he travels to Barcelona next week, the Arsenal bus will roll past the Mini Estadi, where he trained daily, to Camp Nou – the stadium he gazed at through his bedroom window. Just behind is La Masía. His home."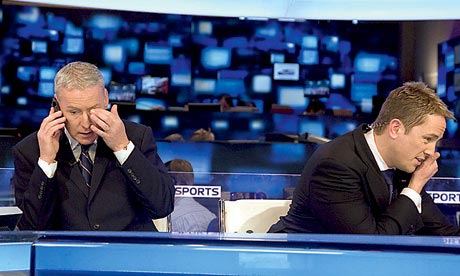 Money remains tight: Moving on, Mark Sweney details how Sky television are being forced to reduce their fees for their sports channels. "The media regulator Ofcom today ordered BSkyB to reduce the amount it charges rivals to offer Sky Sports by more than 20%. BSkyB must reduce the wholesale price at which it sells Sky Sports 1 and Sky Sports 2 to rivals such as Virgin Media and BT by 23.4% from the current £13.88 to £10.63 per subscriber per month. On the basis that most subscribers buy packages including the sports channels, the reduction for a bundle is 10.5% from £19.15 to £17.14."
Keeping on a financial footing, the excellent David Conn delivers worrying news for Hull fans about their debt problems. "Hull arrived in the Premier League having made a £10m loss in the Championship and having paid out millions to Bartlett's companies. They then increased the wage bill by almost £20m, to £33.6m. The more recent accounts, to 31 July 2009, show borrowings down to £15m, suggesting that Investec reduced its loan by £7m. So Hull are committed to paying Premier League wages but paddling continually to catch up with money already paid out. Although the debt is now down to £4.6m, with another £7m due to be borrowed, it has to be repaid in August and the wage bill must still be met."
Managerial-merry-go-round: Is Martin O'Neill about to sensationally leave Villa Park?
Peter Lansley reports the rumours surrounding the Irishman's future at the Villains. "Storm clouds were dissipating from above Villa Park last night as sources remained adamant that Martin O'Neill would not quit the club. Odds against the manager leaving Villa Park crashed from 66-1 to 7-1 as unsubstantiated radio and internet reports intensified yesterday lunchtime that O'Neill had fallen out with Randy Lerner, the chairman, over which direction the club should take."
Adding fuel to the fire, James Nursey bleated "boss O'Neill, 58, remains in charge at Villa Park despite rumours yesterday that he had resigned. Bookies now make him second favourite behind Jose Mourinho to take charge at either Manchester United or Liverpool next. But Villa insist there is no truth that O'Neill has walked or had a disagreement with owner Randy Lerner over funding or the introduction of a director of football."
Transfer lies: The Daily Mail kick things off reporting "Albert Riera's proposed switch from Liverpool to Spartak Moscow has stalled after he failed to agree on personal terms," while Mark Irwin reports that William Gallas is a target for both PSG and Roma.
Colin Young believes the Newcastle may struggle to keep hold on Jose Enrique. "Jose Enrique, 24, whose first career goal on Monday rounded off the leaders' seventh successive home win, has been a revelation. Hughton will be keen to keep the former Villarreal defender, although his displays will have put him on the radar of Spanish and English clubs. He has already been the subject of interest from Sunderland."
Everton fans will be happy to read Alan Nixon's piece detailing that "starlet Jack Rodwell is ready to sign a bumper new £25,000-a-week deal – and disappoint Chelsea and Manchester United." But their joy is short-lived as the Mirror claim that "Tottenham and Chelsea have both set their sights on Everton midfield star Steven Pienaar."
Finally, the Daily Mirror embarrass themselves by attaching the word "star" to a host of transfer stories in which most would agree that the players involved are flops.
Under the headline "Brazilian club target Chelsea star," John Cross farts "Chelsea veteran Deco is a summer target for Brazilian club Fluminese." Next, Alan Nixon headlines his article with "Blackburn ready to pounce for Pompey strike star" before we learn that "Rovers are ready to sign striker Aruna Dindane in a £2 million deal." And pushing the envelop that little bit further with the headline "Liverpool target Real Madrid superstar" we discover that "Rafael Benitez is plotting a sensational summer swoop for Real Madrid star Raul."
---
GAMBLING CAN BE ADDICTIVE, PLEASE PLAY RESPONSIBLY