Portsmouth beware: Tottenham target Defoe, Diarra, Crouch, Johnson, Distin & Belhadj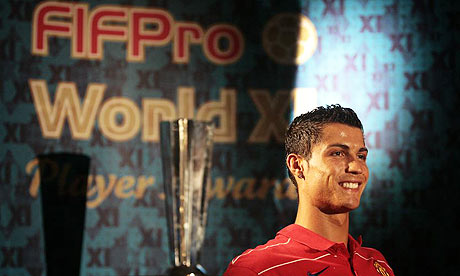 Comment & analysis round-up
Quote of the day: "Sir Alex has been the big inspiration to me. I am here because of him. When he saw me playing for Sporting Lisbon against Manchester United he believed in me enough to buy me. I've learned many things from him and I'm continuing to learn. He is a great manager. Of course Sir Alex was the main factor for keeping me here but what happened in the summer is finished. My head is focused on the club. My focus is solely on playing well for Manchester United and winning the Premier League and Champions League again. The summer is finished. My head is always here in the club. If I smile it is because I smile. If I don't, it's because I don't. People are always writing things about me. It is up to them; for me it is not a problem. I will just try to play well and do my best. I am just focused on playing good football." – FIFPro World Footballer of the Year, Cristiano Ronaldo.
Runner-up: "Juande had come from Spain – you never know who will work, but there are big advantages in having someone like Harry who knows the league and every player in the league. We're feeling confident that we can survive this. It's difficult to put a finger on what was going wrong [under Ramos] and when things are not going right, it forces a change. Harry's a top manager and it's a good appointment. Harry has given us a new confidence, he said there were some brilliant players in the team, that he believed we could get out of this and it looked as if there had been a weight lifted off the players' shoulders. We played with a freedom. It was more like the old Tottenham." – Ledley King.
Today's overview: With only one major story this Tuesday, the rumour mill is heating up with suggestions that Harry Redknapp could be about to raid Portsmouth's treasure chest and whip the booty off to White Hart Lane.
Jermain Defoe and Lassana Diarra (with Lennon going the other way) are now in Tottenham's sights according to David Hytner and Dominic Fifield, with Nick Szczepanik also peddling the Defoe-Tottenham transfer for The Times. Going one step further, Jeremy Wilson reports that "as well as Diarra and Defoe, Portsmouth will also be bracing themselves for interest in Peter Crouch, Glen Johnson and Sylvain Distin." While for Sam Wallace, "Redknapp has identified Portsmouth's full-backs Glen Johnson and the on-loan Algerian international Nadir Belhadj as his January transfer targets, as well as the midfielder Lassana Diarra."
Jeremy Wilson gives some background as to why Portsmouth are primed for a raid with finances running tight – "Portsmouth's debt is estimated at £31 million while their wage bill rose to £36.9 million for the 2006-07 season, a 49 per cent increase on the previous year. Staggered payments on recent player purchases will soon become due."
On the Times' blog, Carl Mallia reviews the candidates for the vacant Pompey job, with Sam Allardyce, Tony Adams and Avram Grant the favourites followed by "Joe Jordan (8-1), Steve Coppell (10-1), Terry Venables (12-1), Stuart Pearce (16-1), Gus Poyet (16-1), Sol Campell (20-1), Frank Rijkaard (25-1), and Slaven Bilic (25-1). One bookmaker is even offering a swift return for Harry Redknapp at 200-1." Tony Cascarino sticks his neck on the line and plumps for Tony Adams.

Offering commentary on the recent events at Spurs, Henry Winter notes how the role of sporting director was proved a resounding failure – "Clubs operate best when they have one man, one vision. Otherwise, in times of trouble, new players are not sure who to look to, to the manager or the man who brought them to the club, the sporting director. The focus is blurred, tensions arise." And taking a Spanish view on Juande Ramos' departure from Spurs, Sid Lowe labels Danel Levy as Jesus Gil of England.
Redknapp receives backing from a selection of ex-pros in the papers. For Ian Wright, Harry "will be able to work his magic on players approaching the peak of their careers. And it is going to be exciting." Stan Collymore argued that "Harry Redknapp won't have any problem in motivating Tottenham's under-performing stars, I'm sure of that." And Jamie Redknapp backed his dad in the Daily Mail, saying "At Tottenham, dad made a difference immediately, taking control, making a tactical change involving Luka Modric, who was sent into an advanced position… My dad has taken over a team low on confidence and morale, but the players are already showing they are inspired by his arrival."
In other news, Ian Burrell reports on Chelsea's new website, "the Bridge Kids," aimed at attracting youngsters to join the club as fans. Ian Hebert turns focus on Liverpool, highlighting the Reds' shortcomings at the back ("Dossena has looked out of his depth from the moment he strode on to a pitch at Liège in August and Alvaro Arbeloa is another Benitez full-back who often finds himself in the wrong place at the wrong time. When Hyypia plays, the 34-year-old lacks pace for those sides who will run at him.")
James Lawton bravely criticises Roy Keane for failing to stand up against the mob rule at the Stadium of Light – "Keane's reaction was so spineless it seemed to underwrite all those years of Clockwork Orange violence that made English football the pariah of world sport." And lastly, Steve Claridge delivers his scouting report on Sheffield United's Kyle Naughton ("this is no ordinary right-back").
Click here for more Premier League betting tips
---