Portsmouth are debt 'n buried & Jose Mourinho's tactical brilliance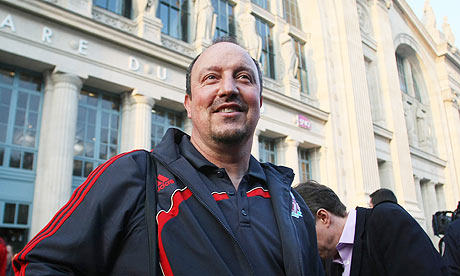 Comment & analysis round-up
Quote of the day: "I don't think the players have enjoyed the journey, but it has been good to see how everyone has stuck together. It has given them an opportunity to stay together, talk and share some things, and we have to use that as a positive. It has given everyone a better team experience. I am sure they will be tired, but it can actually help the team spirit when everyone has something like this in common. If we were on a plane for one or two hours, as we would normally be for a game like this, then everyone would be just watching a film or on their PlayStations. Now they are talking more and doing more things together. At the train stations you could see that instead of simply sticking to their normal groups, they have been talking to each other in different groups and moving around. This can help us." – Rafa Benitez.
Runner-up: "Nearly all of you for the last two years have been saying that what he does is normal. And then there is just this idiot of a coach who says it is not normal. The coach takes all the flak – I can't motivate him, I can't educate him, this or that, next year it's best if Mourinho goes and not Balotelli. And then, in the second most important match in the world at club football level, all of my team leave the field dead and one player could have done a little bit more to help the team who was in danger. The fans wanted more, his team-mates wanted more, and he did not give it. And then that thing with his shirt. Full stop… On Saturday we have another game, and he will play. It is not a problem for me and I expect the fans to give him the chance to demonstrate that he is with us and can help the team and that he has learned today that to play football at the highest level, you have to play in a certain manner." Jose Mourinho on Mario Balotelli.
Today's overview: Portsmouth's debt of 119 million pounds is the main focus today with a number of pundits laying into the FA Cup finalists for disgraceful mismanagement. The full report on Pompey's debt can be seen here (pdf). Elsewhere, there are some Europa League previews and Jose Mourinho is lauded for his tactical brilliance.
Portsmouth: The Sun, like many other papers, ask why Portsmouth owe one million pounds to Spurs over the sale of Asmir Begovic to Stoke. "Spurs will face a probe over a £1million payment owed to them for a keeper they never bought! The White Hart Lane club are due the money from cash-strapped Portsmouth for Asmir Begovic, even though the Pompey keeper joined Stoke for £3.25m. The man trying to sort out the financial meltdown at Fratton Park, administrator Andrew Andronikou, has promised a forensic investigation into the matter."
Rob Beasley sums up the accounts. "Shocking and shameful, wicked and wild, irresponsible and incompetent. Portsmouth's scandalous catalogue of financial mismanagement simply beggars belief. The MPs' expenses scandal is chickenfeed in comparison. We are talking about millions upon millions of pounds squandered – a staggering £119m to be precise. And just one glance through the 70-page document detailing the accounts of the once-proud Pompey will leave you open-mouthed in amazement."
A separate editorial in The Sun continues the bashing of the south coasters: "Is there anyone out there not owed money by Portsmouth Football Club? Even scouts – that's Boy Scouts from Guernsey – are chasing unpaid cash. The full horror of the club's £119m debt was revealed yesterday in all its gory detail. It was truly shocking, providing conclusive proof that imbeciles with egos are allowed to run clubs. Those responsible should hang their heads in shame and stay well clear of Fratton Park.
The Times describe Pompey's financial mismanagement as "the great betrayal." And Nick Szczepanik writes: "The financial report to creditors released by Portsmouth's administrators stands as a 70-page warning of what can go wrong when a football club lose touch with reality. It confirms that Portsmouth have total debts of £119 million and warns that creditors must allow time for the club to be sold as a going concern. In that best case, with the club worth an estimated £35 million, they will fall £57 million short of being able to pay all their creditors in full. If the worst happens and the club are wound up, the shortfall is estimated at £89 million."
Proper journalist David Conn compares the money owed to footballers and agents with that that is unlikely ever to be seen by the "paupers." With 54 clubs having collapsed into insolvency since English football's boom began with the Premier League breakaway in 1992, the eye becomes practised at picking out the most shameful of a club's bad debts. There it was, as ever, on page 45 of the administrator's report issued yesterday itemising bust Portsmouth's £122.8m debts: St John Ambulance, of Worthy Lane in Hampshire, owed £2,702. St John, along with schools, hospitals, the local ambulance service, HM Revenue and Customs and scores of small businesses in a total of £92.7m creditors left high and dry, will receive a fraction of what they are owed in any deal the administrator, Andrew Andronikou of Hacker Young, strikes with a new buyer. By hideous contrast, clubs owed transfer fees, and players due millionaires' pay packets, must be paid in full, according to Premier League and Football League rules, if Portsmouth are to continue as a club in either league."
Manchester United – the richest club in the world: Whilst Portsmouth grapple with their mega debt, "Manchester United scored another title success late on Wednesday night by being valued as the biggest football club in the world. Despite a turbulent year for British clubs, the Old Trafford side held on to top spot in Forbes Magazine's list of the world's 20 most valuable football teams. Seven of the 20 teams featuring in the table hailed from England – despite the Barclays Premier League being the most indebted in Europe, according to governing body UEFA."
Europa League: Kevin McCarra gives an overall impression of the competition. "This competition has lived up to the vision of a grand and eclectic tournament to a degree that the Champions League, which is so influenced by brute economics, cannot match. People ought to rejoice in this week's fixtures. Fulham have never won a major honour, but Roy Hodgson's team routed Juventus at Craven Cottage, eliminated the Bundesliga champions, Wolfsburg, and can hope to return to tonight's venue on 12 May, when the final itself is held in Hamburg. In the Europa League, football is once more the common property of a continent. The ideals behind the creation of the European Cup, with its joy in the reach and variety of the game, are best preserved in the competition that continues night."
After Fulham were forced to train on the autobahn, Martin Keown warns the Cottagers about the finishing prowess of Ruud van Nistelrooy. "Ruud van Nistelrooy was up there with the best strikers I played against but you couldn't trust him – which is why I ended up losing my rag with him. The fundamental thing about him is that he was always looking to test referees. He was strong and physical when he wanted to be but when he was in and around the box, he went down like a pack of cards. You would go into a strong challenge one minute and he would bounce off it. The next, he would be rolling around on the ground. Every challenge brought a different reaction so you started to think twice about making them when you were near the box. That was annoying and if you compared him to someone like Mark Hughes, who was quite consistent in the way he played, he was difficult because he just fell over when it suited him. It used to infuriate me."
Champions League: Matt Barlow assesses how Jose Mourinho got the better of Pep Guardiola and Barcelona. "Just as Chelsea found it hard to generate a healthy tempo against Inter, Barcelona could not sustain their normal intensity, but this is not to say Inter lack flair or attacking power. Wesley Sneijder, Diego Milito and Samuel Eto'o are lethal given a glimpse of goal and Mourinho knew, if his spoilers could do their jobs, Guardiola's team would offer chances because they take risks to play with such cavalier style."
Ian Chadband also lauds The Special One. "Never mind that he is Serie A's only foreign coach and overseeing a team featuring a sole Italian, Mario Balotelli, a sub whose one contribution was to throw off his shirt in disgust at getting jeered by his own fans, Mourinho is still perceived, from Torino to Sicily, to have fashioned a very Italian triumph. One built on tactical acumen, defensive quality and street wisdom; and one quite embarrassingly absent over the past three seasons during which the cream of Serie A have looked ageing, pedestrian and slow-witted compared to their premier European rivals."
World Cup: Amy Lawrence analyses how, with the World Cup approaching, every match is all about the Three Lions. "It is that time of year when Capello watch becomes an integral part of any Premier League football match. Is Fabio here? is the burning question in the press box before any kick‑off, just so that we can all be sure that any England player's performance is loaded with sufficient resonance. A glimmer of the main man on a TV monitor is like a starter's gun. Let the heavy judgment, and the idle speculation, begin." Also on the WC, Owen slot profiles Aaron Mokoena to illustrate the rise of South Africa.
Transfer Gossip: The Daily Express provide the biggest rumour of the day, Gareth Bale to Manchester United. Ben Foster seems set for the Old Trafford exit this summer after it was revealed that some days he trains alone.
The Daily Mirror claim Fulham have lined up Jelle van Damme, Blackburn look set to lose out on Robert Lewandowski and Steven Pienaar is holding out for 60k a week. The Daily Mail feature Jerome Boateng who will face Fulham tonight and is heading to Manchester City in the summer.
Managerial merry-go-round: Hull have lined up Paulo Sousa and Neil Lennon wants the Celtic job permanently.
The smut: The Sun reveal the "child hooker"who slept with French national team stars Franck Ribery, Karim Benzema, Sidney Govou and Hatem Ben Arfa when 17. And The Currant Bun claim Charles N'Zogbia was arrested yesterday on suspicion of trying to cheat in his driving test by using a ringer.
Best football betting tips & free bet offers
Click here for more Premier League betting tips
---