Pompey need £22m to avoid going bust, Chelsea's Ashley Cole is exposed again, while Terry Venables offers never-gonna-happen transfer advise to Arsenal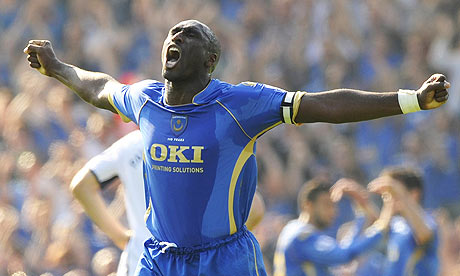 Comment & analysis round-up
Quote of the day: "I can't say much about Portsmouth as the process has begun. There's a lot of other people who've taken far more out of the club than me. As far as I see it, if you have a contract, you have a contract. That's it, and it's only fair. If you get something written down, that's what you're owed. How's that going against football? I signed that contract in good faith. Some of the other players have got contracts and they've not been paid either. It's clear, it's stated, it's in people's faces. I'm not exactly going to be the one that brings them down. They had Sky TV money, gate receipts, sponsors and sold lots of players, so where's the money gone? It doesn't add up, but that's the situation. I don't think they'll go bust." – Sol Campbell in an exclusive interview with The Times.
Runner-up: "I will say one thing: you can buy players but you cannot buy history. I don't want to play for Manchester City. Yes, they have money and they are building a good team but I am still proud to play for Liverpool." – Javier Mascherano.
Today's overview: The Premier League is preparing itself to shrink from 20 to 19 teams as the unthinkable begins to look more and more likely. Put simply, Portsmouth have eight days to find £22m or they'll go bust.
Jamie Jackson delivers the bitter news to the south coasters writing "the Guardian has learned that the club are set to be declared insolvent unless they can demonstrate to the high court on 1 March that they can bring in a cash ­injection in excess of £20m. A total of £22m is required for Portsmouth to continue as a going ­concern until the end of season, otherwise they will fold. However, this depends on the Premier League's bottom-placed team ­finishing 17th as all the club's forecasts have been based on avoiding relegation. If the club finish 20th then around £26m will be required to keep Portsmouth afloat. Even if Portsmouth were to enter administration, a total of around £14m would be required."
The bad news continues to flow from Paul Kelso. "Portsmouth's financial plight is deeper than has previously been admitted, with the total debts exceeding £70 million, Telegraph Sport can disclose. Previously, the club's debt had been put at £60 million… The Premier League, meanwhile, has refused Portsmouth's request to sell players for the rest of the season, despite Fifa unusually granting an exception to the transfer-window system. The decision denies the club a potential lifeline and increases their chances of going into administration, which would attract a nine-point penalty."
So why did the Premier League refuse to allow Pompey to sell players? Sam Wallace investigated. "Sources close to the decision said yesterday that Portsmouth had not explored "all the options available" to a club in their circumstances to deserve such a unique measure. Clubs around Portsmouth were also unhappy that players sold by the club, which has debts of more than £60m, could have a decisive say in the title race elsewhere."
Amazingly, and on seemingly uncertain ethical grounds, Nick Szczepanik reports how a relegation rival may be perpared to bail Portsmouth out of their deep financial hole. "David Gold, the West Ham United co-owner, has offered to lend Portsmouth the money they need to avoid winding up if neither works out. West Ham have taken four points from the South Coast club this season, which will be expunged if they go out of business. Gold would make the loan as a private citizen to circumvent rules preventing a club lending money or guaranteeing the debts of a rival."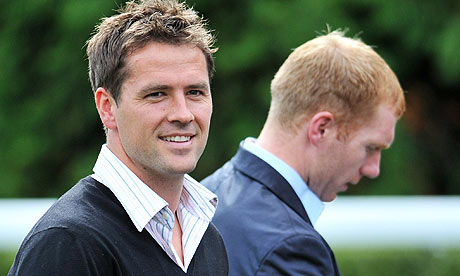 From the have-nots to the haves, and Daniel Taylor reveals how Manchester United are preparing to consolidate their squad. "Ferguson… was particularly effusive about Scholes's performance at San Siro and expects the former England international, out of contract at the end of the season, will sign a new one-year deal."
On the subject of old-timers being kept on by their Premier League employers, Des Kelly goes on the rampage against some of the league's elder statesman. "With transfer fees out of reach for most clubs outside of Spain and Manchester City, more and more clubs are being tempted to take a chance on veteran free agents drifting around and looking for a pension. They are shuffling into the Premier League with their slippers still on and trying to remember what it was they were supposed to be doing when they got here… there's poor old Sol Campbell… meanwhile, Michael Owen, who says he's 30 but is cursed with the body of a 70-year-old, like Benjamin Button in reverse… This is football's way of saving money. They avoid the transfer fees and use the cash to finance daft salary deals to players who no longer deserve to command them."
Staying with Manchester United, Toffee Brian Viner tries to temper his fellow Everton cohorts into getting rid of their dislike of Wayne Rooney. "He will be taunted this lunchtime, as always, for the "Once a blue, always a blue" slogan. The "once a blue, always a red" banners will swirl, the abuse will cascade down from the stands. But he was just a child then, for heaven's sake, and besides, it would take an intransigent Everton fan indeed to argue that the journey down the East Lancs Road has not been to the almost infinite betterment of his football career. One has only to read the blogs, however, to know that such fans exist."
Have you heard the one about the orphan Russian oligarch who mysteriously went from pauper to billionaire in rather shady circumstances, who then turned on his current employees to warn them about their public perception?
Well, Russell Kempson explains how they have done at Cobham training ground. "Enough is enough. Three words from Roman Abramovich that signify he will no longer tolerate the series of sex scandals and sordid revelations that have plagued Chelsea this season… Chelsea may be top of the Barclays Premier League, but with the club becoming a laughing stock and the "brand" sullied, Abramovich decided to act."
Taking their cue, The Sun's Pete Samson charges in with yet more sex scandal charges against Ashley Cole. "Cheating Ashley Cole bedded a girl during a Chelsea tour of America, it was claimed yesterday.  Love rat Cole romped with the beauty during a sleepless night in Seattle, it was claimed last night. Ann said she had sex with Cheryl Cole's philandering husband at a hotel where the Chelsea squad were staying during a US tour." The Sun's Mark Irwin then wades into the Chelsea-smut story to bark "angry Roman Abramovich will fine Ashley Cole £200,000 for his sex scandal.
Looking ahead to Sunday's meeting on Man City and Liverpool, and Patrick Barclay jumps on Mascherano's bandwagon (see quote at the top) to stick the boot into the Citizens."City's plan, since they became a subsidiary of the Abu Dhabi United Group in September 2008, has been to buy history. Hundreds of millions of pounds have been spent already and for Liverpool, with their time-wasting American owners and concerns whether Fernando Torres and even Steven Gerrard can be retained in the face of the challenge exemplified by the new City, the only comfort is that it could be worse; they could be playing Abu Dhabi United."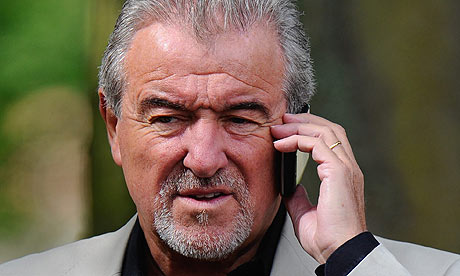 Dipping into the world of transfers, Terry Venables takes on the role of matchmaker, agent and daydreamer this Saturday as he not only advises Arsenal to splash the cash, but picks out some ready-made targets too. "With Plan A almost five years into failure, [Wenger] may have to win the battle with his conscience and resort to Plan B – with B in this case standing for Buy, Buy, Buy… Cottagers star Schwarzer is a top-four keeper in waiting. In a couple of years he could then move for Real Madrid's Iker Casillas. In defence, I would make a bid for AC Milan's Brazilian Thiago Silva to play alongside centre-back Thomas Vermaelen. Nemanja Vidic, reportedly unsettled at Manchester United, would also be a coup. Real Madrid's Sergio Ramos is another example of the calibre of player needed… Up front, Wenger needs to sign a quality striker like Sevilla's Luis Fabiano or Valencia's David Villa to be a real force."
A fresh transfer story break in The Times as Graham Keeley details how "Barcelona have denied that they are planning to make a move for Cesc Fabregas, the Arsenal captain… Joan Laporta, the Barcelona president, claims that he is not tempted to bring the Spain midfield player back to the club where he was a youth team player. Laporta also plays down suggestions that he has offered Thierry Henry, the former Arsenal forward, as bait to Bayern Munich as part of a deal to take Franck Ribery to the Nou Camp."
The Daily Mail chug "Everton will make a new contract offer to Steven Pienaar in the face of increasing interest from Liverpool, Bayern Munich and Manchester City." Elsewhere, The Star splutter two unlikely stories linking Ajax hitman Luis Saurez to Manchester United, while separately suggesting that Manchester City could move for Fiorentina's Juan Manuel Vargas.
Lastly, James Nursey spins the story that "Flavio Briatore last night stepped down as QPR chairman as Lakshmi Mittal prepares to name Neil Warnock as boss after increasing his stake… Rangers hope to name Warnock as their next permanent manager on a two-and-a-half-year deal next week after Palace's FA Cup replay at Aston Villa on Wednesday. And Warnock is already planning to bring three of Palace's best players with him to QPR. Warnock, whose Palace side host Coventry today, wants to take midfielders Darren Ambrose, Neil Danns and highly-rated full-back Nathaniel Clyne to Loftus Road if he moves once compensation of around £1.5million is finalised."
---