Platini fights for a salary cap, who is Ian Watmore & Arsenal target Sakho and Huntelaar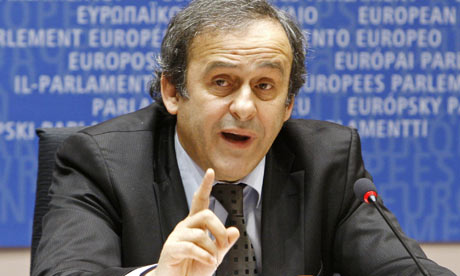 Comment & analysis round-up
Quote of the day: "During this year's festive season, one club which had suddenly become very rich made various astronomical bids in the transfer market. Of course, there was a tremendous outcry in the football family, people called it outrageous and scandalous. Is it morally acceptable to offer such sums of money for a single player? We are currently looking at the idea of limiting, to a certain degree, a club's expenditure on staff – salary and transfer fees combined – to an as yet undecided percentage of its direct and indirect sporting revenue… It's not a diktat and we'll find a solution together. I'm not going to impose anything… We must not delude ourselves, for even huge clubs like Manchester United or Real Madrid are financial dwarves compared with Microsoft or Exxon. The turnover of most European first division clubs is smaller than that of their city's largest supermarket. We now know that none of this is true: that in football as in the economy in general, the market is incapable of correcting its own excesses, and it was not the Uefa president who said so, it was Barack Obama… The European commission talks of free movement of workers from the age of 16. This might have seemed reasonable in the 1950s, but is that still the case today for most skilled jobs, at a time when many European countries have raised the school-leaving age to 18? I have therefore thought about this problem a great deal and I am now convinced that the international transfer – yes international – of players under 18 should be prohibited, fully in accordance with the Fifa statutes. Some people talk about the free movement of workers. I am talking about the protection of children." – Michel Platini.
Runner-up: "It will be really hard in Moscow but we're not out of it. I thought we played really well and deserved to win the game. We have some real quality players in the side. I thought Ashley Young's deliveries were exceptional. I only wish I was playing now. I would score 29 goals a season." – Martin O'Neill.
Today's overview: After UEFA President Michel Platini yesterday stated his case for a salary cap to be enforced in football there is a discussion of the merits of the proposal in today's backpages. While the other big story of the day is the unveiling of the new Brian Barwick, Ian Watmore.
Following in the footsteps of Michel Platini, Steven Wells calls for time on the current mushrooming of football wages. "How many more times do you actually want to see a Premier League makeweight side clinging desperately to a 0–0 scoreline against an elite club they will never, ever compete with in any sustained or meaningful way (unless a gazillionaire pops along and buys them a decade or so of hollow glory)? I think Cristiano Ronaldo has enough socks. In fact I would argue that a man can have too many socks, and even that too many socks can be bad for the soul."
But not everyone supports Platini's wage cap ideas. David Charter notes that "the European Club Association, which represents 137 leading teams such as Manchester United and Real Madrid, said this month that it did not support salary caps. The Premier League also opposes any Europe-wide financial regulation and has previously told the Frenchman to mind his own business when he scolded English teams for poaching players from around the world."
As Manchester United continue to march towards the title Oliver Kay is left wondering "never mind their next defeat. Right now it is hard to know when the next ball will end up in the United net." Henry Winter fans the United squad's ever-growing ego writing "someone needs to tell Paul Scholes, Michael Carrick and Dimitar Berbatov that Old Trafford is a no-smoking stadium because they had the cigars out here on Wednesday night."
Turning to Arsenal, Sam Wallace interviews Samir Nasri in the Independent while Jeremy Wilson reports on Theo Walcott's contract negotiations. "Walcott was close to signing a five-year £50,000-a-week deal that would keep him at Arsenal until 2014, but it is understood that the club's initial offer fell below that mark."
Daniel Taylor unearths a new rift at Eastlands with rumours suggesting that Robinho's stature is going south. "It is also understood there has been a notable shift in how the other players have come to view him. Whereas he was widely credited with fitting in quickly after his move from Real Madrid last September, one of Hughes's recent signings has complained that Robinho and Elano have barely spoken to him so far."
The FA moved yesterday to appoint Ian Watmore as the organisation's new chief executive, and Kevin McCarra investigates the man who people say "is a likeable if somewhat nerdy individual who prefers a low profile and never does anything merely for effect." Henry Winter however offers a far jazzier portrait of Ian Watmore, a man who "used to spike his hair and wear bondage trousers" and who will need to build "good relations with as many football people as possible – as quickly as possibly – can Watmore succeed at Soho Square."
It was left to Nick Harris to deliver the dissenting voice against Watmore's appointment. "Watmore's appointment will inevitably elicit criticism that the FA and its offshoot groups, under chairman Lord Triesman, is becoming an "old pals club" of Triesman's political contacts. Triesman and Watmore know each other from working together at the DIUS. Triesman has also been joined by a handful of politicians on the 2018 bid campaign board."
In other news, Louise Taylor traces how "after the European chases of recent years the north-east's big three are now more worried about the bottom end of the table," Mike Lawford lists all the foreigners playing in the Premier League who could theoretically be naturalised into the England setup,
Regardless that the transfer window is now shut until the summer, the Telegraph are happy to print the rumour that "Chelsea will reportedly make Russia winger Yuri Zhirkov their main transfer target this summer." And apparently the Gunners are also planning to splash the cash, The Sun printing that "Arsene Wenger is close to landing £4million PSG ace Mamadou Sakho," while The Mirror announce "Arsenal are lining up a £15million summer swoop for fed-up Real Madrid striker Klaas-Jan Huntelaar."
Finally, Marcela Mora y Araujo looks at the problems engulfing River Plate wondering "does a series of bad results on the pitch – really bad – reflect an institutional crisis in the boardroom?"
---
GAMBLING CAN BE ADDICTIVE, PLEASE PLAY RESPONSIBLY