Phil Neville tipped to be Man United's 1st team coach, Spurs in talks with David Villa & can Crystal Palace stay up?
Comment & analysis round-up
Quote of the day: "How much you spend on your group isn't always what gives you. It's what's inside their hearts and how much they work for you. I've been very fortunate that both teams that have done it for me, I was privileged to have worked with them. To me they're Palace heroes. If I had to put everything I own on someone smacking it in the net, then I'd put it on Kev," Holloway said. I'll keep signing him until he's nearly 50 or 60, if he keeps putting the ball in the net. The difficult thing for Kev is living in a hotel once or twice a week because he doesn't need to move his family any more. That's what you lose; you lose that desire. So I don't train him every day. My lads accept that because they know what he does when he does turn up. It's his enthusiasm that he needs to keep. It's that little spark inside him, that jiggle. That's what I want to keep. It's your soul inside you. That little vibe when you get up in the morning. I've still got mine. Hopefully he's still got his. I can't wait to see him again and thank him for how well he's played for me." – Ian Holloway.
Runner-up: "United's players should see it as a new challenge and an important challenge. I know from speaking to other people in football that since Alex announced his retirement other clubs have already been lifted by the fact he is no longer around. The players should see that as a slight on them and say 'hang on, do you think we can't go out on that pitch and perform without our manager?'. That is a challenge in itself and ultimately the players and David Moyes will need to respond to that. When you're at Manchester United and you've had a manager who has built four great teams – '94, '99, 2008 and you can now argue this one that has won the league — people are always going to compare teams and look back; I do it myself sometimes. The most important thing to say about this team is it's on an upward curve. You've got players like De Gea, Rafael, Evans, Smalling, Jones, Cleverley, Welbeck and Hernandez to name eight players who are still young and haven't reached anywhere near their peak. You've also got a mix of players in the middle who are at their peak, then you've got the experienced lads at the other end. This team has still not reached its potential. I'm sure there will be additions to the squad this summer so you're talking about a team on the up." – Gary Neville.
Can Crystal Palace stay up?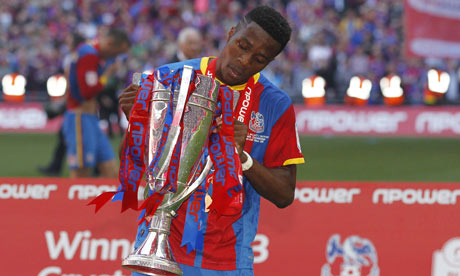 Crystal Palace manager Ian Holloway: I want Wilfried Zaha on loan again (Paul Doyle, Guardian) Ian Holloway will consider asking Manchester United to loan Wilfried Zaha back to Crystal Palace to help the club stay in the Premier League, a feat the south London side have been unable to achieve following each of their two previous play-off triumphs. Zaha produced an outstanding performance to help Palace beat Watford 1-0 in a tense final worth upwards of £120m to the victors, winning the penalty that enabled Kevin Phillips to score the decisive goal in extra time. The 20-year-old is due to report to Old Trafford next season, having been signed by Sir Alex Ferguson for £15m in January before being loaned back to Palace for the remainder of the season. Holloway will spend the summer trying to build a squad that will avoid coming straight back down. Asked whether that will entail asking the new United manager, David Moyes, to send Zaha back to Selhurst Park to further his development, Holloway said: "I think he'd be silly to give me him back to me. But you never know, now that we're up it might be realistic. We'll see."
Crystal Palace enter the land of the riches (Henry Winter, Daily Telegraph) Kevin Phillips, the man who turned Crystal Palace's play-off dreams into reality, was born the year that Watford's most famous fan, Elton John, went to No 1 with Goodbye Yellow Brick Road. Phillips is 39, still nutmegging Father Time and proving as nerveless in front of goal as ever. When his team needed him most on Monday, Phillips stepped up, converted an extra-time penalty and booked Palace a ticket to ride the Premier League gravy train. That touch from 12 yards was worth a minimum £120 million and maximum joy to Palace fans, whose relentless and noisy support was rewarded handsomely. This was Phillips's fourth play-off final, having also featured for Sunderland, West Bromwich Albion and Blackpool. He was typically humble in victory, partly out of respect for Watford, for whom he played from 1994 to 1997. Watford were crestfallen, devastated by the result and also because of the painful reality that they were disappointing, lacking real threat until Fernando Forestieri arrived. Too late.
Crystal Palace's Championship play-off final hero Kevin Phillips says he may sign off with winning goal (John Percy, Daily Telegraph) The former England international signed for Palace on loan in January but his contract at Blackpool expires next month and manager Ian Holloway is keen to discuss an extension before Palace return to pre-season training. But Phillips, who has suffered defeat in his three previous play-off campaigns – with Sunderland, West Bromwich Albion and Blackpool – hinted that he may bring down the curtain on his footballing days by signing off with his winning goal at Wembley. He said: "I'm going to have a break now, I deserve it and every bit of my body's aching at the end of a long season. I'll go away and have a think. "I certainly want to stay in the game whether that's playing or coaching, but I don't know if I will carry on. If that is my last game, what a way to sign off. To come on and get the winning goal against the club where it all started [for me] is a fairytale. This promotion, with the money in the Premier League, means everything. The club can build for the future with some good young talent."
Phil Neville set for Manchester United return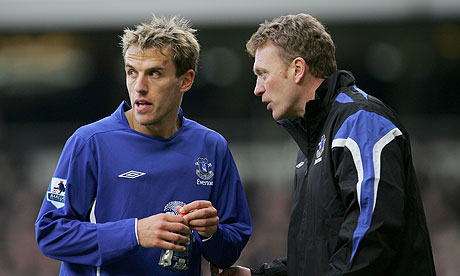 Phil Neville to lead Everton exodus to David Moyes's Manchester United (Jamie Jackson, Guardian) David Moyes, the incoming Manchester United manager, is set to appoint Phil Neville, Steve Round, Chris Woods and Robbie Cooke to his backroom staff, with all four taken from his former club Everton. Neville, who made almost 400 appearances for United before joining Everton in 2005, is expected to replace Rene Meulensteen as first-team coach. The 36-year-old, Moyes's captain at Everton, had expressed interest in taking over as manager at Goodison Park. With Meulensteen understood to have turned down a different role, four of Sir Alex Ferguson's senior backroom team will have departed the club. The assistant manager, Mike Phelan, Eric Steele, the goalkeeping coach, and Martin Ferguson, Sir Alex's brother, the chief scout, have all left.
Mourinho bringing Rui Faria to Chelsea
Mourinho Wembley summit (Rob Beasley, Sun) Jose Mourinho is bringing his trusted right-hand man Rui Faria with him to Chelsea. The pair were spotted at Wembley yesterday watching Crystal Palace's play-off final victory. Coach Faria, 37, will also quit Real Madrid next week to follow the Special One back to Stamford Bridge. They have been inseparable since teaming up at Portuguese minnows Leiria back in 2001 where Faria became fitness coach. And since then the fiery Faria has grown into Mourinho's trusted lieutenant.
Tottenham in talks with David Villa
Look who's talking: Tottenham negotiating with Barcelona striker David Villa over £12m transfer (John Cross, Daily Mirror) Tottenham manager Andre Villas-Boas has opened talks with Barcelona striker David Villa, writes John Cross. Villa-Boas is desperate to sign Villa, and is hoping his personal relationship will help win the battle to snatch the Spain international. We revealed on May 9 that Spurs had reignited their interest in want-away Villa, who will be allowed to leave Barca in search of more regular football in what is a World Cup year. The 31-year-old has also been targeted by Arsenal and Liverpool in the past, but Spurs are hoping to persuade him to come to White Hart Lane – even though they did not qualify for the Champions League. Barcelona will give the green light to a deal if anyone matches their £12m valuation and are allowing him to negotiate a move.
Arsenal could miss out on Jovetic
Arsenal could miss out on £25m Jovetic as Gunners refuse to stump up big fee (Sami Mokbel, Daily Mail)  Arsenal's move for Stevan Jovetic is at breaking point after refusing to meet Fiorentina's £25million asking price. Talks between both clubs have been ongoing for a number of weeks after Arsene Wenger made Jovetic his No 1 striker target. But the deal has hit a major stumbling block, with the Serie A club refusing to take anything lower than their valuation.
Chelsea line up van Ginkel
Chelsea line up bid for £8m-rated Vitesse midfielder Van Ginkel (John Drayton, Daily Mail) Chelsea are showing interest in Vitesse Arnhem midfielder Marco van Ginkel. The 20-year-old has been watched by Manchester United manager David Moyes and Norwich this season and is valued at £8m.
Martin Skrtel may leave Liverpool
Martin Skrtel admits he may move on after 'worst Liverpool season' (Andy Hunter, Guardian) Martin Skrtel has confirmed he would consider leaving Liverpool this summer having endured "one of the worst seasons in my career". Brendan Rodgers is looking to sign two central defenders having lost Jamie Carragher to retirement and been unconvinced by Sebastián Coates. The Liverpool manager has stated that Skrtel remains in his plans but, following a testing campaign when he lost his first-team place and attracted criticism from Rodgers, the Slovakia international has admitted his Anfield future is in doubt. Skrtel said: "I have not had any specific offers but if some should come and they interest me, I would probably consider it seriously. The club has the biggest say in this in any case, because they have the right for it with me being contracted. I am not saying that I want to leave at any cost. I feel sorry for what happened in this season. But I have been here for five and a half years and I have built a position here."
Swansea may sell Ashley Williams
Laudrup set to cAsh in (Sun) Michael Laudrup may sell Ashley Williams to help fund his summer signings. Swansea boss Laudrup is resigned to losing one top player in the transfer window. And defender Williams is a likely candidate despite signing a new deal until 2015 in October, with Arsenal ready to table an £8million bid and Liverpool also keen. Laudrup said: "There has been a lot of talk and let's see what happens. "Maybe we have to accept one player will go but not any more."
Rafa Benitez appointed Napoli coach
Napoli president unveils Benitez as new manager as Chelsea time comes to an end (Simon Jones, Daily Mail) Rafa Benitez has been announced as the new coach of Napoli on a two year contract. The 53-year-old Spaniard met club president Aurelio de Laurentiis in London who confirmed via Twitter: 'Rafa Benitez is the new coach of Napoli. A man of great international experience. A leader.'
Colourful film producer De Laurentiis revealed a deal was in place on Friday but had to backtrack while Benitez completed his commitments as Chelsea interim manager.
New Aston Villa contract for Andi Weimann
Ands off! Aston Villa plan new contract to keep Andi Weimann out of Premier League rivals' clutches (Ian Baker, Daily Mirror) Aston Villa will hand Andi Weimann a bumper pay-rise this week to fend off interest from Newcastle, Sunderland and Norwich. The trio of Premier League rivals all want to sign the Austrian after a string of stunning displays. Weimann scored 12 times in his first full season in first team football and helped steer Paul Lambert's side away from the drop zone. The 21-year-old has come through the ranks after joining from Rapid Vienna aged 16 in 2008, and Lambert is desperate to keep hold of one of his young stars.
---