Pep Guardiola to snub Chelsea for Man United, Wenger wants £10m Downing & Suarez can leave Liverpool for £40m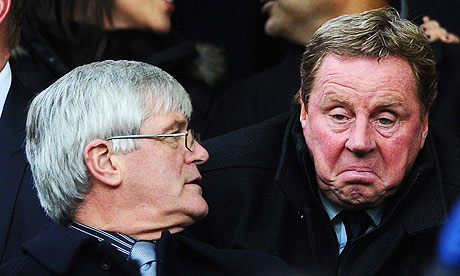 Comment & analysis round-up
Quote of the day: "The players at QPR have not performed to their potential. The players have to be at it, the buck stops with them. I didn't tell the club I wanted money to spend, I have not even discussed that situation. There are some good players here and if we can get them performing then come January, we might not need so much." – Harry Redknapp.
Runner-up: "I still watch the Premier League. It is the most competitive league in the world in my opinion — ahead of Spain. It is brilliant — you have a lot of brilliant players here and the league is so intense. It's amazing and I watch it in my house every week. City and United are among three or four teams who can perhaps win the league which is why it is the most competitive anywhere in the world. It will be tough for every team but I think United will do it this year and win their title back." – Cristiano Ronaldo.
Pep Guardiola doesn't want to coach Chelsea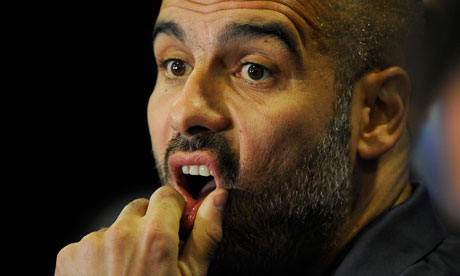 Pep fears reckless Roman: Guardiola believes Chelsea's owner is too 'trigger-happy' to be his boss (Nick Harris & Mark Ryan, Mail on Sunday) Pep Guardiola believes Roman Abramovich is too 'trigger-happy' as Chelsea's owner to offer him the security he wants when he returns to management next year, according to sources close to the former Barcelona coach. Guardiola, 41, is the most coveted manager in football and Abramovich has made no secret that he wants the Spaniard at Stamford Bridge when his year away from the game ends next summer. Last week, Chelsea's owner sacked Roberto Di Matteo, who had led the club to their Champions League triumph, and appointed former Liverpool boss Rafa Benitez as manager until the end of the season.
Pep Guardiola wants Man Utd job (Neil Custis, Sunday Sun) Pep Guardiola is ready to snub Chelsea because he wants to boss Manchester United. Blues owner Roman Abramovich is hoping the former Barcelona chief will take over at Stamford Bridge next summer. But Guardiola, who is on a year's sabbatical in New York, fancies moving in at Old Trafford when Alex Ferguson retires. That could be at the end of this season. If not, Guardiola would be prepared to hold out for another year.
Chelsea beware: Pep Guardiola the perfectionist holds all the cards (Sid Lowe, Observer) For Guardiola things must be just right. When he arrived in the first team from Barcelona B, young and experienced, seemingly not in a position to make demands, he imposed upon Joan Laporta, the president who hired him, the need to employ his entire team: from his assistant Tito Vilanova to his own physio, scouts and physical trainers. That is not to say that he refused to listen to sporting directors – he reluctantly agreed to the sale of Dymtro Chygrinskiy – but beliefs and ideas must be shared. He has done things his way and his way is different. He is different. When he has made up his mind, it is unalterable. From the one-year rolling contracts at Barcelona, to the year's sabbatical. As a player he had spells in Mexico, Qatar and Italy. There has been a kind of moral hue to the path his career has travelled down, to the image he has projected of himself.
Di Matteo out/Benitez in at Chelsea analysis
Chelsea's players must be living on a knife-edge (Gary Neville, Mail on Sunday) Since hearing that Roberto Di Matteo had been sacked I've been torn in my response. In one sense, what happened goes against everything I've grown up with: stability, keeping the same manager, longevity and building that sense of security around the workplace where everyone knows each other and where trust can develop. And then there's a sense of resignation, that what happened is just the way of the modern world. Some people don't want to get married and stay with the same person for the next 40 years. Some people like to be more fluid in their life. And you can gain happiness both ways. But having weighed it up, my overwhelming feeling is that there's something quite dark about last week's events: whether it be the sacking of a manager who won the European Cup and FA Cup six months ago; whether it be the fall-out over the Mark Clattenburg affair, with a referee accused of making a racist comment and then no substantive evidence being produced; whether it is the odd appointment of Rafa Benitez only as an 'interim' manager; or whether it is the incredible amount of information that leaks out of Chelsea, so much that everyone must be on a knife-edge at that club.
Rafael Benítez refreshed and relishing trophy hunt with new club (Jason Burt, Sunday Telegraph) Whether Guardiola can be persuaded to forsake his Upper West Side apartment for Stamford Bridge, after his dogged insistence on a year-long sabbatical, remains to be seen even if Chelsea are so keen to sign him up that they are prepared to start paying him now with Roman Abramovich using him as an adviser – to head off any potential interest from Manchester City, AC Milan and Bayern Munich. It's a state of affairs that Benítez would, normally, be expected to baulk at but the 52-year-old has thought this one through. Almost two years out of management and having waited and waited – "I had massive offers from Asia, the Middle East, massive money but I said 'no'. Why? Because I was waiting for the right offer. There are not too many managers at this level in the world" — have concentrated his mind.
Chelsea v Manchester City previews (All eyes on Fernando Torres)
Mancini: We wanted Torres but the £50m price tag was too high (Joe Bernstein, Mail on Sunday) Roberto Mancini has revealed he wanted to sign Fernando Torres – but pulled out because the price was too high. The Manchester City manager chased Torres when the Spaniard was regarded as one of the world's top strikers and looking to leave Liverpool in January 2011.
Fernando Torres could make Roberto Mancini and Manchester City pay (Paul Wilson, Observer) While it is true that Torres enjoyed his best years in England under Benítez at Anfield there is no guarantee those free-scoring days will return simply because of the Spanish connection at Stamford Bridge, and if the striker is still misfiring a few weeks or months from now it will be interesting, to say the least, to see how the new Chelsea manager approaches the problem. Mancini was sorry to see the departure of Di Matteo, but not exactly shocked. Managers in general, and Italians in particular, do not expect winning the Champions League one year to be insurance against poor results the next.
Even Abramovich thinks Torres should do better (Steve Tongue, Independent on Sunday) Ideally it would be not a long ball – hardly the strength of a Hazard-Oscar-Mata midfield – but a through ball such as used to be delivered on a plate at Liverpool for Fernando Torres to devour. Benitez might like to believe it was his CV that attracted Abramovich, alone of any major club owner in the past two years, but his signing of, and success with, Torres was surely as important as anything. Reluctant for much of his two hours with the media at the end of the week to talk about Torres, Benitez finally opened up towards the end, even admitting that over dinner on Thursday night Abramovich agreed improvement was necessary: "Obviously I cannot say that we were not talking about Torres. They can see that he has to improve. Everybody can see that he can improve because he has the potential. With Fernando you have to put your arm around the shoulder and push him. Both things.
Roberto Mancini will pose fresh problems for old rival Rafael Benitez (Henry Winter, Sunday Telegraph) Those wondering when Roberto Mancini and Rafael Benítez last crossed paths need to take a trip down bad-memory lane. You might need to take a stiff drink as well. Or strychnine. For in the last encounter, Mancini and Benítez somehow managed to produce one of the most tortured, soulless stalemates in Premier League history. A gruelling 90-minute exercise in turgidity in 2010, Mancini's Manchester City versus a Liverpool side then under Benítez's stewardship contained only one shot of note, Emmanuel Adebayor being denied by Pepe Reina, and one moment of levity, Vincent Kompany playing a decent pass in his socks. Even that bastion of restraint, the BBC website, described it as "arguably the worst game of the season". Those present probably still require counselling. Fortunately, Sunday's reigniting of the Benítez-Mancini rivalry promises far more incident than that lifeless event at Eastlands.
Arsenal want Stewart Downing!
Arsenal set to make £10m swoop for Liverpool flop Downing in January (Joe Bernstein, Mail on Sunday) Arsenal manager Arsene Wenger is ready to make a shock £10million move for Liverpool's out-of-favour winger Stewart Downing in the January transfer window. Wenger was outbid by Liverpool when he wanted to sign Downing in 2011 as a replacement for Samir Nasri and now believes he can rescue his career after the England international's torrid time at Anfield.
Touch of Klaas: Huntelaar up for £6m Arsenal move now Van Persie has gone (Jim Hughes, Sunday Mirror) Klaas-Jan Huntelaar has set his sights on a cut price £6million January transfer to Arsenal. The Holland striker would love to play at the Emirates, but feared that would never happen as long as Robin van Persie was there. Huntelaar (above) and Van Persie are big rivals in the Dutch national team and have had a volatile relationship behind the scenes. But with Van Persie ­having left Arsenal and Huntelaar's contract at Schalke expiring at the end of the season, the door is now open for the man who was the Bundesliga's top-scorer with 29 goals last season. Schalke have confirmed that scouts from Arsenal, Liverpool and Everton, have attended their last few games.
Luis Suarez can leave Liverpool for £40m
Red alert! Buy-out clause means Suarez can leave Liverpool for £40m (Dean Jones, People) Luis Suarez could be snapped up for £40million at the end of the season – after it emerged the striker has a release clause in his contract, writes the Sunday People. The news gives new hope to Chelsea and Manchester City as they move for the Liverpool star. Kop boss Brendan Rodgers is desperate to keep hold of the Uruguayan and the player has said he is committed to trying to help them back into the Champions League. But his value was quoted at £50million when City's interest was reported recently – and it is now thought Suarez could leave for less than that.
Kop wing in for £8m Kev (Matt Parker, Sunday Sun) Liverpool are stepping up their interest in Dortmund winger Kevin Grosskreutz. Anfield boss Brendan Rodgers has trailed the German international, 24, this season. And Kop spies watched the £8million-rated wideman help Borussia to a stunning 4-1 Champions League win at Ajax in midweek.
Redknapp after Becks
Becks appeal: Redknapp wants David Beckham to join QPR revolution (Matt Law, Sunday Mirror) Harry Redknapp wants David Beckham to join his QPR revolution. But Redknapp will need all his powers of persuasion to convince Beckham to snub lucrative offers from Paris Saint-Germain, Qatar, Brazil, China and Russia to join the QPR relegation battle. ­Redknapp starts work as QPR's new boss with the brief of keeping the club in the Premier League. And he wants Beckham to give the club the biggest boost possible by agreeing to finish his playing career at Loftus Road. Redknapp's bid to sign Beckham on a free transfer will be backed by QPR owner Tony Fernandes, who ­attempted to sign the former ­England captain last year.
Becks lines up big money transfer… to London (Andy Crick, Sunday Sun) Victoria Beckham has been secretly house hunting — in London. She was spotted looking at four Posh pads — fuelling rumours she, hubby David and their four kids may be moving back to Britain after eight years abroad.
I'm sorry Sparky's gone but this was too good to turn down (Harry Redknapp, Sunday Sun) I have taken on some massive challenges in my life — but the one I'm about to get stuck into at QPR is certainly as big as any in the past. When I went back to Portsmouth for the second time seven years ago, that was a hell of a job, because they were right down there and a lot of the big names had left. But the Rangers job is most definitely on a par with that — I just hope it will have the same outcome as we managed at Pompey. And although there are plenty of people who seem to be writing them off already, it's one I am hugely confident of achieving. I must admit a couple of days ago I didn't think I'd be spending Saturday afternoon in the stands at Old Trafford. Not unless they had come up with a very tempting hospitality package for me!
Bad Frank Lampard
Foul play! England star Lampard evicts his children's 100-year-old great-granny from £200-a-week flat (Laura Gold & Tom Worden, Mail on Sunday) Footballer Frank Lampard has launched a legal bid to evict his children's 100-year-old great-grandmother from her home. The Chelsea and England midfielder has given Teresa Canete – the grandmother of his former fiancee Elen Rivas – notice that she has just days to move out of a four-bedroom flat in Barcelona that he bought for her in 2008. A letter, written on headed paper from Spanish law firm Olivella Abogados, was delivered to Ms Canete on November 15.
20 years since Eric Cantona joined Manchester United
Eric Cantona: 20 years on from the phone call that changed football (Rob Smyth, Observer) On Wednesday 25 November, so the story goes, Ferguson met his chairman, Martin Edwards, to discuss transfer targets. Just after Ferguson lamented the fact United did not go for Cantona before he joined Leeds, Edwards's phone rang. It was Bill Fotherby, the Leeds managing director, to inquire about the possibility of signing Denis Irwin. "The timing was weird, absolutely uncanny," Ferguson said in the book Just Champion. Edwards dismissed the approach for Irwin but asked if Leeds might consider selling Chapman. As he did so, Ferguson started whispering and making frantic hand signals. When that didn't work, he scribbled the name of Cantona on a piece of paper. Edwards inquired, Fotherby said that Cantona was unsettled and that he would get back to him within 24 hours. In fact he got back to him within one hour to confirm the deal was on. Leeds asked for £1.6m; Edwards worked Fotherby down to somewhere between £1m and £1.2m, depending on which account you believe. When Ferguson's assistant, Brian Kidd, was told about the fee, he wondered whether Cantona had "lost a leg or something".
---