Pathetic Portsmouth, the pressure on Arsenal's Almunia, NOTW reveal another John Terry affair & Manchester United chase City's Ireland
Comment & analysis round-up
Quote of the day: "I was on Sky about my show and two lads with them were talking about Terry. I asked if they'd heard of the Chilcot Inquiry. They went, 'No'. I told them it was about a guy who took us to war in Iraq. We've lost hundreds of soldiers, 100,000 people have been killed and nobody in this country gives a toss. John Terry sleeps with some bird and everyone's up in arms. Yes, he was wrong to do it, and I feel very sorry for his wife, who seems to have been overlooked in all this, but what's going on? The world's gone mad." – Jimmy Greaves in an interview with the Independent on Sunday.
Runner-up: "To win in the derby is always important but to do it with 10 players is more important. I am pleased for all the players and for all the fans. Everyone worked so hard. It's a long race [for fourth place] but if we keep working hard and sticking together like we did today then I feel even more sure that we can do it." – Rafa Benitez.
Today's overview: After a week of scandal, we begin Sunday's football round-up with some actual football analysis.
After their battering on the pitch at Old Trafford, poor Pompey take a battering in print, with Joe Lovejoy cackling "no easy games in the Premier League? Pull the other one… Rooney again took most of the plaudits, and Dimitar Berbatov contributed the best goal, but the dominant influence in a one-sided
contest was Michael Carrick, whose metronomic distribution from midfield kept the game flowing United's way."
Barry Flatman makes the point that Pompey were fortunate to escape just 5-nil losers. "United should have widened the margin of victory to eight and should the title come down to goal difference, then Sir Alex Ferguson could live to rue glaring misses Dimitar Berbatov, Antonio Valencia and substitute Mame Biram Diouf."
The Pompey-bashing continues with Tim Rich. "Whatever the theme tune to MASH might suggest, suicide is never painless and metaphorically Portsmouth are now locked in a room with a whisky, a revolver and a bundle of final demands. To go to Old Trafford, a ground where they last won in the League in 1957, would have been a trigger for despair at Fratton Park, but to score three own goals was the actions of a side ready to embrace its fate."
Writing for the Observer, David James explains why he has forgone his automatic contract renewal clause in his Pompey employment agreement. "Renouncing my contract is the obvious thing to do because, above all else, I just want to play football and give myself the best possible chance of going to the World Cup with England this summer. The idea of missing the World Cup because I can't play for Portsmouth is devastating. You can tolerate injury, you can tolerate bad form, but to be in a position where you can't play because the club can't afford to let you would be excruciating."
Trying to improve the situation on the south coast, Paul Smith raises Pompey hopes barking "HRH Prince Mohammed bin Nawaf — the Saudi A­rabia ambassador to the United Kingdom and ­Republic of Ireland — has opened preliminary talks about buying the struggling Premier League side."
As seems commonplace most weekend's now, the Wayne Rooney fan-club then roar into action. Headlining his piece "Wayne Rooney is not in a different position – he is on a different plane," Paul Wilson chimed "the Manchester United striker is in the form of his life, not only scoring wonderful goals but terrorising opponents with his determination and decisiveness."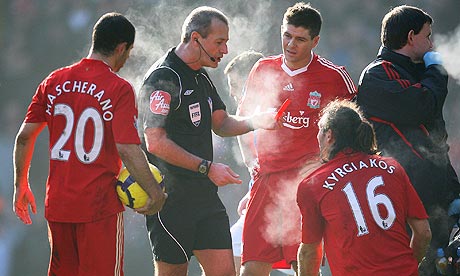 Liverpool may have edged the Merseyside derby, but Andrew Longmore is at pains to flag up the failings of both Liverpool outfits. "In a footballing sense, this was a horror show, decided by a Dirk Kuyt header just after half-time… but marred by a series of feuds and two red cards, for Sotirios Kyrgiakos and, in the dying moments, Steven Pienaar. In between, the football was at best patchy, at worst downright dull. But these games, as anyone in the city will tell you, are a law unto themselves."
Are the walls starting to close in on suave Roberto Mancini?
Richard Rae splutters "if the previous track record of Manchester City's impatient owners is anything to go by, then Roberto Mancini's time at the club should just about be up. Yesterday's 2-1 defeat at struggling Hull City was the third loss suffered by the Italian since he became manager in December. It was City's second successive away defeat in the Premier League, with their Carling Cup semi-final loss at Manchester United in between. His predecessor, Mark Hughes, was sacked after just two losses this season, at Tottenham and again at Old Trafford."
Turning to Sunday's big London derby between Chelsea and Arsenal, Amy Lawrence picks on the Gunners' goalie Manuel Almunia. "Almunia is capable of looking so vexed, with the baggage under his eyes causing such strain, it seems he can not have slept for a week. Perhaps he has not. There has been plenty to toss and turn about in between a sobering and error-strewn defeat at home to Manchester United and a visit to a Chelsea team who have slammed seven goals past him in the past two meetings."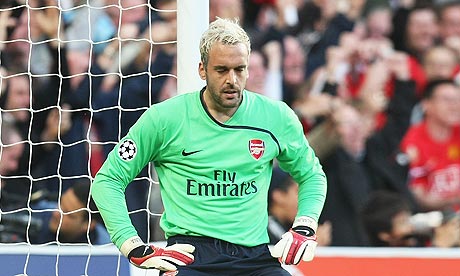 Heaping more bother on Almunia's shoulders, Gerry Cox reveals that "Arsene Wenger has admitted he has a goalkeeping problem at Arsenal, having lost confidence in Manuel Almunia but having failed to sign Thomas Sorensen from Stoke City on deadline day."
Shifting the conversation along, Piers Morgan believes today's London derby is a watershed moment for the Wenger Boys. "It's not just going to decide whether we can win the Premier League this season (lose, and we go a surely irretrievable nine points behind), but I suspect it might also decide Wenger's chances of surviving much longer as manager… the fact is that most Arsenal fans have run out of patience. They don't want to hear any more talk of 'transition', they want results.  Wenger's kids have now grown up, he's refused all entreaties to buy in any more big players and resolutely insisted that this squad is good enough to win the League. Now, he must deliver on that pledge."
***
Away from the bright Premier League lights, Henry Winter has a frank discussion with former Crystal Palace owner Simon Jordan about the club falling into administration. Jordan: "I was determined to win this fight for Palace. Then – bang – administration, someone pulls it from me. It's so illogical and could ruin the club. I feel a failure. I feel I've let down Neil, the supporters and the staff. When most clubs have financial problems, they fall apart on the pitch. My team didn't so there must be something right inside the club. I have the best Academy in the country, if not close to."
***
Preambling the latest installment of smut, the Sunday Times' Rod Liddle delivers a fantastic piece where the scribe rips into the shallow world of the WAGS. Analysing what's in it for the woman he notes "you get to live in a jerry-built upturned wedding cake with five jacuzzis in Prestbury or South Herts and drive a £90,000 blacked out SUV, and, sooner or later, you get to be transgressed very publicly. Because inexplicably there are a multitude of other models or pseudo models very anxious to get their paws on the SUV and the upturned wedding cake. You can blame the men as long as you like, and they deserve much of the odium which is regularly flung in their direction; but what of the women, the half-wits and non-wits, the girls on the cosmetics counters of department stores who are invited to the big club parties and turn up in their hordes, gagging for it?"
Graeme Le Saux complains at the morals of footballers in general. "John is a fighter. He has fought back from personal setbacks in the past and professional ones, like missing that penalty in Moscow. But his case highlights an underlying problem in football. Why should it take being England captain to make a man behave with principles? You should have principles irrespective of whether you wear an armband."
Sadly for Le Saux, Anthony Horowitz points out how morals have long vanished for our public figures. "In the end, Terry was fired for the simple reason that his team-mates, and particularly Wayne Bridge, might no longer have faith in him. It was nothing to do with shame. Nothing to do with morality. But even so, there is something different about this story, something that has somehow plumbed new levels of disgust… It's not John Terry's sex life that troubles us – it's all the razzmatazz that surrounds it. The £130,000 Bentley that he drives. The £4 million home."
Onto the John Terry affair, day nine.
The price of silence is rocketing up according to OIiver Kay and Maurice Chittenden, who join forced to print "John Terry paid hundreds of thousands of pounds to his former mistress to guarantee her silence in his bid to remain England's football captain… The exact sum is disputed: friends of Perroncel say it was £750,000 while friends of Terry claim the sum was £400,000."
Alluding to the threat of even more scandal hitting the press, Duncan White tooted "Fabio Capello sacked John Terry as England captain for his own protection after growing concerned about the impact the continued media exposure would have on the player."
Delivering on the promise of future scandals, the Mail on Sunday's Ian Gallagher fires "questions were raised last night about the state of John Terry's finances after it was revealed that the mortgage on his Surrey mansion is now almost twice the value of the property when he bought it… Financial experts believe the move is unusual, particularly for a man earning £170,000 a week. Denying any suggestion of money problems, however, his agent insisted last night that the footballer was simply taking advantage of a generous rate of interest to fund other property deals."
And then we arrive to the News of the World.
Dominic Herbert splashes with news that "John Terry has bought the silence of at least FOUR MORE secret lovers as he fights to keep the full truth of his sordid sex life under wraps," before revelaing in a separate article "John Terry had a sordid one-night stand with Big Brother star Orlaith while his wife was pregnant with twins, the News of the World can reveal today… The latest revelation of unforgiveable betrayal heaps more humiliation on Toni as she decides how much more she can take from her serial cheat husband."
And it gets worse for Terry in The People, where David Jeffs trumpets "sacked England captain John Terry faces new cheating allegations after a secret lover claimed she had sex with him 10 times while his wife Toni was pregnant with their twins. The woman, thought to be in her twenties and linked to Chelsea Football Club, is believed to be claiming she had a fling lasting several months with Terry, 29."
Guy Basnett reveals "SERIAL WAG Vanessa Perroncel was last night branded a voracious football MANEATER who hunted down her lovers using Premier League fixture lists… The News of the World last night linked the French lingerie model to SIX Chelsea stars… Vanessa's scoresheet includes Icelandic married dad-of-three Eidur Gudjohnsen, cocaine-snorting Romanian Adrian Mutu, Nigerian ace Celestine Babayaro and one more foreign-born player."
Yet some flames appear to have been put out by Rob Draper, as the Mail on Sunday hack farts "disgraced former England captain John Terry and Wayne Bridge have called a truce to ensure Fabio Capello is willing to pick both in his World Cup squad… The source added: 'They are speaking. That doesn't mean one man is necessarily going to accept the other person's point of view or agree with it, but the important thing is that they have now spoken.'"
It also seems like Ms. Perroncel is getting on with her life too, as Johnathan Corke reveals "Vanessa, who is also reported to have had relationships with two other former Chelsea stars, Eidur Gudjohnsen and Adrian Mutu, is set to sign a £1million deal with a major lingerie company in the next few days."
***
We finish with the transfer lies.
In a Steve Sammers EXCLUSIVE we learn that "Arsenal will offer Cesc Fabregas a new five-year deal that will make him the highest paid player in their history… Arsenal hope the lure of a £30million contract will ensure ­Fabregas rejects overtures from Barcelona and Real Madrid."
The Mail on Sunday report that Manchester City are prepared to let Stephen Ireland leave Eastlands with Manchester United, Liverpool and Spurs all interested in the playmaker. Staying with highly-prized midfielders, Michael Morgan reports "Hull are facing a fight to hang on to wonder kid Tom Cairney… Tottenham, Liverpool and Everton are monitoring Cairney's progress and are ready to slug it out for his signature in the summer." And rounding off the guff, Brian McNallly claims "Sunderland manager Steve Bruce will make a £10million summer move for Celtic winger Aidan McGeady."
Elsewhere, Alex Shaw claims "Chelsea will capitalise on being allowed to sign ­players again by making a summer move for Serbian Neven Subotic," the NOTW reveal "Juventus will make an £8million summer bid for Liverpool's Martin Skrtel," while Greg Gobere details that "Ferguson is ready to bring in a new era at Manchester United by fast- tracking a deal for Jack Rodwell."
---
GAMBLING CAN BE ADDICTIVE, PLEASE PLAY RESPONSIBLY