Palace's Zaha lauded after U21s display, Rio rollicking rolls on as England shoo-ins to beat San Marino & Juventus target Man United's Chicharito
Comment & analysis round-up
Quote of the day: "[Rio Ferdinand] was selected on merit and it would have been good to have him here because he's been playing well. But it wasn't possible due to the fact he had to go through his programme of regeneration and keeping up his fitness there… I was disappointed, and I made this very clear, that Rio was not able to accept the invitation. He couldn't accept it for the reasons you know. From that moment on, my focus was on who would replace him. It's not my business, quite frankly. It's not my business to interfere with an individual player and his club. I don't think this is the right moment in time for me to be discussing Rio and what's happened now and what will happen in the future." – Roy Hodgson.
Runner-up: "I don't know if Rio has turned his back on England and I don't know the details from his side. But I want to take this team to a World Cup in Brazil. At my age there's no better stage for a footballer to play on." – Steven Gerarrd.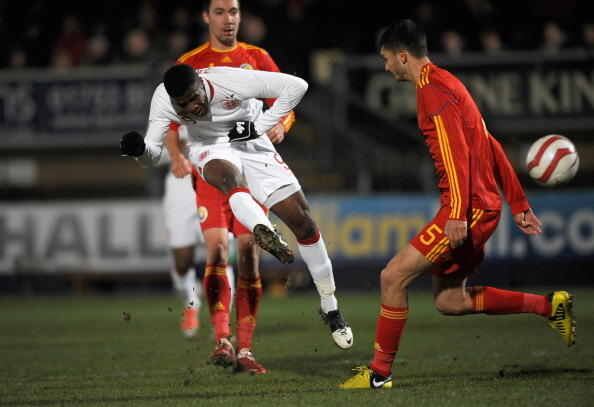 Wilfried Zaha: Tomorrow's Superstar
Classy Wilfried Zaha inspires England Under-21s in defeat of Romania (Jacob Steinburg, Guardian) Life could hardly be better for England's Under-21s at the moment. They have not lost, or conceded a goal, since November 2011 and an eighth win in a row meant that they beat their own record for successive victories. But arguably of even more importance was further proof, if any was needed, that Wilfried Zaha is going to be a special player. Against an admittedly limited Romania side Zaha was exceptional and it was not hard to work out why the Crystal Palace winger will be playing for Manchester United next season and why England can be justifiably upbeat about their chances at this summer's European Championship in Israel.
Man Utd-bound Zaha puts troubles behind him with sparkling display for England U21s (Dominic King, Mail) Wilfried Zaha put a bad week behind him to reward Stuart Pearce with a sparkling display after being cast in the unfamiliar role of lone striker. The young Crystal Palace winger was banned and fined by the FA for making a rude gesture at Leeds fans two weeks ago. After his first international goal, against Romania at Wycombe, Zaha said: 'I was hoping for a hat-trick tonight but just the one will do. I have been waiting for that goal for ages.'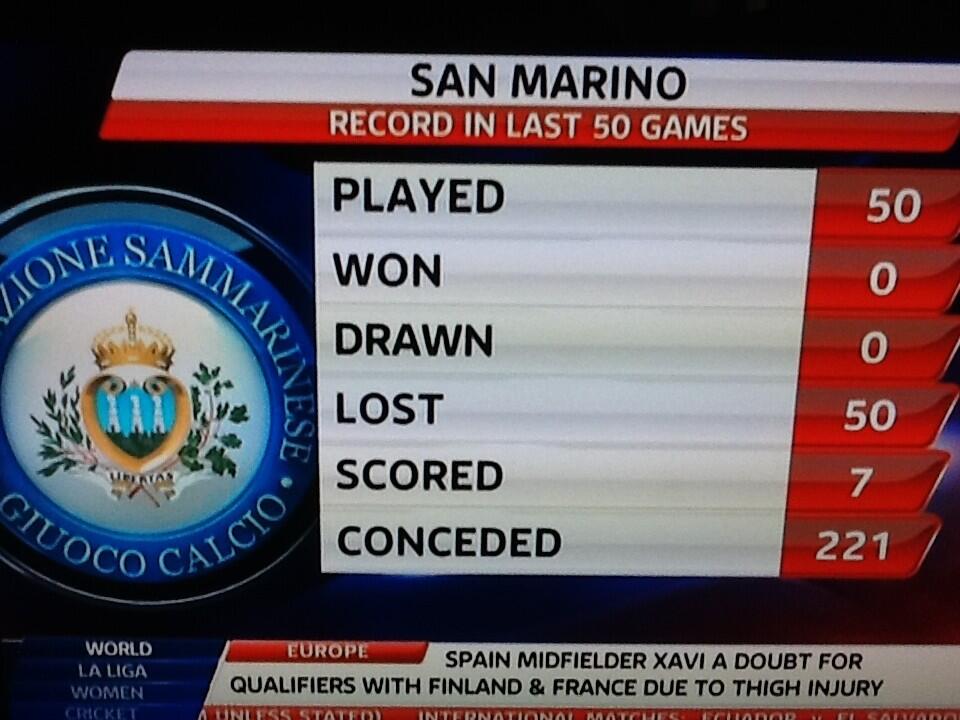 San Marino v England
San Marino are pointless as they prop up most of the rest of the world (Martin Hardy, Independent) San Marino have lost their last 50 internationals. Unsurprisingly, their odds to win stand at 125-1.
England plan to give Rio Ferdinand goals to ponder against San Marino (Daniel Taylor, Guardian) The team waiting to take on England could include a barman, a student, an accountant, the manager of a local fitness centre, an olive oil-maker and a left-sided midfielder who earns his living by running a shop selling lampshades. Then there are the statistics that explain why San Marino have precisely zero points when it comes to Fifa's world rankings to leave them in joint-last 207th with Bhutan and the Turks and Caicos Islands. Put simply, they have won one game in their entire history, drawn three and lost the other 111, scoring 16 and conceding 465. The victory was a 1-0 giant-killing of sorts against Liechtenstein in 2004 and they have not scored in their last 21 competitive fixtures. Roy Hodgson and Steven Gerrard took turns arguing that it was "not an easy game" but, pre-match niceties aside, it actually does not get any easier in international football.
Tom Cleverley's constant presence offers England a variety of options (Dominic Fifield, Guardian) The Manchester United midfielder has been employed across the national team's midfield, from a creative No10 to a deep-lying scuttler, through the seven international fixtures this season and it already feels inconceivable that he will not trot out against San Marino and, most likely, again in Podgorica in Tuesday's more awkward contest to collect his eighth and ninth caps. But should an ankle swell or hamstring tighten between now and then, his absence would not provoke panic from those on the outside looking in. Only within the set-up would the alarm bells presumably ring. Cleverley is already to Hodgson what James Milner was to Fabio Capello, a metronomic presence upon whom he can rely.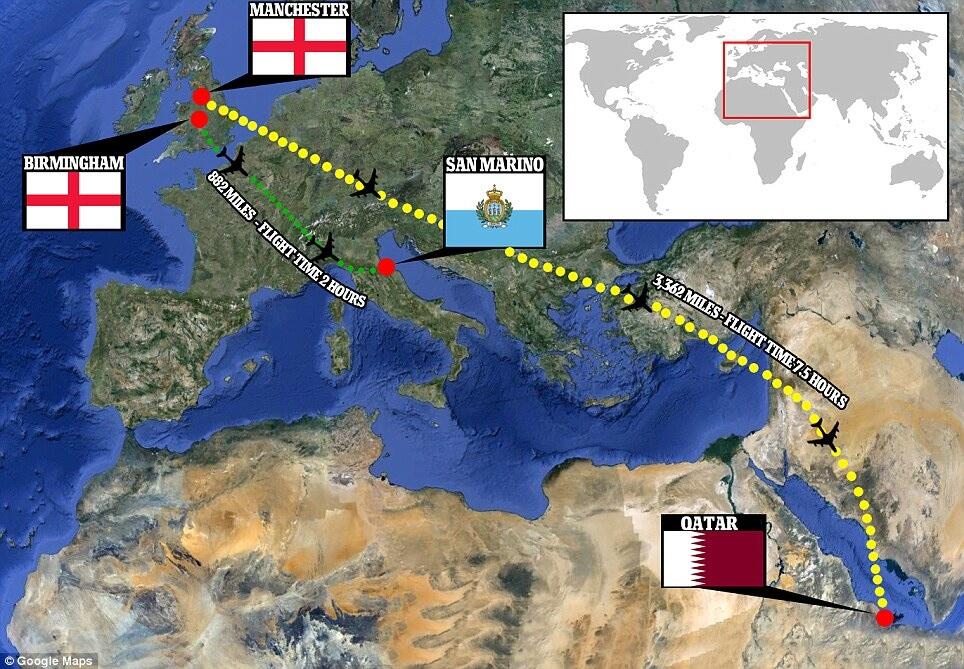 Rio's Rollicking, Day 2
How on earth did Rio Ferdinand not realise this trip to Qatar was a terrible idea? (Sam Wallace, Independent) You would have hoped Ferdinand would have seen it as a bad idea himself because even those used to sticking up for the player had their heads in their hands. There is a tendency for some players to do whatever the hell they like without thinking of the effect it might have on others, and this was the case with Ferdinand.
Desert storm! Ferdinand has humiliated Hodgson and forgotten what it means to play for England… is he the new Don Revie? (Neil Ashton, Mail) After fleeing to the Doha dustbowl in the dead of night, Ferdinand has left himself open to the accusation that he has become the modern-day Don Revie. Revie was banned from managing in England for 10 years — a ban that was overturned — after he walked out on his country for the Middle East in 1974. Ferdinand surely cannot pull on the England shirt again. By swapping England's lodgings at the Grand Hotel des Baines in Ricconi, Italy, for a TV studio in Doha, he has humiliated Roy Hodgson.
Less Ferdinand: Roy Hodgson seems to have moved on from Rio's absence – why can't the rest of us? (Ollie Holt, Mirror) Hodgson could have ended Ferdinand's England career yesterday with barely a whisper of dissent from the Manchester United player's supporters. He could have buried him in any number of ways. He could have said that, as most suspect, he had been told nothing of Ferdinand's trip to Doha. He could have wondered aloud whether playing for England means as much to some players as it used to. He could merely have left it at saying he was disappointed by Ferdinand's course of action. But he scrupulously avoided all those options.
The FA Get Dyke
Puppet master: New FA big-cheese Greg Dyke unlikely to need Roland Rat to save him this time (Martin Lipton, Mirror) For once, the new FA chairman is not inheriting an organisation in a state of panic – even if it has been declared "not fit for purpose" by aggrieved Newcastle managing director Derek Llambias this week. Dyke's surprise appointment as the successor to David Bernstein – whose forced departure remains the sort of own goal the FA are stunningly capable of still scoring – comes at a time when things seem remarkably smooth. No serious rucks with anybody. Financially secure. Looking to make things better from a positive platform. Of course, issues always spring up from nowhere where the FA are concerned but Dyke, clearly, has a track record both in business, entertainment and football.
Clamp Down On Spain's Broke Clubs
EU prepares to blow final whistle on Spain's debt-ridden football clubs (Giles Tremlett, Guardian) In a move that threatens to provoke the partial collapse of a football system built on unsustainable piles of debt, competition authorities in Brussels want Spain's government to explain why it has allowed clubs to build up vast, unpaid tax and social security debts. With many clubs in the top two divisions already having trouble paying bank debts totalling some €3.5bn (£3bn), the move would likely force some clubs into liquidation. Historic names such as Deportivo de La Coruña or Racing Santander could simply disappear. Other top clubs, such as Valencia, will have to sell players and face years of decline.
Transfer Lies
Juventus line up summer swoop for Hernandez if Suarez bid fails (Mail) Juventus have earmarked Manchester United striker Javier Hernandez as a fall-back option if they fail to prise Luis Suarez from Liverpool.
Kakuta: Leave me a-loan (Sun) Gael Kakuta has blasted Chelsea's transfer policy and demanded to go on loan again next season. Blues were hit with a fine and a transfer ban after luring 17-year-old Kakuta from Lens in 2007. But the winger, now 21, has spent this season at Vitesse Arnhem after previous loan spells at Fulham, Bolton and Dijon. He said: "I don't dream about Chelsea any more — I used to, now I know better.
Gotze keen on United…but admits a transfer could be a while away yet (Mail) Borussia Dortmund star Mario Goetze has said he is open to joining Manchester United but admitted that a move is some time away.
Norwich agree £8.5m deal for Van Wolfswinkel but he's not on the plane to Canaries just yet (Mail) Norwich City have agreed an £8.5million fee with Sporting Lisbon for striker Ricky Van Wolfswinkel and are to hold further talks ahead of a proposed summer move. Sporting, who are heavily in debt, posted a statement on the website of the Portuguese stock market regulator stating that 'negotiations are under way' with Norwich. They will now wait to see if other clubs step in to rival or better the offer.
Frustrated Anders Lindegaard hints at quitting Manchester United in the summer (Mirror) Lindegaard has kept 11 clean sheets in 24 appearances for United. But De Gea's heroics – the 22-year-old has not conceded a Premier League goal for 537 minutes – have kept the Dane on the bench.
---