Oscar steals the show in Chelsea's draw with Juventus & Why can't Manchester United take penalties?
Comment & analysis round-up
Quote of the day: "We feel disappointed and a little but deflated. We found ourselves in a fantastic position to win this game and came away only with a draw. We should have dealt with the equaliser a little bit better. There was no pressure on the ball and it was pretty difficult to play offside. We lost possession just beforehand and we should have reacted much quicker than we did. We played against a good team and they are always dangerous. They have a lot of quality in their team but we feel disappointed because we should have closed the game and brought the win home. It was a bad tackle and he had to come off unfortunately. It's his ankle and we will have to assess him. The referee didn't do much about many challenges. The match is finished for us but if UEFA has a look, then good. It was a penalty. He got pushed and it was the second game in a row that the referee has not seen it." – Roberto Di Matteo.
Runner-up: "To be honest with you, I had no idea. I think Nani just ran and grabbed the ball. I thought Robin should have taken it. I think we will have to decide before the game – that was my fault, I should have done that." – Sir Alex Ferguson on Nani's missed penalty.
Chelsea 2 – Juventus 2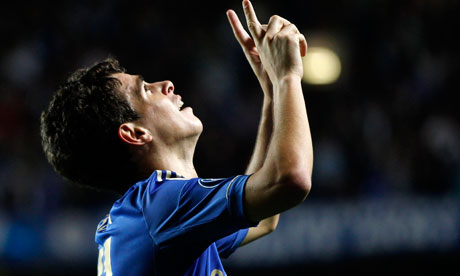 Chelsea's Oscar steals show against Juventus and wins over the faithful (Amy Lawrence, Guardian) Considering what happened the last time Chelsea supporters saw their No11 with a football at his feet in the Champions League, they would have been forgiven for not expecting anything too rapturous in a hurry. Didier Drogba's penalty in Munich last May, and its consequences, are still so fresh in the memory in these parts. It was quite a statement of intent when Oscar dos Santos Emboaba Júnior, the Brazilian prodigy signed over the summer when he was just 20 years old, was handed that venerated shirt. As a player, Oscar bears no resemblance to the powerhouse who left for China after an unforgettable Chelsea career. But as a presence capable of stealing the show at Stamford Bridge, Oscar introduced himself with an iridescent flourish.
Oscar takes stage against Juventus to play role of next Champions League king of Chelsea (Ian Chadband, Daily Telegraph) Take a bow, Oscar dos Santos Emboaba Júnior! When the 21 year-old, so fresh-faced he looked as if he had gatecrashed the big boys' playground, finally trudged off after 75 minutes, with Leonardo Bonucci's stud prints a souvenir of how he had been a thorn in Juventus's side, the standing ovation and exultant cheers told of someone a bit special.
Reality bites as Di Matteo's fantasy team meet their match in Juve (James Lawton, Independent) Chelsea, as is their nature, threw themselves at the task of retrieving the night but Oscar had gone, to tumultuous applause, and for Di Matteo there was only the task of acknowledging opponents of such quality that at times they seemed hell-bent on reviving some of the most formidable aspects of their nation's football tradition. He may also have to remind the oligarch that winning the Champions League and then making beautiful football might take a little longer than one whole season. In this, we can only wish him the best of luck.
There's life in the Old Lady but Pirlo's days look numbered (Mike Walters, Daily Mirror) In truth, Roberto Di Matteo's men spent long periods on the back foot. But it was nowhere near as brazen as parking the bus in the Nou Camp or forming a human shield behind Didier Drogba in the Allianz Arena. Di Matteo had complained of Chelsea being drawn in a tough group including three clubs who won their domestic titles – Juventus, Shakhtar Donetsk and Nordsjaelland of Denmark. What insolence – how dare UEFA let champions play in the ­Champions League. Next they will be letting in teams who finished sixth.
Manchester United 1 – Galatasaray 0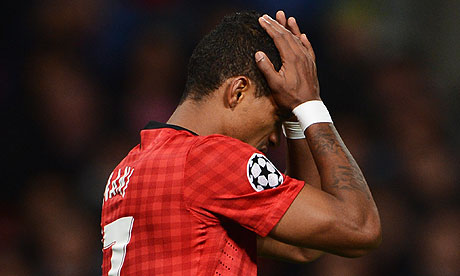 Sir Alex Ferguson takes blame for latest Manchester United penalty miss (Stuart James, Guardian) Sir Alex Ferguson has accepted responsibility for Manchester United's third missed penalty of the season and insisted that he will decide who takes the next spot kick after Nani became the latest player to fluff his lines from 12 yards. Nani's poor effort could easily have proved costly on a night when United failed to build on Michael Carrick's early goal and endured several nervous moments in a 1-0 win against an impressive Galatasaray side.
Carr smash (Martin Blackburn, Sun) Alex Ferguson branded Manchester United sloppy as they stumbled to victory. Michael Carrick's early goal sealed United's 100th Champions League win. But boss Fergie rapped: "We kept giving the ball away. It's unusual for us to be so frivolous but it was a lack of concentration. "We were much more solid in the second half and we could have scored four or five. "But missing chances like we did, we kept ourselves on the edge."
Shinji Kagawa offers new dimension to United's play(Jason Burt, Daily Telegraph) The playmaker provided compelling evidence of that ability last night even if, in truth, those around provided yet more evidence that United do not really like these group matches, and that some of their defensive failings are turning into something of a malaise. Maybe familiarity has become a burden but United were saved by the woodwork and the failure of the officials to award Galatasaray a first-minute penalty.
Welcome back, Darren: United midfielder given standing ovation after 10 months out (Daily Mail) Darren Fletcher completed his comeback from a career-threatening illness on Wednesday night after coming on as a substitute in Manchester United's Champions League victory over Galatasaray. The Scotland international, who suffers from Crohn's disease, an inflammatory bowel condition, hasn't played since November.
Real Madrid 3 – Manchester City 2 aftermath
City players back Joe Hart after criticism angers Roberto Mancini (Jamie Jackson, Guardian) Manchester City's senior players closed ranks round Joe Hart following his comments about the 3-2 defeat at Real Madrid. Neither Vincent Kompany nor Gareth Barry followed Roberto Mancini in criticising the goalkeeper for his statement that allowing a 2-1 lead slip with five minutes to go "was not on".
Joe Hart is the solution, not the problem at Manchester City (Henry Winter, Daily Telegraph) Joe Hart spoke as a leader when he questioned elements of Manchester City's performance against Real Madrid. He spoke as somebody who cared about the club's fortunes, who was bitterly frustrated by defeat. Roberto Mancini was the one speaking out of turn when he delivered that "I am the judge, not Joe Hart" rebuke to his goalkeeper. Mancini is a good manager, rightly beloved by the fans for the way he turned them into title winners, but he picked the wrong target on Tuesday. Hart is not the problem; this talented, dedicated goalkeeper is part of the solution for City as they look to recover from events in the last five minutes at the Bernabéu. Mancini needs more with Hart's hunger, not fewer.
Demotion of Ramos is a hint that all is not well in the Casa Blanca (Pete Jenson, Independent) Not everyone connected with Real Madrid celebrated Cristiano Ronaldo's last-minute winner against Manchester City on Tuesday night. With the Portuguese forward on his knees in the penalty area, his manager adopting the same position just pitch-side of the touchline, and the majority of the 70,000 crowd arms aloft, Iker Casillas stood hands on hips staring down the pitch as if he was watching a throw-in. That the Real Madrid captain was so underwhelmed by what was Real Madrid's first comeback in a Champions League game in seven years was not lost on those convinced the "Casa Blanca" remains a house divided against itself. Real Madrid had won, but so had Jose Mourinho. The latter having risked everything on a team that had started without the flair of Luka Modric and Mesut Ozil and most importantly without Sergio Ramos.
The Champions League
Shut up shop? Stuff that idea! What a start to the Champions League (Martin Samuel, Daily Mail) They do know it is a league, these teams, yes? Six games, home and away, bit of a safety net, the opportunity to make up for lost time. They get that, you think? They know the top two go through and it might be December before the full picture emerges. They know it isn't time to panic. Not yet, anyway. And matchday one. They understand the meaning there, too? UEFA wouldn't need to give it the primary number, if there wasn't also matchdays two, three, four, five etc. Agreed? Just checking. So what the hell is going on? What has happened to the best teams from the world's finest domestic leagues, to the champions of Europe, to Jose Mourinho and the most successful coaches from Italy, the birthplace of the defensive stranglehold, that they should collectively decide to play the cat and mouse stage of this competition as if it is football's equivalent of a demolition derby. 
Manchester United told to cough up for Angelo Ogbonna
Fergie's £16m Og (Michael Morgan, Sun) Alex Ferguson has been told he must cough up at least £16million to land centre-back Angelo Ogbonna from Torino. The Manchester United boss has been tracking Ogbonna since the start of the Serie A season — with Old Trafford scouts running regular checks on the defender.
Demba Ba
Ba brawl: Newcastle tell Demba to forget bid to nearly double his wages (Simon Bird, Daily Mirror) Demba Ba has been warned to slash his wage demands or risk his future at the club. The Newcastle striker is in talks to replace his three-year deal, but has been told to 'get real' after seeking almost double his current £50,000-a-week package. Boss Alan Pardew hauled Ba in for talks on Tuesday, and says he won't be pressurised by outside moaning, or player power, when selecting his team. The contract row puts into context this week's outburst from Ba and his entourage.
QPR in for Guidetti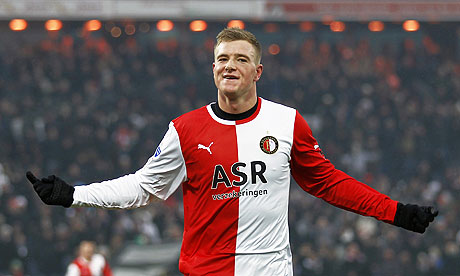 Guid news for Sparky (Andrew Dillon, Sun) Mark Hughes is planning to snap up Manchester City striker John Guidetti.
The QPR boss hopes to tie up the emerging Swedish star on a loan deal in January to replace crocked Andy Johnson.
Europa League
Contrary to what some fans think the press don't 'have it in for' AVB – and here's why (Darren Lewis, Daily Mirror) Villas-Boas is not a bad manager. I refuse to believe he achieved what he did at Porto without having something about him. The way Spurs cut Reading apart the other day suggested there is indeed something about the way he wants his team to play that is beginning to click. Judging by the way he has transformed Defoe the players are definitely benefiting from his backing.
Liverpool manager Brendan Rodgers sees a future for Jamie Carragher as player and coach(Chris Bascombe, Daily Telegraph) Carragher, who will captain Liverpool in their Europa League tie against Young Boys on Thursday evening, only has a year left on his contract as he contemplates possible retirement. Rodgers believes that would be premature, and at the very least he will seek to ensure there is a backroom role for the 34 year-old once he stops playing.
Best football betting tips & free bet offers
Click here for more Premier League betting tips
---