Only Wilshere earned a reprieve as Arsenal & Wenger get slaughtered after Bayern loss, the Man City spy & Di Maria 'offered' to Man United & PSG
Comment & analysis round-up
Quote of the day: "Look, we'll have two battles. But maybe the easier battle will be to be back into the Champions League. We have to give everything to try to change things in the second leg. We have to try to make the impossible possible. Let's not hide the truth. It will be extremely difficult against a team of that quality. They didn't play two finals in the last three years without that quality. We have to give our best and hope we have built our confidence up a bit more, because that belief will be needed." – Arsene Wenger.
Runner-up: "The fans aren't the only ones who would like the chance to converse with Stan Kroenke. So would I. He's got what he wants, he doesn't have to listen, but he doesn't seem to understand the fans are the heart and soul of a club. We used to be a family club, but that doesn't seem to be the case any more." – Former Arsenal director Lady Bracewell-Smith.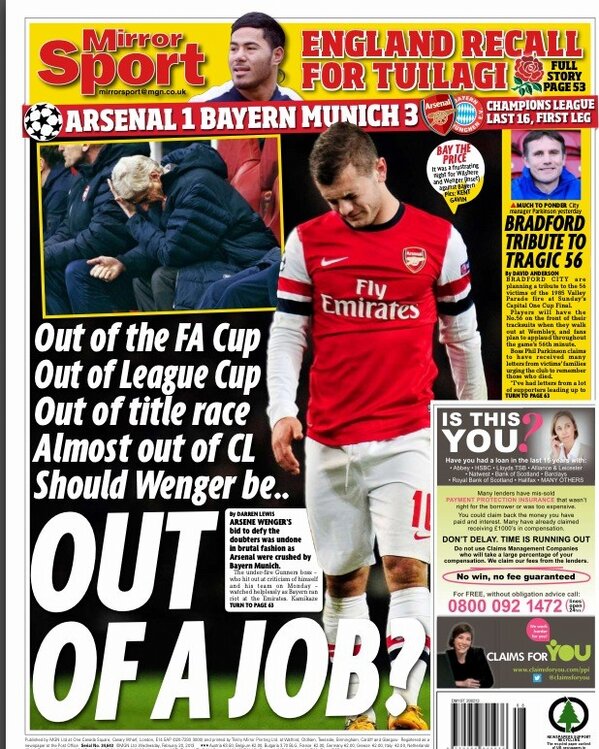 #WengerOut
Angry fans pay a painful price… The Emirates faithful deserve better than this sorry humiliation (Neil Ashton, Mail) [Wenger] is isolated on that touchline, living in his own fantasy land as the next generation were taken apart by Toni Kroos and Muller in a  thorough first half workout. Theo Walcott, Jack Wilshere and Podolski, a former Bayern striker, deserve credit for last night's  performances, but it is difficult to see beyond that.
Exhausted by their anger, Arsenal fans' attitude to Arsene Wenger now feels dangerously close to pity (Ollie Holt, Mirror) Arsenal supporters are exhausted with demanding better. It was almost as if they had lost the will to scream their defiance. Whether you support Wenger or not, whether you trust him to lead this club back to the top or not, it feels as if something is grinding to a halt. And unless there is a considerable injection of cash, it is hard to see the club climbing back to where it once was. Many more, of course, will now join the clamour for a new manager at The Emirates. The split between Wenger loyalists and WengerOut backers will become more intense. The balance of power will swing towards those baiting the manager they once worshipped. What is beyond doubt is that Arsenal is a club in need of resuscitation.
Life After Wenger
If Wenger goes, Arsenal must turn to the ultimate trophy hunter… Mourinho (Neil Ashton, Mail) Arsenal's loyalists will claim that the Portuguese coach isn't a natural fit, that he doesn't sit easily at a club with their history. Mourinho is an extrovert, an extravagant choice of manager who is single-minded in his approach. He is a winner, no question. He is also looking for his next home after confirming last week that his career at Real is coming to a close.
Arsenal Get Murdered In The Press
Hurtling towards oblivion… Gunners facing exit from Euro elite (Martin Samuel, Mail) Many felt this could be a troubling night for Arsenal, although few suspected the home team would start as poorly as they did. They were a goal behind after seven minutes, two down on 22 and should have been three adrift when booed off at half- time had Mandzukic not missed the best chance of all. His free header summed up Arsenal's malaise. In 2006, when Wenger steered his team to the Champions League final, the campaign was built on outstanding defence. No more.
Arsene Wenger heads into the night facing up to his most formidable task (James Lawton, Independent) Arsenal's leading shareholder Stan Kroenke had flown in from America on what suddenly seemed less a sombre mission of appraisal than a visit to a disaster area. How could anyone at the Emirates maintain under the weight of this onslaught that Arsenal, despite their high ranking among the world's most valuable football clubs, still had anything like serious contact with the highest levels of the European game?
So, kiss good Bayern to yet another season (Charlie Wyatt, Sun) Arsenal kissed goodbye to their final chance of winning anything. The Gunners, whose trophy drought will now extend to eight years, were taught a Champions League lesson by brilliant Bayern.
No defence, as Per usual (Steven Howard, Sun) The defenders — Per Mertesacker, Laurent Koscielny, Bacary Sagna et al — are not good enough. They never will be. And who, pray, bought them?… So where now for Wenger after a result that spells the end of their Euro hopes and almost certainly makes it eight years of famine — and no reason to believe a ninth will suddenly see any change? Well, if Arsenal fail to qualify for Europe's premier competition then he should bow out at the end of the season.Even if he does not, you feel the time has come.
Arsenal's Silver Lining: Jack Wilshere, Again
Jack Wilshere shines in Arsenal's collision with the Bayern juggernaut (David Hytner, Guardian) Could he follow his stand-out showings against Barcelona in Champions League knock-out competition, for example, against the juggernaut that is this season's Bayern? The answer was yes. Wilshere's display featured all of the traits that we have come to enjoy: the deceptive acceleration, the vision and the urgency in possession. But it was defined by something else. It is known colloquially as bottle. He had flickered at the outset, as though he intended to embrace this pivotal moment of his club's season, but when his team found themselves seemingly down and out, following Bayern's one-two punch in the first half, he refused to bow.
Jack Wilshere toils without Bayern's supporting cast (Jack Pitts-Brooke, Independent) There was much pre-match discussion of Jack Wilshere, and he played well, but Kroos – a similar player, a few inches taller and two years older – was probably superior… Wilshere was supported by Arteta and Aaron Ramsey, decent players but, unlike him, not of Champions League calibre. He had to spend too much of the evening going backwards to help them out and win the ball back.
A Word On Bayern
Bayern have bounced back in style (Jamie Redknapp, Mail) Bayern have long been my tip for this season's Champions League. How did they respond to losing last year's final? They brought in Mandzukic, Martinez and Dante. Dante has been a revelation at centre half this season and between them they have made the Bavarians an even more formidable unit.
The Man City Spy
Manchester City chief in 'spy' claims (Jeremy Cross, Star) Manchester City were facing more embarrassment last night after chief executive Ferran Soriano was caught up in spying allegations. Soriano is being investigated over claims he authorised payments for snooping on internal emails during his time as financial vice-president of Barcelona. He refutes the allegations, while the Blues insist he has not been contacted by Spanish police.
City chief faces Barca spy claim: Soriano accused of email surveillance (Chris Wheeler, Mail) It has been alleged that he was partly responsible for sanctioning a £1.7million email surveillance of club employees, including four other vice-presidents suspected of working against ex-Barca president Joan Laporta.
AC Milan v Barcelona
Barcelona can leave door open but Milan will struggle to walk through (Sid Lowe, Guardian) On the face of it, few in Catalonia should be worried. They are favourites. Bojan Krkic, the former Barcelona player now at Milan, was asked what he considered a good result for his side in the first leg at San Siro. He replied: "Still being alive."… But the stats also say that Barcelona concede goals: an average of 1.07 a game. They say that Barcelona give teams a chance. For all their dominance they are failing to kill games which, however absurd it sounds, may yet prove problematic. Cesc Fábregas and David Villa, who has not travelled, have six goals each; Alexis Sánchez, whose crisis of confidence is evident, has just one. And when they fail to kill games there is no escaping the fact that at the other end Barcelona transmit insecurity. There is something vulnerable about them; the door is left open.
Silvio Berlusconi's younger model Milan face ultimate scrutiny from Barça (Pete Jenson, Independent) The last-16 first leg pits the belle of the ball against the team who were given a huge facelift in the summer… That Milan facelift has taken years off the side that took on Barcelona twice last season in the group stage of the competition with an average age of 30. Tomorrow it will be put to the strongest possible test.
Transfer Lies
Real Madrid winger Di Maria offered to Manchester United and PSG (Mirror) Real Madrid winger Angel di Maria is being offered around Europe to top clubs including Manchester United and Paris Saint Germain.
We'll have Sim o' that (Sun) Simon Mignolet is being eyed by Premier League big guns. Manchester United and Arsenal are both keeping tabs on the Sunderland keeper, who has enjoyed 12 months of superb form.
Liverpool looking to raid Lyon for defender Lovren (Mail) Liverpool are weighing up a summer move for Lyon defender Dejan Lovren. Chelsea and Everton are also keen on the 23-year-old Croatia centre-back, however. Fiorentina have confirmed interest in Liverpool striker Fabio Borini but doubt the Anfield club will sell.
---
GAMBLING CAN BE ADDICTIVE, PLEASE PLAY RESPONSIBLY