Odemwingie's QPR trip 'total lunacy', knocking the transfer window, and praise for Javi Garcia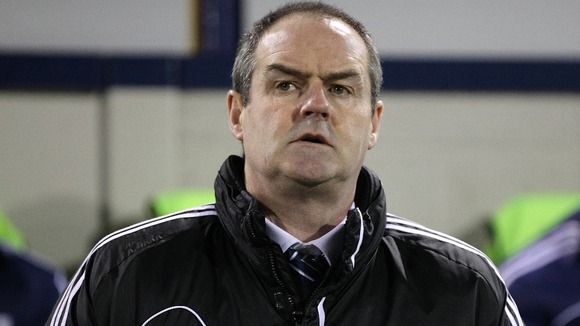 Quote of the day: "It is total lunacy because he didn't have permission to be at QPR," he said. "That's why QPR turned him away. I think it's obvious that there must have been some form of misunderstanding on the part of Peter and his agents, otherwise why would they turn up at Loftus Road without permission to be there? But there is no misunderstanding on the part of the clubs. At boardroom level there is absolute clarity.  know that I wouldn't work that way. I know that I would conduct myself differently. That's all I can say." – Steve Clarke, West Brom manager
Runner-up:  Suarez for me is a top player," said Mancini. "I like himbecause he is strong and he works hard. For me, he is one of the best in England." – Roberto Mancini
Odemwingie and West Brom: how to move forward
Steve Clarke calls Odemwingie's trip to QPR 'total lunacy' (Sam Wallace, The Independent)  The 31-year-old was permitted to train yesterday with the West Bromwich Albion squad but has been left out for tomorrow's game against Tottenham. Steve Clarke, the West Bromwich manager, described Odemwingie's decision to go to QPR without permission from his own club as "total lunacy". Both managers said at their respective press conferences that the clubs had been close to a deal for Odemwingie. Redknapp said that a fee of £3.5m plus the loan of Junior Hoilett had been approved with his blessing, but that things started to fall apart when Hoilett told QPR that he did not want to go.
The Transfer Window: Bobbins
 The Secret Agent: Even football agents believe the transfer window is a bad idea (The Secret Agent, The Guardian)  I have never met anyone – be that a player, chief executive, owner, manager or another agent – who has said to me that they think the transfer window is a good thing. Jim White is probably the only person who finds it exciting. So many clubs are doing deals where they are getting no value for money. It's a crazy five weeks. The window was good for me in the sense that I was involved in a big transfer. There were no real complications and it was over and done with in three or four days, which is quite quick. I had several other deals on the go, including one particular player where I have an agreement with his agent that if he comes to England I represent him.
Praise for versatile Javi Garcia
Javi Garcia's role at Manchester City turns him into a new screen idol (Barney Ronay, The Guardian) He is unlikely ever to inflame the domestic imagination in the style of Yaya Touré, whose absence has coincided with García's run. Last season Touré seemed to offer not just standard‑issue defensive wrestling, but also the nostril-flaring forward skedaddles of his "runaway caravan" mode, the ball not so much tied to his foot as concealed within the skirts of his pounding limbs, advancing on Premier League defences like an admiralty fireship scattering the fleet at Calais. García's interpretation of the role is more controlled, the latest stage in a wider response to the eradication of tackling and the challenge of how to defend in a manner that is still just about on the right side of the laws. The screener isn't a tackler, who plays the ball, or a presser, who plays the man. He is a player who plays the space, an expert, basically, at getting in the way. García doesn't "rise to the physical challenge"
Building Nouveau Chateau
How Newcastle put the accent on French in their battle for Premier League survival (Luke Edwards, The Telegraph) That Newcastle were able to plunder the French market so efficiently – Lille's Mathieu Debuchy, Toulouse's Moussa Sissoko, Nancy's Massadio Haïdara, Montpellier's Mapou Yanga-Mbiwa and Bordeaux's Yoan Gouffran all joined in the space of two weeks – is down to their encyclopedic knowledge of French football. When the club's deal to sign Marseille striker Loïc Rémy collapsed, chief scout Graham Carr swiftly came up with an alternative. A bid for St Etienne's Pierre-Emerick Aubameyang was rejected, so Carr suggested Gouffran. Out of contract in June, Newcastle knew Bordeaux were willing to sell for less than £2 million. The talks were swift and Gouffran duly swapped France's top division for a relegation battle in England.
Feature Inteviews
Julio Cesar's Brazil recall a sideshow to the struggle to save QPR (Fernando Duarte, The Guardian) After he was dropped by the previous Brazil coach, Mano Menezes, last February this comes as a lifeline for his dream of representing Brazil in their home World Cup, 18 months from now. He feels indebted to QPR, who offered him a fresh start after he fell out of favour at Internazionale. "They gave me a chance when things had become really difficult for me in Italy," he says. "I am really grateful for the opportunity, the doors this move opened for me."
Big Interview: Why the critics inspire Jordan Henderson (Daniel Taylor, The Guardian) What affected him far more came in August when it transpired that Liverpool were offering him as part-exchange in their attempt to sign Clint Dempsey from Fulham. "It wasn't a nice thing to hear. I didn't want to go anywhere. I wasn't playing regularly and they gave me the option if I wanted to go. I told them: 'No, I don't want to, I want to keep fighting for my place.' I came to Liverpool wanting to stay here for the rest of my career. I certainly didn't want to leave after a year."
Andre Wisdom: Fast learning Liverpool trade (Ian Herbert, The Independent) He mirrors Richards in so many ways, not least the kind of physique that led Rodgers to observe of him three months back that "Andre Wisdom can take on the world. He's built like a boxer", but also in his rapid progression from street footballer to the big time. Wisdom was still playing parks football at the age of 14, despite following Richards through the Leeds City Boys ranks and spending intermittent spells at Leeds United, where Richards was another one they let get away
Silencing the doubters: Reading's Adam Le Fondre took the hard way to the top (Henry Winter, The Telegraph) Apparently I'm 'lazy'! I score goals but I don't contribute enough in the game. In my time at Rotherham, I could go games where I touched the ball only 20 times and scored a hat-trick but that was not enough for some managers, who wanted me to run around like a headless chicken, tackle full-backs, centre-halves and centre-mids. That's never my game. Managers have to compromise. If you give me service, I'll score.
Balo taking up in Italy where he left off in England
Balo takes 14 minutes to get rollicking at Milan (Anthony Kastrinakis, The SUN) Berlusconi's words were reported by all the major media outlets after pictures of Balotelli grappling with his then Manchester City boss Roberto Mancini at training went around the globe. That almost spelt the end of Milan's pursuit of the striker but just weeks later, here he was following his £19.5million move from City this week. Balotelli responded: "I was in Manchester and didn't hear it. I heard it later when my agent was already speaking to the club. The president has already excused himself for saying that… " At that point no-nonsense Milan vice-president Adriano Galliani butted in to show Balotelli that he cannot put a foot wrong at the Rossoneri. Turning to Balotelli he said: "Sorry, you don't know this but I do. "The president has already said he's never said such a thing, which is a bit different. Thank you for the question and I will answer it myself. "The president has never excused himself. This is my answer to the journalist. I see the questions and I am older than you and I understand the meaning of the questions better than you."So out of the frying pan and into the fire, Mario. Balotelli smiled, embarrassed and cut down to size in front of the watching world media.
---