"Not since Bill Clinton glared into a television camera to deny allegations of his relationship with Monica Lewinsky has a man appeared so uncomfortable having had his version of events openly contradicted" – Mark Ogden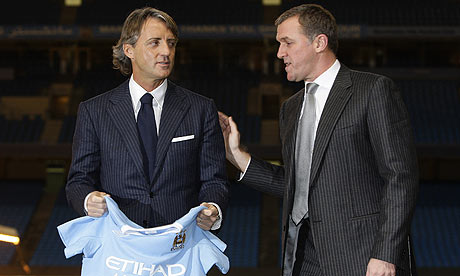 Comment & analysis round-up
Quote of the day: "I think it is important for people to know that Roberto was only offered the job after the Spurs game; we negotiated on Thursday and finalised his agreement on Friday… Two weeks ago Roberto met with Khaldoon. After the Spurs game, there were further discussions on a more serious level. The [original] discussions were general. They were about football. We were considering our managerial options at the time. It [the manager's job] was discussed in general terms… I'm going to say something here. It seems to me there's an overwhelming theory that there is a conspiracy. That's not what was happening. The owner, the board, the management team made a decision. We moved quickly as was expected. Any business would have a plan and we moved to work on that plan. There is no conspiracy theory." – Garry Cook.
Runner-up: "My target is top four this season and I think that is possible, but next season, I want to win the Premier League title." – Roberto Mancini.
Today's overview: Garry Cook is public enemy number one this Tuesday as the Manchester City chief executive was caught out in a web of lies during Roberto Mancini's unveiling at Eastlands over the ins-and-outs of Mark Hughes' dismissal.
Mapping out the apparent deceit, Daniel Taylor commented "Mancini's introductory press conference as Manchester City manager degenerated into a major embarrassment for his new employers tonight when the Italian exposed an apparent cover‑up surrounding the events leading to his appointment… Mancini's admission that he had secretly met the club's owner, Sheikh Mansour bin Zayed al-Nahyan, and the chairman, Khaldoon al-Mubarak, in London in the first week of December undermined a statement from Cook in which he indicated that talks with Hughes's replacement had not begun until City lost 3-0 at Tottenham Hotspur last Wednesday."
Heading for the jugular, Garry Cook was then torn to shreds by James Ducker. "This was the most humiliating experience of Cook's 18-month tenure at City, which is saying something. This, after all, is the man who infamously declared that Thaksin Shinawatra, the disgraced former Thai Prime Minister and City owner, was a "great guy to play golf with", who accused AC Milan of "bottling it" over the collapse of City's world record £103 million bid to sign Kaká and who mistakenly inducted Uwe Rösler into the Manchester United hall of fame on the night he was being lauded as a City legend."
In a brilliant comparison, Mark Odgen wrote "not since Bill Clinton glared into a television camera to deny allegations of his relationship with Monica Lewinsky has a man [i.e. Garry Cook] appeared so uncomfortable having had his version of events openly contradicted."
Unafraid to extend the criticism to the owners, Henry Winter conveys his digust at the manner in which the Arab bosses sacked Mark Hughes. "If the owner, Sheikh Mansour bin Zayed al-Nahyan, and City's chairman, Khaldoon al-Mubarak, had simply stated at the start of their tenure that they were going to act with all the decorum of alley-cats, utilising the noted management methods of the Borgias, then their conduct towards Hughes would have been no surprise. Clubs do line up successors in advance. It's their party and they can invite who they want to. But Mansour and Mubarak had indicated they were upright, principled employers. Hughes' experience shows otherwise."
Yet, as the blame game continues, Ian Wright points his finger at the unlikely trio of Robinho, Adebayor and Lescott for causing Hughes' dismissal. "Robinho, Emmanuel Adebayor and Joleon Lescott, these three signings, for various reasons, contributed to Hughes getting the boot.  Robinho and Adebayor are not players you would want in the trenches.  When you hear certain stories coming out of City about Robinho, he doesn't strike me as the kind of player a manager can hang his hat on and Adebayor left a club like Arsenal among all sorts of player unrest stories.  They have not lived up to their very expensive price tags and I have the feeling they will not care less that Hughes has been replaced."
Onto the objectives for Roberto Mancini, where James Ducker reveals how the bar has been set high. "City's ambitions were laid bare by Mancini, who said that his aim is to finish in the top four this season and follow that by winning City's first league title since 1968 next term. He said that he did not think he would be sacked if City failed to qualify for the Champions League this season, although The Times understands that will be a distinct possibility."
Staying with the practical, Paul Wilson lists a five-point to-do list for Mancini including "sort out Robinho," "get Bellamy onside" and "work out transfer targets quickly."
Taking a step back though, Fleet Street seems to have been impressed by Mr. Mancini.
Oliver Kay chimed that Mancini "was unruffled, unflappable, and his English, gratifyingly, was more than passable. He arguably speaks the language more fluently than Fabio Capello, but he vowed to improve by watching Coronation Street and EastEnders."
Noting how "the 45-year-old has a talent for playing to the gallery," Kevin McCarra commented how "the newcomer is bold and experienced enough to believe he can do so. There was also a diversion into sentimentality in an allusion to his years as a forward at Sampdoria in which the Cup-Winners' Cup was won in 1990, with the Serie A title coming a year later. Mancini was clear that he wants to recreate such a breakthrough at City as a manager."
Gabriele Marcotti also talked up the talents of Mancini by comparing to him to everyone's favourite Special One. "There is plenty of common ground between Roberto Mancini and José Mourinho, which may explain why the former ended up on Manchester City's shortlist… Crucially both are "players' coaches", who are popular with the squad and rarely need to crack the whip to keep their men in line."
A cynical Mark Fleming looks at the rise of Italian managers in Britain. "Of course the likes of Capello, Ancelotti and Mancini are no altruistic footballing missionaries, spreading their gospel out of the kindness of their own hearts. The bottom line is money, and English football has more of it than most. Capello only works for England because they pay him £6m a year. Likewise Ancelotti needed a salary of £6.5m before agreeing to take charge of Chelsea, while Mancini will earn £10m for his three-and-a-half year contract with Manchester City."
John Terry's recent humiliation by the News of the World, in the alleged cash-four-tours scandal, appears to be drawing to a close.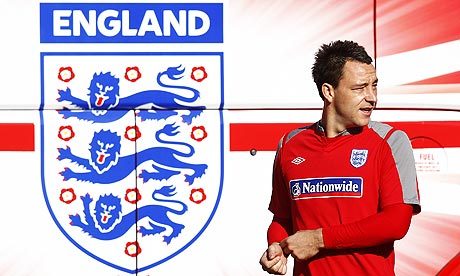 Owen Gibson and Dominic Fifield join forces to note "it is understood that Terry was yesterday reminded of his responsibilities, both on and off the pitch, in a telephone conversation with a member of Capello's staff in the wake of reports that he had accepted money for an unofficial tour of Chelsea's training ground." Sachin Nakrani also commented that "the FA today moved to distance themselves from reports that they are upset with John Terry, reiterating the fact that Capello manages the team and makes decisions on players. The England manager has remained silent on the issue and seems unlikely to make any public comment."
As if drawing a line under the matter, Henry Winter offers advise as to what Terry should have learned from this experience. "Even if there is no threat to his captaincy, Terry must wake up, treat the unsavoury headlines as a warning sign and avoid any situation that could embarrass him, Chelsea or England."
The John Terry saga was also picked up by Tony Cascarino, who responds by dishing out some unrequested advise. "[Terry] is the Chelsea and England captain, the biggest and most admired of role models, and he should be concentrating all his efforts, his total focus, on the pitch, not off it… Put up a sign, John: "No hawkers here". Show a bit more suspicion. It will help you to scare off all the charlatans."
The season of goodwill extends to White Hart Lane, where Dominic Fifield reports that Spurs' Christmas partygoers will avoid being fined by the club. "The players accepted they had effectively deceived Redknapp and apologised for their conduct, though it is understood they pointed out that, technically, they had not breached the terms of their contracts and were not eligible to be fined."
Onto the transfers.
Liverpool fans are forced to swallow the pill that they must sell before they can buy. Andy Hunter explains that Benitez " plans to raise funds for a forward by finding a buyer or an exchange for Ryan Babel, Andriy Voronin, Andrea Dossena and/or Philipp Degen. All four are deemed surplus to requirements at Anfield." Staying with Liverpool, Simon Bird farts that "midfielder Alberto Aquilani, who has yet to start a Premier League game since his £20million move from Roma, has flown to Belgrade for treatment from controversial 'placenta doctor' Marijana Kovacevic."
The fallout from the recent events at Eastlands has meant that one of their star players could be available. Jason Burt explains that "Craig Bellamy is the first high-profile Manchester City player to be considering handing in a transfer request because he is so disgusted at the sacking of manager Mark Hughes." But even if Bellamy walks, fresh faces appear to be just around the corner with Simon Bird linking Palermo's Simon Kjaer, Sampdoria's Antonio Cassano and Juve's Giorgio Chiellini to the club.
According to Rob Beasley, "Roman Abramovich is ready to splash up to £55million in the New Year to re-ignite Chelsea's push for glory.  Top of the Russian billionaire's January wish-list are Atletico Madrid's £40m-rated striker Sergio Aguero and in-demand defensive midfielder Jerko Leko of Monaco." Following on, Matt Hughes announces that "Chelsea will intensify their attempts to reach an agreement with Atlético Madrid for the transfer of Sergio Aguero over the next few days amid fears that they could be gazumped by Manchester City." The Independent also report "Chelsea could hijack West Ham's attempts to lure Luca Toni to the Premier League."
From the blue side of Manchester to the red, the Telegraph, while publishing Ferguson's quotes that his side are not looking to sign, links the Red Devils with Fiorentina goalkeeper Sebastien Frey and Marseille winger Hatem Ben Arfa. The Independent then attempt to dismiss both these potential transfer targets. "Frey does have a £17million release clause in his contract. However, as he has already featured in this season's Champions League for Fiorentina… it seems unlikely the 29-year-old will move at this stage… Signing Ben Arfa would represent a gamble given his unhappy disciplinary record."
In news that has been circling for some time now, Jeremy Wilson coughs "Matthew Upson has cast further doubt on his West Ham future by refusing to confirm that he will end the season at Upton Park." While staying in London, James Nursey delivers the never-gonna-happen lie that "Spurs are ready to sell Robbie Keane to Celtic – but want the Scottish club's keeper Artur Boruc as part of the deal."
According to Sami Mokbel, "Roma have joined the race to sign £5million-rated Crystal Palace starlet Victor Moses. The Selhurst Park club have resigned themselves to losing the 19-year-old in next month's transfer window to help ease the club's crippling debts."
In the best of the rest, Alan Nixon claims "Blackburn boss Sam Allardyce wants to take James Beattie back to the club – by offering Jason Roberts to Stoke in a swap deal," John Cross bleats "Zola has been offered an emergency deal for Chelsea flop Mateja Kezman," and the Mirror announce "Middlesbrough boss Gordon Strachan will test Leeds' resolve to hold on to Jermaine Beckford during the January transfer window."
---