No new stadium & doubts over new players leaves Liverpool fearful that Rafa will walk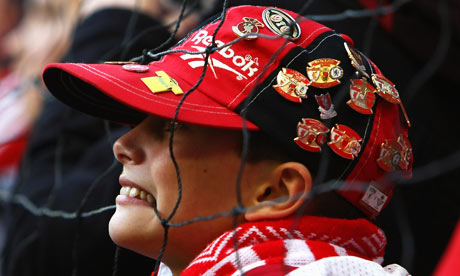 Comment & analysis round-up
Quote of the day: "Of course, we want the best players to join us here – but only if their club wants to sell them. Ask David Gill, David Dein, Roman Abramovich… I have an excellent relationship with them and it is essential to me that continues. I represent a club where elegance and gentlemanliness has been always our flag. Ronaldo or whoever will come if their club want to sell. To force through a situation is very bad for our image. If someone has acted in that way at some point, I offer my apologies and can assure you that it will not happen again." – Florentino Perez.
Runner-up: "I think we could do with Carragher back in the squad. That's down to Carra to come back out of retirement. We all understood his frustration, but we'd all like him to come out of retirement. I spoke to Carra at the time, but it's his decision. I don't want to sit here and speak for him. Going into the World Cup, it'd be great if he did come back and make the competition even more difficult for all of us. There's still Matty [Upson], who everyone's speaking highly of, and he's had a very good year. Joleon's done very well again and Gary Cahill has come into the squad. It's down to Carra to come out and make a statement, really." – John Terry.
Today's overview: After Liverpool's financial plight is thumbed over by the papers, with fresh injections of unsubstantiated scaremongering and crisis-calls, lip-service is paid to England's match in Almaty before the wave of transfer nonsense is coughed up by the tabloid press.
Liverpool's financial problems centre on the unlikelihood of the Reds moving into a new stadium any time soon.
Andy Hunter and David Conn whip up Scouse anger by announcing "the need to find wealthy owners to fund proposed new stadium in Stanley Park was the sole reason the club was sold, and the Americans promised that work would commence within months of their takeover in February 2007… The stadium, however, has been 'subject to delay' since the economic crisis began to take effect last August and there are no signs of progress." Nick Harris also focuses on the lack of development on Liverpool's new non-existent stadium. "Liverpool also wrote off £10.3m in the financial year 2006-07 on money spent on previous stadium designs that were ditched. In all at least £30m has been spent on a stadium, now planned as a 73,000-seat arena, that has yet even to be subject to feasibility studies over issues including traffic."
It a supplementary article, David Conn points the fingers of blame for Liverpool's financial woes squarely on the clubs' American owners. "Two and a half years since the arrival of these 'good' Americans, the new stadium remains on the drawing board, and Liverpool are servicing huge debts, including the £185m cost of being taken over by the pair in the first place."
On the slightly more positive side, Andy Hunter assesses the impact of Liverpool's finances on this summer's recruitment drive, penning "Rafael Benitez's transfer budget will not be reduced." Paul Kelso also predicts the size of Liverpool's summer transfer budget, writing "club sources are adamant that the club will continue to compete for the best players. Telegraph Sport understands that a transfer budget was agreed with Benitez before the end of the season and that the manager, notorious for his uncompromising demands for cash to strengthen the squad, is content with his resources."
This has not stopped the scaremongering of Liverpool fans in the gutter-press, with Javier Mascherano being talked up as the first star to jump the Anfield ship. According to John Edwards, "[Rafa] Benitez is now facing an uphill struggle to keep Mascherano from Barcelona's clutches." Anthony Kastrinikas adds some more meat onto this story farting "Barcelona plan to cash in on Liverpool's money meltdown with a £20million swoop for Javier Mascherano."
Yet the biggest doom-merchant is Phil Thomas, who seemingly invents his own reality in which he can argue that it is all falling apart at the seams on Merseyside. "Suddenly, Benitez is staring at the prospect of players like Middlesbrough striker Tuncay and Pompey centre-back Sylvain Distin – men supposedly wanted to fill around the edges – being THE major summer arrivals… And the question Koppites around the planet are asking themselves today is this: How much more will Benitez take?"
There is almost the sense of obligation to report on England this Saturday, as ahead of matches with Kazakhstan and Andorra no-one in the fifth estate expects anything less than two back-to-back wins.
For Kevin McCarra, "although the England squad will feel jaded, they can buck themselves up by confirming that they are merely being asked to get the better of Kazakhstan and Andorra, who stand 132nd and 196th in the world, respectively. Capello's men are sixth."
Looking to stir up some controversy, Matt Hughes responds to John Terry's comments on Jamie Carragher (see "runner-up" quote of the day) by writing off the international careers of England's back-up centre-halves. "A series of injuries have effectively ended the international careers of Ledley King and Jonathan Woodgate… [while neither Matthew Upson], Joleon Lescott nor Phil Jagielka, both from Everton, have shown that they belong at the highest level."
It is left to Paul Hayward to subtly question how it is that Kazakhstan are in the European qualifying draw in the first place. "Drive another 250 miles east from the venue for England's sixth match in the campaign to reach South Africa 2010 and you would be in China… [how is it that] England came to be playing for points in a city that sits on a line of longitude with Delhi." Offering a limited answer, Kevin Gardside investigates the impact of playing in the UEFA qualifying for the Kazakhs. "The arrival of the Premier League All Stars justifies the switch made by the Kazakhstan Football Federation eight years ago from the Asian Football Conference to Uefa. Football is seen as an agent for change, a sporting tool for raising the profile of a country with its foot on the accelerator as it lunges towards modernity."
Heading further afield, James Montague writes about how Afshin Ghotbi, a US citizen, became the Iranian football coach. "Desperate times, however, call for desperate measures with the IFA now prepared to hire an American for the top job, albeit on a short-term contract until mid-July."
Des Kelly goes on a tirade against those who criticise footballers for making decsions based on financial incentives. "Britney Spears puts aside her burgers, drugs and babies for long enough to wriggle on stage and mime in synch to some backing track and everyone says, 'well done girl for entertaining us all', have a few million quid. Try arguing that Cristiano Ronaldo deserves whatever money he can glean from the game by brightening up our lives every week and you are accused of contributing to the collapse of society."
We end with the never-ending transfer rumours.
Showing how quickly news changes, while both The Times and the Guardian today report that Tony Mowbray is on the verge of taking the reigns at Celtic, over in the Telegraph we learn that "Celtic eye Henrik Larsson as No2 to Mark McGhee in managerial dream team."
One of the most craziest suggestions to-date in the insomniac-curing Cristiano Ronaldo-to-Real Madrid story is delivered today by Pete Jensen, claiming "Real Madrid are preparing to step-up their campaign to sign Cristiano Ronaldo amid suggestions that not signing him would cost the club €30m (£26.2m)." Elsewhere, according to The Sun "AC Milan have revealed they will battle Real Madrid for the signature of Cristiano Ronaldo."
Mark Ogden delivers two pieces of transfer gossip in one article, firstly claiming Manchester United may make a £25m bid for Karim Benzema, and secondly reporting that "Manchester City could face competition from Inter Milan for Barcelona forward Samuel Eto'o following the suggestion that Eto'o could move to the San Siro in a swap deal involving Inter's Zlatan Ibrahimovic." On Benzema, the price is said to be rising according to the Daily Express who claim "Lyon president Jean-Michel Aulas last night opened the door for Manchester United to make a £30million move for striker Karim Benzema."
Staying with the Big Four we learn in the Daily Mail that "Bayern Munich are planning to raid Chelsea for Jose Bosingwa. The German side have missed out on Portsmouth's Glen Johnson, for whom Chelsea have agreed a £17million fee, and have switched their sights to the Portugal full back." Sam Wallace announces that Chelsea are considering a £40m bid for David Villa, while the Daily Mail go one step further, confidently reporting "Chelsea have reportedly made a £40million offer for Valencia striker David Villa in an attempt to see off competition from Manchester City, Real Madrid and Barcelona."
On Arsenal, the Daily Mirror barf "Arsene Wenger is tracking Udinese defender Cristian Zapata," while over in The Times Gary Jacob writes that "West Ham United are among the clubs to have expressed an interest in Luis Jimenez, who has been frustrated by a lack of opportunities with Inter Milan."
The Daily Mail report that "Aston Villa are interested in Tottenham midfielder Jermaine Jenas and are ready to gazump rivals Wolves for Serbian midfielder Nenad Milijas." Business between Spurs and Villa continues in The Sun where Pat Sheenan claims "Harry Redknapp has offered David Bentley plus £8million for Aston Villa winger Ashley Young." Lastly, the Daily Mail print that Stephane Mbia "will agree terms with Everton and Rennes will drop the price with Everton hoping to pay around £6m."
---
GAMBLING CAN BE ADDICTIVE, PLEASE PLAY RESPONSIBLY