Neymar says England are a one-man team, Gerrard hails Wilshere & Liverpool want Ben Arfa
Comment & analysis round-up
Quote of the day: "England are a good team with some very good players — but I don't look at them as one of our main rivals for the World Cup. Maybe they rely too much on Rooney — once you look past him you don't see an obvious player who can win them a match. But Brazil have got many players who can. England have players to do well — but do I think they have the same quality as Spain and Argentina? No. Look at Argentina. If Messi is not having a great game they still have Aguero and Tevez. And with Spain, if Iniesta is having an off day, they have got Xavi and Villa." – Neymar.
Runner-up: "I think he's got the potential to become one of the best in the world. I don't want to add any pressure. That's unfair. But playing against him recently and in training, he's a one-off. He's a lot better than your normal Premier League midfielder. I have a lot of confidence in him. He's got a bit of everything, he can tackle, get up and down the pitch, create a goal, score a goal, can pass. He can tick almost every box, and he's going to get better and better. He's only 21 and a fantastic talent. We're all delighted he's back and happy to play with him. I hope he brings out the best in all of us. He's a top player and I hope he gives the dressing room a lift. We need competition for places if we're going to get to Brazil. All over the pitch, there's good competition for places. He's been frustrated at the amount of football he's missed. There's nothing worse than missing a year of football. He wants to make up for lost time. You have to give credit to his club manager as well, and he'll come back to top form. And he'll get better, and better than he is now. Which is a scary thought. He looks as if he can cope with the pressure. You've still got the likes of Rooney, Lampard and Cole, other top players in the group, and we'll share the responsibility out. It's up to us to put our arms round him and make sure you lot don't put too much pressure on him." – Steven Gerrard on Jack Wilshere.
England v Brazil
Roy Hodgson must grab chance to banish England's fear against Brazil (Daniel Taylor, Guardian) As a way of kicking off a 150th anniversary year, the Football Association has certainly picked the opponents to bring a sense of occasion. Further down the line, a second game against Brazil has been lined up at the Maracanã. Scotland and the Republic of Ireland are scheduled to visit Wembley. Germany and Argentina will be guests in November if England can qualify for the World Cup without having to negotiate a way through the play-offs. For now, however, the final arrangements are on hold, as might be expected when England are two points behind Montenegro in a qualifying group where only one team goes through automatically. Perhaps in hindsight, for all the glamour of a home friendly against Brazil, it might actually have been better if the FA had arranged a warm-up match that would give Roy Hodgson's players more of a flavour of the rutted pitch of Podgorica's City Stadium on 26 March.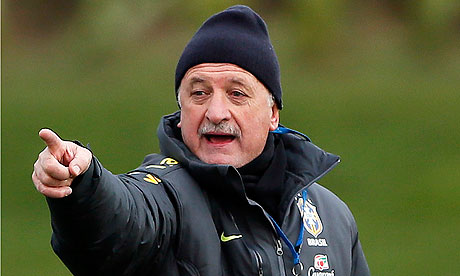 Luiz Felipe Scolari: troubleshooter from Brazil with liking for England (Barney Ronay, Guardian) Welcome back, then, Luiz Felipe Scolari. With Brazil's elite footballing diaspora fully assembled on English soil before Wednesday's glamour-friendly, there was perhaps a sense of added piquancy in the sight of Scolari making his first working appearance as Brazil's newly reappointed manager – a final crunch of gears on the road to next year's World Cup – at Wembley. Scolari was appointed at the end of November in place of Mano Menezes. If he is here in the role of troubleshooter it is a role that suits him: a little more gaunt, a little greyer about the moustache than the muscular figure who oversaw England's ejection from back-to-back tournaments a decade ago. In Scolari Brazil have plumped for a man who unarguably knows how to win a World Cup. Never mind leaving Palmeiras in relegation trouble, or the financially perilous misadventures in Kazakhstan. It is this familiar A-list quality that once made Scolari the Football Association's prime choice to become the first manager to lead out England at this same revamped Wembley in 2007.
England v Brazil: next stop Stamford Bridge for the great travelling circus of world football (Paul Kelso, Daily Telegraph) Brazil's friendly against England at Wembley on Wednesday evening is the latest step on an endless world tour that has seen the selecao become the great travelling circus of world football. With the majority of their squad playing in Europe and major European teams reluctant to fly to South America in midseason, Brazil have become a peripatetic team of talents who rarely play the same town twice, particularly not at home. They remain a major draw, however, commanding of up to $3 million (£1.9 million)-a-match from hosts willing to pay the appearance money, a fee that Qatar is understood to have considered to tempt them to Doha for the game against England the last time the two sides met. Remarkably for a powerhouse of the world game, however, the Brazilian football federation, the CBF, subcontracts the rights to what should be a moneymaking machine to international agencies.
Small is beautiful at Milton Keynes… and it could make us play like Brazil (Martin Samuel, Daily Mail) Considering that England play Brazil at Wembley tonight, it is fair to assume that this time tomorrow we may be crying. Why can't we pass it like them? Why can't we keep it like them? Why isn't our game beautiful? It is a familiar wail. Boo-hoo-hoo, we want to be like you-hoo-hoo. 'Better to light a candle than curse the darkness,' said Peter Benenson, the founder of Amnesty International, except English football doesn't think that way. 'Stupid darkness,' we mumble as more pedestrian thinking sends us down the latest blind alley. There are men with candles out there, but we never seem to listen to them. Dan Micciche is the head of coaching at Milton Keynes Dons academy. It is not a job that allows a man to make headlines, but that doesn't mean he has nothing to offer.
Ashley Cole set for 100 England caps
Nobody's perfect: We should cheer not jeer Ashley Cole as this extraordinary player reaches 100 England caps (Ollie Holt, Daily Mirror) Whatever happens to Ashley Cole at Wembley tonight, when he wins his 100th cap, guilt will follow. Why exactly did we treat him the way we did? Why did we turn him into a pariah? Why did tens of thousands of England fans boo and jeer him for spells of his international career? Why was one of the greatest players we've ever had reviled, rather than revered like Bobby Moore or Steven Gerrard? The answer lies less in the ­well-thumbed minutiae of Cole's personal life than in the sweeping changes that have transformed English football in the last 20 years. The Taylor Report, the Bosman ruling and the runaway success of the Premier League altered the game's demographics in this country. Many working-class fans were priced out of the game at the same moment that players' wages ­rocketed skywards.
First time I played with Rooney, I thought we'd win major trophies — says ton-up star Ashley (Sun) Cole said: "When we had Wayne Rooney coming through we thought 'He is on fire. This is our chance to get some goals and win something'. We just haven't had that luck. We keep seeming to go out on penalties. Unfortunately we've not progressed as much as players as we think we deserve to. I never want to go to another World Cup just to be in the record books again for playing in six tournaments or four World Cups. I want to go there to fight for my place and win something in an England shirt."  
Robin van Persie credits Manchester United coach Rene Meulensteen
Manchester United striker Robin van Persie says club's coach is winning points for team with his training sessions (Mark Ogden, Daily Telegraph) The 29-year-old claims that the attention to detail of fellow Dutchman Meulensteen has been crucial to United's progress so far this season. "The way he (Meulensteen) trains is an exceptional," Van Persie said."He is truly one of the best coaches in the world. I have had a lot of good trainers, but it's the way he prepares our team for games. Every match is different, so every training session in the build-up to games is unique. "We know exactly what to expect and he wins points for us through his training. We've won a lot of games by the odd goal and they are point winners, which we train for. For instance, against Chelsea I scored after a low cross from Antonio Valencia on the right. It might seem a fluke, but the whole week before the game was spent working on that move. "Another example is my goal against Wigan, when I cut the ball inside and shot with my right foot. Again this situation, we trained on.
Liverpool want Ben Arfa
Liverpool lining up Ben Arfa deal using Carroll as a carrot for Newcastle (Dominic King, Daily Mail) Liverpool are tracking Newcastle midfielder Hatem Ben Arfa as Brendan Rodgers begins his plans for a summer recruitment drive.  The French international, 25, could be targeted as part of a swap deal that would see Andy Carroll return to St James' Park.
Pepe Reina plays down Barcelona move
Liverpool goalkeeper Jose Reina plays down Barcelona transfer talk (Simon Rice, Independent) Jose Reina has admitted surprise at Victor Valdes' decision to quit Barcelona, but played down speculation he will be the man to replace him at the Nou Camp. Valdes announced last month that he would not renew his contract at Barcelona when it expires in 2014, leading to speculation over who will replace him. Reina is surprised by the decision of Valdes, who came through the youth set-up at the Catalan club. "I was surprised because Victor is with the best team in the world," Reina told MoviStar.
West Ham want Wilfried Bony
Sam's big on Bony (Andrew Dillon, Sun) West Ham are planning for life without Andy Carroll by lining up a move for Ivory Coast hitman Wilfried Bony. The £12million-rated striker is top scorer in Holland with 16 goals in just 18 league games for Vitesse Arnhem. Big Bony, 24, also played at the African Nations Cup before Ivory Coast's quarter-final defeat to Nigeria on Sunday. Hammers boss Sam Allardyce is already considering where to go shopping for forwards in the summer when Carroll's loan from Liverpool expires.
England players eager to help Paul Gascoigne
England players eager to help save Paul Gascoigne (Sam Wallace, Independent) The England captain Steven Gerrard said that a players' delegation from the national team has approached the Football Association and pledged to offer to help over the plight of Paul Gascoigne, whose declining mental state has been a case of concern over the past week. The offer, which was made via the England players' committee, is understood to include financial help for the 45-year-old former England international, who has been booked into a rehabilitation centre in America but as of Tuesday was yet to have flown out there. His treatment is being paid for by a number of organisations and individuals including his former England team-mate Gary Lineker and former cricketer Ronnie Irani.
---