Newcastle in meltdown after Kinnear appointment, Mata's Chelsea contract dispute & West Ham land £15.5m Carroll
Comment & analysis round-up
Quote of the day: "There is a possibility that he [Thiago Alcantara] could leave but we have to convince him that the best place for him is Barcelona. Players in his position like Xavi were patient and they ended up defining an era." – Gerard Pique.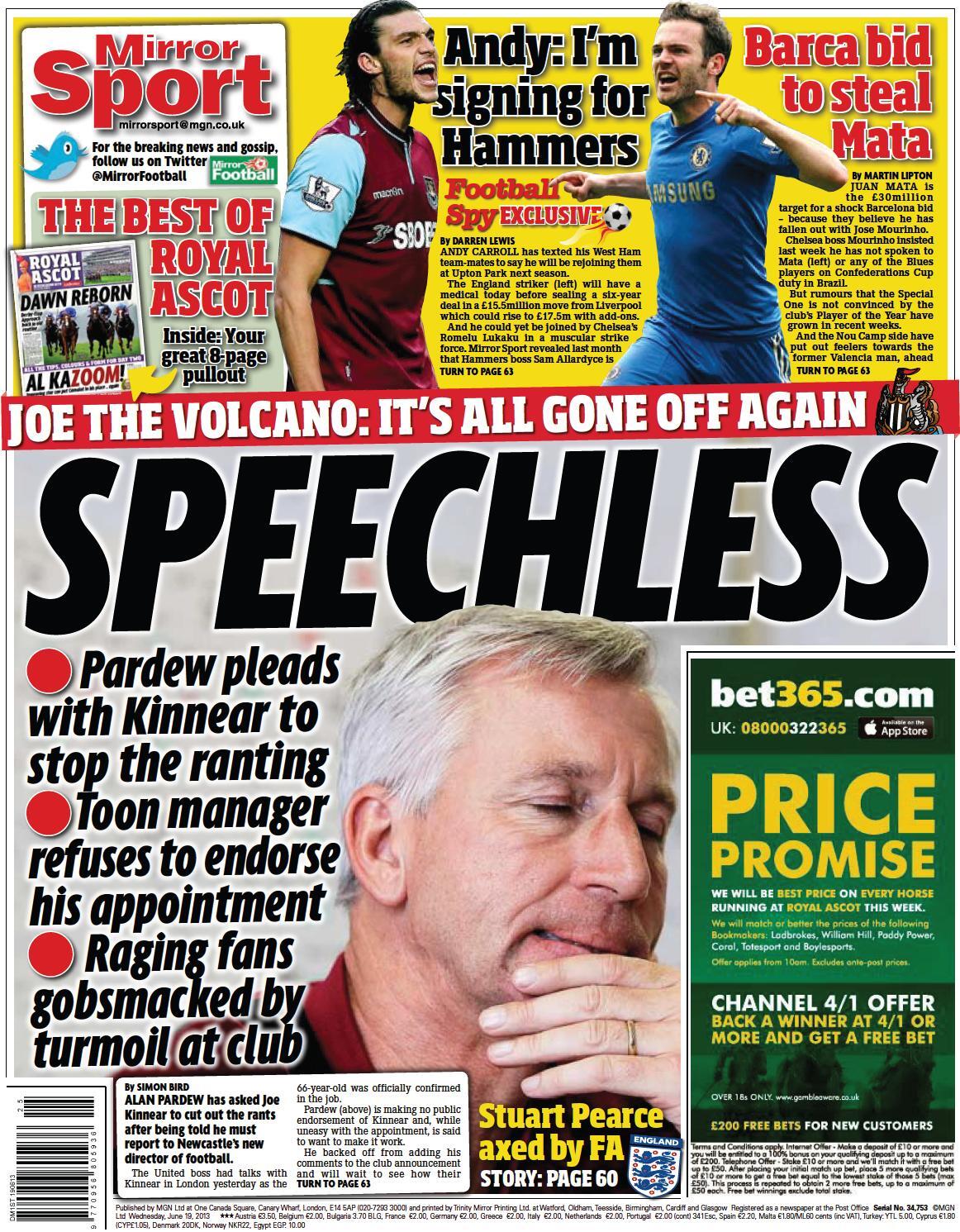 Kinnear Crisis: Newcastle Torn Apart Again
If Kinnear is having a final say on transfers and is the public face of Newcastle, there needs to be more to him than meets the eye. And it can't be fiction (Martin Samuel, Mail) With his coarse outbursts and insulting struggles with foreign names, he does not fit the profile of the continental sophisticate naturally palling around with Arsene Wenger… Mike Ashley, the Newcastle owner, is believed to like Kinnear best of all his managers, but that is not enough. No doubt he enjoys the fact that he calls a spade a f****** shovel and journalists a bunch of, well, you know. Yet football is more complex now. The old-school ally can be your valued friend in the boardroom telling it like it is — Bobby Campbell is close to Roman Abramovich, for instance — but if Kinnear is having a final say on transfers and is the public face of Newcastle, there needs to be more to him than meets the eye. Much more. And it can't be fiction.
Joe Kinnear's radio interview about Newcastle was more awkward and uncomfortable than funny (Ollie Holt, Mirror) Kinnear is a transparently vulnerable man. Why else would he need to boast about phoning Sir Alex Ferguson and Arsene Wenger? Why else would he reopen old wounds with reporters who cover Newcastle fairly and honestly and who he roundly abused the last time he held a position of ­influence at St James' Park? Why else would he trample over the sensibilities of Newcastle manager Alan Pardew by revealing he was now the man who called the shots? But the thing that is hardest of all to fathom about his appointment is how it can be reconciled with his health.
Looney Toon (Vic Holly, Sun) Newcastle lurched closer to meltdown last night after manager Alan Pardew snubbed his new boss Joe Kinnear. Pardew has pointedly avoided issuing any form of public welcome to Kinnear — three days after he revealed his new role as the Toon's director of football… Without any endorsement from Pardew and the players already mocking him, it was left to managing director Derek Llambias to issue a statement formally welcoming Kinnear.
I'll fight on! Pardew refuses to be forced out by Kinnear arrival who is just there to 'get the best possible team on the pitch' (Ian Ladman, Mail) Newcastle manager Alan Pardew will not be forced out by the arrival of Joe Kinnear as director of football at St James' Park. Kinnear's appointment was confirmed by the club yesterday as the 66-year-old met Pardew for lunch in the North East. Despite some provocative statements from Kinnear over the past 48 hours, Pardew is adamant that he will not quit when only last year he signed an eight-year contract.
Is It A Mata Of Money?
Barcelona eye Chelsea's Juan Mata after report of contract dispute with Jose Mourinho (Martin Lipton, Mirror) Barcelona have targeted Juan Mata for a shock summer swoop because they believe he has fallen out with Jose Mourinho… The Nou Camp side have now sent out feelers in the direction of the former Valencia man Mata, ahead of a likely £30million bid. The latest claim, coming from Catalonia, suggests Mourinho has blocked a wage increase due the 25-year-old under the terms of his current contract. Sources in Spain insist Mata's 19 goals and 35 assists last term entitled him to a pay rise, but it has been vetoed at Mourinho's orders.
Chelsea to hold talks over Edinson Cavani's transfer from Napoli in the next 24 hours (Martin Lipton, Mirror) With Chelsea reluctant to meet Napoli's £53million buy-out clause valuation, and Cavani again hinting that Real Madrid is his preferred option, the odds are increasingly against Mourinho getting his man.
Cesc Cusses Bale
Cesc in '£100m' Bale fee dig (Tony Little, Sun) Cesc Fabregas insists Real Madrid would be 'foolish' to bid £100million for Gareth Bale. The Spanish giants have admitted they could go as high as that to land the Spurs winger. But Barcelona midfielder Fabregas said: "Spending £100m on Bale is foolish, I don't know how any club could spend that amount of money. He is a great player but we will have to see if Madrid sign him and if he can perform there."
New twist in Gareth Bale transfer saga as Real Madrid reserve No.11 shirt for Spurs star (Darren Lewis, Mirror) Real Madrid have stepped up their campaign to land £85million-rated Gareth Bale – by reserving their no.11 shirt for him… Real's No.11 shirt is free, as it was worn last season by ex-Chelsea defender Ricardo Carvalho, who recently completed a transfer to Monaco.
West Ham Land Carroll
Hammers move fast to land Carroll (Andrew Dillon, Sun) West Ham have smashed their transfer record to capture Andy Carroll in a deal worth £55million. Panicking Hammers rushed forward plans to sign the Liverpool striker to head off a late challenge from his home-town club Newcastle… Carroll has agreed a six-year deal with an option for a seventh, worth £100,000 a week which could see him pocket a staggering £36m.
£15.5m Carroll agrees six-year deal at West Ham as Liverpool take £20m hit on striker (Dominic King, Mail) Liverpool, who will take a £20m loss on the man they signed from Newcastle in January 2011, will now continue their own search for reinforcements and their top target is Shakhtar Donetsk midfielder Henrikh Mkhitaryan.
Liverpool's Transfer Lookout
Liverpool make £5m bid for Porto's Atsu… and Spain youngster Alberto is next on Reds' winger hit-list (Simon Jones, Mail) Liverpool have made a £5million bid for Porto forward Christian Atsu and hope to sign him plus Sevilla's Luis Alberto. Ghana's Atsu, 21, plays on the left or behind the striker. Alberto, 20, is a similar player.
Liverpool in advanced talks to buy Porto's Christian Atsu for £3m (David Hytner, Guardian) The two clubs are in advanced talks and Liverpool are moving in on a deal that would see the 21-year-old winger sign for as little as £3m, on the basis that his contract expires next summer and he has already made it clear that he will not be signing another one.
Spurs Seek Out Brazilians
Spurs line up Brazilian raid for Paulinho and Bernard as AVB spies re-vamp (Simon Jones, Mail) Tottenham are closing on a deal for Corinthians midfielder Paulinho and are the only club to make a bid for Atletico Mineiro midfielder Bernard… The north London side are ready to make a £15million offer for Brazilian midfielder Paulinho to head off competition from Roma and Inter Milan.
Spain Win Euro U21
Thiago Alcantara's hat-trick seals European Championship for Spanish youngsters (Jack Pitts-Brooke, Independent) Even on another night of glorious combination football from Spain, it was the individual triumph of Thiago Alcantara which won their second consecutive European Under-21 Championship… Thiago, who is an occasional rather than regular starter for Barcelona, is thought to be a target for Manchester United and he made immediately obvious, if he had not before, that he was a player of the highest class and nerve.
---
GAMBLING CAN BE ADDICTIVE, PLEASE PLAY RESPONSIBLY