Newcastle 4 – Arsenal 4 hailed as the comeback of the season & Fernando Torres tipped to start in a front 3 for Chelsea v Liverpool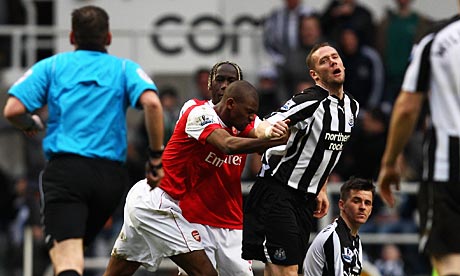 Comment & analysis round-up
Quote of the day:Â "It was a completely unnecessary sending-off and I believe Barton was very lucky to stay on the pitch for the tackle on Diaby. It's a shame for Diaby because he had a great first half. Sometimes you could understand when he has a bad game, but he had an outstanding game. I explain that by the fact that he has been injured so many times from bad tackles that he lost a bit quickly his nerves because this boy has been out for a long time and many times. Certainly the tackle provoked his reaction." – Arsene Wenger.
Runner-up:Â "Liverpool has more history and is a massive club but right now Chelsea has more options to win everything and they are building a great future." – Fernando Torres.
Jack Wilshere on Twitter (since removed):Â "Inconsistent refereing needs to stop.its killing the game. if Diaby goes..whats the difference between that and Nolan on our keeper!?? joke"
Today's overview: It is almost as if the Sunday papers don't have enough time to reflect on yesterday's incredible events before focusing on Fernando Torres, Chelsea and Liverpool in the weekend's big match this afternoon.
On Manchester United losing at Wolves, Joe Lovejoy points out that Manchester City head to Old Trafford next and Mark Ogden argues that what matters now is how United bounce back.
The incredible 4-4 draw between Newcastle and Arsenal is also hailed. John Wardle describes it as the comeback of the season and there are all sorts of question marks raised about the Gunners' title hopes.
Liverpool-Chelsea takes the most column inches with Fernando Torres predicted to start in a front three this afternoon. Alan Smith says Kenny Dalglish will also change his tactics for El Nino and the likes of Steve Tongue and Duncan White try and understand why the Spanish striker left Anfield.
There is also comment on the transfer window with the standout pieces coming from David James (why is all the money always lavished on strikers?) and Ian Holloway (who slams Sky's coverage of the final day).
Other pieces of interest include Piers Morgan on Gary Neville and the news that Andy Gray has come to a settlement with Sky.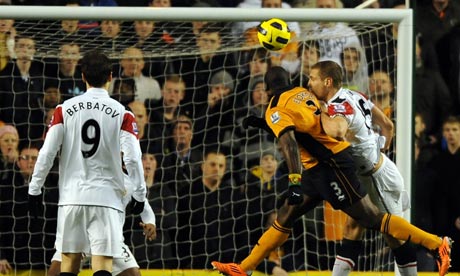 Manchester United lose their unbeaten record: Joe Lovejoy writes "The upset of the season? Take your pick, Wolves specialise in them, having defeated Chelsea, Manchester City and Liverpool at Anfield before this – and still they remain bottom of the table. United, by common consent, have not been playing as well as they can, but they did not expect to lose their unbeaten record in this fashion – outfought by a cheap and cheerful hotchpotch of relegation scrappers. Sir Alex Ferguson arrived at Molineux smiling at the news that Arsenal had tossed away a four-goal lead at Newcastle and left for home enraged by the fact that his own team had thrown open the title race again, their advantage at the top of the table trimmed to four points when it could easily have been a daunting seven. It will be lost on nobody in Manchester that next on the agenda is the derby, when City, who nurture lofty ambitions of their own, visit Old Trafford next Saturday. Rio Ferdinand will miss that one, having injured a calf during the warm-up and Carlos Tevez will be licking his lips at the way United defended without him."
Steve Tongue adds "Nani's fine goal was all that went right for United; even before kick-off, Rio Ferdinand, England's captain, injured a calf and will miss the international against Denmark on Wednesday. Without him, the defence looked shaky. The midfielders were never able to establish superiority and Wayne Hennessey in the home goal had a surprisinglyunstressful afternoon. Wayne Rooney was booked as his frustration grew, Ryan Giggs should have been and Dimitar Berbatov was withdrawn with 25 minutes left, but for once Javier Hernandez could not come up with a late goal."
Mark Ogden points out "Just as Mike Tyson discovered at the hands of Buster Douglas, invincibility can be shattered by the most underestimated of opponents, yet Manchester United would not have expected their 29-game unbeaten league run to be ended by the bottom club. But Kevin Doyle's first-half header — after George Elokobi had equalised Nani's third-minute opener — secured the wholly deserved victory for Wolves that ended United's 10-month unbeaten record and gave renewed hope to those teams pursuing Sir Alex Ferguson's league leaders. United were desperate. They were defensively slack and impotent in front of goal. No longer invincible, they must now prove this is a blip rather than their luck running out if they are remain on course for the title."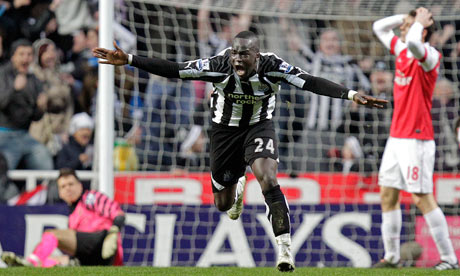 Newcastle 4 – Arsenal 4: Paul Wilson sums up an incredible game. "Send for the cliche police, this was the ultimate game of two halves. Arsenal laid out their title credentials in the first 45 minutes – actually make that the first 10 minutes – then one interval and one sending-off later exposed their own defensive brittleness and allowed Newcastle to claim a seemingly impossible point."
John Wardle describes it as the comeback of the season. "The destiny of both clubs this season may yet be shaped by events in the 50th minute of a remarkable match that featured one of the finest comebacks ever witnessed in the Premier League. Arsenal were leading 4-0, heading for their seventh successive win and apparently in the mood to sustain a challenge to the leaders Manchester United. In contrast, hundreds of Newcastle United supporters had already left the ground, disillusioned by the sale of Andy Carroll and an abysmal first-half performance that revived relegation fears. Then Joey Barton put in a strong challenge on Abou Diaby, who reacted by going after the midfielder and pushing him to the ground. Kevin Nolan then arrived and the Arsenal midfielder also pushed him away."
Duncan White adds: "At half-time Newcastle United were on the canvas, bleeding, broken, barely able to hear the referee's count. Some fans could not bear to watch their insipid team get battered even further, and crept out of the ground. Arsenal were pitilessly dancing around their opponents, landing blow after blow. Those fans still there roared their disapproval of Mike Ashley, some chanting for Chris Hughton. Having lost in the FA Cup to Stevenage and been so tame in defeat to Fulham last week, Newcastle were already on the slide, but with the sale of Andy Carroll the fear was of freefall. It was not just that their local hero and best player had been sold, it was that nothing had been done to replace him. Alan Pardew went into the dressing room at half-time with his credibility at stake and the crowd turning on him. Then something remarkable happened …"
Chelsea-Liverpool: Kenny Dalglish briefly mentions this afternoon's match in his Mail on Sunday column. "My goal at Stamford Bridge that won Liverpool the league title in 1986 won't come up in my team talk before today's game at Chelsea. For one thing, some of the players weren't even born then, let alone be able to remember it… It was a great moment when the ball nestled in the net, but I won't be thinking nostalgically about it this afternoon. Tradition and heritage should always be cherished at the club, but it's new memories we want to create for the new generation of Liverpool fans."
Dave Kidd says "Carlo Ancelotti is ready to unleash Fernando Torres on Liverpool today – alongside Didier Drogba and Nicolas Anelka in an all-guns-blazing Chelsea line-up. Spanish superstar Torres, a £50million British transfer-record buy, seems certain to start in an explosive debut at Stamford Bridge against Liverpool where he was an idol until demanding a move last week – running a gauntlet of hate from visiting fans. And Stamford Bridge boss Ancelotti is ready to pair Torres and Drogba, with Anelka in behind them as the attacking point of a midfield diamond, as the champions go hell-for-leather in their bid to close the gap on Premier League leaders Manchester United, who amazingly slipped up at bottom club Wolves."
Alan Smith says Fernando Torres will occupy the thoughts of both Carlo Ancelotti and Kenny Dalglish. "If we can't say for sure how Chelsea will incorporate Fernando Torres, it's also difficult predicting Liverpool's approach. The reason is, that because up until Wednesday night, Kenny Dalglish had used virtually the same system, in that he picked a back four behind a five-man midfield of varying shape. That changed, however, for the visit of Stoke City. Dalglish opted for a three-man backline made up of Daniel Agger, Martin Skrtel and Sotirios Kyrgiakos, with Glen Johnson and Martin Kelly pushed forward as wing-backs. We don't know why exactly. Dalglish may have gone this way to simply get more height into a side that needed to combat Stoke's aerial threat. On the other hand, it may be something he's considering using at Stamford Bridge. Anticipating the Didier Drogba-Torres axis up front, Dalglish may want some insurance in the form of an extra centre-half."
Henry Winter is excited about the possibilities opened up by the transfer window for both clubs. "When Chelsea and Liverpool collide today, their spirits lifted by the respective spending sprees of Roman Abramovich and John W Henry, the Moneyball apostles and Uefa's Michel Platini will choke on their skinny lattes. For that was a week when old values were restated, when large cheques were written to an even larger chorus of disapproval. Was Andy Carroll with his one cap and occasional nocturnal travails worth £35 million? Were Luiz Suarez and David Luiz, technical talents with no experience of Premier League rollerball, good value at £22 million and £25 million respectively? Could Fernando Torres possibly justify his £50 million tag with his injury record and Chelsea's recent prolific run without him?"
Also on Torres, Paul Smith reports "Chelsea have slapped an astonishing £100 million buy-out clause in Fernando Torres contract. The Blues want to protect their huge investment in the 26 year-old Spain international signed from Liverpool last week in a British record £50m deal. Chelsea owner Roman Abramovich hoped to prise Torres away from Anfield for £35m but had to meet the Reds' £50m, buy-out valuation."
Steve Tongue writes of El Nino. "Liverpool supporters love to sing – and will doubtless do so again at Stamford Bridge this afternoon – that 'Chelsea's got no history'. It is an inescapable fact, however, that the London club currently have more chance of making history than their rivals and therein lies the principal reason for Fernando Torres's record-breaking transfer. He confirmed as much after a third training session at Cobham on Friday while looking ahead to today's fixture between the teams, which represents a coincidence as unfortunate for the two clubs and the player as it is delicious for the rest of us. Chelsea would have liked him to have more bedding-in time than the few sessions possible with his new team-mates since last Monday's dramatic move. Liverpool's defenders, all too familiar with his ability from training sessions of their own, cannot relish facing him. The player himself would surely prefer that his old team and his new one would not be meeting again until some of the bile at least had been diluted next season. He was being honest rather than provocative in suggesting: 'Liverpool has more history and is a massive club but right now Chelsea has more options to win everything and they are building a great future.'"
Duncan White says Torres moved for trophies. "Why did he go? The cynical answer is always money but let us give Torres the credit of wanting more than just a pay hike. He has made it clear that he felt let down by members of the club hierarchy who gave him guarantees they were unable to keep. After he destroyed Nemanja Vidic in the 4-1 victory at Old Trafford just under two years ago, he felt Liverpool were on the cusp of returning to their position at the top of English football. Instead, key members of the team were sold and results went on the slide. Would he have stayed with Liverpool if the promises made to him had been kept? 'If the promises had been true, Liverpool would be fighting with Manchester United and Chelsea so you never know,' he said. 'Maybe yes, maybe no. I think we were very close to achieving these things.'"
Patrick Collins focuses on Roman Abramovich. "Roman Abramovich gets what he wants by hurling an obscene amount of cash at the object of his desire and Scudamore condones the crassly excessive spending by explaining that, hey, it's doing a tremendous amount for the people at the bottom of the food chain; little people, the sort you can barely see from Stamford Bridge, or Anfield, or the offices of the Premier League. It is the kind of economic theory which seeks to justify the wholly unjustifiable. It ignores the glaring truth that when Chelsea paid £50m for Fernando Torres, plus perhaps £40m over the course of his contract, they were setting the bar at a new level. In future, whenever a genuinely distinguished footballer comes up for sale, the selling club will start negotiations with the phrase: 'If Torres is worth that, then our player…'"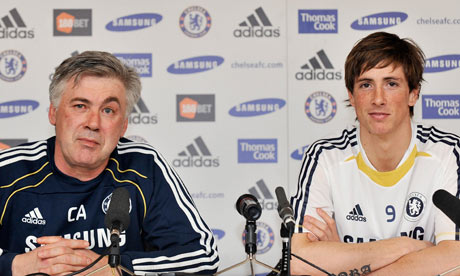 The Transfer window: David Hills in his Said & Done column, points out the best exit: "Andy Carroll. Nov: 'Newcastle is the club and the city for me and always will be. If someone tells me I can stay here for my whole career I'd be delighted.' Jan: Requests transfer."
Paul Wilson says the "January madness is making football sleazier." "January was certainly eventful, even exciting for fans of the Sky Sports viewathon willing to put up with hours of ennui just for a glimpse of the Spurs manager through a car window or confirmation on the ticker that Andy Carroll was on the move. If this is going to be the pattern for the future it is an unedifying way for football to go about its business. Last season £30m worth of deals were done in January by Premier League clubs, amid a general consensus that value was not to be had in the winter window and long-term planning was better served by obtaining players in summer. Even allowing for the fact that this year's headline figure of £225m included money being spent twice – Liverpoool's net spend was £2m, for instance – the sudden leap suggests a panic factor, an increased desperation."
David James wonders why all the money is spent on strikers. "It would also serve the game well if we could improve the quality of scouting for players. Only the other day I heard about a player being brought into a club on the strength of a YouTube video! There are plenty more horror stories where that one came from. Why is there still so much guesswork involved in football's recruitment processes? Perhaps we could take a leaf out of Billy Beane's Moneyball example and pay more attention to statistics instead of relying so heavily on perception and opinion. We need someone with common sense to come in and shake up the game. A solid, no-nonsense approach."
Ian Holloway gives his version of events on Manic Monday. "Despite how wrapped up us managers get in everything that happens on transfer deadline day, I had to laugh at what was on the telly. Sky Sports News treat it like it is the most important day in the history of the world. Ever. They count it down: '20 hours, 34 minutes and 12 seconds to go,' they scream. They have reporters parked outside training grounds and some bloke with a microphone is shouting 'Suarez is driving to Liverpool' or 'Carroll is in a helicopter'. I half-expected them to tell us when Torres went to the toilet. At one point they said my skipper Charlie Adam was on his way to Anfield to sign, and he was sat right next to me in my office at Bloomfield Road. What is going on? Premier League clubs like ourselves rely on Sky's money but this is nonsense. It is like Big Brother – there are cameras everywhere."
Paul Hayward speaks with Trevor Francis, the first million pound player. "While Carroll worked on his injured thigh, Torres arrived at Chelsea's Cobham training ground with the aristocratic mien of one merely taking another lucrative career step, without regret or pressure. The British record transfer fee hangs lightly on him, but he still may want to lose it before he retires. Francis says: 'I started at 16 and played till I was 39. I did lots of things – but whenever I go to lunches or dinners I'm always introduced as the first million-pound footballer – as if it was the only thing I did in 23 years.'"
Michael Calvin has some advice for Andy Carroll. "Carroll's past is a minefield of bad intentions. His future is on a knife edge. Liverpool is a party town, similar in character to ­Newcastle. It loves its own, a little too well, and not always wisely. He will not lack for role ­models, like Jamie Carragher and Steven Gerrard, but will ultimately be judged by the man in the mirror. He is ­confronted by a stark, simple, truth. He can't drink and strive. People like me, from a ­notoriously thirsty profession, shouldn't make moral­ judgements. Medical facts are another matter. To a professional ­athlete, alcohol is poison. It is a powerful diuretic, ­capable of causing severe ­dehydration, electrolyte ­imbalances, and the ­impairment of reaction time."
Gary Neville: Piers Morgan pays his tribute to the Neviller. "If I'm honest, I wish we'd had more players like Gary Neville at Arsenal. Men of steel with the team badge metaphorically tattooed on their hearts. Men who would fight to the last drop of their blood. Men who never contemplated defeat until it actually happened. And men who understand what it takes to win and to keep winning. Gary Neville won eight Premier Leagues, three FA Cups, two League Cups and one Champions League. All while being a serial pain in the backside. The greatest accolade I can pay him today, as an Arsenal fan, is that I will miss him like I'd miss a large rusty nail stuck in my forehead. And I know when he reads this, he will smile to himself and — rightly — think: 'Job done.'"
Transfer gossip: The Mail on Sunday claim Manchester United are locked in a battle with Bayern Munich for Manuel Neuer. The People have plenty of gossip, including Inter Milan to make a summer move for Carlos Tevez, Jose Mourinho will come in for Steven Gerrard in the summer and Sir Alex Ferguson is preparing a move for Juan Manuel Iturbe – the new Lionel Messi. the Sunday paper also adds that Mike Ashley will stay at Newcastle and splash the cash.
Andy Gray: Daniel Boffey reports "Andy Gray has settled a legal battle with Sky after the termination of his £1.7 million-a-year contract over a sexism row – but is said to have accepted a 'mere fraction' of an expected £4 million pay-off. The football pundit – sacked from Sky Sports last month over comments he made about a female colleague and a lineswoman – hired leading lawyers Schillings to negotiate a deal for him. It was understood that Gray, 55, who had 18 months of his contract left to run, could have been in line for a payout worth about £4 million. However, he was offered and accepted a much smaller sum from his employer of 20 years."
Click here for more Premier League betting tips
---