New Man City deal for Yaya but Kompany could be off, Andy Carroll set for Liverpool return & Bale to start up front
Comment & analysis round-up
Quote of the day: "I am not political, I do not affiliate myself to any organisation. I am not a racist and I do not support the ideology of fascism. I respect everyone. I am a football man and this and my family are my focus. Now I will speak only of football. I feel that I should not have to continually justify myself to people who do not understand this, however I will say one thing only – I am not the man that some people like to portray." – Paolo Di Canio.
Runner-up: "They need a miracle but miracles happen in football, the history of football is full of miracles, why can they not dream of a miracle?' said the former Chelsea manager. They will give their all to try to pull off a historic result and I have enough experience to know that although I am happy with the result, the tie is not over. I have to convince my players to believe that too. The team played well and produced a professional and balanced performance. We defended well and were dangerous on the counter-attack. They knew that at this stage of this competition that matches are decided by the slightest of margins, and we were concentrated and played with humility." – Jose Mourinho.
New City deal for Yaya but Kompany could be off
Yaya's yes to new deal (Antony Kastrinakis, Sun) Yaya Toure  is set to sign a new £45million deal at Manchester City. He has agreed to put pen to paper on a new contract worth £220,000 a week for four years. The Ivory Coast superstar, 29, has been locked in talks with City officials since he got back from international duty last week. Midfielder Toure had become disillusioned at after contract talks had stalled for six months.
Vincent Kompany on Barcelona's radar after row with Manchester City manager Roberto Mancini (Chris Bascombe, Daily Telegraph) Barcelona, Real Madrid and Bayern Munich are all on alert following the public club-versus-country row between Mancini and his captain. The trio, all in the last eight of the Champions League, are long-term admirers of the Belgian, rated among the best central defenders in the world, and they are prepared to explore whether Kompany's recent fallout with Mancini has any long-term consequences. Mancini criticised the 26-year-old after he disobeyed an instruction to pull out of his country's World Cup qualifier with Macedonia. He had not played for Manchester City for two months before last weekend because of a calf injury.
Andy Carroll set for Liverpool return
Liverpool to offer lifeline to flop Carroll as striker prepares for Anfield return (Dominic King, Daily Mail) Andy Carroll could be given the chance to resurrect his Liverpool career if he accepts that he will not be a regular starter. The England international is currently on loan at West Ham and while they have no obligation to buy him at the end of the season, they would be keen to sign him permanently. Carroll's former club Newcastle have also registered their interest and one potential outcome would be a swap deal which would see Hatem Ben Arfa move to Anfield.
Liverpool's squad isn't that far off a title challenge, but where should they spend? (David Maddock, Daily Mirror) Here's a question, rather than the answers this type of column usually attempts to provide. How many players will it take for Liverpool to be seriously challenging within the top four once again? I ask, because it is now four years and counting since they were last in that position. At the beginning of the 2008-09 season, Liverpool spent £40million on signing eight players to strengthen a squad that had finished fourth at the end of the previous campaign. It is interesting to look at those signings. Of Robbie Keane, Albert Riera, Andrea Dossena (who cost close on £35million between them), Diego Cavalieri, David N'Gog, Philipp Degen, Vitor Flores and Peter Gulacsi, only the very last remains…and he is still to play a single game for the club. So reasoned argument would suggest Liverpool really were close to already having a top class squad at the beginning of that season, given the impact made by the signings brought in (ie, none).
Bale set to start up front
Swiss cheese? Tottenham to ask Gareth Bale to play as striker and blow holes in Basel's defence (Darren Lewis, Daily Mirror) Spurs fans will be hoping their star man doesn't have boots like Toblerones in crucial first leg of Europa League quarter-final at White Hart Lane. He has the high praise of Zinedine Zidane ringing in his ears, and Gareth Bale is set to demonstrate why when he faces Basel. Tottenham's wing wizard has smashed 27 goals so far this season, to attract the attention of the Real Madrid legend. With Jermain Defoe injured and Emmanuel Adebayor out of form, Bale is set to again play at centre-forward in Thursday night's Europa League quarter-final first leg against the Swiss at White Hart Lane. Villas-Boas said of the Welshman: "With his run of form, as a striker he is most effective. "He is extremely comfortable playing as a striker. The more he plays there the more he is likely to be helping the team."
Zlatan wants Wayne Rooney at PSG
There's only one club for Rooney! Ibrahimovic invites Man United star to join him at PSG (Graeme Yorke, Daily Mail) Zlatan Ibrahimovic believes Wayne Rooney should join Paris St Germain if the England striker decides it is time to leave Manchester United. The Barclays Premier League leaders have been adamant that Rooney is not for sale, and plan to offer him a new contract. PSG president Nasser Al-Khelaifi this week said there had been no approach for the former Everton player, but admitted he admires Rooney's talent.
Beckham for England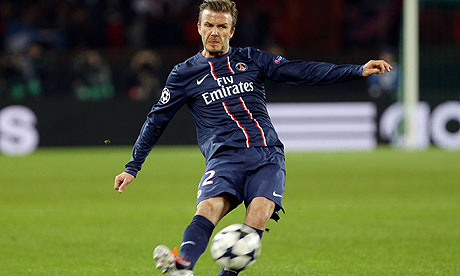 Hodgson needs Beckham: Ex-captain could play a vital role if England are to qualify for the 2014 World Cup (Martin Keown, Daily Mail) If a young English player had put in a good performance against the best midfield in the world, we would be raving about him, purring about his future in an England shirt. So why should it be any different with David Beckham? He played well against Barcelona on Tuesday night and reminded us that, at 37, he still has plenty to offer. Beckham creates so much time on the ball and is extremely calm in possession. He plays difficult passes and makes them look easy. He reminds me of Tiger Woods playing an approach shot the way he feathers the ball to his team-mates.
David Beckham shows his age but PSG still live in Champions League hope (Daniel Taylor, Guardian) An hour or so after the final whistle, David Beckham stopped to talk in one of the corridors at Parc des Princes. It was not particularly what he said that stood out. It was more his demeanour. It had been a great occasion and the great players love to be involved in the great occasions. These are the moments Beckham will miss when he decides the legs are in danger of failing him. What he would not have known at that stage was that L'Equipe had marked his performance as three out of 10, lower than any other person on the pitch bar David Villa of Barcelona. Beckham never spoke to the Manchester Evening News again after it awarded him a six for one match (Nicky Butt had scored a seven). Another time, he and Gary Neville pointedly held up their fingers to show they wanted eights and nines when the bus carrying Manchester United's players passed the newspaper's correspondent on the motorway. More recently, Beckham sent a personalised message via his agent – you can guess the words – to one newspaper that had described him as washed up.
Paolo Di Canio
Driving force: Paolo Di Canio explains why he asked Sunderland to name him coach not manager (Simon Bird, Daily Mirror) Di Canio is hoping to have a transfer kitty in the summer, despite Sunderland making a £27million loss in their latest accounts. But should the club be relegated, spending will be put on hold and there will be massive cost-cutting and job losses. "I said to the board, when they asked me if I wanted to be called manager, that I prefer to work on the field," said the Italian, who was photographed at work with his squad on Wednesday. "I'm a coach, I'm a teacher of football. It's not an issue if I'm manager or not a manager. We decided head coach because I feel like a coach. "I'm not a typical manager that has an assistant that does the coaching for him. I work with my players every single second on the training field, every single day during the week. "I know how I want to play in the future and what system I want to use. I want to play attractive football and get in a better position than we are in now.
Di Canio is an 'absolute idiot' (Shaun Custis, Sun) Rio Ferdinand once branded Paolo Di Canio 'an absolute idiot' for making a fascist salute. Ferdinand, a team-mate of the Italian at West Ham, made the comment in his autobiography 'Rio: My Story'. He said: "There were pictures taken of Paolo making what looked like fascist salutes which makes him an absolute idiot in my book." Di Canio, 44, has proved a controversial appointment as the new Sunderland boss. Labour MP David Miliband resigned as vice-chairman while the Durham Miners' Association have demanded the return of a banner which hangs at the ground. Ferdinand revealed Di Canio could be difficult but was also hugely passionate about his football.
With the fascist question dealt with, the issue of how Paolo di Canio manages Sunderland will be at the fore (Jim White, Daily Telegraph) When he was introduced to his new public on Monday, Di Canio himself seemed to regard any suggestion of an issue as laughable. He sneered at those seeking a straight answer from him about his past political posing, calling them pathetic and juvenile. His politics, he insisted, were irrelevant as far as his capacity to do his job is concerned. And there is something in that. One of the benefits accrued from the sacrifice made by, among many others, hundreds of Sunderland supporters in the fight against fascism in the 1940s was that we are now blessed to live in an open society. One in which even fascists are entitled to go about their daily business; Di Canio's views should be no bar to his employment. After all, scratch the surface of many an occupant of the football dugout and you are likely to find opinions a polite society might find a little bracing. My way or the highway has long been the shared philosophical approach of the sporting coach and authoritarian politics. As Brian Clough once put it, a successful dressing room is not a democracy.
Carlos Tevez set for 250 hours community service
Don't cry for me … Argie cleaner (Sun) Footie ace Carlos Tevez was yesterday sentenced to do 250 hours of community service for driving while disqualified and without insurance. The Man City and Argentina star, 29, is set to sport a hi-vis bib to carry out unpaid jobs such as cleaning. Typical tasks include cleaning churchyards and clearing allotments. Argentine international Tevez was stopped following an anonymous tip-off after leaving Mottram Hall Golf Club, Cheshire, on March 7.
---
GAMBLING CAN BE ADDICTIVE, PLEASE PLAY RESPONSIBLY