"Negligible" Robinho will be sold this summer, defending Ronaldo by criticising his teammates & the remembrance of Hillsborough begins
Comment & analysis round-up
Quote of the day: "It is a problem that he doesn't speak English as sometimes in training you pass and the interpreter chases and heads into the net. I keep saying: 'What's he [the interpreter] doing on the pitch?' and he's running over to tell Pavlyuchenko what I'm saying! In the last two minutes against West Ham I shouted at him, he could have stopped the right-back coming out. If he spoke English better it would make a difference." – Harry Redknapp.
Runner-up: "We're there to be shot at because of the money that's come into the club – and people haven't been slow to take pot-shots. Not long ago people liked City because we didn't pose a threat to anyone. Now, every time we lose, the critics come out with all kinds of stuff. They laugh at us. Well they'd better enjoy laughing at us now, because over the next few years City are going to become one of the top teams. Some of the things said by so-called experts have been ridiculous. We're even being hammered for the way some players dress travelling to away matches. It just shows some people are desperate for us to fail." – Richard Dunne.
Today's overview: Several pundits have bees in their bonnets this Monday. Patrick Barclay rants about debt, Steven Howard rants against critics of Ronaldo, and Martin Samuel rants against Flavio Briatore. But we start with the mounting problems for the blue half of Manchester.
After Fulham picked up only their second away win of the season at Eastlands, James Ducker details the unrest at Man City. "Mark Hughes was facing a rising tide of opposition… Robinho's contribution was negligible and it seems likely that the player, who has not scored in 15 matches, will be offloaded in the summer provided that City can find a buyer." Tim Rich also observed the underperforming City, writing "if the absence of Robinho and the injured Craig Bellamy and Shaun Wright-Phillips was supposed to allow the lesser members of this expensive squad to step forward, they collectively hid behind the sofa."
Patrick Barclay uses his Monday column in The Times to rant about debt in English football. "Football does not have to run up large debts. It does so only through the self-indulgence of reckless gambling, as in the case of Leeds, and other forms of maladministration… The Government should stop this scandal."
Steven Howard comes to the defence of Ronaldo by opting to criticise every other Manchester United player. "There is no escaping the general muttering around Old Trafford in the past few weeks that Ronaldo has gone off the boil… Has anyone actually been studying Nemanja Vidic recently? How his form has dipped dramatically? How he has also been giving the ball away? And Jonny Evans? And John O'Shea? And Gary Neville? And Patrice Evra? How Paul Scholes and Michael Carrick have hardly stepped up to the plate, either? And then there is Dimitar Berbatov. Now here we have a player who really is disinterested and sulking, two of the charges levelled at Ronaldo."
Dropping into the Championship, Martin Samuel lets rip over Flavio Briatore's ownership of QPR. "Briatore's brief yet chaotic time at Loftus Road has made Rupert Lowe's spells at Southampton look like masterpieces of consistent vision… If even half the stories circulating about Briatore's stewardship at QPR are true then any credible manager would run a mile. It has been suggested Briatore has phoned in from Malaysia to insist on half-time substitutions and summoned a manager from the field where he was warming up the players to tell him what the starting XI should be." Sadly Denis Wise has not heeded the calls, Jeremy Cross anouncing "Wise is poised for a swift return to football by becoming the new manager of QPR this week."
Several of Europe's finest attackers receive praise in the British press this Monday.
Barcelona's front three – Messi, Eto'o & Henry – are lauded by Gabriele Marcotti. "The achievements of these three men – who, between them, will likely go on to score more than 100 goals this year – deserve to take their place in history." While Sam Wallace looks at the likely departure of Franck Ribery from Bayern this summer. "Sell Ribery and they can have little hope of attracting another world star. They will be obliged to fight on every front to keep him, which will doubtless involve accusing the English clubs who come looking for Ribery of being scoundrels representing the very last word in greed."
Onto today's transfer gossip, with the Daily Mail linking Blackburn with a swoop for Schalke's Kevin Kuranyi. Arguably the biggest news is delivered by the Daily Star, Andy Rose writing "Gianfranco Zola is set to sign a new four-year deal as West Ham boss."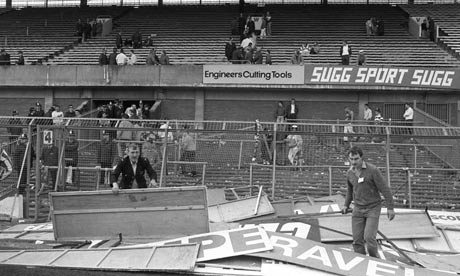 As we enter the week marking the 20th anniversary of Hillsborough it seems that little has been achieved to see justice prevail.
David Conn exposes this "burning sense of injustice" writing of "the discovery that the police vetted junior officers' statements, and amended many to remove criticisms of the police's own operation, seemed to confirm the families' suspicions after Hillsborough: that the police tried to cover up their own culpability for the disaster."
Alan Hansen recalls playing on that fateful day before concluding "I feel myself that something, somewhere has got to be done, to put the thing to rest for the families, because watching the footage reinforces how justice was not done. Somebody should just hold a hand up and say, 'We got it wrong'. Let's have some openness, and establish what really took place."
An emotional Tony Evans relives the events of Hillsborough. "You go back to Hillsborough, like I did last week, and cry for the dead, the crippled and their families. But you also weep for the fools who believe 'The Truth', those who think that my friend and I were wilful killers." Similarly, Kevin Eason also wants to set the record staright penning "even now, after the emotions have softened and the enormity of that day has waned, one question remains: how could it have happened?"
Owen Gibson is found trumpeting the line that Hillsborough, together with the Taylor report, changed English football forever. Paul Kelso also focuses on the impact of Hillsborough, "by insisting that all-seat stadiums be introduced by the 1994-95 season, he gave football a deadline it could not avoid and unwittingly sowed the seeds of the Premier League revolution."
Jason Cowley however does not believe that in every aspect football has changed for the better. "The Premier League, Sky Sports: someone waking Rip Van Winkle-like from a deep sleep would scarcely be able to comprehend the changes that have occurred in English football over the last 20 years. How, for instance, would he respond to newspaper headlines, such as this, from last summer: 'Kaka set to become the world's first £1m per month player?'"
---
GAMBLING CAN BE ADDICTIVE, PLEASE PLAY RESPONSIBLY