Nani & Joe Cole the fall-guys as Man United & Liverpool crash out the cup, Chelsea drop Mata claim, Zaha eyed by Arsenal, Spurs & City
Comment & analysis round-up
Quote of the day: "Chelsea football club [yesterday] lodged a formal complaint with the Football Association regarding inappropriate language directed at John Mikel Obi by referee Mark Clattenburg… Since reporting the matter to the delegate, the club and outside legal counsel have conducted further investigations. Having completed that process, we have now followed the correct protocol and lodged a formal complaint with the FA regarding John Mikel Obi. There was not sufficient evidence to support a second claim to the FA with regard to the alleged verbal abuse of another first-team player." – A statement from Chelsea.
Runner-up: "We gave the ball away for the third goal having been in complete control of the match at that point. All we needed to do was see the game out with good possession. Nani is experienced but he's a player who wants to beat men and I often discourage him from that. In that situation, if we'd kept the ball at the corner flag, the game's over. We had a lot of attacks and nothing came of them, and their counter-attack was very good, but if you're winning 3-2 in the final seconds of the game then you should see it out. We've only got ourselves to blame really." – Sir Alex Ferguson.
Chelsea 5 – Manchester United 4
Capital punishment for Reds reserves as Blues fight back three times for sweet revenge (Mail) After all the controversy of Sunday, Chelsea and Manchester United reconvened at Stamford Bridge and produced a humdinger of a Capital One Cup tie: a treat to savour rather than a trick on a rainy Hallowe'en night. It had its moments of controversy, of course; plenty of them. We even had some of the terrace banter that is so often missing from clashes between the top clubs. But more than anything it was an enjoyable, exciting cup tie.
Chelsea earn dramatic victory over Manchester United in Capital One Cup (Daniel Taylor, Guardian) Where to start? This was also a night when the referee, Lee Mason, booked nine different players and was fortunate, perhaps, that Eden Hazard's penalty spared him another inquest about a key decision going against Chelsea. Mason had missed a pretty obvious penalty not long before when Juan Mata's cross struck Michael Keane, United's 19-year-old centre-half, on both arms.
RDM blasts refs.. after Blues get 2 pens – and win! (Sun) RDM moaned: "Nobody is talking about the handball in the second half when we should have had another penalty. We've had two situations in the last 12 months — at QPR last season and against United on Sunday — when we were not treated fairly. Fernando Torres should never have been sent off on Sunday and last year at QPR Jose Bosingwa's sending off was harsh."
Manchester United fans outwit Chelsea rivals but Blues have last laugh (Guardian) Manchester United fans mocked Chelsea's predicament with banners about the Mark Clattenburg row on an evening of more humour than rancour.
Di Matteo won this battle but he faces many more (Jame Lawton, Independent) Chelsea seemed intent on hara-kiri for much of the evening but in the end they found the rhythm and the nerve of potential champions. Once again, Di Matteo was a man in a corner. But then few of his rivals have displayed quite such a capacity to fight their way out. He is surely becoming the prime contender as football's survivor in chief, and the sense of it this was only enhanced in an exultant stadium when Ramires clinically finished a movement of genuine grandeur. It may not have been the night Chelsea cast away all the clouds above Stamford Bridge but this morning there is surely just, perceptibly a shaft or two of sunlight.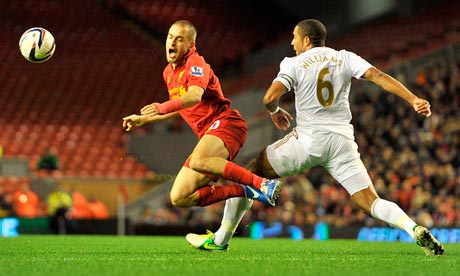 Liverpool 1 – Swansea 3 (Slamming Joe Cole)
It's Chico time for Laudrup as holders are dumped out at Anfield (Dominic King, Mail) This will have hurt. Brendan Rodgers has had to ride some punches since becoming Liverpool manager but none has caused as much pain as the blow his former employers inflicted here. Stood on the touchline, hands stuffed in his pockets, Rodgers had to endure wounding chants from the Swansea fans who once idolised him. They crowed they didn't 'need him any more' after the visitors produced a hugely accomplished display to end Liverpool's reign as Capital One Cup holders.
Liverpool's Brendan Rodgers left forlorn by Swansea old boys (Andy Hunter, Guardian) While Rodgers reflected on the obvious shortcomings in the Liverpool squad, one that cannot cope without Luis Suárez and Steven Gerrard for even 45 minutes, Swansea revelled in his misery and their own club's moment of history. A first victory at Anfield since 1964 secured the Swans' debut appearance in the quarter-finals, where they will entertain Middlesbrough, and gave Michael Laudrup a night to savour against the club he supported as a boy. "We don't need you any more," sang the impressive following who made the journey from south Wales.
Fair Kop: The best team won – we were too slow admits Liverpool boss Rodgers (Mirror) Of the more experienced players on show Joe Cole, on his first start since a Europa League qualifier on August 2, was the most disappointing- being withdrawn at half-time.
Liverpool's Joe Cole fails his trial but time is on Samed Yesil's side (Paul Wilson, Guardian) Cole keeps having to try to live up to the name he made for himself over a decade ago. Having come to Liverpool in search of stability after Chelsea, he finds himself on his third manager in two years and as far away as ever from a regular place in the team. This uncomfortable audition will have done nothing for his peace of mind. There was no attacking partnership, for a start. Yesil was even more anonymous than Cole, and that was saying something. In the early stages Cole was upstaged by the other Joe in the Liverpool team, Joe Allen, who was running the home side's show against his former club from a deeper midfield position and putting Swansea on the back foot by cleverly mixing short and long passes.
Red-faced Rodgers left livid by 'slow' Cole (Tim Rich, Independent) The arrival of Gerrard and Suarez meant the end for Samed Yesil, a young footballer with his footballing future ahead of him and Joe Cole, who is paid £90,000 a week to sit on the sidelines.
Loving The League Cup
How FA Cup's little brother is now England's best knockout competition (Jack Pitt-Brooke, Independent) If Tuesday night's 12-goal, two-hour manic epic was unique, it was not entirely without precedent. The League Cup has, for some time now, provided more thrills and, arguably, better entertainment than its older, richer, more prestigious brother. Almost every season, fans are blessed with this sort of floodlit goal frenzy. Games end with scores from a tight rugby match, or a set of tennis, in a way true of no other English competition.
Clattenburg: Waiting For Evidence Still, Mata Charge Dropped
Chelsea lodge complaint with FA about  Clattenburg's 'racial abuse' of Mikel BUT drop allegation regarding Mata (Neil Ashton, Mail) Chelsea have pressed ahead with a formal complaint to the FA of inappropriate language by race-row referee Mark Clattenburg. John Mikel Obi has consistently told Chelsea officials that he wanted to pursue the case against Clattenburg after the official allegedly told him to 'shut it, monkey' during Chelsea's 3-2 defeat against Manchester United on Sunday. But as United met Chelsea again at Stamford Bridge on Wednesday night, in the Capital One Cup, the second element of the London club's initial complaint alleging the referee called Juan Mata 'a Spanish t***' was dropped on the advice of the club's external legal team.
Did ref Clattenburg really use the word 'monkey' at Mikel? A Brazilian player's grasp of English, a referee's Geordie accent and a £2,900 set of earpieces hold keys to the big question (Mail) Up to 20 cameras are used for a live broadcast, but not all of them are 'on record'. Sky's match director chooses the best shot, as witnessed by the razor-sharp cut to Mikel being booked in the 76th minute. However, the footage of the incident broadcast on Sky shows the back of the referee as he raises a yellow card. Mikel is obviously unhappy, but his  reaction appears to be that of a man who has been booked rather than that of the victim of a racial slur. Other camera angles may help with the dialogue but may not be conclusive.
Is Walcott A Centre-Forward?
What are Arsenal thinking about letting Walcott go? He could play through the middle but I'd keep him wide (Jamie Redknapp, Mail) I'm a Theo fan. The boy could catch pigeons with that pace. I didn't think he played through the middle as a conventional striker against Reading. He played wide, but came inside. He could play through the middle, but I'd keep him wide where he can do so much damage one-on-one against the full-back.
Wenger hints he'll play Walcott as a striker now (Mirror) Walcott has scored 49 career goals for the Gunners – the same number as both their legendary striker Charlie George and Euro 2000-winning striker Sylvain Wiltord managed.
Theo Walcott's heroics in epic win over Reading may help secure him better deal at Arsenal (Telegraph) Walcott does still want to stay, however, and there still a sense that a deal could be done if he was given more game time and there was some compromise from both sides, perhaps to around £85,000-a-week. If not, the most likely scenario is that Walcott will leave as a free agent. The emergence of Oxalde-Chamberlain and the development of Serge Gnabry does provide Arsenal with young options in the wide positions.
Serbia Charge England 
Caulker, Ince and Wigley charged by police over mass brawl in Serbia(Mail) England Under 21 coach Steve Wigley and players Steven Caulker and Tom Ince have been charged by Serbian police over the mass brawl that broke out at the end of the recent game in Krusevac. In a move that has caused widespread anger and disbelief, police chiefs in Serbia announced that two England Under 21 players and one of their coaching team had been charged with acts of violence, following disgraceful scenes at the Euro 2013 play-off tie.
Serbs rap Caul and Ince (Sun) The UK has an extradition treaty with Serbia — although it is extremely unlikely any involved will be extradited to face charges. But they could face arrest their next time on Serbian soil.
Ballack & The Speeding Fine
I can't pay speeding fine as I'm out of work and have no money coming in, insists former £120k-a-week Chelsea star Michael Ballack (Lee Moran, Mail) Former Chelsea star Michael Ballack today tried to swerve a hefty speeding fine by saying he is 'out of work' and 'doesn't have any money coming in'. Ballack signed a £120,000-a-week deal with Chelsea in 2006 and had been earning over £80,000 a week with the Blues as recently as 2010… Spanish police busted the wealthy ex-Germany captain doing 131mph (211kmh) in his all-terrain Audi U7 on the A-5 motorway in the west of the country, near the town of Trujillo, on October 17. 
Transfer Lies
United join race for Zaha with Spurs, Arsenal, City and Liverpool all in the hunt (Mail) Manchester United have joined the list of clubs scouting Crystal Palace winger Wilfried Zaha.  Tottenham are understood to be in pole position but Arsenal, Manchester City and Liverpool are also watching him.
PSG to launch ultra-ambitious £100m bid for Ronaldo… AND Mourinho! (Mail) PSG's bottomless pit of money could be enough to persuade the Portugal international into moving away from Spain.
Pards sweet for Pez (Sun) Newcastle are in a fight with Napoli and Roma for German Pezzella. The Argentinian centre-half, 21, has impressed for River Plate and will cost around £4.5million.
'Helpless' keeper Butland braced for Birmingham exit (Mirror) Keeper Butland, 19, and winger Nathan Redmond, 18, have been earmarked for sale if negotiations do not end in a deal. Everton like Butland, while Stoke and Man City and Stoke rate the skillful Redmond.
Cat fight! Man City, Chelsea and Bayern chasing Ukrainian keeper Berezovsky (Mirror) Manchester City and Chelsea are poised to get it in on in a three-way scuffle with Bayern Munich for the signature of rising cat Igor Berezovsky.
Managerial Merry-Go-Round
No credible manager would take the Blackburn job… so said Berg, who's now the new Rovers boss! (Mail) n a widely referenced quote that he appears set to hear plenty about in the coming days, starting with Thursday's 8.30am press call, Berg said of the top job at Rovers: 'There are no real managers with credibility who would accept a job like that.'
Shearer in contention at Southampton as Adkins edges closer to the brink (Mail) It has been mooted that former Saints striker Alan Shearer would be a high-profile candidate to succeed Adkins, who guided Southampton to the Barclays Premier League on the back of  consecutive promotions, should Cortese and his board decide to make a change.
---
GAMBLING CAN BE ADDICTIVE, PLEASE PLAY RESPONSIBLY