Moyes wants to keep Rooney at Man United but Wazza fancies Barcelona move
Comment & analysis round-up
Quote of the day: "It's a challenge, but that's what you want. You want to play in the big games, you want to play for a big club and to play with pressure. I'm very confident in myself and my own abilities and I can't wait to get the first clean sheet under my belt. I've never been a nervous person. I'm quite confident in my own abilities. Competition can only be a good thing. I've been in big competitions wherever I've been – in Belgium with the national team and in Sunderland with Craig Gordon and Keiren Westwood, who are international goalies. Now it's the same again with Pepe and with Brad. It's only a good thing – to be competitive and to train as hard as you can, it can only bring the best out of you. Pepe is an experienced goalkeeper who has proven a lot over the years. I'm looking forward to working with him, the same as I am with Brad and the goalie coach. It's a big club and when you arrive it's a big thing. I'm very pleased to be here and I'm looking forward to getting started." – Simon Mignolet.
Edinson Cavani wants £300,000 a week
Manchester United and Chelsea target Edinson Cavani wants to be paid wages of £300,000 a week (Alan Nixon, Daily Mirror) Edinson Cavani wants a staggering £300,000-a-week deal to move from Napoli. Manchester United, Chelsea and Real Madrid are all in pursuit of the Uruguay striker, whose agents set out his demands in London meetings with the Premier League clubs this week. Cavani is currently playing for his country in the Confederations Cup in Brazil, but his 'team' are trying to get agreement on personal terms in his abence. Mirror Sport revealed United's late entry into the £53million race as Napoli look to settle one of the summer's most fascinating sagas. However, Manchester City have now distanced themselves from interest in the player, whose personal demands will make any deal a huge financial commitment.
Manchester United want to keep Wayne Rooney
Manchester United's Wayne Rooney is wanted by new manager David Moyes (Alan Nixon, Daily Mirror) David Moyes wants Wayne Rooney to STAY at Manchester United – and will try to make peace when the pair show up for pre-season training. Moyes is not looking to sell the star he put on the road to the top at Everton and will let him know that when they finally get together. The champions' new manager also plans to assure England ace Rooney that he has no problem with him and will try to smooth-over the 'transfer request' row involving the new-retired Sir Alex Ferguson. Moyes has not arranged any special face-to-face meeting with Rooney, as he is keen to avoid any drama – or possible problems. Instead , the Scot, who only officially takes up station behind his desk at Carrington next week, plans a quiet word once training is up and running.
Rooney wants to play for Barcelona
Roo Nou Dream (Neil Custis, Sun) Wayne Rooney's dream destination is Barcelona if he decides to quit Old Trafford. SunSport revealed yesterday that the Spanish champs are ready to fight for Rooney this summer. And the striker, who would cost £25million, has always had the Nou Camp as his No 1 choice if he was ever to leave Manchester United. Rooney, 27, is due for showdown talks with David Moyes when the new United boss starts work on July 1. Rooney was left out of Sir Alex Ferguson's final two games and the former boss claimed the England star asked for a move.
Tevez set for Juventus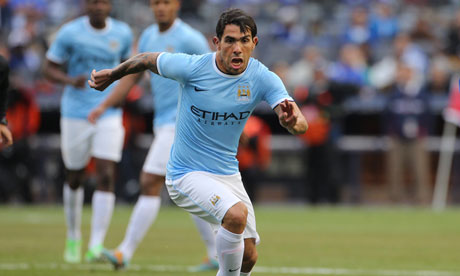 Manchester City and Juventus agree deal for Carlos Tevez (Jamie Jackson, Guardian) Manchester City and Juventus have agreed a €9m (£7.6m) deal for Carlos Tevez that could be worth up to £27m to the former Premier League champions when saved wages and bonuses are included. Tevez has still to agree personal terms and talks will take place between the player's representatives and Juventus on Wednesday, with negotiations possibly taking longer than 24 hours. The 29-year-old earns a base rate of £198,000 a week on a contract that has 12 months remaining and faces having to accept a pay cut if he is to sign for Juventus.
Inter track Micah Richards
Micah is earning extra Inter-est (Martin Blackburn, Sun) Micah Richards is being eyed by Inter Milan. The Manchester City full-back made just seven appearances last season after a knee injury. And the Italian giants know Richards faces a fight for game time at the Etihad next season. City have indicated they are willing to hand the 25-year-old a new deal, even though he still has two years left on his current one. But he can expect a huge battle for first-team football next season, with Pablo Zabaleta and Maicon also vying for the right-back spot.
Newcastle target Gignac
Newcastle line-up £12m swoop for Marseille striker Gignac (yes, another Frenchman) (Simon Jones, Daily Mail) Nwecastle United are making a £12million move for Marseille striker Andre-Pierre Gignac. The powerful 27-year-old has been described as 'a British style centre forward in the Alan Shearer mould' and is ready to make the move to St James' Park. The France international has been a target for Everton, Fulham, Arsenal and Manchester United in the past and is well known to chief scout Graham Carr.
Carlo Ancelotti arrives at Real Madrd
Carlo Ancelotti will be like a breath of fresh air at Real Madrid (Jonathan Wilson, Guardian) Perhaps Carlo Ancelotti's greatest gift as a coach is his affability. He desperately wants to succeed but he recognises there are things in life other than football – such as food, even if he is rather slimmer now than he once was. His years at Milan under Silvio Berlusconi and at Chelsea under Roman Abramovich passed without ructions with owners noted for interfering. He even managed to cool a developing (on one side at least) feud with José Mourinho by suggesting they simply pack it in. After the sulphurous reign of Mourinho, his breezy pleasantness will be a cleansing blast at the Bernabéu. Real Madrid can be a strange place politically but if there is any top manager equipped to handle the internal pressures, it is Ancelotti, a man seemingly able to face down most situations with a raise of his famous eyebrow (according to the journalist Sheridan Bird, the effect is the result of limited movement caused by an elbow in the face from Marco Tardelli).
Stuart Pearce assesses England U21s
Stuart Pearce clears his desk at FA – but leaves behind dossier on Under-21 Israel flops (Henry Winter, Daily Telegraph) Stuart Pearce, who vacates his Wembley office on Wednesday after six years as England Under-21s coach, leaves behind in the FA player-analysis system a series of appraisals of those who performed so poorly at the European Championship in Israel this month.
England lost all three games, managing only one goal, ensuring plenty of criticism of Pearce and his players. It is understood that the below-par attitude of certain players was noted by members of Pearce's coaching staff in Israel. Pearce himself remarked after the final Group A defeat to the hosts in Jerusalem that he was "sick to the back teeth" of defending out-of-form players. And he has also recommended to the Club England management board that the seniors do not deprive the Under-21s of their major players for tournaments.
Why you need a VPN?
Cut chords:
Watch everything (Netflix, BBC iPlayer, Hulu) online using a VPN.
Unlock geoblocking:
A VPN gives you access to the best content from anywhere in the world.
Privacy & security:
A VPN keeps your information private, activity encrypted & data anonymous.
Just $6.67 a month + 3 months free!
Best football betting tips & free bet offers
Click here for more Premier League betting tips
---