Moyes to be named new United boss today, Rooney off to Chelsea & the Fergie tributes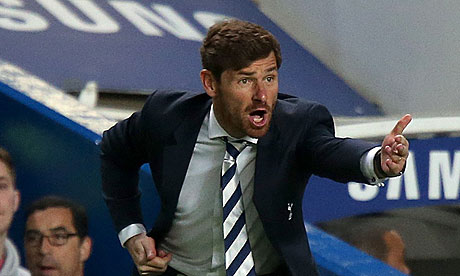 Comment & analysis round-up
Quote of the day: "He's always said the day would come when something in his life wasn't right. Is it his hip operation? I can't see him retiring over that. Until he explains why, we can guess and guess. There is something there we don't know about. He won't retire for the sake of retiring — it is difficult to make sense of it. I'm shocked — I just can't make sense of the timing. It has come as a bombshell. I'm disappointed and very sad." – Peter Schmeichel.
Runner-up
: "Anything can happen. The Premier League is completely unpredictable and the next fixtures, with the emotion of the last few games of the season, can be decisive. Keep the faith. Our situation has changed because destiny is not in our hands, but all we can do is win the next two fixtures [against Stoke and Sunderland] and hope somebody slips up. I'm still extremely pleased by the performance. It was a great example of Tottenham's determination and ambition. We increased the tempo and played really well: it was difficult to control Chelsea's creativity but we had attacking strength and created our own chances. Our focus is on us doing our job in the remaining fixtures and in the Premier League anything can happen. Keep the faith." –
Andre Villas-Boas
.
New Manchester United boss David Moyes
Moyes is cut from the same cloth as retiring United icon Ferguson, the man from the opposite end of the Clyde tunnel (Dominic King, Daily Mail) All he has ever wanted to do was be in a position to compete, yearning to be in the Champions League, which is why there was heavy symbolism at Everton's Finch Farm training ground yesterday. Moyes took training as normal and no mention was made of his impending departure. Though he was said to be a little subdued, there were no meetings called or special briefings to the players. At first glance, it could have been an ordinary day, when it was actually something out of the ordinary for Moyes and Everton. When the Mercedes he was in sped out of Finch Farm at 1.18pm, it felt like an era had just ended. Moyes was on his way to see Kenwright and then watch Tottenham's game against Chelsea, two clubs vying for the Champions League. Very soon he will simply be vying to be a champion.
Moyes is United's Man: Champions to name Everton's David as Alex Ferguson successor within 24 hours (Daily Mirror) David Moyes will be named Manchester United's new manager on Thursday, after being handpicked by Sir Alex Ferguson. The Everton boss has been given a five-year contract to succeed Ferguson and will include former United player Phil Neville on his coaching staff. Fergie has decided to step down after 26-and-a-half years in charge at Old Trafford and personally selected Moyes – a choice that's backed by the entire United board. Moyes will take charge of Everton's final two games of the season before taking over from fellow Scot Ferguson, after 11 years at Goodison Park. And Everton chairman Bill Kenwright reportedly said late on Wednesday that a deal is not done for Moyes. Ferguson, who won 38 trophies during his United reign, will stand down after their final game of the season at West Brom on May 19 – his 1,500th in charge.
Job's for the Moyes (Neil Custis, Sun) Alex Ferguson wants David Moyes to succeed him as manager of Manchester United. And he is backed by a host of Old Trafford legends who are calling for the Everton boss to take over. United were in turmoil last night after Fergie's shock decision to retire, as predicted in yesterday's Sun. He has urged his board to move for fellow Scot Moyes, 50, who held emergency talks in London with Everton supremo Bill Kenwright. Chairman Kenwright last night insisted no deal was in place and that Moyes would be in charge for the Toffees' home game against West Ham on Sunday. Kenwright also insisted the decision would be left with Moyes and revealed that he had not said farewell to any of the players.
Rooney out (to Chelsea) & Ronaldo in at United
Ronaldo lined up for stunning United return as Rooney asks to follow Ferguson out of Old Trafford… and Chelsea are confident of luring £25m star to London (Daily Mail) An astonishing day at Manchester United took an incredible twist on Wednesday night when it emerged Wayne Rooney has asked to leave Old Trafford at a time when the club are close to securing the return of Cristiano Ronaldo. Only hours after Sir Alex Ferguson confirmed that he will be retiring as United manager at the end of the season, making way for Everton manager David Moyes to take charge, Sportsmail can reveal that Rooney told Ferguson two weeks ago that he wants a fresh start. At the same time, it emerged that outgoing United chief executive David Gill has been in Madrid to meet Jorge Mendes, the Portuguese super-agent who represents Ronaldo. Sources on Wednesday night insisted United are confident of securing the return of the player they sold to Real Madrid for a world record £80million in 2009.
Once again a Blue? Chelsea out to hijack Wayne Rooney's £30m move to Bayern Munich (Daily Mirror) Chelsea have gate-crashed Bayern Munich's attempt to sign Wayne Rooney. Blues' billionaire owner Roman Abramovich has personally sanctioned a stunning £30million move for the unsettled Manchester United star – who had a plea for a move rejected by manager Alex Ferguson a fortnight ago. Contact has already been made between Chelsea, United and Rooney's representatives. And if, as expected, David Moyes takes over from the retiring Ferguson as manager of the Old Trafford giants, it may be too late to stop the move. A United spokesman confirmed late on Wednesday that Rooney, disillusioned at being in and out of the side in recent weeks, had asked to leave, but said: "Wayne Rooney is not for sale." Moyes and Rooney have had a troubled relationship in the past and even though it has improved, speculation about the Scot's arrival is unlikely to encourage Rooney to stay. Champions League finalists Bayern remain keen to add Rooney to their growing roster of stars.
Sir Alex Ferguson tributes 
Sir Alex Ferguson: the eulogy, the apology and the thank you (Daniel Taylor, Guardian) His legacy is as solid as the stadium where his statue – long overcoat, match-face, strict side-parting (it was always a side-parting, even in the 1970s when football went shaggy) – now rises behind the stand they named after him. Thirteen league titles for United, two European Cups, two Intercontinental World Cups, one European Cup-Winners' Cup, five FA Cups, four League Cups. Does the Community Shield count? There were 10 of them. Add in those years at Aberdeen, when he set about dismantling the Old Firm's dominance, and the trophy count is 49. Manager of the year? Ten times. Manager of the month? Twenty-seven. It's bordering on ridiculous: has there ever been another manager whose silverware has to be totted up like a maths problem?
End of an era as Alex Ferguson calls time at Manchester United (Barney Ronay, Guardian) It must be said at the start that this is not so much a difficult question as an impossible one. Ferguson's career is essentially sui generis, an unrepeatable footballing life that represents a lone thread running right through English football's own brilliantly disorienting wonder years. This is a sport that has been violently re-fashioned in the last 30 years, a clanking Victorian industry regurgitated as relentlessly veneered global entertainment product. Ferguson alone has been there throughout it all, not so much unchanging as endlessly adaptive: at times the hotdog seller in the foreground of history, unblinking witness to profound and irreversible change; more often than not right there in the front of things with his hands plunged right in up to the elbows.
Manchester United prepare for life with David Moyes but aura of a 'mad man' will remain (Henry Winter, Daily Telegraph)  All that drive, all that competitiveness, all those early starts to get on with plotting campaigns and all those late nights to keep on plotting triumphant campaigns. All the teams built and rebuilt, all those rivals seen off and trophies claimed. Ferguson slept little and won loads. Year after year, season after season. And now it is over. English football will seem so different in the post-Ferguson era. It will feel like Trafalgar Square without Nelson. As a manager, Ferguson was inimitable. David Moyes, a sound appointment as his successor, must be himself when assuming control of Manchester United, not seeking to replicate his more illustrious compatriot. Ferguson controlled the club, his aura dominating every corner of Carrington and Old Trafford. It still will.
Alex Ferguson retires: this true managerial titan will be an impossible act to follow at Manchester United (Alan Hansen, Daily Telegraph) There has never been, nor can I imagine there will ever be, a harder job in football than to be the successor to Sir Alex Ferguson. The very best of luck to the man entrusted with perpetuating the era of dominance Ferguson has masterminded at Old Trafford. You are going to need it. It cannot be done and we will never see one manager dominate English football in the same way. Every other manager in England is rubbing his hands today, or at least they should be. The most formidable foe and intimidating obstacle to Premier League success will not be there any longer. The most powerful, inspirational manager of his generation standing aside gives everyone else far more chance than they have ever had. There are managers who are described as irreplaceable, and then there is Ferguson who is at an altogether higher level entirely.
What Fergie is REALLY like (Neil Custis, Sun) It's that Friday morning feeling in the gut I'll miss the most. Every week I'd wake with a mixture of anxiety, anticipation, trepidation, excitement, awe and gloom wrapped in one. We were off to see Alex Ferguson. It was much stronger before the days when every TV camera and radio station trained their equipment on him. When we'd gather in a small press room at Carrington with just dictaphones and pens recording an audience with the great man. The cameras mean he had to behave, but in this room he could let rip. I lose count of the number of times his hairdryer has come my way. Once a tape recorder did too as he swept a pile of them off a table in a fit of rage.
What next for Fergie?
Ferguson to start work on second book after announcing imminent retirement (Charles Sale, Daily Mail) Sir Alex Ferguson's retirement will mean work starting soon on his second autobiography, which he verbally agreed to write three years ago for an expected advance of around £2million from publishers Hodder & Stoughton. Fergie's first authorised life story came out in the treble year of 1999. But there is plenty enough material on and off the pitch for a second volume of memoirs concentrating on the last 14 years. As well as Fergie's multiple trophy success, there is the seven-year snubbing of the BBC for their documentary about his football agent son Jason, the split with David Beckham, the nuclear fall-out with racing tycoons John Magnier and JP McManus over Rock of Gibraltar's breeding rights, the arrival at Old Trafford of the Glazers and his dealings with the now-marginalised Wayne Rooney.
Chelsea 2 – Spurs 2 – advantage Arsenal
Gunners 'n roses (Steven Howard, Sun) Arsenal have had worse nights. True, it would have been better had Chelsea not conceded an equaliser 10 minutes from the end. But a draw will suit the Gunners well enough. Two wins against Wigan (h) and Newcastle (a) and it's game over and Champions League football for the 16th consecutive season. It had long been a night earmarked as the one that could decide Tottenham's destiny. And so it could have proved with Andre Villas-Boas now having to rely on Arsenal's fallibility — not totally out of the question given some of their recent displays — if Spurs are not to end up fifth. Harry Redknapp finished one place higher last season and was sacked. AVB's position, though, is as safe as Fort Knox.
Gareth Bale takes rare night off from superman duties (Paul Hayward, Daily Telegraph) A guaranteed summer target for Europe's superpowers, Bale was due a night off from superman duties. But although Spurs fought hard to stay in this London derby Champions League qualification is now out of their hands. They need Chelsea and Arsenal to drop points in the two remaining fixtures. Otherwise they could be slipping a Europa League brochure under Bale's door while Real Madrid knock on it with a £50 million fee and an astronomical salary. Laden with awards, the £60 million-rated Cristiano Ronaldo spin-off was being asked for one big push to lift Spurs into Europe's moneyland, preferably at the expense of Arsenal. No scout taking notes back to Madrid, Barcelona or Milan could doubt his big-game temperament.
---
GAMBLING CAN BE ADDICTIVE, PLEASE PLAY RESPONSIBLY