Mourinho hints at Chelsea return, Sunderland eye Everton's Moyes, Man United plot Garay, Rodriguez & Mangala bids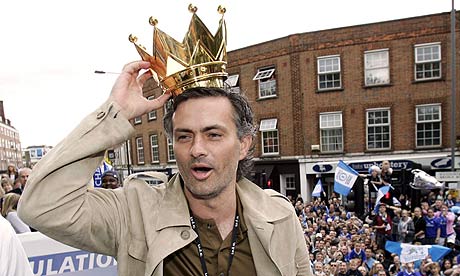 Comment & analysis round-up
Quote of the day: "I have an adventurous spirit and do not know what will happen next season. It's not easy to choose a new destination after working in England, Portugal, Italy and Spain. Maybe I could return to somewhere I've already been. Watch out for surprises." – Jose Mourinho.
Runner-up: "I think the fans have shown their frustration about Rio not being here. They're entitled to their opinion, they pay good money to come over here. We all wanted Rio here because he's a good player and he would have helped us over these two games. But he's made his decision and we have to respect that." – Steven Gerrard.
Previews: Montenegro v England
Don't lose it again, Wayne! Captain Gerrard pleads with players to stay calm against Montenegro (Joe Bernstein, Mail) England captain Steven Gerrard has warned Wayne Rooney not to lose his head again in the cauldron of Montenegro, with England's World Cup hopes resting in the balance on Tuesday night. Rooney was sent off the last time the two countries met in Podgorica 17 months ago and Gerrard is adamant their Balkan opponents may try to provoke another reaction when the two leading teams in Group H clash again with a place at Brazil 2014 at stake. 'It's important we keep 11 men on the pitch because it will be a very difficult game,' said Gerrard. 'It's going to be a pressure situation and we don't need to give the referee any excuse to send any of us off or unnecessary yellow cards. It's important everyone takes responsibility and stays on the pitch.'
Three things England must get right against Montenegro (Dominic Fifield, Guardian) Steven Gerrard has warned that heads must stay focused, the need to keep bodies on the pitch clear. If the visitors stay calm, their quality should prevail to thrust them back to the top of the section. But the fact Hodgson's side are two points shy of their hosts in their final qualifier of the season generates its own pressure. This may be an occasion for patience; desperation must not be permitted to take hold.
All change from Roy Hodgson for England's tough test against Montenegro (Sam Wallace, Independent) Roy Hodgson is poised to make up to six changes to the England team that beat San Marino 8-0 on Friday night for the World Cup Group H qualifier against Montenegro on Tuesday that the national team cannot afford to lose… Likely to come back into the side for the qualifier against Montenegro are the captain, Steven Gerrard, Ashley Cole, Michael Carrick, Danny Welbeck and James Milner. That would mean Frank Lampard, Kyle Walker, Leighton Baines, Ashley Young, Jermain Defoe and Alex Oxlade-Chamberlain all missing out.
Still Talking About Rio
England team suffering a slow death (Michael Calvin, Independent) Ferdinand has been foolish, unnecessarily provocative. He comes across as being conceited, self-absorbed. He has a justified grievance with the FA's craven disregard for the consequences of their commitment to John Terry, which compromised his career and, more importantly, his family. He is correct in criticising the stampede to condemn him without a full appreciation of the subtlety of his prehabilitation and rehabilitation programmes. Yet in choosing to pontificate from a television studio in Doha he has invited demonisation, and tribalism ensures he will be a target whenever he plays for Manchester United. The fault line between club and country is widening.
One call from Roy and this Rio row would have been averted… but I'm sure Ferdinand will be back (Glenn Hoddle, Mail) If you love the game, then you play international football for as long as you can. I don't see the fact that he flew out to Qatar to do TV analysis as being disrespectful to his country. It might seem disappointing that he's taking two seven-hour-plus flights during this time but then none of us know the ins and outs of Rio's medical programme. He has said this is something he had done on previous international breaks. Getting into a warmer climate can be important for recuperating a back injury, even if the flights don't seem ideal. I don't think this closes the door on Rio's international career.
I'd stick his comments on dressing room wall (Terry Venables, Sun) The Manchester United defender questioned England's mental toughness and quality, which is a bit naughty and strange for someone who insists that they still want to play international football. I am sure his comments would not have gone unnoticed in the England camp. In fact, I would not be surprised if they were hanging on the wall of the visitors' dressing room in Podgorica come Tuesday.
Why Alex Ferguson will secretly relish Rio Ferdinand's England abuse (Andy Dunn, Mirror) Ferdinand will now be a ­United footballer with a grander cause – to stick two fingers up at the legion of critics. Just how ­Ferguson loves his charges to be. And to turn that smile into a grin from ear to ear, Ferguson has the added bonus of never having to deal with a Ferdinand ­call-up again. It has to be over for Rio. And while United will benefit, what an ignominious way for the international ­career of a decent footballer to end.
The Next Chelsea Boss Will Be…
Jose new Blues nod (Anthony Kastrinakis, Sun) Mourinho is said to have had preliminary talks with Chelsea chief Roman Abramovich to succeed interim boss Rafa Benitez. Paris Saint-Germain are also openly courting him, while Inter Milan are trying to convince him to return and replace Andrea Stramaccioni.
Is Zola's next ticket a return to Chelsea? The man who takes the train to work may find it hard to turn down Roman a second time (Malcolm Folley, Mail) Pretty soon Zola may have a new destination, for his next stop on a distinguished footballing career could well be Chelsea, the club where he made his Premier League name… In May, Abramovich may yet cast an eye towards Zola again, because Chelsea will be hiring once more since Rafa Benitez is assured of becoming Chelsea's latest managerial casualty after the whistle signalling the end of the season. 'No one from Chelsea has spoken to me,' said Zola, making his point decisively.
Staying With Chelsea
Football gone MAD! Unknown Chelsea kid will earn £1.7m before he turns 20 (Simon Mullock, Mirror) Ruben Loftus-Cheek is one of the ­hottest young talents in English football – but the size of the ­contract Chelsea have promised him is ­astonishing.
Fixing Referees
Swearing, referees and the future of the Respect campaign (Ian Holloway, Mirror) The Respect campaign is destined to fail as long as the rest of us feel that referees seem to be above the law in football. Last weekend, we saw a quite horrendous tackle by Callum McManaman on ­Newcastle's Massadio Haidara go unpunished. To make matters worse, the FA said it was unable to take any retrospective action against the Wigan player ­because one of the officials had seen the challenge during the game. Have you ever heard such absolute claptrap? I can understand the reluctance not to re-referee games after the final whistle. But the FA seem to be using that as an excuse not to punish referees who get things so badly wrong. Any official who saw ­McManaman's challenge and deemed it was fair should be given a three-match ban ­themselves. The FA seems to be just ­paying lip service to cleaning up the game. If it doesn't try to deal with every injustice that takes place on the pitch then the Respect campaign is stone dead.
The referee missed this tackle but technology can fix it (Harry Redknapp, Mail) [Referees] are paid to get decisions right. But then we have to accept human error — which is where technology can step in. A simple monitor in the dugout would allow the fourth official to cast an eye over each incident and communicate it to the man in the middle. It's so simple but it seems beyond the powers-that-be.
Transfer Lies
Sunderland eye David Moyes (Express) Sunderland could make a shock move for Everton boss David Moyes if Martin O'Neill decides to quit in the summer.
Atletico open door for Torres return while Chelsea given encouragement over Falcao (Mail) Atletico Madrid are considering ending Fernando Torres's nightmare £50million Chelsea move by taking the striker back to his childhood club. And with Chelsea chasing Atletico's own striker Radamel Falcao – who has a £50m buy-out clause in his contract – a cash-plus-player swap deal is looming in the summer.
Manchester City move ahead of Chelsea in chase for Radamel Falcao (Mirror) Atletico striker is not interested in a move to Stamford Bridge – paving the way for a £50m bid from Mancini.
Fergie hopes to win race to sign highly-rated defender Garay but Barcelona and Chelsea are hot on their heels (Mail) Manchester United boss Sir Alex Ferguson is trying to push through a £15million deal for Benfica's Argentinian defender Ezequiel Garay. After Chelsea were reported to have been monitoring the ex-Real Madrid centre-back this week, Ferguson has been pushed into organising an approach.
Man Utd midfielder Anderson pushing for summer move to boost World Cup hopes (Mail) Brazilian midfielder Anderson could be on his way out of Old Trafford to find first team football and give himself a chance of playing at in his home World Cup in 2014… Anderson could also be used in a part-exchange deal for Porto's Colombian attacker James Rodriguez.
Wenger finds God (Sun) Arsene Wenger has handed a trial to Nigeria international defender Godfrey Oboabona. The 22-year-old played a major role as his country won the African Nations Cup last month. Arsenal boss Wenger will now run the rule over the £1m-rated centre-back who has won 18 caps and plays for the Sunshine Stars.
Bony no phoney for Sam (Sun) West Ham are on the brink of smashing their transfer record with a £12million raid for goal machine Wilfried Bony.
Arsene wants a Great Dane (Sun) Arsenal are lining up a summer move for Denmark striker Andreas Cornelius. The £5million-rated 20-year-old has 16 goals for FC Copenhagen this term.
Manchester United eyeing up £20m bid for Porto defender Eliaquim Mangala (Star) France Under-21 defender Mangala, 22, is a £20million target for the Reds who are tracking him closely. But they face competition from neighbours Manchester City, Tottenham and AC Milan.
Monaco want Newcastle playmaker Yohan Cabaye (Star) Monaco are preparing an eye-watering £20million bid for Newcastle midfielder Yohan Cabaye.
---