Money Problems: Liverpool's owners claim £2m in expenses, West Ham face bankruptcy as Newcastle are treated like an item on eBay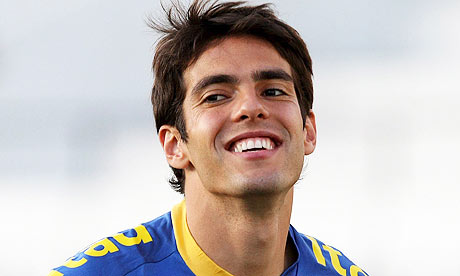 Comment & analysis round-up
Quote of the day: "I hope to be part of this new project and help to win titles, both European and Spanish. Now the soap opera is over. The only leftover details were the medical exams, and I've done them. The negotiations are closed and I have sealed my transfer to Real Madrid. Everything I've always done for Milan has been by mutual agreement, from the moment I arrived until my departure today. I'm leaving by the front door. I've won everything that I wanted as a player and this is a new motivation for me." – Kaka.
Runner-up: "I would love to know who is advising Mike Ashley and the Newcastle board, because, at the moment, the club is a laughing stock… The season was like a slow car crash with no brake being applied. But now people are just laughing. Can anyone imagine Manchester United asking people to e-mail them bids for the club? Newcastle are in no-man's land right now. Sometimes I just want to ring up Ashley and say 'Look, I don't have any business knowledge but do you need a hand? Do you want some advice?' He clearly does, because at the moment things are just going from bad to awful. He needs to get out quickly, though, of course, it doesn't always happen like that. Everyone I speak to in football keeps asking me 'What the hell is going on at Newcastle?' You just couldn't make it up. I've heard people comparing the situation to what happened at Leeds but I think it's worse than that. The club is plummeting like a stone. When you think it can't get any worse, it does. They need some finality for the whole Ashley saga. But I fear for them, I really do." – ex-Newcastle player John Beresford.
Today's overview: They say money is the root of all evil, and today Liverpool, West Ham and Newcastle all face up to the reality of financial problems handicapping the development of their clubs.
Another day and more suggestions of poor financial planning at Liverpool.
David Conn is Tuesday's chief architect in attempting to stir up the controversy, barking "Liverpool are being made to pay almost £2m to cover the travel, legal and other personal expenses of the club's owners, Tom Hicks and George Gillett… The revelation about the expenses has further incensed supporters' groups who have campaigned for Hicks and Gillett to sell up and leave." Seizing his opportunity to spout nonsense on the subject, Ian Wright spews vitriol at the Liverpool owners for the Reds' financial woes. "The news Liverpool are on the brink of financial meltdown is nothing short of a national disgrace… It probably won't matter to Liverpool owners Tom Hicks and George Gillett that manager Rafa Benitez will not have the money to strengthen his playing squad this summer. Just as long as the wolves are kept from the door. It goes against everything the club and English football stands for."
Nevertheless, despite the suggestion that Liverpool are being squeezed for cash, Andy Hunter quotes the rumour mill that the Reds are chasing Napoli's £13-rated Argentine forward Ezequiel Lavezzi.
From one Icelandic shambles to another.
West Ham's takeover yesterday by CB Holding – an Icelandic asset management company – already looks to be close to implosion, Matt Scott reporting "West Ham United's new owners may be forced into bankruptcy proceedings within 72 hours, casting doubt on assurances that it has brought stability to Upton Park." Gary Jacob is slightly more optimistic writing "CB Holding will want to maintain the value of West Ham and is unlikely to sell too many top players because it could risk relegation and therefore a drop in value. Equally, it is unlikely to invest much money for transfers."
Not so, according to The Sun, who report that "West Ham have stepped up their pursuit of Chilean hotshot Luis Jimenez in the wake of a £100million takeover." The Mirror's Darren Lewis goes even further claiming "there are also plans afoot to fund a new training ground in nearby Romford and West Ham are in 'advanced talks' to sign three new players this summer."
Football's dirty little secret, the prevalence of bungs in the game, is picked up by Neil Ashton in the Daily Mail with the news that "the BBC is set to name three top football managers who have been accused of taking bungs."
How much lower can Newcastle fall?
The poor Toon find themselves the laughing stock this Tuesday after The Guardian publicised how "Newcastle United have been inundated with joke offers after Mike Ashley invited anyone interested in buying the club to make contact via email… the invitation to email Newcastle with prank offers proved irresistible to many rival supporters. One Sunderland fan bid 10p and another wrote: 'I would like to lodge an official bid to buy NUFC. The amount I am offering is £10. Should I be successful I will be appointing myself as team manager, as I am currently in a management role in the Peterlee Sunday League.'" George Caulkin then sticks the boot into the black and whites writing "what this announcement has done is simply add another layer of embarrassment to the club. Short of putting it up for sale on eBay, it's hard to see how this could have been handled in a more amateurish way."
And there is more doom and gloom for the Magpies, George Caulkin penning how "Newcastle United have delivered another painful snub to Alan Shearer after effectively putting their entire first-team squad up for sale." And already the vultures are said to be circling, John Drayton suggesting that "Manchester City have an interest in Jonas Gutierrez… Bassong, 22, has caught several managers' eyes, while Blackburn boss Sam Allardyce is said to be keen on Alan Smith. Portsmouth, Bolton and Blackburn are interested in Joey Barton."
The Guardian, as is standard on a Tuesday, have a collection of European football articles. Sid Lowe hands out his La Liga gongs for the year that was, while over in Germany Raphael Honigstein dishes out his Bundesliga awards for the 2008/09 season.
With Kaka having completed his transfer to Real Madrid over night, the domino effect is slowly taking hold in the papers. Gary Jacob's reports that "Tottenham Hotspur are edging closer to reaching an agreement with Real Madrid to sign Ruud van Nistelrooy, the Holland forward who is surplus to requirements." On the flipside, Darren Lewis claims "Italian giants Roma are poised to open the bidding for Tottenham striker Roman Pavlyuchenko."
James Ducker rounds up several stories circling around Old Trafford including news that Cristiano Ronaldo "may have to undergo a hernia operation that would rule him out of the start of pre-season training," that "United contacted Wigan yesterday to inquire about the possibility of taking Valencia to Old Trafford, although they have yet to make a formal bid for the player."
Manchester City are reported to be back in the market for a striker, Mark Ogden claiming "Manchester City are preparing a fifth bid since the turn of the year for Blackburn forward Roque Santa Cruz after Samuel Eto'o's agent admitted that it would take a 'crazy' offer to tempt him away from Barcelona." Blackburn appear to be gearing up for Cruz's departure, the Daily Mail reporting "Blackburn are back on the trail of Austria striker Marc Janko after being encouraged by a fresh enquiry from Manchester City for Roque Santa Cruz."
Daniel Taylor also finds himself spreading gossip this Tuesday, the hack headlining an article in the Guardian as "Carlos Tevez shapes to move from Manchester United to Manchester City."
In other news, the Daily Mail fart "Aston Villa are ready to compete with Liverpool for Portsmouth defender Sylvain Distin," Alan Nixon reports "Wolves boss Mick McCarthy is making Marseille's centre-back Ronald Zubar his first big Premier League signing in a £2.5million deal."
---
GAMBLING CAN BE ADDICTIVE, PLEASE PLAY RESPONSIBLY