Monaco to bid £85m for Ronaldo, PSG want AVB & Luis Suarez still eager to leave Liverpool
Comment & analysis round-up
Quote of the day: "We've been beaten three times; the players have to take that on the chin. I'm not coming out here and defending anyone – I'm sick to the back teeth of doing that in this tournament. The players have to deal with that, the players have to stand out here in front of you and the cameras and explain their performance. It's difficult to support them over the three matches we have played here. The standard we have set ourselves over a two-year period was a million miles from what we have seen at this tournament for many reasons. The bottom line is you expect your players to do the basics, hold the ball up, work back into position. If you've asked them to defend on the halfway line in respect to the opposition corner then you don't expect to stand in your technical area and tell them eight or nine times every time there's a corner; it's basic football knowledge. I don't honestly see why I should be defending the players, let them come out here and defend themselves." – Stuart Pearce.
Runner-up: "I'm not here to be comfortable, to sit and earn the money and just enjoy being Liverpool manager. There's a pressure that comes with it and  I believe we're in a much better place to challenge now. I think we can do it – I believe we have built a real good base this year. Of course, it will be a tough ask because, as we improve, other clubs will have masses more money to do so as well. But it's not my job to look for excuses, I have to find the solutions to try to push us in there – and I believe we won't be too far away. What we showed last season was promise. There were moments of disappointment and moments of delight, but when I look at the reality of it we scored 47 goals the year before and this time got 71 – and we hope to add to that amount. Defensively, for a team that was supposed to be very strong a year earlier, we only conceded three more goals. So in terms of numbers and performance wise we improved. Now I believe we will improve again – and we have to because we want to sustain a challenge and aim higher every season." – Brendan Rodgers.
Monaco to bid £85m for Ronaldo
Exclusive: Monaco set to make world record £85m bid for Real Madrid's Cristiano Ronaldo (Jack Pitt-Brooke, Independent) Monaco are ready to make a world record €100m (£85m) bid for Real Madrid's Cristiano Ronaldo. Ronaldo has just two years left on his contract at Madrid and is known to be disillusioned with life at the Santiago Bernabeu, at the end of his fourth season there. The Ligue 1 club, funded by Russian billionaire Dmitry Rybolovlev, have already spent over £110m this summer on Radamel Falcao of Atletico Madrid and James Rodriguez and Joao Moutinho of Porto. They are now prepared to make their boldest move yet, taking advantage of the Portuguese forward's frustration at Madrid, and failure to sign a new deal, to tempt him to join with a world record salary offer of €20m (£17m) per year. Monaco are closely monitoring Ronaldo's negotiations with Real Madrid over a contract extension, and if no deal is done by late July or August they will make their move. There have been talks between Monaco and Ronaldo's camp over the last 18 months and the two parties met earlier this year.
I'd be Mad to lose Ronaldo (Antony Kastrinakis, Sun) Real Madrid last night shut the door on Cristiano Ronaldo's £65million switch to Manchester United.  President Florentino Perez is ready to offer Ronaldo more than £125million over five years to sign a new deal — and insisted it will be finalised this summer. Ronaldo's representatives have reportedly demanded a salary of £30million a year. Madrid are confident they will seal a deal at around £25m a season — meaning the Portuguese star will earn about £250k a week NET as the new 50 per cent Spanish tax rate kicks in. Perez said: "I would bet Cristiano will retire at Real Madrid because it's the natural thing. "We will negotiate the new contract before the start of La Liga and I am convinced that everything will come out well."
PSG want AVB
PSG want AVB! Tottenham on alert as French champions plan raid for manager (Simon Jones, Daily Mail) Paris Saint-Germain want Tottenham manager Andre Villas-Boas to replace Carlo Ancelotti as their new boss. Villas-Boas has emerged as the prime candidate after a series of discussions between PSG president Nasser El-Khelaifi and his advisers. The 35-year-old Spurs coach earned recognition last season for the way he rebuilt his reputation after an ill-fated spell at Chelsea.
Manchester United can make Robert Lewandowski even richer
Double yer money, Lew (Neil Custis, Sun) Robert Lewandowski will more than double his money if he joins Manchester United. The Polish striker earns £2million a year — almost £40,000 a week — at Borussia Dortmund. But United would be prepared to pay him £90,000 a week — nearly £4.7m a year. The player was expecting to follow his team-mate Mario Gotze to Bayern Munich. But Dortmund blocked that this week saying they were adamant he would not go to their Bundesliga rivals and the team that beat them in the Champions League Final. The player himself was stunned by that development but does not believe he will still be at Dortmund next season. Lewandowski said: "I do not think that this is the final decision and I expect the situation to change. "I am enjoying my holiday for now but I hope things move forward pretty soon and the situation changes. "I do not get upset about anything."
Wayne Rooney worried about fan reaction
Manchester United forward Wayne Rooney fears fans will not forgive him over Sir Alex Ferguson's move claims (Mark Ogden, Daily Telegraph) Wayne Rooney will seek the public backing of David Moyes when he returns for pre-season training at Manchester United next month in an effort to prevent supporter hostility from driving him out of Old Trafford. The 27-year-old's position at Manchester United has been shrouded in doubt since Sir Alex Ferguson claimed that the forward had asked to leave the club following a meeting with him in April. Although Ferguson's claim has been disputed by Rooney's advisers, the player has since been the target of criticism from supporters, many of whom booed and jeered him when he received his Premier League winners' medal last month and then during the club's trophy parade through the streets of Manchester the following evening. Rooney, on holiday following international duty with England in Brazil this month, has yet to resolve his United future with Moyes, despite the former Everton manager attending to club business at Old Trafford ahead of his official start date of July 1 following his appointment as successor to Ferguson.
Luis Suarez still wants to leave Liverpool
Luis Suárez reiterates that he wants to leave Liverpool (Andy Hunter, Guardian) Brendan Rodgers has welcomed the pressure of delivering a Champions League challenge with Liverpool next season and believes the club's prospects will be enhanced by this summer's transfer business. While Liverpool were close to completing the £7.7m signing of Iago Aspas from Celta Vigo on Tuesday, Luis Suárez gave another interview in Uruguay expressing his discontent with life in England and the attraction of a possible move to Real Madrid. The uncertainty over Suárez's future presents a major problem for Rodgers, although Liverpool have yet to receive an official approach for the striker or transfer request from the 26-year-old. It is also Andy Carroll's reluctance to accept a £15m move to West Ham United that is impacting on Liverpool's immediate transfer plans, such as formalising their interest in Shakhtar Donetsk's £22m-rated midfielder Henrikh Mkhitaryan.
Jose Mourinho's Chelsea squad talks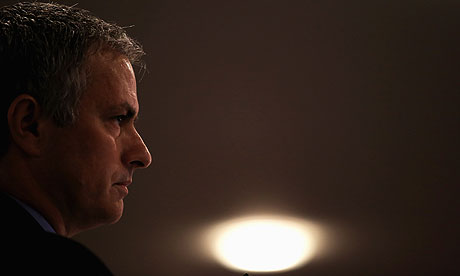 José Mourinho warns of 'no privileges' to Chelsea's old guard (Dom Fifield, Guardian) José Mourinho intends to speak face to face with every member of his Chelsea squad when the players return for training next month before determining the make‑up of the group that will attempt to regain the Premier League title next term. The manager will tell all-comers they must impress him first-hand in pre-season if they are to earn a key role in the side, having made it clear there will be "no privileges" afforded to any of a party which includes a quintet of players who featured under him during his first spell at Stamford Bridge. All will be expected to buy into Mourinho's approach and meet the demands he places on them, as the manager considers his options with 27 fringe players and youngsters due to return from loan spells seeking involvement in the senior set-up.
England's woeful U21s
Three games, three defeats. It's time for change. The U21s need a teacher, not a student – Hoddle must take over (Martin Samuel, Daily Mail) Gareth Southgate's name was immediately mentioned, which seems more the FA's speed. Nothing wrong with Southgate, who was outstanding in getting the reform of pitch and goal sizes in youth football over the line, but as his one job in club management ended in Middlesbrough's relegation he would be another brought in to learn from the England manager, rather than enter the room as an equal. The same applies to Phil Neville. The Under 21 team need a teacher, not a student. Hoddle might challenge, might contribute ideas and would have a voice that demanded to be heard. One must presume he is older and wiser and a better man-manager than he was in 1999, too, and less, shall we say, outspoken. Those who mock him forget that, for all his faults, he got his teams playing, perhaps most impressively at Swindon Town, working with a shallow talent pool. If that is what England have now, it will need a coach of great imagination and conviction to follow Pearce into the job — not one whose remit is to sit at the feet of Hodgson, or any England manager, nodding. If Neville is involved it should be as part of a backroom team, not its leader.
Henry Winter on England U21s defeat to Israel (Daily Telegraph) There was a feeling in the England Under-21s dressing room that some of the players did not want to be at this tournament. So it showed. So they were knocked out, heading off on holidays, deservedly sent packing early for a disjointed, disinterested performance in Israel. They will not be missed. England stank these Euros out long before Ofir Kriaf's fine goal completed their humiliation on Tuesday. The coach Stuart Pearce will doubtless pay the price for this wretched display, finishing bottom of the easier group without any points and only one goal, meaning he has won only three games out of 15 in tournaments. Club England, who meet next week, are hardly going to keep faith in a manager with such a record. Change is required.
---
GAMBLING CAN BE ADDICTIVE, PLEASE PLAY RESPONSIBLY