Millwall fans are 'scum' & 'animals', Pellegrini & not Jose for Chelsea, Madrid plot £50m AVB-Bale Spurs raid & Arsenal target Gotze
Comment & analysis round-up
Quote of the day: "We know the fixtures we have, the schedule, and we'll try to put a very good team out in every competition. We also know that finishing in the top four is really important for the club and we will try to do that. But no one is going to play a semi-final saying they don't want to win. We just have to find a way of managing the squad, so we are strong against Manchester City but also against Fulham and Liverpool. We have to change players. You cannot come back from Moscow, after a game on a synthetic pitch, and keep the same players in the team. But I also know that, on our day, we can beat anyone." – Rafa Benitez.
Runner-up: "We will look to ensure those involved are identified and we would call for criminal charges and a football banning order to be brought against them.The FA deplores the scenes which have taken place today, which are unacceptable." – Alex Horne, general secretary of the FA.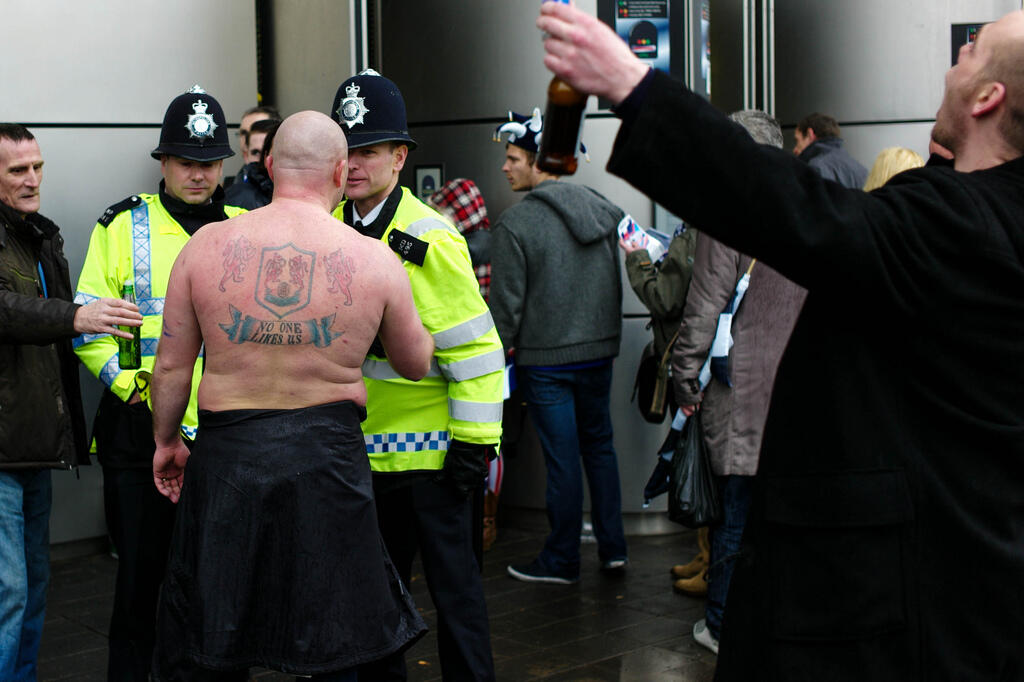 Everyone Hates Millwall
Scum! (Charlie Wyett, Sun) Viscous Millwall fans shamed football by turning Wembley into a bloodbath. Supporters fought among themselves and with police during the second half of yesterday's 2-0 FA Cup semi-final defeat to Wigan. TV pictures of the warring thugs were beamed live around the world, shaming the country as clubs respected the Hillsborough victims. A smirking thug was also screened stealing a policeman's hat.
Bunch of animals (Charlie Wyett, Sun) For years, Millwall have worked tirelessly to improve their tawdry image. But all that was undone in the space of 10 ugly minutes at Wembley yesterday. The sight of fans fighting on the terraces took us all back to the 1980s — and it was simply embarrassing. It brought back memories of that infamous FA Cup match at Luton in 1985, when Millwall's supporters disgraced themselves — and they have done it again.
Football shamed as Millwall fans fight EACH OTHER in the stands at Wembley… with one eyewitness claiming it all kicked off after a child had been shoved over by a drunkard (Graeme Yorke, Mail) Metroplitan Police said ten fans were arrested, while the Football Association are expected to launch an investigation into the violence among the 30,000-plus Millwall section… The sickening scenes are by a distance the worst case of violence in the stands since Wembley was reopened in 2007.
Millwall threaten FA Cup semi-final brawlers with life bans (Daniel Taylor, Guardian) Millwall have said they will issue life bans to the supporters whose "deplorable" violence overshadowed Wigan's FA Cup semi-final win and left its stain as the worst crowd disorder seen inside the new Wembley.
Callum McManaman will soon turn around people's opinions of him playing like this (Henry Winter, Telegraph) Callum McManaman's name had not been associated with the finer elements of the game until this FA Cup semi-final. His name had provoked opprobrium ever since his brutal challenge on Massadio Haidara left the young Newcastle United player in hospital, fearing for his career. At Wembley, McManaman took a step towards rehabilitating his name. Here was a 21-year-old playing with confidence, intelligence, touch and balance. Here was an Englishman spinning away from markers, dribbling past defenders, and scoring an elegant goal late on.
Contradictions: Jose's Chelsea Snub, Real Plan AVB/Bale Swoop?
Jose Mourinho set to snub Chelsea and stay at Madrid (Paul Smith, Mirror) Jose Mourinho is set to turn his back on a return Chelsea this summer – and stay at Spanish giants Real Madrid… Sources close to Mourinho claim he is happy in Madrid and planning to see out his contract.
Chelsea target Malaga coach Manuel Pellegrini to replace Rafael Benítez as manager this summer (Jason Burt, Telegraph) Malaga coach Manuel Pellegrini has emerged as the favourite to take over as Chelsea's next manager, with Roman Abramovich unmoved by Jose Mourinho's attempts to get his old job back. Mourinho is expected to leave Real Madrid this summer and has lobbied hard for a return to Stamford Bridge, but it is understood that Abramovich has yet to be convinced he is worth re-employing.
Real Madrid plan Tottenham raid for Gareth Bale AND Andre Villas-Boas (Mirror) Real Madrid are plotting a £50million raid on Spurs for Gareth Bale and Andre Villas-Boas. The Spanish giants plan to splash out £40m on Welsh wonder Bale and replace outgoing Jose Mourinho with Villas-Boas, who will cost them £10m in compensation to Spurs chief Daniel Levy.
Gareth Bale's set for summer exit (Neil Fissler, Express) Gareth Bale will quit Tottenham Hotspur this summer – if they fail to qualify for next season's Champions League. That would trigger a get-out clause in his contract but even if they do play in Europe's top event Bale, a £45million target for Real Madrid, Barcelona and Manchester United, is likely to be heading elsewhere at the end of the season.
Spurs keen on Pablo Osvaldo (Star) Gareth Bale, Jermain Defoe and Aaron Lennon were all injured and AVB knows he needs to boost his attack – and the £10million-rated Osvaldo could prove to be a big hit at White Hart Lane.
United Will Not Sign Falcao (But Will Chelsea?)
Fergie no to Falcao (Sun) Alex Ferguson will not join the race for superstar Radamel Falcao. The £48million-rated Atletico Madrid man is being tracked by both Manchester City and Chelsea. The Colombian, 27, has a release clause in his contract. There were reports in Spain this week that Fergie may be willing to offer Javier Hernandez in part exchange. But, when asked, the Manchester United boss said: "Do you honestly believe that? You amaze me you people."
Manchester United plan £20m swoop for Newcastle schemer Yohan Cabaye (Mirror) Martin Ferguson also ran the rule over Benfica ­defender Ezequiel ­Garay and midfielder ­Nicolas Gaitan in their 4-2 ­aggregate Euro win over the Toon. Meanwhile, Portuguese winger Nani is set for a summer switch to cash-rich Paris St Germain.
Chelsea to land £20m Schurrle as part of rebuilding drive, and Falcao could be next (Mail) Chelsea are close to signing £20million Bayer Leverkusen midfielder Andre Schurrle as they continue to rebuild for next season – despite not having yet appointed a managerial successor to interim boss Rafa Benitez.
Arsenal Target £30m Gotze
Arsenal record bid for £30m Gotze as Wenger brings on kids (again) (Rob Draper, Mail) Gotze has a £30m buyout clause which would allow him to leave if a club make a bid to that value – and Arsenal are ready to do so. Wenger is also considering a £10m move for Toulouse midfielder Etienne Capoue and he wants to sign a keeper, with Liverpool's Pepe Reina the strongest candidate.
Messi Is God-Like
It was the worst Barcelona performance for years… then their half-fit No 10 limped on and redefined greatness (Gary Neville, Mail) All of a sudden, this 5ft 6in bloke, who has an injury which means he can't run, enters the pitch. And you could hear, see and sense everybody in the stadium being utterly changed. From the fans, who suddenly found their edge, to the Barcelona players, who started to create chances straightaway, and, perhaps, most of all, to the PSG players, who were mesmerised… It was felt as though something spiritual had happened. You really had to be in that stadium on Wednesday night to appreciate the magnitude of Lionel Messi and the impact he can have.
The Tyne-Wear Derby
Mr Nitro, meet Mr Glycerine: Why Pardew and Di Canio need to keep it friendly in the Tyne-Wear derby (Andy Dunn, Mirror) When they visit St James' Park today, Sunderland fans will not be asked to observe a minute's silence for Margaret Thatcher. Good. Now they can concentrate on cheering a fascist. And there, in a nutshell, you have the sort of ­cocktail of irony and confusion produced when football and politics mix.
Aguero Mega Deal
Sergio Aguero's £44m deal (Paul Hetherington, Star) Sergio Aguero will be offered a new five-year contract by Manchester City in the summer worth a basic £44million. The Argentina striker has three years remaining on his current deal but City want to put him out of the reach of suitors like Real Madrid.
A Terrible Week For Rangers' Charles Green
Said & Done (David Hills, Observer) In situ as Rangers' chief executive, despite using racist terms in a press interview – a week after he sacked striker Francisco Sandaza for "disparaging" the club's image. Green said Sandaza, recorded saying he only joined Rangers for the money, had to go – as would anyone who "denigrates this club … [It's about] making sure this club is not being reported for the wrong reasons." Green's two-stage response to the backlash over him calling an Asian colleague "my Paki friend": Monday – says the complaints are a "knee jerk reaction" to a term "taken out of context"; Wednesday – "I apologise unreservedly."
---