Messi tipped for bench role v PSG with Beckham set to start, City still noisy neighbours & Arsenal quoted £15m for Begovic
Comment & analysis round-up
Quote of the day: "We know that after scoring two away goals, Europe expects Barcelona to progress. Of course they are the best team in Europe — but we want to show them that football is not always that simple. David has been telling us that we have everything it takes to progress — and that we just need to believe that anything is possible. He has achieved everything and played in every big game there is to play in. He has been telling us a similar situation when Manchester United drew at home with a great Juventus team many years ago and needed to go and win in Italy. It was a special Juventus team with Zinedine Zidane, Edgar Davids, Pippo Inzaghi, Didier Deschamps and many more. David said that Manchester went 2-0 down early — but they had the belief and went on to win the game and then the Champions League. David tells the stories to create belief in the team and it works. It is so funny when he tells his stories in the dressing room. I look around and all the players are silent just listening to everything he has to say — it is like a teacher reading to his kids in class." – Javier Pastore.
Runner-up:  "We have to make sure we win the next game. That's the most important thing. We're still in a great position, but we have to take things game by game and not put pressure on ourselves. I heard a lot of people talking about us being 15 points clear and that we didn't deserve to be. But if that's where we are, it's because we're working hard. We must make sure we win at Stoke and show we are the best team in England." – Patrice Evra.
Lionel Messi set to start on the bench for Barca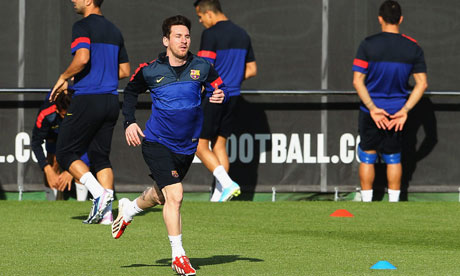 Barcelona hold Lionel Messi in reserve as PSG look to David Beckham again (Sid Lowe, Guardian) Lionel Messi has been included in the Barcelona squad to face Paris Saint-Germain but he faces a wait to find out if he will start at Camp Nou. A final decision is not expected until Wednesday morning following the hamstring injury he picked up in last week's first leg. Meanwhile, David Beckham was given hope that, in the absence of Blaise Matuidi, he will be included. The PSG manager, Carlo Ancelotti, defended the former England captain despite criticism after the first leg, insisting: "He has a good chance of playing."
Barca philosophy leads the way, says Gerard Pique ahead of Champions League clash (Guillem Balague, Daily Telegraph) Guillem Balague What's left of that Gerard Piqué who was at Manchester? Gerard Piqué The kid who went to Manchester was a boy of 17 who found himself in a changing room full of stars and had a wonderful time. I remember when I was called to train with the first team, it was wonderful. That prepared me for what was coming, for the return to Barcelona. Without that pressure, I would have been a bit green when I came here. I am very proud of my three years there, of having decided to go to Manchester first – at 17 it was the perfect time for me to leave home because it helped make me as a person. I am proud to have been part of a Sir Alex Ferguson team. Even though every time I meet him I tell him that he got it wrong with me!
Manchester derby fallout
Manchester United will win title, but their neighbours are still noisy (Daniel Taylor, Guardian) Can City catch United again? No, that would be stretching the imagination a little too far bearing in mind the capitulation it would require from the team 12 points clear at the top of the league. Three wins and a draw would confirm it for Sir Alex Ferguson's side from their next seven matches. Even in the unlikely chance that this is beyond them, City would have to win every single game. In reality, what happened at Old Trafford, a year to the day since that harrowing defeat at Arsenal, was more about the message it delivered. It was a reminder to United that the noise has not been turned down just yet, that things may have been a little quiet recently but that this lot next door are still determined to be heard.
Manchester City will fight on for Premier League title until it's mathematically impossible, insists James Milner (Mark Ogden, Daily Telegraph) The commanding nature of United's lead suggests the title will ultimately return to Old Trafford this season, but having allowed City to fight back from eight points adrift to win the league over the final six games of last season, Milner believes recent history could weigh heavily on United minds. And with United facing difficult away games at Stoke and West Ham over the next seven days, City midfielder Milner insists Monday's victory could yet provide the springboard for another unlikely title charge by Roberto Mancini's team. "It's never over until it's over," Milner said. "United will still be confident, but we've done all we can do and hopefully we've put a bit of doubt in there. "It could be a bit of a stumble and if this rocks them, then great. Maybe last season will play on their minds, who knows?
Arsenal quoted £15million for Begovic
Arsenal told they will have to pay £15m to land Stoke keeper Begovic (Sami Mokbel, Daily Mail) Arsenal have been quoted £15million for Asmir Begovic after opening preliminary talks over their interest in the Stoke goalkeeper. Gunners manager Arsene Wenger wants to sign a new first-choice goalkeeper this summer and has compiled a list of high-profile targets which include Petr Cech, Pepe Reina and Victor Valdes. But there is a feeling amongst the Arsenal hierarchy that Begovic will be the most obtainable.
Arshavin set to leave on a free
Andrey loves to sit on his Arsh (Mike McGrath, Sun) Andrey Arshavi will go down as one of Arsene Wenger's worst signings when he leaves the Emirates at the end of the season. The Russian is now approaching the final two months of his contract and Arsenal are happy for him to go on a free. There were even reports he would RETIRE from football — but privately he was shocked at suggestions he would hang up his boots. The 31-year-old Russian has been sat on his Arsh while the Gunners have been forcing their way back within sight of the Champions League places. He has played just once in 2013 — a 15-minute appearance in January's 2-1 loss at Chelsea. Considering he trousers a whopping £95,000 a week, Arsenal fans have hardly been getting a return on their massive ticket prices.
City chase Leeds starlet
Manchester City putting together £10m package for Leeds teenager Byram (Ian Ladyman, Daily Mail) Manchester City are putting together a £10million package to sign Leeds defender Sam Byram. The right back, 19, is top of a list of English players City manager Roberto Mancini wants to bring in. Essex-born Byram, who started his career at York, established himself at Leeds this season and impressed Mancini when Leeds played City in the FA Cup.
Swansea want Lukaku on loan next season
Boyo boy: Swansea want Romelu Lukaku on loan from Chelsea for next season (Darren Lewis, Daily Mirror) Michael Laudrup will bid to tempt Romelu Lukaku to Swansea next season with the carrot of European football. The teenage Chelsea striker is coming to the end of a season on loan at West Brom, where his 13 goals have them on the fringes of the European places. Swansea, however, are definitely in the Europa League next season, having lifted the Capital One Cup back in February. Lukaku is set to ask the Blues to loan him out for a second successive season when his current spell expires in May. Despite enjoying his time at The Hawthorns, he is keen for his next campaign to include European football so he can continue his career progression.
---
GAMBLING CAN BE ADDICTIVE, PLEASE PLAY RESPONSIBLY