Fergie considers Suarez sanction, Adkins sacked by television, & Mario's packed for Milan
Comment & analysis round-up
Quote of the day:   I think the FA have a problem because is it legal, what they do? Can they prove that a lad has positively tried to dive? It is a very difficult one. They have always said that haven't they? They have no sanctions on diving. So does it go to the club? At the end of the day it probably does. I don't know much about the interview he gave, other than what I have read, in the sense he has admitted he dived. But that is a different issue altogether. You have to speak to your players. I've done it with Cristiano. He was only a young boy when he came in and it took him maybe a couple of years to understand that, but after that he was fine. It is a different world these days, but I think there is obviously [a connection] to foreign players coming into our game. No doubt about that."  – Sir Alex Ferguson
Runner-up: Keep smiling. Have faith and belief that you are doing the right thing. Keep working to improve. :) – Nigel Adkins leaving note to his players after being sacked by Southampton
Southampton : Adkins sacked…through TV
Fired by television : Nigel Adkins found out about his sacking while he was watching TV (John Cross, The Mirror)  Adkins was seen as having weaknesses – particularly when it came to communication skills – and the ex-Bangor and Scunthorpe manager was, in the eyes of some squad members, still learning as he went along in the Premier League. But the players liked him, dug deep for him and the improvement in results – including victory at Aston Villa and a draw at Chelsea – was a direct result of them doing their best to keep him in a job. But Cortese, a wealthy banker, refused to listen.
Adkins sacking an injustice (Stuart James, The Guardian) Less than 48 hours earlier Southampton had extended their impressive run to only two defeats in 12 matches, by coming back from two goals down at Stamford Bridge to draw 2-2 with Chelsea. Adkins could never have guessed it would be his last game. The word harsh barely does it justice. He picked Southampton up off the floor in League One, winning back-to-back promotions to secure the club's return to the Premier League for the first time in seven years. The fans loved him and it was easy to see why.
Chelsea missing out on Pep : the Inquest continues
How ruthless Abramovich became his own worst enemy (Jeremy Wilson, The Telegraph)
Money can buy you most things in football but not, it would seem, the manager of your choice. There has actually been a long-standing myth that Abramovich's £1 billion Chelsea investment has ensured that he always gets what he wants but the list of those who have said 'no' is longer than commonly imagined. From a failed personal visit to Highbury to offer £50 million for Thierry Henry in 2003 to this week's Guardiola snub, Abramovich has suffered his share of knock-backs.
Liverpool / Luis Suarez, diver and proud
Wayne Rooney should drink from Luis Suarez's blend of mischief and magic (Barney Ronay, The Guardian) Having admitted on Argentinian television that he did indeed dive to earn a penalty against Stoke City earlier this season, Suárez will now be disciplined by Brendan Rodgers, who had previously defended him, news that naturally seems destined to set off the klaxons, to start the volcano walls collapsing in on themselves and to generally swirl Mean Machine's rage-needle all the way up to four and a half once again.
Youth Club Liverpool? Rodgers will discover it'll never work alone (Glenn Moore, The Independent) For all the jokes at his expense over the years in the ersatz 19th-hole atmosphere of Match of the Day, Alan Hansen was right back in 1995 when he said: "You don't win anything with kids." The Manchester United team he spoke about may have featured Fergie's Fledglings Ryan Giggs, David Beckham, Paul Scholes, Nicky Butt and the Neville brothers Gary and Phil, but their march to the Double that season owed a huge amount to the veterans.
AVB & Tottenham 
How AVB earned his Spurs (Jack-Pitt Brooke, The Independent) Tottenham is now probably a calmer place than it has been at any point since that great run in late 2011, before their last season spun out of control. Villas-Boas and the Spurs fans finally understand each other. Their first few meetings were tense. White Hart Lane was an anxious place for 1-1 late summer draws with West Browmich Albion and Norwich City, and a 2-1 victory over Queen's Park Rangers in which Spurs were outplayed for the first half.
Aston Villa: Going Down?
Aston Villa's outlook is bleak whichever way you look at it (Stuart James, The Guardian) All clubs go through peaks and troughs but Villa's sharp decline over the past few years feels more alarming because of the huge amount of money Lerner has pumped in during his six-year reign to underwrite considerable spending on transfer fees and wages in particular. According to the last set of accounts for Reform Acquisitions Limited (RAL)
AFCON  2013 South Africa
South Africa plays host again but World Cup legacy still in question (David Conn, The Guardian) The government still hails the World Cup as a historic landmark, when pre-tournament fears of crime and disorganisation gave way to the world watching a post-apartheid South Africa successfully host a grand football carnival with a smile on its face. Two and a half years on, with the country still riven by gaping inequality, poverty and social struggle, questions are sticking about whether the World Cup really did produce a lasting legacy worth the billions spent.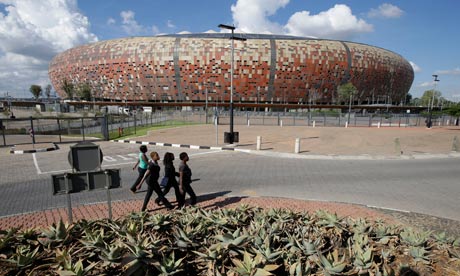 Will South Africa sneak home at the Africa Cup of Nations? (Jonathan Wilson, The Independent) On 3 February 1996, for the second time in a little over six months, Nelson Mandela handed over a major sporting trophy to a white South African wearing a captain's armband. Thanks to widespread media interest and the Hollywood film Invictus, the world knows the symbolism of Francois Pienaar collecting the rugby World Cup; far less well known, and yet of rather greater importance to the majority of South Africans, is the story of Bafana Bafana winning the Cup of Nations.
January Transfer Window
Mario's packed n' ready (Neil Custis The SUN)  Mario BALOTELLI is all packed up and ready to joing AC Milan in a £24million deal. The Manchester City striker, 22, has given notice on his rented house in Cheshire and has begun flying his possessions back to Milan.

---
GAMBLING CAN BE ADDICTIVE, PLEASE PLAY RESPONSIBLY