Mancini to leave Man City for Juventus, why Manchester United-Chelsea will not decide the title, Liverpool eye Rangers defender & Arsenal want Hazard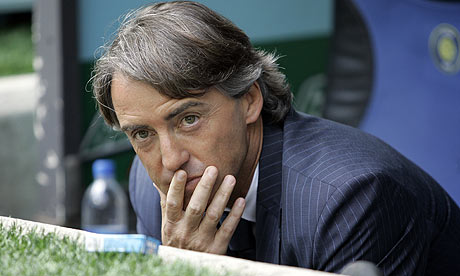 Comment & analysis round-up
Quote of the day: "I'm ready to go back [to Italy], if and when there will be a possibility. How near I am to a return to Italy I don't know. Football is strange. It was probably right for me to broaden my horizons but I will return sooner or later…Â  Juve is always Juve. They are going through a difficult period right now but we are talking about a club with history and prestige." – Roberto Mancini.
Runner-up: "I'm livid and pissed off. It's outrageous and irresponsible to have played him [William Gallas] so early after the injury. It's scandalous. He'd better be fit for the World Cup." – Raymond Domenech's reaction to potentially losing William Gallas for the World Cup.
Today's overview: The main subject this Saturday in the backpages concerns the early kick-off in the Premier League.
Manchester United vs Chelsea: Tucked away in Daniel Taylor's article on the latest news regarding Wayne Rooney's injury setback is news of the return of two United players to the first team. "Owen Hargreaves, who has been out for 20 months with knee problems, and John O'Shea, sidelined since November, are both in contention for a place on the bench."
Also on Manchester United's tactics, James Ducker assesses how the United attack will line-up without Wayne Rooney. "Ferguson is likely to play Ryan Giggs in the hole behind Berbatov against Chelsea and said that Federico Macheda, the Italy Under-21 striker who has just returned to action after four months out with a groin problem, will 'definitely be involved in the next few games.'" Ian Herbert threw his two cents into the mix as well scribbling "Giggs may well be asked to supply more forward momentum, possibly at the expense of Luis Nani, today with the energy of Park and Darren Fletcher complementing Michael Carrick and Antonio Valencia in midfield."
On Dimitar Berbatov, Des Kelly is in danger of speaking too soon as sticks his neck out by calling out the Bulgarian as a flop. "I've not been a fan of Berbatov's approach since day one. Those who question Ferguson's judgment pretty much always end up with egg on their faces, and not just at Easter either. But I've seen nothing to greatly revise my view that the void left by Cristiano Ronaldo's exit was filled with a 'Can't Run, Won't Run' combination of Michael Owen and Berbatov."
Turning to the Blues specifically, much of the knee-jerking Ancelotti-out comments that flooded the backpages after Chelsea lost to Inter Milan in the Champions League have now evaporated as the Italian in painted as being the style-king.
Speaking in broad-brush terms, Dominic Fifield talks up the qualities of Carlo's Ancelotti's Chelsea. "The division's most prolific side have an opportunity to wrest back the advantage in the title race… There is pace, power and panache in this side which is propelling their pursuit of domestic honours… It has been Chelsea's fluid movement that has been truly irresistible at times this season."
Focusing in on Chelsea's squad, Matt Hughes bigs-up Florent Malouda and credits Ancelotti for the winger's development this season. "If Chelsea succeed in overturning United's one-point lead to claim the title, Malouda will deserve more credit than most. Along with Drogba, the 29-year-old has been Chelsea's best player this season, a remarkable transformation — which he attributes largely to the shrewd management of Ancelotti — from the disappointing form of his first two years at the club."
The idea that Ancelotti has succeed in bringing flair to Stamford Bridge is also made by Mark Fleming. "In the past at Chelsea, a balanced coach meant someone special with a chip on both shoulders but in Ancelotti they have a man who is proving to be of greater substance than was first supposed. It is Easter and his Chelsea team are only eight games away from potentially doing the Double. It could soon be time to put away the cigarettes and get out the cigars."
Party-pooper David Lacey argues that Saturday's match is far from being a title decider. "At best [the] game will provide an indicator of who is likely to emerge triumphant. United would regard beating Chelsea as the strongest evidence yet that they are on course to win a record 19th championship, not to mention an historic fourth successive title. Chelsea, on the other hand, would see the completion of a season's double over United as further proof of their renaissance under Carlo Ancelotti even if the team is approaching its sell-by date."
Staying with the negative viewpoint, Oliver Kay looks at how United and Chelsea have floundered this season. "There is no reason why, after the season we have witnessed so far, anything we see at Old Trafford this afternoon should surprise us. United and Chelsea have experienced exhilarating highs, but with more lows than has been the norm for a title-winning team in recent years. United have lost six games — more than any Premier League champions since their success in 2001, when three of their six defeats came after the title had been secured with weeks to spare — while Chelsea's five defeats have raised serious doubts about their title-winning credentials."
Mancini to leave City: While for months we've been reading how Manchester City will axe manager Mancini should they miss out on fourth spot in the league, all of a sudden the table have turned somewhat as the dapper Italian has threatened to walk out of the club, rather than wait to be pushed.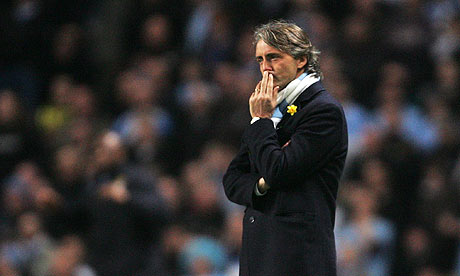 The Guardian detail how "Mancini has added to the uncertainty surrounding his long-term future as manager of Manchester City by claiming he is 'ready to go back' to Italy and hinting that he would be interested in taking over at Juventus."
The Times' Chris Bereton also picks up on the Mancini-quit story before adding that Patrick Vieira's return stint to the Premier League is most likely over. "Mancini has also confirmed what many observers had suspected for a while; that the old Patrick Vieira is gone and will not be coming back. When asked if the 33-year-old could be the same brilliant midfield player that left the Premier League in 2005, Mancini said: 'Probably not.'"
Keeping with potential managerial vacancies in the Premier League, Patrick Barclay looks to quell the recent anti-Martin O'Neill storm with a defense of the Irishman's record at Villa Park. "There is something about O'Neill that the rest of us wish could be bottled and put on sale. Its ingredients, I'd guess, include honesty and wit, as well as talent. It was that honesty that impelled him to defend his record at Villa. The club had just finished sixteenth when he took over from David O'Leary in the summer of 2006. They have since finished eleventh, sixth and sixth again, and lay seventh when O'Neill addressed rumours that he had quit after a row with Randy Lerner, the owner. No wonder that, for once, the wit deserted him."
World Cup: Super-sour James Lawton offers few practical answers as the hack vents against the potential that the World Cup will be missing some great talents through injury. "In Germany in 2006 Lionel Messi came injured and Argentina, after a beautiful opening, faded before our eyes. Ronaldinho, then rated the world's best player, was a shell. Now Fabregas could be lost from the tournament which is supposed to display the game's best players performing at the peaks of their career. It is a terrible loss, to the World Cup and his highest ambitions. Football, in response, shrugs and says it is the way it has to be. But is it? Yes – and it will remain so just as long as the game is so careless in the handling of its most valuable assets."
Transfer Lies: Leaving out any figures of how much they will cost, Liverpool are closing in on two summer transfers according to Tony Barrett. "Liverpool have made an inquiry for Danny Wilson, the Rangers central defender… The Liverpool manager has already put a deal in place to sign Milan Jovanovic, the Serbia forward, on a Bosman transfer this summer."
While preparing for incomings, Anfield could be letting go of some players this summer with Aquilani and Riera both on the fringes for different reasons. According to John Edwards, Rafa Benitez is running out of patience with costly misfit Alberto Aquilani after appearing to doubt the validity of his latest ankle injury… Benitez made it plain he was beginning to sense mental frailty might pose a bigger threat to Aquilani's Anfield prospect than a suspect ankle… Benitez made it just as clear there will be no way back for Albert Riera."
Gossip-mongers, the Daily Mail, today fart "Lille teenager Eden Hazard has listed Real Madrid and Arsenal as possible future destinations should he ever leave the Stade Metropole, despite interest from a host of other clubs including Liverpool."
Lastly, great news for MLS fans today as the Daily Mail report how "former Arsenal goalkeeper Jens Lehmann is to re-unite with former Highbury team-mate Thierry Henry at New York Red Bulls next season."
---
GAMBLING CAN BE ADDICTIVE, PLEASE PLAY RESPONSIBLY