Mancini says United have been lucky, Man City move for Falcao & Cavani + Real Madrid want Chicharito
Comment & analysis round-up
Quote of the day: "Until now, United have been really lucky with everything. They have won a lot of games in the last minutes, including against us. They probably deserved to lose that game but won in the last second. I don't think this is a correct gap at the moment. Clearly it will not be easy, but if we win the last 12 games, it could happen. I was once 14 points above Roma [as Inter Milan manager] and we only won the championship in the last minutes." – Roberto Mancini.
Runner-up: "I think five or 10 years ago Arsenal were always miles ahead of Tottenham. But that has changed in recent years. Over the past few seasons we have closed that gap and I think now we have overtaken them on the pitch. I think we have the stronger squad. Hopefully we can continue to do that as a club off the pitch as well, with the new stadium that is being built. But on the pitch and as a team now we are a lot more consistent and as a club we're moving in the right direction. Arsenal may say they are still ahead of us. But whatever people's opinions I don't think anyone can deny we are up there fighting with them on merit now." – Gareth Bale.
Manchester City move for Falcao & Cavani
£40m hot-shot: Manchester City make early move for Atletico Madrid ace Falcao (Steve Bates, Sunday People) Manchester City sporting director Txiki Begiristain has made the opening move in a £40million bid to land Atletico Madrid's hot-shot striker Falcao, writes the Sunday People. The former Barcelona Mr Fix-it has begun negotiations in a move to get ahead of Chelsea in the race for the Colombian. City boss Roberto Mancini has been furious at the lack of speed and efficiency in the transfer market in the past two seasons and Begiristain is determined they won't lag behind their rivals when the window opens on July 1. That is why he has made moves on all of the champions' top-three strike targets – Falcao, Napoli's Edinson Cavani and Brazilian Neymar.
Manchester City begin plans for summer overhaul with £40m bid for Napoli striker Edinson Cavani (Jason Burt, Sunday Telegraph) Manchester City are to press ahead with a £40 million bid for Napoli striker Edinson Cavani after accepting that Radomel Falcao is likely to join either Chelsea or Real Madrid. City have also been pursuing the Brazilian Neymar, who is wanted, in particular, by the club's director of football Txiki Begiristain but face losing out to Barcelona. There will be an attempted overhaul of City's squad at the end of the season which could be more radical if Roberto Mancini is replaced as manager. Cavani is one of the most coveted strikers in Europe, as is Falcao, and Napoli have already claimed to have rejected a big offer from City for the 25-year-old Uruguayan.
Real Madrid want Javier Hernandez
Jav-ing a look: Real Madrid eye up frustrated Manchester United star Hernandez (Simon Mullock, Sunday Mirror) Real Madrid are ­monitoring Javier ­Hernandez's growing ­frustration at Manchester United. The Mexican striker feels he does not play enough big games for the Premier League leaders, with Sir Alex Ferguson regarding Robin van Persie and Wayne Rooney as his top strikers. Madrid are aware of his unrest, and believe the 24-year-old would be a ­sensation in Spain with his speed and finishing ability. Ferguson will not be ­encouraging Hernandez to leave, but the United boss has been scouring ­Europe for a new forward. He is ready to do battle with ­Bayern Munich this summer for Borussia ­Dortmund's Polish ­hitman Robert ­Lewandowski.
The Capital One Cup final
It may not be the Champions League but I know how much winning a trophy would mean to this club, says Laudrup (Ian Stafford, Mail on Sunday) For an hour the conversation has been littered with stellar football names such as Cruyff and Platini, Barcelona and Juventus, Real Madrid and Ajax. But Michael Laudrup's widest smile is reserved for the thought of leading out Swansea City against League Two minnows  Bradford City in this afternoon's Capital One Cup final at Wembley. 'It's a good place for me, Wembley,' he says. 'In 1983 I played for Denmark when we beat England there 1-0, and in 1992 I played for Barcelona when we beat Sampdoria 1-0 in the Champions League final. Roberto Mancini was playing for the other side and he refuses to talk about that game to this day. I hope to make it a hat-trick on Sunday.' A man who played for Denmark in World Cups and European Championships, and won Champions League finals and league titles in Denmark, Spain, Italy and Holland, might not be expected to get too excited about English football's third tier competition. And he is honest about where this game stands compared with the history he helped create.
Phil Parkinson's everyday heroes relish their match-up with Swansea (Louise Taylor, Observer) Only the most fervent Notts County and Bradford City fans were enthralled by the afternoon's League Cup first round tie at Meadow Lane. Played in front of 3,460 spectators, Bradford's 1-0 extra-time win came against a backdrop of media disinterest. No one realised football had begun re-asserting its own peerless dramatic capacity, let alone that, by taking the first of seven startling steps towards Wembley, Bradford City were en route to becoming the first team from English football's fourth tier to reach a major cup final.
Ian Wright says Chelsea need to get rid of Fernando Torres
Fer his own sake, cut Torres loose (Sunday Sun) Ian Wright claims Chelsea will have no choice but to cut their losses on Fernando Torres come the summer. Despite a flurry of goals in December, the £50million striker has struggled for form once again this season. And Wrighty is not convinced Torres will ever return to being the feared hitman he once was at Liverpool. The Arsenal legend told SunSport: "I think Chelsea have been very, very patient with him. "When you see the amount of chances he had against Sparta Prague on Thursday, you just wonder what's happened. "For me, it's like that film Space Jam when someone has come along and nicked his talent!
Eden Hazard
Hazard: I love being in the headlines… as long as it's for the right reasons! (Rob Draper, Mail on Sunday) Eden Hazard is refreshingly frank when the question comes. He is, after all, an attacking, creative player who wants to seize the initiative in a game. And it is for such moments of individual match-winning brilliance that Chelsea paid £32million for the Belgian.
Moments like the dummy turn inside the Sparta Prague defender followed by the emphatic left-footed drive into the top corner in the 92nd minute of Thursday night's Europa League game. Here is a man who clearly craves headlines. 'I think being totally honest, yes,' he says when asked if he enjoys the spotlight. 'Every player loves to see his name in the headlines: "Hazard has just done this!" You're totally aware it's a team sport and it's all about the group. But it's nice to feature in the sports headlines.'
The 20th anniversary of Bobby Moore's death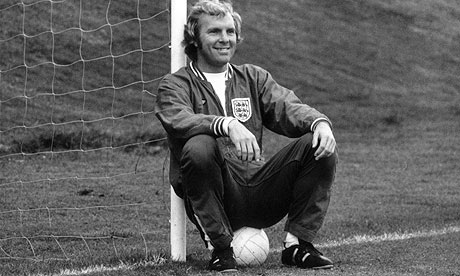 Bobby Moore remembered: 'He was a great man. I'm so sorry we lost him' (James Riach, Observer) "I can't believe how quickly the 20 years have gone," says Martin Peters. "There was nothing you could say against Bobby Moore. I remember him walking up the steps to collect the World Cup at Wembley. He brushed his hair and wiped his face to make sure he looked clean to meet the Queen, picked up the trophy and 80,000 people screamed and shouted. You could just see him smiling, smiling and smiling." Peters, now 69, knew Moore better than most. Both came through the ranks at West Ham and progressed to international level, Peters scoring in the 1966 World Cup final with another Hammers player, Geoff Hurst, whose hat-trick sealed that most famous of all England victories.
England's World Cup winning captain Bobby Moore: 20 years gone, but never forgotten (Henry Winter, Sunday Telegraph) It is because of the FA's dismissive past treatment of Moore that the current administration is commendably so aware of the need to embrace former internationals more quickly and constructively. The modern game can learn much from the memory of Moore. Every apprentice seeking to become a master of his craft should take inspiration from Moore's career, from his pursuit of perfection that underpinned 642 games for West Ham, 150 for Fulham and 108 for England, 90 as captain. Academy novices should study Moore's game. Many young players do strive diligently to enhance their technical repertoire. Many are involved in admirable charitable enterprises. Unfortunately, some just train and speed back to their gated retreats, thinking they have made it simply with a first contract or a first cap. Those who rise highest are those hungriest for self-improvement, for staying on after training, accentuating assets and overcoming weaknesses. Moore did.
---
GAMBLING CAN BE ADDICTIVE, PLEASE PLAY RESPONSIBLY