Mancini says City will win the league next season, United look tired & Thatcher "saved football" (Jeff Powell)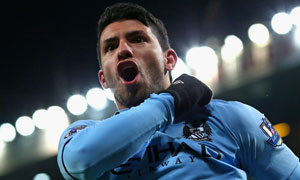 Comment & analysis round-up
Quote of the day:  "We know that we can win the title next year. This year we did some mistakes but now we can do nothing – the season is gone. For next season, we have two or three months where we can work to improve our team. I think we showed that we should not have been 15 points behind United. They lost their last game, against Norwich, back in November and so they deserve to win this title. This season, we had some important players injured, like Sergio Aguero, Vincent Kompany and Yaya Toure. We are not a team that can lose three or four important players like this." – Roberto Mancini.
Runner-up: "There were a lot of plus signs for us. It is clear that our form is good and I thought Robin van Persie was absolutely fantastic for us. I brought Wayne Rooney back and he almost had 90 minutes and that will bring him on again, so it isn't a bad day for us in terms of performance level. We have a 12-point lead and the plus point is that there are only seven games now. You whittle them off and we have Stoke on Sunday and we will have a go. You don't want to lose a derby game, but we're ok. They (players) won't be taking anything for granted, don't worry about that. But if you look at the history of our club, we have always made it difficult for ourselves and put our supporters through it, hanging on the edge of their seats every year." – Sir Alex Ferguson.
Manchester United 1 – Manchester City 2
Super sub Aguero fires visitors to derby win… but it won't spoil Ferguson's celebrations this time (Martin Samuel, Daily Mail) Aguero. No long train of ecstatic o's at the end this time. It wasn't that sort of game. Sergio Aguero decided the title race with almost the last kick of the 2011-12 season, but here he merely delayed the inevitable. He made a point, though, as did Manchester City. There is still a bit of a racket coming from next door. They still need to keep it down if Sir Alex Ferguson is going to get a good night's sleep. City were never going to derail Manchester United's runaway train, of course, but they slowed it, at least. In front of an Old Trafford crowd who had come seeking revenge and, in part, a coronation, Aguero momentarily silenced the taunts and triumphalism.
Robin van Persie is prominent but puzzling amid faltering creativity (Barney Ronay, Guardian) In many way it was also a rather pointed tale of two strikers: Sergio Agüero's winning goal was sublime, a scrambling solo run across the penalty area followed by a momentum-defying reversed right footed finish. And yet for all the glory of the moment Agüero has been one of those culpable in City's minor but telling sense of drift: this was only his third goal in the Premier League this year and his third all season against teams in the top half of the table, a paltry return for a grand-scale talent. For United Robin van Persie provided a snapshot both of his own oddly dwindling season in front of goal and also of where Sir Alex Ferguson will surely look to recondition this still transitional champion-elect team. It was fitting that it should be Van Persie, deprived of clear attacking air near goal by a prosaic United midfield, who provided the moment of incision that brought the equalising goal after 58 minutes, levelling James Milner's opener. His driven free-kick was malevolently inviting, the deflection off Vincent Kompany's head not so much unfortunate as unavoidable. The Dutchman celebrated like a goalscorer — but then he has not had the chance to do that much of late.
United look tired and deflated (Steven Howard, Sun) United look tired and deflated — no one more than Wayne Rooney. Once the star of the show, he looks little more than a bit-part player. United, evidently, have still to come to terms with their Champions League defeat by Real Madrid — while City got up for it last night only because it was Old Trafford. If only they could have been bothered to raise themselves when it was Ajax. Mancini, though, will be swaggering around Manchester this week without a care in the world. With a five-year contract worth £37million burning a hole in his back pocket, why should the Italian be concerned by anything? And yet this match still offered him a lifeline of sorts.
Bragging rights offer little succour for Roberto Mancini's team (Jim White, Daily Telegraph) And yet, glorious as Agüero's strike was, as much as the neighbourhood gloating can be unleashed on social networks, as much as Manchester's workplaces can ring with temporary blue triumph, this uncomfortable truth remains in place: despite coming second in this local scrap, United are 12 points clear at the top of the table with just seven games left. Not even Sir Alex Ferguson's favourite horse Devon Loch could blow a lead like that. Ultimately, Manchester City's position has not been improved by inflicting United's only home league defeat of the season.
Liverpool eye Diego Capel
If the Cap fits: Liverpool eye Sporting Lisbon and Spain winger Diego Capel (John Cross, Daily Mirror) Liverpool face opposition from French giants Marseille in the battle to sign Sporting Lisbon winger Diego Capel. Spain international Capel, 25, looks likely to move on in the summer, with the rebuilding Reds eyeing a player rated at around £10million by his cash-strapped Portuguese club. After being initially groomed in Barcelona's famed youth development programme, Capel moved on to their Spanish rivals Sevilla.
The QPR summer exodus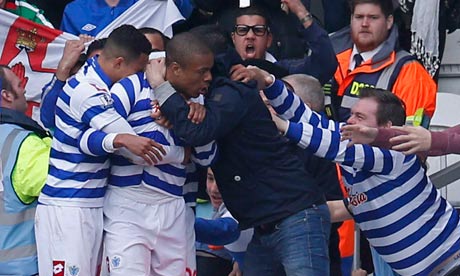 QPR's relegation would expose Loïc Rémy to Premier League vultures (David Hytner, Guardian) Loïc Rémy will be the prized target for the Premier League's predators if Queens Park Rangers are relegated, with Tottenham Hotspur prominent among those considering whether to pay the France striker's £8m release clause. QPR's grip on their top-flight status loosened further when they drew 1-1 at home to Wigan Athletic on Sunday, with the manager, Harry Redknapp, cutting a distraught figure after the visitors' 94th-minute equaliser, describing the result as the "toughest" of his career. QPR are second from bottom of the table, seven points adrift of safety with six matches to play, and the future of many of their players and of Redknapp has come under the spotlight.
Margaret Thatcher & Football
No Old Trafford tribute for Baroness Thatcher… Shame on football for snubbing the lady who rescued our game from tribal hooligans (Jeff Powell, Daily Mail) The liberal Left and their hatchet men were defeated. Yet football — in Manchester, in its pettiness — acted in ignorance of all that evidence on Monday. Did Margaret Thatcher save this country? That debate continues.
Did she save the national game? Without question. On Monday night, that contribution to the beautiful game went unrecognised.
Margaret Thatcher scored a political own goal with her attitude to football (Henry Winter, Daily Telegraph) Thatcher's era, the Eighties, was blighted by hooliganism but the Iron Lady seemed to have come to the opinion that all fans were feral and she was not for turning on that blinkered outlook. She saw criminals where they were simply civilians, many tragically victims. Her pronouncements on football were delivered with great gravitas and little substance. Those of us who first started covering football in the mid-80s shuddered at how out of touch Thatcher was. She was influenced by the Luton Town Chairman David Evans, a Tory MP and proponent of identity cards for fans, an impractical scheme of questionable civil rights legitimacy. Thatcher backed the identity card idea, wanting it spread nationwide. It offered power over fans. Legislation for it was included in the Football Spectator Act, restricting access to grounds only to those who had signed up for the National Membership Scheme (NMS).
---
GAMBLING CAN BE ADDICTIVE, PLEASE PLAY RESPONSIBLY