Mancini faces up to the end of his Eastlands honeymoon, Ashley Cole may be axed from Chelsea & Manchester United target British wunderkid
Comment & analysis round-up
Quote of the day: "It's a big game. It's a big game for Inter, its a big game for Chelsea. It's a big game also for Europe because I don't see in these last 16-round matches another one with two teams of these dimensions. So I think this is the real big game of this last 16… Not nervous, not excited, I promise you. I have to look at this game with the emotion of any Champions League game, without any extra adrenaline, motivation or extra pressure." – Jose Mourinho.
Runner-up: "I do not know where he is. Just that he is in Argentina. It is a big problem for us, because we have an important week and we do not have Tevez. I do not know if he will play against Chelsea, and for me this is not good. I do not know if he is working [on his fitness] in Argentina. For this reason I hope he comes back here within two days. We have tried to bring him back. I spoke with him on Thursday. He had a problem with his family but now everything is OK, so I hope he comes back. We need him." – Roberto Mancini.
Today's overview: We start off today's paper round-up with a truly inventive idea from Gabriele Marcotti, as the scribe proposes that referees should be allowed freedom of movement.
Marcotti: "We have foreign players, managers, executives and owners. What we don't have is foreign referees in domestic club football, except for the odd exception… The standard of refereeing in the better leagues would rise because the best officials would gravitate there. But the better referees in smaller countries will also benefit, because they will have a better chance at a high-profile career in club football. If they think they're good enough, they'll have something tangible to aim at… It's time Fifa and Uefa embraced liberalisation. The second they stop caring about what passport the referee holds and judge him by his performance, the better off we'll all be."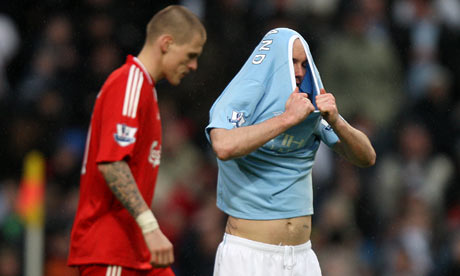 Sunday's bore draw between Manchester City and Liverpool left the fourth estate scratching around for something interesting to say.
Kevin McCarra summed up the mood pointing out how "the sorriest aspect was the indifference to entertaining the woebegone spectators, with the home support summoning up the energy for a little light booing at the close. There was insufficient volume for it to be considered a protest against Mancini or anyone else. It may have been a yelp of annoyance over a perfectly good afternoon totally wasted."
Equally dismissive of Sunday's dour match, Matt Hughes barked "both these sides would struggle to get past the qualifying rounds even if they did finish fourth in the Barclays Premier League on the evidence of a sterile stalemate as drab as the Mancunian weather. This was an afternoon to forget, and Roberto Mancini and Rafael Benítez may end up looking back on it at the end of the season as a missed opportunity. Manchester City lacked quality, Liverpool ambition, with both teams bereft of bite."
Joining the naysayers was Ian Herbert. "If this is what a fourth place play-off looks like, then Richard Scudamore can keep the idea of staging one in that file of projects marked 'pending'. Rarely in one season has the cherished fourth spot merited such discussion and rarely in the course of this season has a match produced less of merit."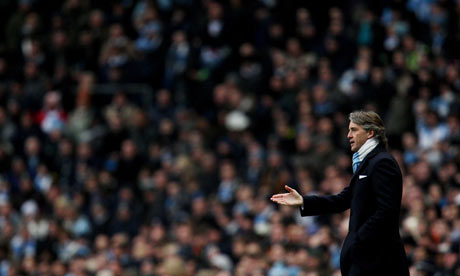 Injecting some opinion into the discussion, Daniel Taylor wonders if Mancini's honeymoon is now over at Eastlands. "There is a strange vibe, as if they are suspicious of the man with the tailored overcoat and polished ­loafers on the touchline. ­Suddenly the stories are rife of players not being impressed with Mark Hughes's replacement. It is in danger of becoming the kind of ­honeymoon you might see on Watchdog, where a ­hurricane blows in, the suitcase goes missing at the airport and the hotel is infested with cockroaches."
With the bad news building against Mancini, Rory Smith chimes in with news that Carlos Tevez is not yet ready to return to Manchester. "Sources close to Tevez have suggested the player has no immediate plans to return and no flight to Manchester has been booked, as his daughter, Katie, is still in intensive care."
Portsmouth fans have some room for optimism this Monday as it looks like the club will not be going out of business immediately. Jamie Jackson delivers the news that "Portsmouth's owner, Balram Chainrai, has vowed to save the 112-year-old club and is prepared to use money from his family's trust fund to do so should a new buyer or fresh investment not be found."
After a slew of smut-driven headlines across the tabloids in the past week, Chelsea's Ashley Cole wakes up this morning to find his nightmare situation splashed on the backpages as he is about to be hit hard in the pocket.
Matt Hughes delivers to tough news for Cashley that "Ashley Cole is facing a £400,000 fine from Chelsea after recent headlines heaped further embarrassment on the sleaze-hit club… Chelsea are determined to send out a message that no one at the club is untouchable… It would be a record fine imposed on a Premier League player by his club." And the punishment could get even worse for Cole according to Mark Fleming. "Ashley Cole will be fined and may even be suspended by Chelsea following the latest allegations concerning the England defender's private life… The very least he can expect is a fine of two weeks' wages, which would work out at around £200,000."
Doing what the gutter press does best – blowing things out of all proportion – Matt Lawton slaps the word EXCLUSIVE over his Daily Mail piece in which the hack farts "while a heavy fine and a suspension would seem the most likely punishment, Abramovich is so angry that club officials have not ruled out the possibility of Cole being transfer-listed."
Poking fun at Chelsea's heavy-handed approach to their player's behaving badly, Matt Hughes quipped "it must have come as a terrible shock to Roman Abramovich that some of the young millionaires he employs at Chelsea are not angels. He must have thought, after casting Adrian Mutu into the wilderness for failing a drugs test in 2004, that a monastic calm had returned to the club and that nothing untoward ever took place behind the closed doors of mock-Tudor mansions."
In classic self-obsessed fashion, Tony Cascarino starts his article looking at Ashley Cole's indiscretions at Chelsea, before quickly going off topic to reveal uninteresting stories about himself. "I remember one time shortly before Italia '90 when the Ireland players told Jack Charlton, the manager, that we were going out to play snooker. Strangely, we forgot to mention that our main motivation for leaving the hotel was to go for a drinking session. At Ireland we relied on people in the international set-up to pull the wool over Big Jack's eyes when we broke the rules."
Turning to this week's mouthwatering Champions League tie between inter Milan and Chelsea, and Kevin Gardside throws down the challenge for Mourinho to prove that he's still special. "There is more at stake than a quarter-final place. This is Mourinho's chance to show Roman Abravomich he was wrong, to show Ancelotti who is boss, to show England what it is missing, to show that he is special, still. Defeat, however, represents more than a loss. It says Roman was right, that Ancelotti is right, that Mourinho is mortal after all."
Talking tactics, Alan Hansen wonders whether Inter will aim to expose Chelsea's weaknesses. "The most obvious of those Chelsea weaknesses is set pieces, which account for an overwhelming percentage of their goals-against column this season. Most teams would take that as a cue, in the first 10 minutes, to bombard the area, to put pressure on Cech and see how he copes… At Chelsea, Mourinho always examined his opponents, identified areas where he could profit and set up his side to do just that. It will be fascinating to see if he does the same on Wednesday, as Chelsea's weaknesses are not likely to play to Inter's strengths."
In a seriously weak piece of transfer guff, the Daily Mail laughably write "Sunderland have lined up a £3.5million deal for Portsmouth defender Marc Wilson if the Premier League changes their mind and allows the cash-strapped club to sell outside the transfer window." Over in the Mirror, Alan Nixon chugs with news that "Manchester United are at the head of the queue for QPR wonder boy Raheem Sterling – and desperate to beat all of their big-money rivals."
On the managerial-merry-go-round, James Nursey coughs "QPR expect to name Neil Warnock as their new boss this week – with Gareth Southgate lined up as his possible successor at Crystal Palace."
Finally, all the papers carry news of the sorry state of England's training complex in South Africa, with Ian McGarry telling his Sun readers that the site is a complete dump. "This is the dump that will greet Fabio Capello when he arrives in South Africa today to visit his World Cup training camp. The England boss is due to stay at the Bafokeng complex tonight and check on the progress of the construction work. But SunSport's exclusive pictures show the Three Lions' base for the finals, which kick off on June 11, is still a building site."
---
GAMBLING CAN BE ADDICTIVE, PLEASE PLAY RESPONSIBLY