Manchester United's £1 billion takeover, Chelsea target Liverpool's Gerrard & Liverpool & Spurs battle for Van Nistlerooy
Comment & analysis round-up
Quote of the day: "The timing should be taken out of the referee's hands. Those two stoppages took two minutes and 20 seconds, and then there were the substitutions on top of that. That is disappointing. It is silly really. We are nearly in 2010. A change should be made… It is a missed opportunity. We created plenty of opportunities and we should have taken at least one. But this is not an easy league. If you get there, you are going to be taken the distance. As I always say, if we are in touching distance on New Year's Day we won't be far away." – Sir Alex Ferguson.
Runner-up: "We haven't won back-to-back Premier League games for 300 years so this is a nice feeling. I thought we deserved it. It wasn't as though Tottenham really worked our goalkeeper." – Mick McCarthy.
Today's overview: This is starting to get silly. If your an English striker who performs well in one televised match then all the papers beginning asking will they go to South Africa. Last week it was Michael Owen, and now it's Gabby Agbonlahor.
Joe Lovejoy kicks off the stereotypical analysis. "The goal Gabriel Agbonlaor buried for Aston Villa after 20 minutes was his eighth in 16 Premier League appearances this season, and those who still doubt whether he can be effective against top-quality opposition should bear in mind that he has now scored against United in each of the past four seasons. The Villans' hero could well be timing his World Cup run to perfection." Oliver Brown was the next to jump on the bandwagon, bleating "in an extended audition for Fabio Capello's favour, it was young pretender Gabriel Agbonlahor who rose higher and ran further than any England rivals with sights on South Africa. The contrast between the 23-year old's dynamism and Michael Owen's bluntness was inescapable."
Not everyone was fixated with strikers, Jonathan Northcroft shared round the praise around Villa's defenders. "Martin O'Neill's side are suddenly third and who could begrudge those heights to competitors who resist as redoubtably as Richard Dunne, Carlos Cuellar, Stiliyan Petrov and Brad Friedel. Villa built this, their first league victory over United in 27 games, on the back of that stubborn quartet." Also receiving positive comments was James Milner, with Ian Herbert writing "Milner's performance in his third appearance in central midfield for O'Neill makes his case to Capello irrefutable: there is not a more versatile in-form player in England."
After their 3-all draw with Everton, Chelsea get it in the neck this Sunday, with Nick Townsend simply stating "Chelsea have now failed to win their past four matches and conceded 10 goals." Steve Tongue then reeled off another damning stat, shouting "the other significant [Chelsea] statistic is the number of goals being conceded from set-pieces, which has reached ridiculous proportions: well over 80 per cent in the League this season."
Sarcastically, Amy Lawrence was the first to shoot her mouth off. "Once upon a time, the classy finishing of Didier Drogba and Nicolas Anelka would have been more than enough to ensure a comfortable three points. But the astonishing vulnerability of Chelsea's rearguard presented Everton with gift after gift. Parking a bus? This was more like a clapped out old Mini Metro in front of the goal."
Jeremy Wilson went a step further fearing a crisis for the Pensioners. "Worrying, a festive curse is again threatening to undermine Chelsea's season. Last year, of course, they made a similarly promising start under Luiz-Felipe Scolari, yet saw their season unravel with a run of only four wins in 10 league matches prior to the Brazilian's sacking. With the African Cup of Nations looming, the extent to which Chelsea are currently reliant upon Didier Drogba, who has now scored 18 goals this season, was again evident. Talk of crisis just now would be an over-reaction, but this is certainly the first real blip of Ancelotti's reign."
Football is set to head to the courts as Arsenal plan to sue the Dutch federation. In what may turn out to be a landmark case, Amy Lawrence detailed how "Arsenal intend to sue the Dutch Football Federation, the KNVB, for compensation over the injury suffered by Robin van Persie while he was on international duty… The Arsenal manager wants an overhaul in the balance of power which he believes favours international federations over the clubs."
Moving onto Liverpool-Arsenal's match on Sunday in the Premier League, Paul Wilson assesses the Merseysiders hopes this season. "A Champions League finish is still achievable, it is just that what used to be a minimum requirement has now become the grand objective. Benítez knows his fighting talk will not really fool anyone, especially players such as Torres and Javier Mascherano, coveted by other Champions League clubs and not exactly thrilled at the possibility of missing out."
Looking to spout a controversial line, Rory Smith commented "Arsenal's visit to Anfield an air of the season's first relegation play-off, a clash between the two potential drop-outs of the Big Four mini-league."
In a typically offbeat article, Rod Liddle asks "when is it appropriate for the manager of a football team to nut his star centre-forward in the face? For most of us, those who support teams that are going to win nothing this year, next year or the year after, the answer is simple: 'Every Saturday, at about five o'clock. And then again on Monday morning, when he turns up for training, just to reinforce the point.'"
The big tabloid gossip of the day, delivered by Neil Ashton in the News of the World, is that "a consortium of Far East businessmen have put together a £1 BILLION deal to buy Manchester United. The group of six billionaires have spent three months on a deal they hope is too good for Malcolm Glazer to reject." Neil Ashton goes on the explain his story in a separate article. "Why would a group of Far East billionaires engineer a takeover masterminded out of Beijing? Because they realise it is United who are now ripe for plucking. Nobody at the heart of the game is convinced by Sir Alex Ferguson's claims that he has money burning a hole in his pocket where transfers are concerned. "
In the transfers, Gerry Cox begins by reporting "Liverpool have again been linked with Real Madrid's Ruud van Nistelrooy, but the club insist that they would only be interested if the Dutch forward, 33, was available on cut-price terms due to his poor record with injuries." Simon Mullock fleshes out the story adding "Liverpool believe they can get Real to slash their initial £3million asking price for the 33-year-old, they are not willing to match his salary at the Bernabeu given his recent injury record."
Dave Kidd announces "Tottenham have put FOUR senior players up for sale, including captain Robbie Keane, as Harry Redknapp prepares a January bid for Ruud van Nistelrooy. Spurs have let it be known they will listen to offers for Keane, Roman Pavlyuchenko, David Bentley and Alan Hutton in next month's transfer window."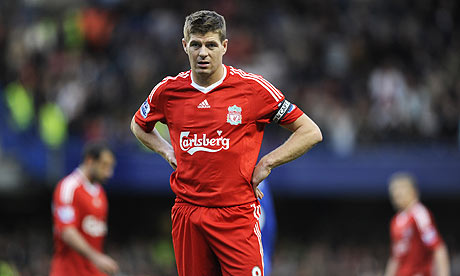 Chelsea's chequebook is out and ready to be used according to Daniel King, who boasts "Chelsea are closing in on a British record £40million deal to sign Atletico Madrid striker Sergio Aguero." Sensationalist Paul Smith, who appears to have forgotten that Chelsea are set to have a transfer embargo placed on them after the winter window is closed, farts "Chelsea boss Carlo Ancelotti is keen to sign Liverpool captain Steve Gerrard in the summer. Ancelotti has told pals the Blues will table a £30million bid for the England midfielder at the end of the season and test Liverpool's resolve to hang on to their captain, who is becoming disillusioned with the lack of success at his home-town club."
In what could be misinterpreted as a list of strikers who Arsenal cannot attract, Steve Stammers toots "West Ham striker Carlton Cole is already on [Wenger's] radar – and he has now been joined by David Villa of Valencia and Edin Dzeko of Wolfsburg."
Manchester City, as standard, are also linked with splashing the cash this Sunday. Paul Smith, reporting that "City owner Sheikh Mansour is to bank-roll an astonishing £500million spending spree," continues by claiming "one of the players who is already on City's radar is Athletic Bilbao's 16-year-old forward Iker Muniain." Simon Mullock adds "City are preparing a £10million bid for West Ham's Matthew Upson – and the deal could bring an end to Wayne Bridge's World Cup dream."
From City to United, where the Sunday Mirror claim "Manchester United are set to step up their interest in Brazilian starlet Douglas Costa after his price tag was halved to £10million." Neil Ashton then chimes in with news that "United are close to striking a deal to sign Schalke 04 goalkeeper Manuel Neuer next summer… Schalke are demanding around £10million for their young star, but United are prepared to pay that price."
Elsewhere, the Sunday Mirror report that "Tottenham and Aston Villa set to battle it out for Ghana ace Jonathan Mensah," Rob Shepherd writes "Scott Parker is ready to leave West Ham in January in a bid to make a late claim for a place in Fabio Capello's World Cup squad," Gary Ward claims Hull are after Sol Campbell, while Alan Nixon reports that Wigan are also after the centre half, and the NOTW link Everton with Ivan Rakitic. Lastly, Alan Oliver says "Chris Hughton is trying to bring Manchester City's young attacking midfielder Vladimir Weiss to Newcastle."
In the managerial merry-go-round, QPR are rapidly descending into a complete laughing stock after Rob Draper today splashes with "former Chelsea striker Jimmy Floyd Hasselbaink has emerged as a shock contender to become the ninth manager in three years at Championship club QPR."
---
GAMBLING CAN BE ADDICTIVE, PLEASE PLAY RESPONSIBLY