Manchester United turn down £40m David Villa to sign Javier Hernandez (who?!)
Comment & analysis round-up
Quote of the day:Â "We lost in 1999 like gentlemen. Now United should do the same. It's an over reaction on his [Sir Alex Ferguson's] part maybe because he was disappointed to lose… Normally he is a fine gentleman but I think what he has said is not right. We were honest and cool in Barcelona and they should be the same." – Uli Hoeness.
Runner-up: "I read Dzeko is worth £40m, in that case maybe we should put up the price for Bobby [Zamora] should we ever want to sell him… He can do no more. Everybody has realised as we did last year that in Bobby we have a very good player. By adding goals to his build-up play he is coming to everyone's attention. I know Fabio Capello is aware of Bobby but he has other players." – Roy Hodgson.
Today's overview: Manchester United dominate following their Champions League exit on Wednesday night and after they signed unknown Mexican striker Javier Hernandez yesterday. The inquest into the English club's failure to reach the Champions League semis continues and a few pundits ponder what it means for the Three Lions' World Cup hopes.
Europa League: Patrick Barclay took huge encouragement from Steven Gerrard's performance last night: "But if you analysed the game — and how often does Benítez implore us to do that? — your notes showed how much discomfort Gerrard caused Benfica. Less Roy Of The Rovers than before, he still led by example. Maybe he could do with a touch of the old assertiveness, but time on the pitch may resolve that — and there is plenty to come. Neither Liverpool nor England need despair."
Manchester United: Daniel Taylor puts the financial situation in perspective at Old Trafford. "Manchester United have turned down the chance to sign David Villa, the Spain striker, because of the financial restrictions placed upon Sir Alex Ferguson by the club's ruling Glazer family. Villa, one of the most revered forwards in the world during five prolific years at Valencia, is to leave the Mestalla in the summer and, after initially stating that he wanted to stay in Spain and move to either Barcelona or Real Madrid, has changed his position with information reaching United in the last few weeks that they are his preferred destination. Ferguson is a long-time admirer of the 28-year-old but Valencia want around £35m to £40m and United's position is that the fee will have to be lowered otherwise it will be financially prohibitive at a time when the club has accrued debts in excess of £700m." Amusingly, the Daily Mirror claim as their headline article that Villa is coming to Old Trafford along with James Milner, with Michael Carrick and Dimitar Berbatov heading for the exit.
In a separate article Daniel Taylor argues that Ferguson isn't finished but this Manchester United team may be. "Ferguson will deny it, of course, but even the most trusting disciple could be forgiven for wondering whether the manager can ever be believed again after the Peculiar Case of Wayne Rooney's Right Ankle. Ferguson also denies that the ruling Glazer family have kept from him the £80m that United received from Real Madrid for Cristiano Ronaldo but, again, can we take his word for it? This is the true problem for United: they need a better class of replacement for their older players and that will require their owners to flex some financial muscle. Everyone in football knows that is not going to happen."
Simon Barnes analyses the psyche of Sir Alex Ferguson to always blame the referee. "We must consider, then, the possibility that Ferguson says these things because he honestly believes them. I think he does. He really believes that one of the most powerful and successful clubs in the world are singularly ill favoured by match officials and are consistently and unfairly discriminated against. This sense of persecution has always been a part of Ferguson's technique. He sees United as a group of good men besieged by the unfairness of a cruel world. That has been a potent source of their success and it is based on a strange illusion."
James Ducker wonders if Manchester United are too dependent on Wayne Rooney. "United are not quite the one-man team some believe they are, but as the Chelsea game proved, they are an inferior proposition without Rooney in their ranks. The England striker cannot be expected to continue to carry the team. Seven league defeats tell its own story. United are easier to beat than they have been for a long time."
Manchester United's new striker: And what of United's unknown new signing? Mark Ogden points out that Javier Hernandez has arrived at Old Trafford to "ease goalscoring burden on Wayne Rooney." Ian Herbert though believes "Given the painful dependence on Wayne Rooney, which has become so evident in the past 10 days, United cannot afford any more unreliable strikers. That, by dint of either injury or lack of form, Michael Owen and Dimitar Berbatov have most definitely become. Where for Berbatov now? It is hard to imagine that his anaemic contribution against Chelsea last week will not feature in the manager's mind when he surveys the highs and lows of the season. The problem, should Sir Alex Ferguson decide Berbatov is better off elsewhere, is how to avoid taking a serious hit on the £30.75m laid out on a player now 29 years old, whose value has plummeted."
James Ducker reveals that "It is thought that United will initially pay Chivas, the Mexican club, between £6 million and £8 million, although the fee could increase substantially depending on the player's success. As part of the deal, United will play in a match to mark the opening of the new 45,000-seat Chivas Stadium in Guadalajara in the summer."
Is the Premier League dominance of the Champions League finished?: Oliver Kay analyses whether English supremacy in the Champions League is over. "It should not come down to a discussion of financial arrangements — the tactical strength of Inter, the brilliance of Barcelona, the spirit of Bayern and the all-round crassness of Arsenal's and United's defending and passing over their quarter-final ties merit more than a passing mention — but the strength of the Premier League clubs in recent years has been founded on such money. It stands to reason, therefore, that financial issues have been a significant factor in this season's disappointments and that a reappraisal may be needed if those clubs are to ensure this is nothing more than one rather large blip."
Paul Hayward also feels financial factors have played their part in the Premier League failing to muster a semi-finalist. "None of the expelled English clubs is an overnight basket case. United and Arsenal are miracles of evolutionary planning and Chelsea are not the first big notch on Mourinho's tomahawk. But the Premier League should worry. When the spending stopped, so did the conquest of European lands."
Michael Walker sees new foreign talent as the answer. "After the foreign affairs comes the domestic introspection and the feeling that the Premier League needs new faces if it is to ensure that this season' s European disappointment is just a blip. We do not know if English football's off-kilter economics means we are in for a period of restraint or another spree but the rumour of new signings has already begun."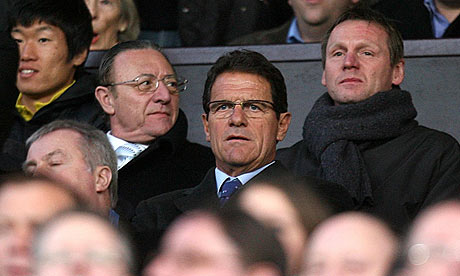 England: Steven Howard in The Sun claims that Fabio Capello faces the same problems as Sir Alex Ferguson. "England fans got an idea of what could be lurking round the corner watching Manchester United crash out of Europe on Wednesday night. A side heavily reliant on Wayne Rooney, a side taking an early, comfortable lead – and a side let down by a tendency to leak goals. Surely this could not be a scary premonition of what lies in store in South Africa? Too bloody likely!"
Kevin McCarra takes on a different angle and argues that European failure is a boost for Don Fabio. "His prospects at the World Cup are fragile enough as it is, considering the shallowness of the squad, but the workload at club level has at least been reduced now for many players. Capello may care to remind Michael Carrick that he is supposed to make a serious effort to stop someone such as Ivica Olic from scoring but the game largely served England's interests."
Jason Burt in the Telegraph writes along similar lines: "There is one unexpected bonus to the elimination of all four Premier League clubs from the Champions League – it means the likes of Rio Ferdinand, Theo Walcott and, in particular, Wayne Rooney will have more time to recover for the World Cup finals. Capello wouldn't say it but, secretly, he must be pleased that Rooney's season now ends on May 9 – almost five weeks before England kick-off their campaign in Rustenburg – rather than, possibly, May 22."
FA Cup semis: The Independent hold a rare interview with Aston Villa owner Randy Lerner. "You've got to be comfortable in your own skin as a club. You know, I think back to the final in February. Manchester United are a huge club, a one-off, for all sorts of historical reasons. But I wasn't sitting at Wembley, looking at United and thinking: 'I wish we were them.' I'd rather celebrate the things we've got that they don't. I looked along at our end of Wembley and it was rammed: scarves, banners, non-stop singing, absolutely behind the team. And this wasn't a little club out on a jolly. It was 10 years since we'd been there and it felt like our supporters were dusting themselves down and saying: 'Yes. That's us. We're the Villa.'"
Harry Redknapp looks ahead to Sunday's semi-final against his former club Portsmouth. "I can't say this is the match I've been dreaming of because it throws up so many emotions as their former manager and with the club facing challenging times. You can bet your last pound most of their players will be fit for this game, too. They'll be right up for it. Kevin-Prince Boateng has not played since February but now there's talk of him being fit. The healing powers of the Cup are incredible!"
Transfer Tosh: After Manchester United announced a signing yesterday that not one newspaper predicted, you would think there would be a little less of the daily grind of rumours and gossip.
The Daily Mirror report that Roberto Mancini was at Anfield last night to watch Angel Di Maria, Guti wants to move to the Premier League and Birmingham have secured Liam Ridgewell and Seb Larsson to longer contracts. The Sun though claim Newcastle and Sunderland are tracking Seb Larsson.
The Daily Mail can never resist some transfer tosh and accordingly roll out the story that Manchester City want Bayern Munich forward Ivica Olic.
And Finally: The Times report that "Self-portraits by more than 40 top footballers suggest that their artistry is confined to the pitch. Wayne Rooney's contribution is perhaps among the most striking, featuring disturbingly full lips. These demonstrate his 'sensuality', according to Emma Bache, the Premier League's resident graphologist. The drawings are in a single volume that will be auctioned on Monday in aid of the music therapy charity Nordoff-Robbins. Other images have been produced by Didier Drogba, Steven Gerrard, Theo Walcott, Rio Ferdinand and David James, among others."
---